eNews March 29, 2019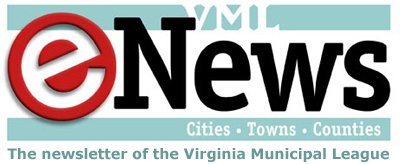 Friday, March 29, 2019 - 03:48pm
In this issue:
Support Governor's amendments to FOIA bill
Please urge your delegation to support Governor Ralph Northam's proposed amendments to SB1554 (Surovell). These amendments address some of the concerns raised by the City of Fredericksburg (and other local governments), VML, and the Local Government Attorneys Association of Virginia.
As passed by the General Assembly, SB1554 allows (but does not require) a court to add an additional penalty when an improper closed session was held, and the local government attorney was present at the time of certification.
The Governor's amendments remove the reference to the local government attorney being present at the time of certification and include mitigating factors that the court may consider in determining if a penalty should be imposed. The amendments are (language to be deleted is in red; new language is in italics):
In addition to any penalties imposed pursuant to subsections A and B, if the court finds that a member of a public body voted to certify a closed meeting in accordance with subsection D of 2.2-3712 and at the time of such certification an attorney representing the body was present and such certification was not in accordance with the requirements of clause (i) or (ii) of subsection D of 2.2-3712, the court may impose on the public body, whether or not a writ of mandamus or injunctive relief is awarded, a civil penalty of up to $1000, which amount shall be paid into the Literary Fund. In determining whether a civil penalty is appropriate, the court shall consider mitigating factors, including reliance of members of the public body on (i) opinions of the Attorney General, (ii) court cases substantially supporting the rationale of the public body, and (iii) published opinions of the Freedom of Information Advisory Council.
VML thanks Governor Northam for this amendment and thanks the local officials who have supported it.
Action
Please contact your delegates and senators and ask them to support the amendments.
Talking point
Local governing bodies should be able to rely on opinions of the Attorney General, court cases and published opinions of the FOIA Advisory Council in making decisions on the certification of closed meetings.
VML Contact: Michelle Gowdy, mgowdy@vml.org
VML policy committee nominations now open
The VML 2019 policy process is getting underway. Information and nominations forms are being sent to every VML member locality this week.
Each year VML's six policy committees meet to learn about top issues facing local governments, discuss those issues, and determine policy positions that are then approved by the membership at the annual business meeting.
The policy committees will all meet on a single day in the Richmond area in late July; the date and location are being finalized and will be announced very soon.
VML has six policy committees:
Community & Economic Development
Environmental Quality
Finance
General Laws
Human Development & Education
Transportation
Participating in a policy committee is a great opportunity to learn about and discuss issues of concern with local government colleagues from across the states. Members hear from state agency or legislative branch representatives on issues and get a chance to share perspectives with them on those issues.
If you are new to VML, you can see more information about each policy committee, including last year's statements and meeting information on VML's website.
If you have any questions about the policy committee process, please email or call Janet Areson at VML, jareson@vml.org; 804-523-8522.
Budget battle looms
In his budget message to the legislature, Gov. Ralph Northam pointed out that of his 40 proposed budget amendments, twelve will change spending, 27 are language-only, and one amendment increases available resources to the state.
The amendments address technical, clean-up items as well as substantive policy issues that are important to the governor's political base.
For localities, the review must go beyond the amendments in the budget package. The review must also acknowledge the items the governor chose not to include.
For example, in the Introduced Budget Bill, Northam proposed to restore the $2 million the General Assembly decided last year to transfer from the Communications Sales and Use Trust Fund in FY20 to the state general fund. Unfortunately, the General Assembly acted yet again to take the $2 million, and this time the governor decided not to gamble that the General Assembly would honor its commitment to localities. It is quite likely that either the General Assembly or Gov. Northam will take the $2 million in FY21 and another $2 million in FY22 in next year's budget deliberations.
A second example concerns the 599 Program for local police departments. This financial assistance program is supposed to increase in tandem with the growth in state general fund revenues. The Introduced Budget Bill did include appropriation increases in fiscal years 2019 and 2020, but those extra dollars were based on a projected increase less than the forecast for state revenues. The General Assembly did not address this and neither did the governor in his proposed budget amendments.
A third example is the Virginia Telecommunication Initiative. Spending in FY20 for VATI jumps from $4 million to a fuel-injected $19 million. The issue centers on how the money will be spent. The General Assembly and Gov. Northam have limited the program's scope to "facilitate the extension of broadband networks by the private sector." Even public-private partnerships projects must conclude with the private sector owning and operating the completed projects. What happens to those areas of the state where the private sector has little or no interest in operating broadband services?
The Northam budget amendments address several issues of keen local interest
The governor proposes an additional $4 million in FY19 for the Virginia Housing Trust Fund to expand opportunities for more affordable housing. His budget proposals also include $1.5 million in FY19 to support education, outreach and preparation for community participation in the 2020 Census. This information is critically important for political re-districting and for determining the allocation of federal grant dollars to the states.
Gov. Northam is also proposing new policy language directing the Secretary of Transportation to evaluate potential opportunities to lessen the financial burden on the commuting public at the Downtown and Midtown Tunnels in South Hampton Roads. The findings are to be submitted to the House Appropriations and Senate Finance Committees no later than June 30, 2020.
Another proposed amendment would strike the legislature's action on the hot-button issue of body-worn cameras. The General Assembly had approved policy language prohibiting any state agency or authority from purchasing or implementing body-worn cameras or body-worn camera systems. This was the legislature's response to the protests from the Commonwealth's Attorneys who complained that neither the state nor localities were providing resources sufficient to address the increase in caseload times resulting from their body-worn video reviews.
Perhaps the most important amendment zeroes in on teacher salaries. The governor's amendment makes clear that those school divisions that cannot meet the requirements of the 3 percent salary increase approved in last year's budget can claim all or a portion of the 2 percent state salary funding increase appropriated in the 2019 Budget Bill (provided that the local school division provides the salary increase between July 1, 2019, and September 1, 2019). School divisions that qualified for the 3 percent funding must provide up to an additional 2 percent in salary increases to be eligible for some or all the new funding approved in this year's Budget Bill.
VML Contact: Neal Menkes, nmenkes@vml.org
2019 VML "If I were mayor" essay contest winners announced
The Virginia Municipal League (VML) has announced the statewide winner and seven regional winners of the annual "If I Were Mayor" Essay Contest. The contest, hosted by VML, drew hundreds of entries from seventh graders throughout the state. The challenge to the students was to describe what they would do if they were mayor of their hometown.
The winners are:
Statewide winner: Maci Mitchell of Hamilton Holmes Middle School in King William (also Region 8 winner)
Region 1: Virginia Elizabeth Stockner of E.B. Stanley Middle School in Abingdon
Region 2: Maria Angle of Clifton Middle School in Covington
Region 3: Kaitlyn Hull of Kate Collins Middle School in Waynesboro
Region 4: Sadie Henshaw of Kenston Forest Middle School in Blackstone
Region 5: Lily Konopka of Ronald Regan Middle School in Haymarket
Region 6: Haylee Burnett of Auburn Middle School in Warrenton
Region 7: Samera Blowe of James S. Russell Middle School in Lawrenceville
All the regional winners demonstrated a remarkable level of maturity in their essays. The judges were very impressed with their concern for their communities and how thoughtfully they presented solutions to the issues most affecting their fellow residents.
Of the statewide winning entry from Maci Mitchell, VML President Anita James Price said: "Not only well written, but her bullet points were well thought out as well! The items she identifies are certainly ones that her community clearly needs and have captured her attention. Education and infrastructure were topics that many of the writers identified, but Marci also recognizes the lack of health care in her town and makes it a priority. Congratulations to this future Mayor!"
In addition to a plaque, each regional winner will receive a check for $150. The statewide winner will receive a plaque and $250. Plans for presentation of the plaques and checks are forthcoming.
All winning essays can be read at https://vml.org/education/essay-contest/
Governor revives transportation funding debate
The Governor's Office released this week an announcement that Gov. Ralph Northam is proposing a series of amendments for the Reconvened Session on April 3 to HB 2718 and SB 1716. These measures establish the Interstate 81 Corridor Improvement Program and Fund.
As originally proposed, the two identical bills would have authorized tolls along I-81 up to $0.17 per mile per segment for medium- and heavy-duty trucks with three or more axles. The money would have been used to carry out the I-81 Corridor Improvement Plan, which was approved by the Commonwealth Transportation Board (CTBO) late last year. The Plan identified $2 billion of potential, prioritized capital improvement projects for the I-81 corridor.
However, the final versions of the bills did not identify any specific revenue source for the Fund.
The governor's amendments would increase statewide registration fees for medium- and heavy-duty trucks along with statewide diesel and road tax rates. The idea is to bring these fees and taxes more in line with those of other states along the 855-mile I-81 corridor.
In addition, as is the case in Northern Virginia and Hampton Roads, a 2.1 percent regional motor fuels tax would be imposed along the 325 miles of the I-81 corridor that traverses western and Southwest Virginia. This regional tax hike would apply to all vehicles.
If approved by the General Assembly, the taxes and fees would provide:
$151 million in dedicated funding for the I-81 Corridor Improvement Plan
$40 million for the I-95 corridor
$28 million for the I-64 corridor
$20 million for the Northern Virginia Transportation Authority
$43 million for the CTB to invest in other Virginia interstates
VML urges its members to carefully review the amendments and to contact their delegations to support the proposed changes.
VML Contact: Neal Menkes, nmenkes@vml.org
What is the connection between the national emergency at the southern U.S. Border and Virginia?
If you answered "money," go ahead and pat your back.
The House of Representatives failed this week to override President Donald Trump's veto of a resolution that would have terminated his declaration of a national emergency at the southern U.S. border.
The House vote fell short, 248 to 181, of the constitutionally-required super majority to overturn the president's action. The House ballot precluded the necessity of the Senate voting on the override. The Senate had voted earlier this month, 59 to 41, to disapprove Mr. Trump's national emergency.
The issue remains unsettled as several states have joined together to file a federal lawsuit challenging the national emergency. The House of Representatives could, under the provisions of the National Emergency Act, consider another resolution to derail Trump's national emergency, but this is unlikely.  The House has other options, including the federal budget and defense authorization processes to block the transfer of military construction funds to the border barrier project.
So, what does it mean for Virginia?
Virginia runs a risk of losing nearly half a billion dollars in military construction projects to build the barriers at the southern border.  Some $493 million in military projects have been approved by Congress but not yet contracted by the Pentagon. White House and congressional aides identified $130 million in future defense construction that are at most jeopardized.
| | |
| --- | --- |
| Vulnerable Defense Projects | Amounts |
| Norfolk/Portsmouth New Hazardous Materials Warehouse | $41 million |
| Arlington Cantonment Area Roads | $30 million |
| Portsmouth Ship's Maintenance Facility | $26.1 million |
| Pentagon Exterior Infrastructure and Security Upgrades | $23.7 million |
| Langley/Eustis Cyber Ops Facility | $10 million |
White House officials have said the use of military dollars would be a last resort measure. There is also a reluctance to take funding away from military housing. Criminal forfeitures and drug enforcement funds could be more easily accessed.
Other potential projects are situated in Arlington, Quantico, Fort Belvoir, Joint Base Langley Eustis, Dam Neck, Portsmouth, Norfolk, and AP Hill.
VML Contact: Neal Menkes, nmenkes@vml.org
Measuring economic growth is less a science than it is an "art" form
Economic growth is traditionally reported as an increase in Gross Domestic Product (GDP) which is then compared to different time periods (e.g., monthly, quarterly or annually) of the value of the goods and services produced in the country.
President Trump claimed last week that the GDP grew 3.1 percent in 2018, after adjusting for inflation.  He was right. And, he was wrong. It all depends on your perspective. Or, as the phrase popularized by Mark Twain goes, "there are lies, damn lies and statistics."
On February 28, the U.S. Bureau of Economic Analysis reported that real GDP increased 2.9 percent to $18.6 trillion in 2018, compared with an increase of 2.2 percent in 2017.
Mr. Trump's number was based on a calculation done by the White House Council of Economic Advisers that compared the fourth quarter of 2018 with the fourth quarter of 2017. That calculation allowed the president to assert that the nation's economy grew by 3.1 percent, although the U.S. Commerce Department later downgraded that number to 3 percent. In fact, President Trump believes his growth rate number was depressed because of the Federal Reserve Bank's monetary decisions. The President blames the Federal Reserve's decision to increase interest rates four times last year as the reason the increase in GDP did not exceed 4 percent.
How much will GDP grow in 2019? Good question.
The Council on Economic Advisers published their projections last week, predicting for this year a 3.2 percent growth rate. Their projections assume that the President and Congress will agree on a $1 trillion infrastructure plan, another round of tax cuts, additional rollbacks in labor regulations (many of which are at the state level and not subject to Congress), and new trade agreements. Are all these items likely to happen? Will any of them happen?
The Federal Reserve Bank, the Congressional Budget Office, and a survey of private sector economists belonging to the National Association for Business Economics are all projecting significantly slower growth rates over the next 10 years compared with the White House's projection. The most recent projection from the Federal Reserve Bank predicts 2.1 percent economic growth in 2019 and 1.9 percent in 2020, indicating that the boost from the federal tax cuts and spending are wearing off. The National Association for Business Economic reports economic growth at 2.4 percent this year and 2 percent next year.
An economic slowdown could negatively affect the Commonwealth's own financial health, particularly if the President and Congress clash over defense spending and trillion-dollar budget deficits in next fiscal year's budget. Economic growth is critically important to ensuring sufficient resources to pay for government services without resorting to new taxes.
VML Contact: Neal Menkes, nmenkes@vml.org
Governor breaks out veto pen
Gov. Ralph Northam vetoed 17 bills passed in this legislative session (by way of comparison, he vetoed 20 measures from the 2018 Session). The General Assembly will have the opportunity on April 3 to override the governor's vetoes.
Several of the vetoed bills are of interest to local governments. These include:
HB 2270 and SB 1156:  Require that the sheriff, jail superintendent, or other official in charge of a local correctional facility or a regional jail in which an alien is incarcerated must notify U.S. Immigration and Customs Enforcement of the release or discharge of the alien forthwith as soon as the release date is known. Localities could not adopt "sanctuary" policies. According to his veto message, Northam's action was based on preserving local authority in managing local and regional correctional facilities and preserving a good working relationship between local law enforcement agencies and immigrant communities.
HB 2749:  Directs the Department of Social Services to report annually by December 1 to the Chairmen of the Senate Committee on Rehabilitation and Social Services and the House Committee on Health, Welfare and Institutions information regarding the number of reported violations of restrictions on the use of Temporary Assistance for Needy Families (TANF) cash assistance, including the number of reported cases involving multiple violations of such restrictions. Gov. Northam called the bill a solution looking for a problem, asserting that there is no evidence to suggest TANF violations are an issue in Virginia.
HB 2269 and HB 2611:  Prohibit the state from participating in any Transportation and Climate Initiative or establishing a carbon dioxide cap-and-trade program without each chamber of the General Assembly first adopting a resolution to do so by a two-thirds vote. In his veto message, Gov. Northam stressed that the state should not be limited in its ability to protect both the environment and human health.
VML Contact: Neal Menkes, nmenkes@vml.org
Solar debate heats up in Spotsylvania
The largest solar "farm" east of the Rocky Mountains could be coming to Virginia, spreading across 10 square miles with 1.8 million panels soaking up the sun's rays.
The state has already approved the project sponsored by sPower, which is the largest private owner of operating solar assets in the United States. (sPower is owned by a joint venture partnership between The AES Corporation (NYSE: AES), a worldwide energy company headquartered in Arlington, Virginia, and the Alberta Investment Management Corporation, one of Canada's largest and most diversified institutional investment fund managers.)
Total solar output in Virginia has leaped from just 17 megawatts in 2014 to more than 320 megawatts as of last August. The sPower project would produce 500-megawatts with most of the energy used to power Microsoft's nearby cloud data centers.
The General Assembly passed legislation in the 2018 Session (SB 966) to encourage greater solar and wind development to a level of 5,000 megawatts. Supporters claim that the proposed project would generate $17 million in tax revenue over its 35-year life span.
The project's fate now rests with the Spotsylvania Board of Supervisors. Local opposition has focused on the project's scope, location next to residences, and loss of forest land. The board has repeatedly put off voting given the amount of controversy.
The "green" technology debate is not restricted to Congress and the statehouse. It is an issue that will increasingly show up on the meeting agendas of Virginia's, cities, towns and counties.
VML Contact: Neal Menkes, nmenkes@vml.org
February's job report shows small gains and losses
Virginia's seasonally adjusted unemployment rate ticked up 0.1 percentage point in February to 2.9 percent. This was 0.3 percentage point below last February. The number of unemployed increased by over 2,000 to 124,559, marking the fourth consecutive monthly increase.
The second (trade and transportation) and third (private education and health services) largest industry divisions led the way in job losses.
However, the labor participation rate also ticked upwards from 65.1 percent to 65.2 percent, meaning more Virginians were entering and staying in the workforce. The labor force expanded for the eighth consecutive month, reaching a new record-high total of 4,354,967 workers. Professional and business services, which is the largest industry sector, had the largest over-the-year gains at 1.7 percent or 12,900 jobs. Leisure and hospitality grew by 2.4 percent or 9,600 jobs, and manufacturing experienced the third largest over-the-year job gains at 3.2 percent or 7,600 jobs.
The job numbers are important because the state's general fund relies heavily on individual income tax withholding. This revenue source comprises over 60 percent of the Commonwealth's general fund. As employment increases so does tax revenue.
VML Contact: Neal Menkes, nmenkes@vml.org
Mandatory police retirement criteria survey
The Virginia Municipal League, on behalf of the Virginia Association of Chiefs of Police, is asking our member municipalities to help us determine how many have mandatory retirement requirements for law enforcement officers.
If you have not already done so, please complete this very short online survey.
Your participation is appreciated.
VML Contact: Rob Bullington, rbullington@vml.org
"What Works Cities" offering eligible municipalities tickets to Tom Tom festival in Charlottesville
Bloomberg Philanthropies' What Works Cities initiative "helps cities use data and evidence to tackle their most pressing challenges and improve residents' lives." Completing a Certification assessment is the first step to joining the program, which is open to any U.S. city with a population of 30,000 or higher. Participating cities are eligible for a broad range of exclusive, pro bono support from What Works Cities to continue building a more effective local government.
This month, What Works Cities has teamed up with the Tom Tom Festival to provide new cities that complete a Certification assessment by April 3 with free tickets to the Civic Innovation Conference, on April 10, in Charlottesville, VA. The day-long forum offers opportunities to connect with fellow changemakers across sectors, including from What Works Cities, and continue to grow your ability to make lasting, data-driven impact on today's most important challenges.
2019 VTA conference to be held in Portsmouth
City and county officials, legislators, transit agencies, and business sponsors and exhibitors will gather at the Renaissance Portsmouth-Norfolk Waterfront Hotel on May 29 and 30 for a focus on "all things transit" at the 2019 conference of the Virginia Transit Association.
Presentations from industry experts on technology innovation, ridership promotion, mobility advancements, statewide resiliency, and business connections will be at the forefront. Portsmouth Mayor John Rowe will give welcoming remarks on behalf of the City of Portsmouth. The keynote speaker will be Nat Ford, CEO of the Jacksonville Transportation Authority, who will share insights into how his city achieved its vision of a vibrant, revitalized, and better-connected downtown.
Registration is open through the VTA web portal (https://vatransit.com/2019_Annual_Conference) through mid-May.