eNews March 27, 2020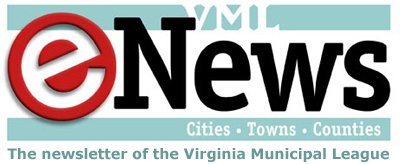 Friday, March 27, 2020 - 09:10am
In this issue:
COVID-19 updates from VDH
Where to go for up-to-date information on COVID-19, access to testing and PPEs top list of statewide concern and state efforts
Your best source of statewide information about COVID-19 health issues continues to be the Virginia Department of Health's (VDH) website which includes daily numbers for cases, hospitalizations, deaths, and the location of those cases. The website is updated daily at 12 noon; all numbers submitted to VDH are verified before they are posted.
Testing and PPEs top the list for state concern and efforts
VML is a part of a VDH local coordination workgroup and larger stakeholder group and participates in update calls. To no one's surprise, on the most recent update call (Wednesday afternoon), the leading statewide concerns were access to COVID-19 testing and personal protection equipment (PPE).
VDH has been actively working to get access to test kits since the virus started showing up in the U.S. The situation and availability changes almost daily. State efforts to obtain legitimate tests for use across the state and to monitor potential new legitimate test sources are underway. The agency warned of groups and people promoting at-home tests that have not been properly vetted and are not considered legitimate.
Please know that your local health district has testing kits – not as many as your community or the district would like – but as many as are currently available. Your local health district coordinates with VDH and Consolidated Labs for additional kits; your local government should stay in contact with your local health district on this issue.
Please also know that testing capability is increasing in both the state's Consolidated Labs and private sector labs such as Labcorp and Quest. Some state universities are also now working on processing tests. VDH expects the processing capacity to continue to grow in the days and weeks ahead.
Similarly, VDH and its state partners continue to work on getting personal protection equipment (PPE) to health care providers in Virginia. The state received a shipment of PPE from the federal stockpile last week; the items were distributed to hospitals, community health providers including urgent care facilities, health districts and other health providers such as EMS agencies. Another shipment is expected but VDH officials said it would be much smaller.
As such, Virginia officials have been actively seeking contracts with private sector suppliers for additional PPE supplies. One major hang-up has been the continued closure of factories in China that were part of the supply chain. This may ease up in early April, so the state continues to work on additional sources of supplies.
Some background on VDH and its workgroups
A part of the mission of the VDH is to constantly monitor current and emerging public health threats such as seasonal flu in the United States and viruses in other countries that can end up affecting Virginians. As such, the agency began active monitoring and planning regarding COVID-19 when it first became an issue in China, much as it had done in past years with West Nile virus, H1N1, and SARs. Agency staff, working closely with the Virginia Department of Emergency Management (VDEM), began regular meetings with stakeholder agencies and statewide organizations in February. VML is a part of that stakeholder group.
These meetings moved a few weeks ago from in-person to telephonic gatherings. Local governments receive information from a lot of different sources, including their emergency managers who are kept up-to-date on issues from VDEM in particular. VML will continue to communicate information and resources it gets from VDH stakeholder meetings to you.
VML Contact: Janet Areson, jareson@vml.org
Letter sent to DHCD regarding mitigation of local financial burden
At the request of Governor Northam and Secretary Layne, VML has sent a letter to Director Erik Johnston of the Department of Housing and Community Development. In the letter, I discuss two requests made of Governor Northam and Secretary Layne in light of the financial impact of the COVID-19 pandemic:
Do not adjust state funding formulae to reduce the state's funding liabilities for state-mandated programs like public education.
Delay for at least one-year unfunded and underfunded state mandates enacted in the 2020 General Assembly Session and suspend regulations that incur costs on local government without providing meaningful benefits.
You can download the full letter here >
VML asks that you echo the sentiments and rationale outlined in letter to your representatives and state leaders.
We will update you as soon as we have more information on this subject.
VML Contact: Michelle Gowdy, mgowdy@vml.org
New COVID-19 resources available on VML website
VML's COVID-19 webpage includes links to VDH and other pertinent state agencies as well as information, resources, and updates from federal partners, including the National League of Cities. Our webpage is being updated daily (often hourly) as we receive new links and information from state and federal groups.
Below are some recently added resources:
Local Government Attorneys of Virginia: Committee Report on Electronic Meetings (March 24)
The report includes:
Checklist for holding completely electronic public meetings and ensuring public access.
Model ordinance and resolution that mirror what some localities have already put into place.
Appended example of declaration of emergency (from Albemarle County) which may be helpful to those localities who have not yet declared one.
Please be aware that while the report uses the recent opinion from Attorney General Herring as a roadmap, you should continue to consult with your legal advisor as you move forward with meetings.
Bloomberg Philanthropies and the National League of Cities: COVID-19: Local Action Tracker. They will collect and share policy actions and promising practices taken by cities, towns, and villages across the United States in response to the COVID-19 pandemic. You can also submit your locality's actions to be included on the tracker.
County of James City: An Ordinance to Ensure the Continuity of Government (to be used as an example)
Virginia Governor Ralph Northam: Executive Order 53. Temporary Restrictions Due to Novel Coronavirus.
Additional topics
VML's COVID-19 Resources page also includes information on the following:
VML Contact: To contribute items to the page or provide feedback, please contact Rob Bullington, rbullington@vml.org.
Urge Congress to support intermediate and long-term economic stabilization for localities
A message from NLC Senior Executive and Director, Federal Advocacy Imra Esparza Diggs
Last night, just before midnight, the Senate passed the CARES Act, H.R. 748, the third stimulus bill.  A summary of the bill is available here.
Action now moves to the House of Representatives. House Majority Leader Steny Hoyer announced the House will vote on the bill Friday. The House will not try to pass it by unanimous consent. Instead, it will pass it by a voice vote. The member presiding over the House, who will be designated by House Speaker Nancy Pelosi, will decide if enough members voted in the affirmative to pass the bill, which will almost certainly happen.
Senate Majority Leader Mitch McConnell last night said the Senate will not have any votes until April 20 but will remain "nimble." This move essentially forces the House to pass the CARES Act as is.
The CARES Act provides local governments funding to meet the immediate needs of residents, households, and small businesses on the economic margins. NLC applauds Congress for advancing a bill that does much to meet the needs of Main Street, in addition to traditional economic protections for Wall Street.
Although the CARES Act provides for many of the immediate needs of municipal governments to prevent economic decline, for the governments themselves and their residents, we think that it will prove to be insufficient for intermediate and long-term economic stabilization. This is especially true for legacy cities and other communities that never sufficiently recovered from the previous recession caused by the housing bubble.
The Coronavirus Relief Fund established under the CARES Act will primarily help states, and the potential impact on local budgets is largely unknown at this point because Governors will have maximum flexibility to allocate resources from the fund as they see fit.
We are encouraged that Speaker Pelosi is also thinking ahead to a possible 4th Emergency Supplemental Appropriations and Stimulus bill. This could be considered in tandem with the annual FY2021 spending bills. For local governments, at a minimum, the 4th bill should:
Allocate federal funding directly to cities and towns for local budget relief, and any population threshold for direct funding should be as low as possible, but not above 50,000.
Approve additional supplementary funding to put residents impacted financially by the COVID-19 response on the path of economic mobility, to the greatest extent possible.
Use this as an opportunity to reduce regulatory burdens and unfunded mandates on local government.
Provide governmental employers the access to tax credits for the paid sick and paid emergency leave that they are required to provide to employees.
A poll for the National League of Cities, conducted by Morning Consult, asked 2200+ Americans about how they support the tough decisions local leaders are making in their cities and how their communities are receiving them.
Among the findings: 86% of Americans support the federal government providing funds DIRECTLY to cities and towns to support coronavirus challenges in local communities.
NLC Webinar today: What Cities Need to Know About Implementing Changes to Paid Sick Leave and Family and Medical Leave
Friday, March 27, 11:30 AM EDT
The second Congressional bill to address COVID-19 includes the Emergency Paid Sick Leave Act and the Emergency Family and Medical Leave Expansion Act (FMLA). As employers, cities, towns and villages of all sizes will need to implement the FFCRA's paid leave provisions effective April 1, 2020.
Learn more and register here >
Note: Registrations are limited to 500. However, the recording will be available afterward on the NLC Coronavirus Resource Page.
VML policy nominations delayed (but coming)
The current public health emergency means local governments have much more on their minds and their agendas than getting people appointed to VML 2020 policy committees. VML still plans to hold policy committee meetings in late July – in person if possible, or online if necessary.
We will be sending local governments policy nominations information in the coming week; the deadline for nominations is delayed until early June to give localities the opportunity to respond. If the public health situation creates a longer "stay at home" time, we will adjust our deadline accordingly.
VML's six policy committees are:
Community & Economic Development
Environmental Quality
Finance
General Laws
Human Development & Education
Transportation
Leadership appointments have been delayed because of the public health emergency; they are forthcoming.
We appreciate your understanding and patience. The committees will have much to address this year and we hope that your local government will choose to participate in the process.
VML Contact: Janet Areson, jareson@vml.org