eNews March 20, 2020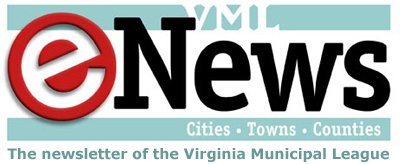 Friday, March 20, 2020 - 05:02pm
In this Issue:
"It Takes a Locality" – A message from VML Executive Director Michelle Gowdy
In times of national emergency, information and resources are expected to flow from the top levels of government down. But since COVID-19 first entered the national consciousness to the present day, it has been local and state governments leading the way with the federal government lagging. It is not right that this dynamic should be reversed at his time, and thankfully the federal government seems to be slowly but surely coming around to the severity of the situation. We should be proud that Virginia's local and state leaders have made the hard, unpopular but necessary decisions to mitigate the crises based on the best available information. While these efforts have been at times ad hoc and at other times downright improvised, this speaks to the resiliency and dedication of Virginia's local governments.
I am proud to work on your behalf.
And there is much work being done. Through scores of messages, phone calls and meetings, VML and other local representatives are asking the Governor and the Attorney General to consider easing existing barriers to conducting the business of local governments electronically. I know that many of you are concerned that the routine business of local government – council meetings, budget sessions, elections, etc. – cannot be conducted because it's impossible to adhere to both the pre-existing requirements for those activities and the new emergency orders prohibiting gatherings. As these conversations develop, we will post updates to VML's Coronavirus Resources page and keep you informed via email and social media. We have also been discussing May elections and the flexibility in timelines that localities are required to adhere to – telecommunications towers, land use approvals, etc.
On Wednesday we had calls with the Virginia Economic Development Partnership, the Virginia Restaurant and Travel Association and others to talk about steps that need to be taken to retain businesses and keep them open. They are working on real-time solutions and we will update you as information becomes available.
But while VML works to make it possible for you to do your jobs, you are the ones doing the jobs! Virginia's local leaders are dealing with circumstances they did not create nor have any control over. What is needed are clear and honest (in many cases, painfully honest) instructions and information to your residents. It is tempting for leaders to want to solve all the problems, make reassuring statements and tell people what they want to hear. We find ourselves, however, in a situation where we must recognize the problem cannot be solved without sounding some alarms and telling residents things they don't want to hear.
But above all else, it is a time for compassion. Everyone – residents, government staff, officials – are anxious. Show your residents that you empathize, that we're all in this thing together and together we will get through it. The best thing people can hear from their leaders about the present is the truth about what's known and what's not known, what's being done and what's being considered. And, of course, reassurances that we will resume our normal lives, albeit smarter, better equipped and more cognizant of what binds us together – what makes our localities places of shared dreams, pride and community – than ever before.
Along with everyone else, VML has cancelled any upcoming in person events and will continue to monitor the situation in hopes that sooner rather than later we can all meet again.
Be well, stay strong and Thank You!
VML Contact: Michelle Gowdy, mgowdy@vml.org
Topics covered by VML Coronavirus Resources page
Every day, sometimes every hour, new information emerges about the coronavirus. It is a challenge for our communities to know what further developments to anticipate and how to formulate an effective plan. VML will continue to update our Coronavirus Resources page with resources for local officials to consider using as part of a plan of response.
Below are the areas currently covered with some examples of the content you will find for each.
We are receiving many requests from our members about this as the Governor's emergency declaration limits the size of gatherings and existing FOIA regulations do not permit city and town councils or county boards from conducting non-emergency business via electronic meetings. VML is working with others to get clarification from the Attorney General and the Governor so that local governments can continue to do essential business, such as passing budgets, during this emergency.
A sample of resources you will find on our site include:
We're using this section to list actions being taken at all levels of government to adapt to the crises. This is especially true for the actions being at the town, city and county levels. Examples of items you will find here include:
City of Manassas:
Town of Smithfield:
County of Henrico
National
Included here are the main pages related to COVID-19 from State, National and Organizations. The COVID-19 Response Resources for Local Leaders (from the National League of Cities) is particularly relevant.
This section includes State and Federal level instructions impacting localities. Examples include:
We've receiving a lot of questions about the Order, including: "Is it per room?" "Is it the whole place?" "Does it include inside and outside space together?" We are hoping to get clarity soon. In the meantime, we have this information from the Department of Health:
"Some states have closed all restaurants, bars and gyms. This order was an attempt to keep some open to do carry out and limited business. Businesses not covered in the order should use common sense until further clarification is available. For example, businesses with 14 people do not have to send 4 home. Spread out so everyone is at least 6 feet away from each other. 20 people spread out is a lot better than 10 sitting close together."
As more options are added to what localities can do to help their businesses, we will add them here. A recent addition is the U.S. Small Business Administration (SBA): COVID-19 Small Business Guidance & Loan Resources which includes information on the following topics:
Economic Injury Disaster Loan Program
Guidance for Businesses and Employers
SBA Products and Resources
Government Contracting
Local Assistance
Additionally, we have included sections on sections of the Code of Virginia > relevant to the current emergency and Healthcare > information.
Update from VDH's March 20 state partner call
Each week the Virginia Department of Health (VDH) is holding briefings on the COVID-19 situation, including what VDH is doing in cooperation with other state agencies such as the Virginia Department of Emergency Management (VDEM) and with its federal partners.
As a reminder, information about COVID-19 case numbers, location of cases, and links to many sources of information are available on the VDH website:  http://www.vdh.virginia.gov/ 
Today's briefing covered some of the following issues of interest to local governments:
Prevalence of COVID-19
Information about the number and location of cases on the VDH website is updated just once a day because the Department must review and validate this information before it can post it.
Restaurant seating
In response to a question from VML, members of the VDH team are working on clarification of guidance about restaurant seating (both indoor and outdoor).  VML alerted VDH earlier this week that local governments had been asking questions about this because different health districts were interpreting it differently.
Amount of testing for COVID-19
VDH is still concerned with availability of virus testing and is working around the clock to find more testing capability.  The Commonwealth now can conduct more than 1,000 tests; private companies are also conducting testing and reporting all results – positive and negative – to the state.
Mass testing sites
VDH is tracking the six mass testing sites in Virginia. VDH complimented the regional testing sites developed in the greater Richmond area which were done with the support and coordination of local leadership.  In other regions the mass testing sites are hosted primarily by hospitals and health systems.  More testing sites are planned; VDH said it will continue to support the efforts by localities in the Richmond area and elsewhere to bring about such cooperative initiatives as they help reduce congestion in hospitals.
Tracking lessons learned
VDH is examining and evaluating information and "lessons learned" in real time from other countries' efforts (particularly Italy) and from other states (Washington in particular) because of the large number of cases in those places.  This information will help Virginia in its response and coordination planning and implementation.
Availability of personal protection equipment
Earlier this week Virginia received some personal protection equipment (gowns, gloves, face masks, etc.) from the National Strategic Stockpile, but it is not enough to meet every need in every sector in the state.  These supplies are being pushed out today to health districts, health care facilities, etc. The state has also identified some resources – suppliers and manufacturers – to pursue to address our needs.  Manufacturers in China will not be back on-line until April.
Looking for people to serve on the Medical Reserve Corps
People who are interested in serving on the Medical Reserve Corps can apply on-line.  See the page on VDH's website:  http://www.vdh.virginia.gov/mrc/  More than 800 applications have come forward, many from retired people with health care backgrounds. VDH is working with the Virginia Department of Health Professions to see about enlisting help and clearing the way for people whose licenses have lapsed (such as retirees) to help in the state's efforts.
Preparing for the future
VDH is working with a researcher at University of Virginia to build a projection model for how and where and how quickly the virus will spread (including looking at summer and fall). The projection model will help communities and medical providers to plan and respond and will help project how long the response to the virus will happen.
The next call will take place Tuesday afternoon. VML will keep you informed of the issues and questions that come forward with these calls.  VDH is also holding targeted calls with local emergency managers and other segments of the community/statewide response network.
VML Contact: Janet Areson, jareson@vml.org