eNews March 15, 2019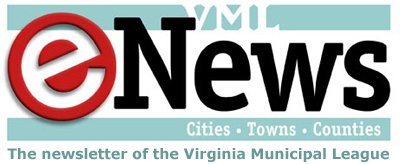 Friday, March 15, 2019 - 03:38pm
In this issue:
Upcoming VML events in Southwest Virginia
Newly Elected Officials Conference – Tuesday, April 23 in Abingdon:
This full day conference is offered by the Virginia Municipal League twice a year; it is designed primarily for newly elected officials, but it is also a useful refresher course for incumbent officeholders and staff. The cost is $35 per person which includes lunch and copy of the FOIA/COIA handbook.
More info and registration available here.

Regional Dinner – 2019 General Assembly Update – Tuesday, April 23 in Marion:
Join VML's experts at the Holston Hills Community Golf Course and get the details of the big issues brought before the Assembly this year. The fee is $35. Please indicate your choice of entrée when registering. Additionally, the Town of Marion will be sponsoring a free round of golf or a bucket of balls on the driving range for anyone interested.
More info and registration available here.
VML Contact: Jessica Ackerman, jackerman@vml.org
A quick tutorial in transportation finance
Question: When is $3.23 billion not enough?
Answer: When trying to meet Virginia's transportation capital needs.
The 2007 General Assembly authorized $3 billion of Commonwealth of Virginia Capital Projects Revenue Bonds (CPR). Twenty percent of the bonds were dedicated to transit capital and another 4.3% went for rail capital. The bulk of the authorization was to be used to match federal dollars, boost the Road Revenue Sharing Program, and fund statewide and regional projects in the state's Six-Year Improvement Program.
The General Assembly in the 2009 and 2018 legislative sessions further increased the authorization by a total of $230 million, primarily as a special match for capital projects under the Washington Metropolitan Area Transit Authority (WMATA).
The Commonwealth Transportation Board (CTB) has thus far issued $2.732 billion and is planning another issuance of $255 million in April. The remaining $243.2 million will likely be exhausted by 2021.
CPR Bonds Projects

Amounts Issued (in millions)
Transit Capital
$600
Rail Capital
129
Match Federal Funds
1,044.8
Road Revenue Sharing
70
VDOT Projects
1,156.2
Total 2007 Authorization
$3,000
 
 
2009 Replacement of General Fund Dollars for Transportation Capital
 

 

$180

 
 
2018 Authorization for WMATA
 

$50

Total
$3,230
The revenue source to service the CPR bonds is the Priority Transportation Fund (PTF). PTF revenue comes from three sources: 1) one-third of the taxes collected on insurance premiums; 2) a portion of the motor fuels tax; and 3) interest earnings.
Projected Priority Transportation Revenues

(in millions)

Revenue Sources:
FY 19
FY 20
FY 21
FY 22
FY 23
FY 24
Insurance Premium Tax
$168.7
$188.0
$199.4
$199.8
$209.0
$218.0
Motor Fuel Tax
36.0
36.5
36.7
36.7
36.6
36.5
Interest Income
1.0
1.0
1.0
1.0
1.0
1.0
Total Projected Funds
$205.7
$225.5
$237.1
$237.5
$246.6
$255.5
Here are the next questions that Gov. Northam and the General Assembly should answer in the 2020 legislative session: What happens after the CPR bonds are all issued? How will the Commonwealth meet transportation demands?
Sidestepping these questions will result in delays and higher project costs and will lead to an additional question: Who wants to be stuck in traffic?
VML Contact: Neal Menkes, nmenkes@vml.org
So-so revenue collections mask good job numbers
State tax collections in January grew a disappointing 0.4% due mainly to a washout in two volatile revenue sources.
Individual non-withholding fell 3.3% compared to January of 2018. Receipts of non-withholding for the December 2018 and January 2019 period decreased 36.4% from the same time last year. But, year-to-date FY19 collections are trailing the annual estimate by only a fraction of a percent. The non-withholding story may not be fully written until May when final payments are made. Non-withholding comprises 19% of the state general fund.
Corporate income tax collections have been weak in FY19. Year-to-date collections have decreased 1.8% from the same period last year, trailing the official forecast calling for 5.6% growth. Corporate taxes, however, account for just 4% of general fund revenues.
Payroll withholding and sales tax collections posted weak January numbers, but collections are still closely tracking the official forecast. These two revenues make up roughly 80% of general fund taxes.
On the jobs front, the state unemployment rate in January remained unchanged at 2.8%.  This is the sixth consecutive month that unemployment hovered at that rate. The seasonally adjusted employment figure was 4,032,300 or 1.1% greater than January of last year. Goods-producing jobs in mining, construction and manufacturing were up by 8,400 or 1.9% compared with a year earlier.
In the service sector, job numbers were up 1% or 31,400 jobs with Professional and Business Services, Leisure and Hospitality Services, and Education and Health Services leading the way. On a regional basis, the Northern Virginia MSA showed the greatest number change (26,600) and percentage change (1.8%) in the state. Job growth in Northern Virginia accounted for over 60% percent of the state's January increase.
January's labor participation rate in Virginia continues to bounce around the 65% percent mark, which is less than the rate prior to the Great Recession but still over a percentage point higher than the national rate.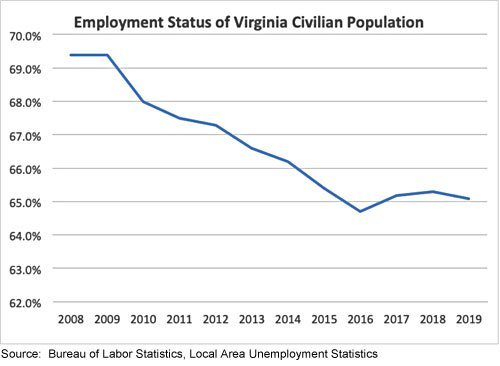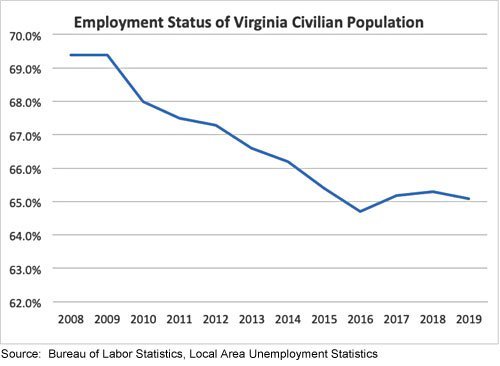 Source:  Bureau of Labor Statistics, Local Area Unemployment Statistics
VML Contact: Neal Menkes, nmenkes@vml.org
Reading tea leaves may be easier than deciphering national economic news
The U.S. added 20,000 jobs in February, well below the 175,000 to 180,000 expected. It was, however, the 101st straight month of job increases, albeit the weakest increase in almost two years. The unemployment rate fell to 3.8% from January's 4%.
Wages grew 3.4% in 2018, which is the strongest annual gain since April 2009. And, wages are now increasing above the cost of living (inflation was just 1.6% last year). Moreover, the wage gains are not restricted to high-skill jobs but are also showing up in some lower-skilled jobs in the service and retail industries. Why did this happen? Well, the upsurge may be partially explained by the fact that nineteen states have raised their minimum wage.
The Federal Reserve Bank reported last week that total household net worth in the fourth quarter of 2018 dropped by the largest amount since the fourth quarter of 2008 when the nation was in the grip of the Great Recession. Total household net worth measures family assets such as homes, stocks and bank accounts minus debts. The drop was $3.7 trillion or a 3.5% quarterly decline. A decline of this magnitude has happened only three times since 1952.
The fall was driven by the stock market slump in the fourth quarter of 2018, erasing $4.6 trillion in assets from households. Stocks have since recovered much of their late 2018 losses.
This measure is skewed in that most of the household wealth in the country is owned by the richest families. In 2016, the top 1% of families owned 40% of all household wealth with the next 9% holding some 29%.
Perhaps the lesson here is twofold: 1) the stock market is not the national economy, and 2) big national level data sets may not reflect financial reality for many, if not most, American families.
The Federal Reserve may also be confused over the country's economic future. The Boston Federal Reserve President said last week that it may take several meetings before the Bank has a clear enough read on the economy to act on interest rates. The benchmark U.S. interest rate is currently set at a range of 2.25 to 2.5%.
A big reason the Feds have taken a wait-and-see posture is due to issues related to trade and the global economy. Overseas economic growth is slowing at a time when the impact of the 2017 tax cuts and spending stimulus appears to be receding.
Trade restrictions and the uncertainty surrounding the resolution of trade problems also factor into the Federal Reserve's calculations. The record trade deficit in 2018 of $891.2 billion (or $621 billion if goods and services are taken together) strikes a raw nerve in Washington, D.C.  The record trade deficit is caused, in part, by the fact that the dollar is now valued 19% above its 10-year average against the currencies of major U.S. trading partners. This makes imported goods more price-wise attractive to American consumers.
According to some economists, the political attention paid to trade deficits is a misdirected.  Instead, they argue that the President and the Congress should keep their collective eyes on the national debt. The Chairman of the Federal Reserve Bank told a congressional subcommittee that "the federal debt was on an unsustainable path." Asked if the trade deficit was unsustainable, he replied "I don't think I would say that."
VML Contact: Neal Menkes, nmenkes@vml.org
President's budget proposal promises plenty of pyrotechnics
President Trump released his $4.7 trillion budget plan this week, raising the possibility of another government shutdown in October if he and Congress cannot agree on spending priorities.
The proposal is chock-full of politics that will gin up strong reactions from both sides of the political spectrum. Let's take a closer look:
Defense Spending – Increases spending to $750 billion to pay for "Space Force," 12 battle force ships and 110 fighter aircraft, and a 3.1% military pay raise.
Border Security – Requests $8.6 billion with $5 billion going to the Department of Homeland Security for several items, including beefing up law enforcement efforts and funding 54,000 detention beds (a 19% increase over the number of beds Congress approved last month). The remaining $3.6 billion would be allocated for ongoing military construction of barriers along the southern border.
Education – Cuts the Education Department's budget by 12% but proposes to create a $50 billion school choice program over the next ten-years to expand access to private schools for low-income households.
Other non-military programs – Proposes a 5% cut to current caps for non-military spending with deep slashes to Medicare, Medicaid, food stamps, transportation, and environmental protection. The proposal assumes that Congress will repeal the Affordable Care Act ("Obamacare") and enact new work requirements for the recipients of federal safety net programs.
Balanced budget – Projects budget deficits of $1.1 trillion in 2019, 2020, and 2021, and a $1 trillion deficit in 2022. Assumes that the economy will grow by 3% every year for a decade and that there will be no recession. Projects a balanced federal budget by 2034. Interest payments on the national debt are estimated $482 billion, which is greater than the entire Medicaid budget.
It is unimaginable to think that the Democratic-controlled House of Representatives will support the President's budget proposal. The myriad of congressional investigations and the usual political posturing will drag out the federal budget process through the Spring and Summer and into the Fall making brinkmanship over shutting down the federal government likely.
VML Contact: Neal Menkes, nmenkes@vml.org
Woodbury nominated for membership on STAC committee
The National League of Cities (NLC) has recommend Dr. Patricia Woodbury for membership on the national Surface Transportation Security Advisory Committee (STSAC). Woodbury is a member of the council in Newport News and the immediate past president of VML. In addition, she is a past president and board member of the Virginia Transit Association and a past chairwoman of the Transportation District Commission of Hampton Roads.
The purpose of the STSAC is to advise, consult with, report to, and make recommendations to the administrator of the Transportation Security Administration on surface transportation security matters. The STSAC will be composed of no more than 40 voting members from among stakeholders representing each mode of surface transportation.
Final decisions on the appointments are expected in the next few weeks, according to NLC.
May is Building Safety Month
Local building departments and localities across Virginia are gearing up for Building Safety Month, which will be held in May. To learn more about the month-long event, please see the International Code Council press kit at https://www.iccsafe.org/about-icc/building-safety-month/2019-building-safety-month/.
VML Contact: Sandra Harrington, sharrington@vml.org
Earth Day 2019 resources for localities
The Earth Day network offers a range of information and resources for localities to promote this year's theme of "Protect Our Species." Interested municipalities and local leaders can learn more on the Earth Day Network's website.