eNews March 12, 2021

Friday, March 12, 2021 - 04:47pm
In this issue:
Economy & Finance
Federal Rescue Plan passes; now the wait begins
After much anticipation, President Biden signed the American Rescue Plan Act of 2021 into law Thursday. While the broader figures – $1.9 trillion for the entire package, with $219.1 billion for states and $130.2 billion for localities – have been highlighted in the press for weeks, the true dollar amounts local governments will receive on an individual basis remain to be seen.
Much like with the CARES Act, no one will have clear details regarding individual allocations and the distribution process until the Department of the Treasury begins releasing guidance. However, we do know that the methodology will be much more complicated this time around, as the ARP Act allows for direct payments to certain localities. As written, the bill relies on definitions and funding formulas from existing federal programs, such as the Community Development Block Grant Program. While we have seen preliminary summaries from Senate Democrats, it is important to remember that Virginia is unique among states in that its cities operate independently of counties, while towns are "corporations" within counties. This may impact how funds are distributed to Virginia localities versus those in other states, as well as from which pot of funds and by which larger government entity.
How fares Virginia?
For its part, the state is already beginning to assess the details of the ARP Act and to plan for how funds might be spent. In a press conference Thursday, Virginia Secretary of Finance Aubrey Layne announced that the state anticipates receiving approximately $6.8 billion in state and local allocations, separate and apart from any additional funding directed toward specific programs like PK-12 education. Of this, he expects $3.8 billion to go toward state government entities, while the rest would be redistributed to localities directly. For now, the specific sources for the remaining $3 billion from within the ARP Act remain unclear in relation to the amount of funding localities could expect to receive directly from the US Department of the Treasury. It is also important to note that the ARP includes funding separate from the amounts going to state and local governments for public education, vaccines, vaccinations, and broadband.
Full ARP ahead! Contact your legislative delegations before next week.
In the meantime, the general pace of the American Rescue Plan Act – both for the issuance of guidelines and the distribution of funds – appears to be moving more rapidly than we previously saw with CARES. Some areas of funding are designated under the bill's language to be distributed within as few as 30 days from enactment. For the state's part, Secretary Layne announced plans to meet with legislative leadership next week to discuss how Virginia's funds will be distributed and spent.
VML encourages members to reach out to their legislative delegations ahead of next week to encourage fair and expedient distribution of funding by the state.
VML Contact: Jessica Ackerman, jackerman@vml.org
Comments on proposed changes to MSA definitions due March 19
The Office of Management and Budget (OMB) has initiated a process to increase the minimum population of municipalities that constitute the core of Metropolitan Statistical Areas (MSAs) from 50,000 to 100,000. This change would create financial and programmatic consequences for those areas dropped from the MSA designation and for other localities as well. This change was proposed in the final months of the past presidential administration and put into motion at that time.
The Virginia municipalities that would be directly affected by the change are Blacksburg-Christiansburg, Charlottesville, Harrisonburg, Staunton, and Winchester. However, the impact is broader because changing the designation of these localities would put them into federal groupings of smaller and more rural localities, where they would compete with smaller and more rural localities for certain federal funding streams, such as CDBG, FTA, USDA rural development, and federal health funding.
Comments are due to the Federal Register by March 19; see additional information below about the notice and efforts underway by various groups, including chambers of commerce and planning district commissions as well as national organizations. Their request is for a delay on any action on this proposal until the full impact is understood.
The Virginia Association of Planning District Commissions (VAPDC) and the National Association of Development Organizations (NADO) provided us with the following information:
Federal Register notice by the White House Office of Management and Budget (OMB) requesting public comment – proposal to change MSA population definition from 50,000 to 100,000 minimum:
Docket Number: OMB-2021-0001
Title: Recommendations from the Metropolitan and Micropolitan Statistical Area Standards Review Committee to the Office of Management and Budget Concerning Changes to the 2010 Standards for Delineating Metropolitan and Micropolitan Statistical Areas
Federal Register Notice is available here >.
Full document detailing changes proposed by the Review Committee is available here >.
Deadline for public comment is March 19, 2021.
VML encourages our members to review the draft and submit comments
NADO provided additional information about efforts by national groups requesting the delay of this proposal; we strongly suggest you read the draft sign-on letter because it sets the record straight on assertions and justifications for the proposed changes in the Review Committee's correspondence above. In short, this would NOT be a purely statistical update; it would carry a number of consequences for local governments. You may use this information in drafting your own correspondence on this issue:
Available resources
The Aspen Institute and Brookings Institution have provided a letter and form on the OMB's proposed MSA definition change.
If you wish to sign onto this specific letter you must act by March 16, but you may use this letter to draft your own correspondence that shares your perspectives regarding the consequences of the proposed changes. If you draft your own letter, use the information in the Aspen/Brookings letter regarding addressees and submit it to the Federal Register here >.
A new Daily Yonder article published on March 9 references the Brookings/Aspen Institute letter and provides some additional context.
A recording of a Housing Assistance Council webinar on the OMB MSA definition proposal from March 10 may provide some helpful background info as well.
Things to do when sending comments
VML Executive Director Michelle Gowdy raised this issue with members of the Virginia Congressional delegation during meetings with them earlier this week; if you submit comments to the Federal Register you should also share your opinion with Senator Tim Kaine and Senator Mark Warner and your U.S. House Representative. VML would also appreciate receiving a copy of your correspondence which you can do by emailing it to Michelle Gowdy at the below address.
VML Contact: Michelle Gowdy, mgowdy@vml.org
State revenue collections stay strong
In his February Revenue Report to Gov. Ralph Northam, Secretary of Finance Aubrey Layne pointed out that on a fiscal year-to-date basis, total revenue collections rose 8 percent through February, ahead of the revised annual forecast of 3 percent growth. February's tax collections rocketed 28.5 percent ahead of February a year earlier.
However, not all revenue streams are gushing. The table below shows that taxes tied directly to individual withholding continue to lag expectations. Although this tax has been the state's "bread and butter" revenue, other state revenues are beating the official forecasts and are responsible for the impressive state collections.
Non-Withholding and Sales Taxes Propel State Collections
 

 

 

Selected Revenue Sources

 

 

 

% of GF

 

Y-T-D Compared with FY20

Official Forecast Compared with FY20
Individual Income Tax Withholding
61.0%
1.1%
2.7%
Individual Income Tax Non-withholding
18.0%
28.0%
4.4%
Sales and Use Tax
17.0%
6.7%
4.8%
Recordation Taxes
3.0%
38.3%
24.4%
Corporate Income Tax
6.0%
37.6%
27.4%
The "balance sheet" reads that state revenues are up by more than $1 billion and almost $7 billion in new federal relief funds courtesy of President Biden's Rescue Plan will be on the way shortly for state and local governments.
Signs that the economy is moving from recovery to expansion
Forecasters surveyed by Bloomberg predict 5.5 percent growth this year, the highest rate since the 1990s, but other economists think the gross domestic product (GDP) will grow at an even faster clip.  Goldman Sachs expects 7.7 percent growth, which has not occurred since 1984.
The Atlanta Federal Reserve, which tracks data in real time to estimate changes in gross domestic product, now is indicating a 10 percent gain for the first three months of the year. The unprecedented levels of fiscal and monetary stimulus are likely to put the recession in the nation's rearview mirror.
In Virginia, the data also points toward continued economic recovery. The Virginia Leading Index rose 0.6 percent in January after rising 1.1 percent in December. All four components – the U.S. Leading index, future employment, initial claims for unemployment, and auto registrations – improved for the month. The indexes for all eleven metro areas increased in December.
Employment questions abound
However, despite the improving economy there are unsettling challenges ahead. Will economic recovery and expansion also lead to an employment boon? Will the rising economic tide lift those who have lost their jobs or do not have the opportunity to work from home or continue to struggle in the workplace in their roles as yet-to-be vaccinated essential workers?
On the job front the employment situation is only slowly improving. The question that will have to be answered is will the unemployed have the work skills the economic expansion will require?  If an unemployed restaurant worker cannot just slide into a manufacturing job how will he and she prepare themselves?
For the filing week ending March 6, the figure for seasonally unadjusted initial claims in Virginia was 13,736. The latest claims figure was an increase of 1,581 claimants from the previous week.
For the most recent filing week, continued weeks claimed totaled 62,269, which was a 2.7 percent decrease from the previous week, but 39,555 higher than the 22,714 continued claims from the comparable week last year. The continued claims total is mainly comprised of those recent initial claimants who continued to file for unemployment insurance benefits during the COVID-19 pandemic.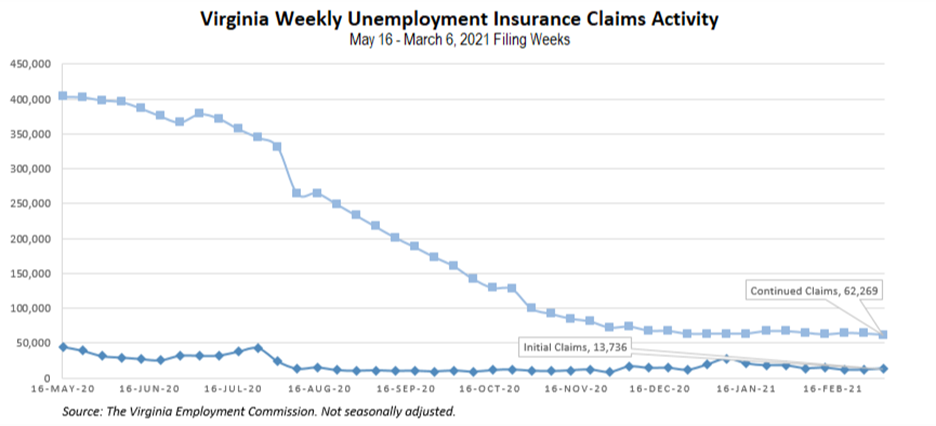 Challenges spilling over to local governments
Among the more pressing challenges for local governments are those related to public education.  Virginia experienced an 18.6 percent crash in pre-K enrollment because of the pandemic, driven in large part by Black student enrollment falling 20.5 percent and Hispanic enrollment declining by 19.6 percent.  (Non-Hispanic White enrollment fell 16.7 percent.)
For the higher grade levels, Black, Hispanic, and Asian students did not experience declines in high school enrollment according to the Virginia Department of Education (DOE).
The DOE data shows that only non-Hispanic White students in Virginia experienced enrollment declines across all grade level groups, including high school. Black, Hispanic, and Asian students did not experience declines in high school enrollment. Kindergarten enrollment for non-Hispanic White students fell by 18 percent, but only 8 percent for Asian, Black, and Hispanic students.
Going forward, these disparities raise important questions about the long-term consequences of COVID-19 and how local governments will make up for what many Virginians may consider a lost academic year. Stay tuned.
 VML Contact: Neal Menkes, nmenkes@vml.org
Legislation
Letters sent to administration officials this week
Please help us support these requests with your own communications
Earlier this week, the Virginia Municipal League sent several communications to the Northam administration to request changes to legislation and budget items to provide relief and assistance to local governments.
We encourage our members to use or reference these letters when crafting your own messages in support of these items.
Support for local police departments
From: VML and the Virginia Association of Chiefs of Police
To: Governor Northam
Subject: Request to submit a budget amendment to increase state financial support for police departments throughout the Commonwealth.
Excerpt: Police departments serving and protecting Virginians who live in our cities, counties and towns were not recognized. No bonus. No salary increases. No increase in the state's contribution to the "599" law enforcement program.
VML Contact: Janet Areson, jareson@vml.org
Delay enactment of SB1157 mandating November elections for localities
From: VML
To: Governor Northam
Subject: Consider amending SB1157 to allow localities until November 30, 2024 to comply with this legislation.
Excerpt: For the 105 towns across Virginia many who only hold public meetings once a month and
have newspapers that are not weekly, it will be impossible to draft an ordinance, allow for advertising, hold a public hearing, and approve said ordinance in that time frame.
VML Contact: Jessica Ackerman, jackerman@vml.org
Reduce the unfunded liability of the Teacher Retirement Fund
To: Secretary of Finance Layne
From: VML
Subject: Suggestion to use increased revenues to reduce the unfunded liability of the Teacher Retirement Fund
Excerpt: Another way to view this is that any additional VRS contribution provides a 7.4% annual rate of return on funds invested – a much superior return than the 1-2% returns currently being earned on Treasury deposits.
VML Contact: Neal Menkes, nmenkes@vml.org
Review and use of body-worn camera video
To: Secretary Johnson and Secretary Moran
From: VML
Subject: Request that budget item 75#1c be amended to include references to the review and use of body-worn camera video by Commonwealth's Attorney offices.
Excerpt: As you know, Virginia State Bar ethics rules require that attorneys, not paralegals, review and redact video footage. The workload for these offices will increase as more local law enforcement agencies deploy body-worn cameras and as state agencies and public universities adopt this technology.
VML Contact: Janet Areson, jareson@vml.org
Clarify state share of salary increases for SOQ-recognized teaching and support positions
To: Secretary of Finance Layne
From: VML
Subject: Requests that the local match language for state salary increases for teachers and support staff be clarified so as not to require local school divisions to provide an average salary increase of 5 percent for each year of the biennium. The suggested language would allow local school divisions to combine salary actions taken in FY21 and FY22 to reach the 5.0 percent maximum.
Excerpt: Sufficient funds are appropriated in this act to finance, on a statewide basis, the state share of up to a 5.0 percent salary increase the second year for funded SOQ instructional and support positions, effective July 1, 2021, to school divisions that certify to the Department of Education that salary increases of a minimum average of 2.0 percent have been or will have been provided during the 2020-2022 biennium, either in the first year or in the second year or through a combination of the two years, to instructional and support personnel.
This action preceded VML staff discussions on how to proceed with the various budget issues.
Read the full details of the budget item with explanation here >
VML Contact: Neal Menkes, nmenkes@vml.org
Elections and trees: New bills signed by Governor Northam
The Northam Administration announced today that the Governor had signed another 80 bills passed by the General Assembly during the 2021 Special Session. Of interest so far for localities are:
SB1157 (Spruill), the "May-to-November" elections bill requiring all localities to hold their elections in November, was signed without the delayed enactment amendment requested by VML, Virginia First Cities, and individual localities. This means that the bill is enacted as written, affecting local elections held after January 1, 2022. VML is assessing the impacts this deadline will have on member localities and plans to issue guidance next week.
HB2042 (Guy) and SB1393 (Marsden) provide localities with additional authority to exceed conservation requirements for replacing tree canopies impacted by development. The goal is to provide localities with the authority necessary to mitigate stormwater, recurrent flooding or in development projects in previously redlined neighborhoods, and to ensure compliance with the local comprehensive plan. This bill also directs the Secretary of Natural Resources and the Secretary of Agriculture and Forestry to convene a work group on the conservation of mature trees and to encourage the planting of trees. This work group will be comprised of representatives of local government, developers, forestry industry, environmental organizations and professionals, solar developers. The group will report its findings by October 1, 2021.
Legislative Services is regularly updating its complete list of bills approved by the Governor.
VML Contact: Jessica Ackerman, jackerman@vml.org
Environment
VDH water sampling study to begin with corrective action possible
As a result of legislation passed by the 2020 General Assembly, the Virginia Department of Health (VDH) is studying the prevalence of a category of chemicals perfluoroalkyl and polyfluoroalkyl substances (PFOA and PFAS) which are also known as "forever chemicals." These chemicals, ubiquitous in manufacturing processes for decades, are very difficult to eliminate since they do not break down over time. As a result, PFOAs and PFAS are found in waterways, wastewater facilities, outflows from manufacturing facilities and even household/consumer products.
Some states have already begun regulating this category of chemicals. The Virginia Department of Health has convened a working group to study the prevalence of these chemicals across different water sources including groundwater, surface water, and drinking water in the Commonwealth. The study is still in the design phase but is expected to begin later this year. During the study, any water source that is found to have amounts of PFAS or PFOAS greater than the EPA limit of 70 parts per trillion (ppt) of PFOA and PFAS will require a plan to mitigate these levels. However, it is not yet clear what these mitigation plans will comprise.
Testing for these chemicals in drinking water is a technically difficult process because samples can easily be cross contaminated. This is further complicated for municipal facilities such as wastewater facilities since there is not yet an approved testing protocol for wastewater systems.
VML is monitoring this work group as it proceeds and will continue to update members on this issue as it develops.
VML Contact: Mitchell Smiley, msmiley@vml.org
Environmental justice work group releases report
While new legislation on environmental justice failed to advance out of the 2021 General Assembly, the work of 2020 Environmental Justice Interagency Working Group continued into 2021 and this week it released its final report to the Chairs of the House Appropriations and the Senate Finance and Appropriations Committees. This report examined whether each state agency has an environmental justice policy, how the agency engages with the public, and the fiscal impact and resources that would be required to implement environmental justice compliance.
While the group's report did not directly affect localities, it did impact many agencies that localities interact with regularly. Furthermore, the report will likely serve as a precedent document for future legislation and possibly regulations or executive orders.
A copy of the report is available here >.
VML Contact: Mitchell Smiley, msmiley@vml.org
Supreme Court
SLLC Supreme Court midterm webinar happening next week
The Supreme Court's 2021 docket is set for the 2020-2021 term. Many new cases of interest to states and local governments have been added, ranging from a takings case to a case involving college athlete pay. Join the State and Local Legal Center (SLLC) for a discussion of the most interesting cases for states and local governments to be decided this term, featuring Dan Geyser, Alexander Dubose & Jefferson's Supreme Court chair, who will argue a case about appellate costs for the City of San Antonio; Matthew Littleton, Donahue, Goldberg, Weaver & Littleton, who wrote the SLLC's amicus brief in the takings case; and Sarah Harris, a partner in Williams & Connolly's Supreme Court and Appellate practice, who represents a school district in a case involving student off-campus speech and the First Amendment.
Date:  March 18
Time:  1PM Eastern
More information and registration are available here >.
VML Contact: Michelle Gowdy, mgowdy@vml.org
Opportunities
VML 2021 Innovation Awards nominations now being accepted
Forty-five years ago, the Virginia Municipal League launched its "Achievement Awards" to recognize outstanding work being done by local governments across Virginia. The program went on to become Virginia's highest honor in local government creativity. In 2017 the name was changed to "Innovation Awards", but the purpose remains the same: To celebrate all that you do to make your city, town, or county a great place to live!
Appropriately this is the "sapphire anniversary" year for the awards as sapphire is often associated with healing and peace – two things we have good reason to welcome in 2021.
So, don't miss this opportunity to spotlight programs and individuals that have made a big difference to your residents by creating innovative solutions to address emerging needs.
Full details and the entry form are available here >.
The deadline to submit is Monday, August 16. The awards will be presented at VML's Annual Conference in Leesburg in October.
VML Contact: Manuel Timbreza, mtimbreza@vml.org
American Public University launches new programs for local government professionals
VML Community Business Member American Public University (APU) has launched a new "Community of Achievers" set of course offerings specifically tailored to municipal government and public sector professionals who want to advance their knowledge and skills to prepare for a leadership role or build proficiency as a communicator or problem solver.
According to the program's website, benefits for working professionals include:
A comprehensive range of programs including Cybersecurity, Emergency and Disaster Management, Environmental Studies, Healthcare, IT, and Management.
Convenience through fully online coursework and 24/7 access.
Flexibility through monthly program starts and weekly class schedules with no set login times.
Current local government officials and staff are offered:
Discounted rate per credit hour
$0 cost textbooks/ebooks for undergraduate classes
$0 application fee
No entrance exams
$0 to evaluate and award transfer credit
About APU
APU offers 200+ accessible degrees and certificates. APU programs start monthly, and courses are 100% online. APU is part of the American Public University System (which also includes American Military University) which is accredited by the Higher Learning Commission (www.hlcommission.org).
APU Contact: Buster Nicholson, Sr. Manager, anicholson@apus.edu
Virginia Flood Awareness Week is right around the corner!
The Virginia Department of Conservation and Recreation (DCR) encourages residents and businesses to understand their flood risk and purchase flood insurance March 14-20.
Here are ways you can participate:
To find out more about Virginia Flood Awareness Week, including ways to get involved visit the website here >.
DCR Contact: Julie Buchanan, julie.buchanan@dcr.virginia.gov