eNews March 10, 2020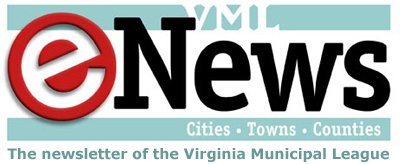 Tuesday, March 10, 2020 - 04:51pm
In this issue:
Legislation
2020 General Assembly wrap-up coming soon
It was a roller coaster ride of a session and VML's policy team was proud to be on board for our members. Thank you to everyone who responded to our Action Alerts. As you'll read in the "Wins for local authority" section below, you helped us make a difference when it mattered!
With the General Assembly set to reconvene on Thursday to finish the budget (and other sundry matters), we look forward to providing a full analysis of all the 2020 legislation of importance as well as the bottom line on the budget for localities next week.
Stay tuned!
VML Policy Staff: Michelle Gowdy, mgowdy@vml.org; Janet Areson, jareson@vml.org; Jessica Ackerman, jackerman@vml.org; Mitchell Smiley, msmiley@vml.org; Neal Menkes, nmenkes@vml.org.
A look at the minimum wage bill that passed the General Assembly
The final version of SB7 awaiting the Governor's signature is a more gradual increase to the minimum wage than originally proposed. This bill states that prior to January 1, 2021 every employer shall pay the federal minimum wage. Then:
January 1, 2021 until January 1, 2022 the rate shall be $9.50/hr
January 1, 2022 to January 1, 2023 the rate shall be $11.00/hr
January 1, 2023 to January 1, 2025 the rate shall be $12.00/hr
January 1, 2026 to January 1, 2027 the rate shall be $15.00/hr
After January 1, 2027 the minimum wage will be the adjusted state hourly minimum wage. In all cases, the employer shall pay the federal minimum wage if it is higher than what is required by the legislation at that time.
To determine the adjusted state hourly minimum wage, the Commissioner of Labor and Industry will consider many factors including the U.S. average consumer price index and the urban consumer price index or successor indexes.
As a final measure, the bill states that prior to July 1 of 2024, the bill must be reenacted (passed again) by the General Assembly. Otherwise, the Commissioner of Labor and Industry shall establish the adjusted state hourly minimum wage by October 1, 2024 and annually thereafter.
Impacts of regional minimum wage to be considered
In addition, the Department of Housing and Community Development along with the Virginia Economic Development Partnership and Virginia Employment Commission will look at the feasibility and potential impact of a regional minimum wage. Factors to be considered include:
Potential impact on employers and any fringe benefits offered to employees.
Potential impact on workers with a focus on income inequality and the equity.
Fairness of the exemption for farm laborers or farm employees along with the economic benefits or impacts.
A final report is due no later than December 23, 2023.
VML Contact: Michelle Gowdy, mgowdy@vml.org
Tree bills fail to pass but survive to be studied
Several pieces of legislation dealing with trees were introduced this session:
Vienna had HB707 which dealt with tree canopy requirements.
Another bill, HB221, would allow localities to adopt tree conservation ordinances and impose civil penalties along with identifying and preserving flood mitigation trees if the locality has adopted strategies to combat projected relative sea-level rise and recurrent flooding.
Finally, HB1624 would authorize any locality to adopt an ordinance providing for either the conservation of or the planting and replacement of trees during the land development process.
These bills did not pass this year but were sent to the tree study created under HB520!
About the study created under HB520
The Department of Environmental Quality will convene a stakeholder group for the purpose of studying the planting and preservation of trees as an urban land cover and as a stormwater best management practice. Stakeholders will include representatives of residential and commercial development, the construction industry, the community associations industry, the linear infrastructure development industry (linear infrastructure includes powerlines, roads, pipelines, etc.), the Virginia Forestry Association, and local Virginia stormwater management program authorities, professional environmental technical experts and any others deemed necessary.
This report should be completed by November 1, 2020 and shall include recommendations as to whether the planting or preservation of trees shall be deemed a creditable land cover type or best management practice and if so, how much credit should be given.
One tree bill stands tall
Don't worry – one tree bill actually passed! Under HB504 mature trees are added to criteria that the State Water Control Board will consider in the protection of water quality; specifically, whether mature trees or planting trees can be a water quality protection tool and a means of providing other natural resource benefits.  Mature trees are a new addition to Code Section 62.1-44.15:72.
VML Contact: Michelle Gowdy, mgowdy@vml.org
Wins for local authority
Localities have the authority to remove war memorials
SB183 has passed both chambers. Under the legislation, localities will be allowed to remove, relocate, contextualize or cover any monument or memorial on public property if they comply with the following:
The local governing body shall publish notice of such intent in the newspaper.
Specify the time and place of a public hearing which must be held not less than 30 days after publication of the notice.
Hold a vote of the governing body after the public hearing.
Upon a successful vote to remove, for 30 days the local governing body shall offer the monument or memorial for relocation to any museum, historical society, government or military battlefield that desires it.
There are also provisions for an advisory referendum should the locality decide that this information would be helpful, the ability to appropriate money to this decision and provisions for damages.
VML Contact: Michelle Gowdy, mgowdy@vml.org
Collective bargaining took a long and winding road to a local option
This legislation experienced many twists and turns but wound up as a local option! Under SB939, collective bargaining is allowed only for local government employees and the ability to strike is still banned. Local government may by ordinance or resolution create procedures for the certification and decertification of exclusive bargaining representatives. Additionally, local governments may include reasonable public notice and opportunity for labor organizations to intervene in the process for designating an exclusive representative of a bargaining unit.
The bill very specifically includes local school boards and employees and excludes Constitutional Officers and their employees.
If a locality has not enacted an ordinance – and a majority of their public employees in a unit certify that they want collective bargaining – the local governing body then has 120 days to vote to adopt or not adopt a resolution or ordinance providing for collective bargaining.
VML Contact: Michelle Gowdy, mgowdy@vml.org
Local option for affordable housing passes both chambers!
Localities, realtors and homebuilders worked together on HB1101 which provides additional affordable housing tools to localities. The bill passed by wide margins in both chambers.
Affordable housing studies that also passed
Ways to incentivize the development of affordable housing in the Commonwealth of Virginia. HB854 authorizes a study to be conducted by the Department of Housing and Community Development (DHCD) and the Virginia Housing and Development Authority (VHDA) along with stakeholders with expertise in land development, construction, affordable housing, real estate finance, tax credit syndication and other related areas. The advisory group is tasked with:
Determining the quality and quality of affordable housing and workforce.
Conducting a review of current programs and policies to determine the effectiveness of current housing policy efforts.
Developing an informed projection of future housing needs in the Commonwealth.
Determining the order of priority of those needs.
Making recommendations for the improvement of housing policy.
An executive summary of the findings shall be submitted to the Division of Legislative Automated Systems for processing no later than the first day of the 2021 regular General Assembly session and the meetings shall be completed by November 30, 2020.
Affordable housing tax opportunity credit program. HB810 authorizes a study to be conducted by DHCD and VHDA which are tasked with developing draft legislation establishing a housing opportunity tax credit program for the purpose of providing incentives for the use of private equity in the development and construction of affordable housing. This stakeholder group will include persons with an expertise in land development, construction, affordable housing, real-estate finance, tax credit syndication, the federal Low-Income Housing Tax Credit program and others.
This study will be reported to the Governor, the Secretary of Commerce and Trade, the Director of the Department of Housing and Community Development and the commissioners of the Virginia Housing Authority by September 1, 2020.
VML Contact: Michelle Gowdy, mgowdy@vml.org
Events & Opportunities
Managers and Building Code Officials invited to participate in Circuit Rider program
Viridiant, a non-profit organization advancing sustainable, affordable, and energy-efficient construction through education and technical support, is partnering with the Virginia Department of Housing and Community Development, Southeast Energy Efficiency Alliance, Home Builders Association of Virginia and Virginia Energy Efficiency Council, to support the Circuit Rider Program in Virginia.
Ten Virginia jurisdictions will ultimately be selected to participate in the program conducted by Viridiant and supported by funding from the U.S. Department of Energy.
The Circuit Rider Program's primary approach is to gather building departments' best practices and understand challenges of residential energy code enforcement.  All site visits will be completed by May 31, 2020.
With the success of the Circuit Rider Programs in other states throughout the Southeast, Viridiant believes the program in Virginia will develop strong relationships, identify gaps and needs for building department staff and the construction industry, and ultimately result in improved code education, information dissemination, and awareness of energy efficiency..
For more information or to participate in the Circuit Rider Program, please contact Sean Evensen-Shanley at sean.evensen-shanley@viridiant.org or (804) 212-1934.
Grants training to be held in Henrico
Discount available for VML members
Henrico County Division of Fire and Grant Writing USA will present a two-day grants workshop in Henrico, April 30 – May 1, 2020. This training is for grant seekers across all disciplines.
Click here for full event details >
Beginning and experienced grant writers from city, county and state agencies as well as nonprofits, K-12, colleges and universities are encouraged to attend.
Virginia Municipal League members receive a special tuition rate of $425 which includes everything: two days of instruction, workbook, and access to the group's Alumni Forum with tools, discussions and more than 200 sample grant proposals. Please use discount code "ASSN" to receive this $30 discount off full price at registration.
Seating is limited, online reservations are necessary. Tuition payment is not required at the time of enrollment.
Complete event details including learning objectives, class location, graduate testimonials and online registration are available here.
Contacts:
Janet Darling
Grant Writing USA
888.290.6237
janet@grantwritingusa.com
Jackson Baynard
Henrico County Division of Fire
804.501.5857
bay08@henrico.us