eNews March 1, 2018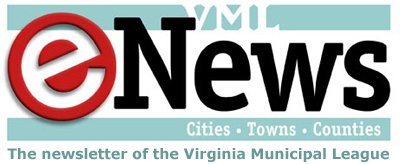 Thursday, March 01, 2018 - 03:33pm
In this issue
Register to attend emergency response seminar
Budget conferees set
Open space assessment bill passes Senate
Bill setting statewide fees for public rights-of-way clears the Senate
Update on various bills of interest
Register to attend emergency response seminar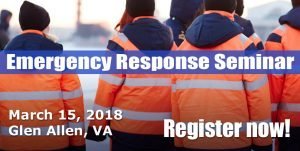 Register here to attend the March 15 seminar on emergency responses at the local level to natural or man-made disasters. The discussion will focus on emergency management procedures, a review of tactical operations, outside support available and, post-event, the process for federal and state financial reimbursement.
This panel discussion will be led by Dr. Tonya Neaves, Managing Director for the Centers on the Public Service with George Mason University Schar School of Policy and Government. Panelists include Maggie DeBoard, chief of police in Herndon, and Will Flagler, deputy director for emergency management for Arlington County.
The seminar will be held March 15, 10 a.m. to noon at the Virginia Society of Certified Public Accountants, 4309 Cox Road, Glen Allen, VA 23060. The fee to attend is $50.
VML contact: Mike Polychrones, mpolychrones@vml.org
Budget conferees set
The House and Senate budget conferees have been named, and conference deliberations will now begin. There's a lot of distance between the two budgets because the House budget includes Medicaid expansion, which would add federal funding to the budget, while the Senate does not. As such, many components of the budgets are contingent on whether the State moves forward with Medicaid or not.
House Budget Conferees:
Senate Budget Conferees
At this time, there are two harmful amendments in the Senate budget that VML would ask members to weigh in with their delegation members about. These amendments are:
Item 70#1s, which would require that any locality (county, city, or town) that elects to employ the use of a body worn camera for law enforcement employ and pay the cost for one entry-level Assistant Commonwealth's Attorney for every 50 body worn cameras used by patrol officers. This amendment offers no flexibility in the type of staff used to work with the videos generated by the body worn cameras. For example, if your police department and Commonwealth's Attorney office have a cooperative agreement regarding the cataloging and archiving of videos, this language would preempt those agreements and require you to pay for attorneys in the Commonwealth's Attorney's offices. VML opposes this mandate and would prefer that the state study the issue of workloads and requirements regarding the cataloging and archiving of the tapes, in addition to the workload in viewing the tapes.
Item 3-1.01#1s, which would sweep $2.0 million in Communications Sales and Use Tax revenue each year into the state general fund. The CSUT revenues continue to drop each year, and this would further reduce the allocations given to local governments. VML opposes this amendment.
Please talk to your delegation members about these amendments and ask that they talk to their colleagues on the budget conference.
VML contacts: Neal Menkes nmenkes@vml.org; Janet Areson jareson@vml.org
Open space assessment bill passes Senate
HB 1204 (Hugo) mandates that Arlington and Loudoun Counties establish open-space programs and that the reduced land use valuations be treated as "fair market value" assessments. The bill passed the Senate around 3 p.m. today on a 27-13 vote (the vote is not yet posted). The bill has the purpose of reducing the real estate bills for two privately owned golf courses in Arlington County, but its long-term impact goes well beyond that preferential tax treatment. If open-space property in either jurisdiction is sold or developed for purposes other than open-space, the land owner would not be subject to the five-year rollback of taxes. If the mandate and redefinition of fair market value is extended by future General Assembly sessions to include the land use valuation programs for agriculture, horticulture or forestal, there would be a substantial impact on the Local Composite Index formula used for allocating K-12 basic aid.
Bill setting statewide fees for public rights-of-way clears the Senate
HB1427 (Kilgore) passed the Senate yesterday on a 19 yes, 18 no, 3 abstentions vote. The Senate companion, SB823 (McDougle), passed the House on Feb. 23 on a 67 yes, 29 no, 2 abstentions vote. The bills set statewide fees for use of state and local public rights-of-way. VML opposes the bills.
VML staff contacts: Michelle Gowdy, mgowdy@vml.org
Update on various bills of interest
Bills moving forward
SB451 (Dance) gives localities the authority to require abatement of criminal blight on real property. It would put another tool in the tool box for localities to attempt to clean up blighted properties. This bill was a request from the City of Richmond Police Department as a way of dealing with hotels that have significant drug and prostitution issues. It is also a recommendation of the Housing Commission. HB594 (Carr) is the companion bill. The bills will soon be on their way to the Governor.
SB448 (Chafin) allows localities to establish school revitalization zones in which incentives could be used to encourage private sector redevelopment of abandoned schools. VML supports. A House Counties, Cities and Towns subcommittee has recommended reporting and the bill will be heard Friday in full committee. HB1179 (Pillion), the House companion, is on the Senate floor and nearing final passage.
SB371 (Chafin) allows localities to establish and regulate various water-related activities on property adjacent to public waterways. The bill also expands the exemption for liability for conduct of these activities. VML supports. The House Counties, Cities and Towns subcommittee will hear the bill tomorrow. Senate Local Government has reported an identical House version, HB220 (Morefield).
SB993 (Reeves) restricts the ability of localities to hold presubmission conferences, meetings or reviews for proposed plats, site plans or plans of development. Restrictions on timelines for approval that were in the original bill were removed. The amended bill passed the House yesterday on a 95-4 vote.
Bills that were dead but may be transformed
SB878 (Dunnavant) originally mandated contracts between community services boards (CSBs) and local and regional jails.  Currently that is an option for the jail and the CSB.  The bill was carried over in a House Appropriations subcommittee on Feb. 27. However, the Senator then added an amendment to HB934 (Hope), during a Senate Finance meeting. This amended bill is now on the Senate floor.
The amendment would direct the Board of Corrections, in consultation with the Commissioner of the Department of Behavioral Health and Developmental Services, to develop standards for mental health and substance abuse services in jails.  This language jumps ahead of a study approved by the 2017 General Assembly and currently underway by the General Assembly's own Joint Commission on Health Care, to look at the health and mental health services provided in local and regional jails.  That study will conclude by late 2018.  It also jumps ahead of work being done by the Joint Subcommittee on Mental Health in the 21st Century, which is studying mental health services and procedures in local and regional jails.  As such, VML opposes this amendment to HB934.
Bills that are carried over or died
SB 290 (McClelland) would have granted all localities the authority to adopt affordable dwelling unit ordinances. Currently, only a few localities have this authority. The bill was carried over in a House Counties, Cities and Towns subcommittee.
VML staff contacts: Michelle Gowdy, mgowdy@vml.org; Janet Areson, jareson@vml.org; Neal Menkes, nmenkes@vml.org
---
VML legislative staff and assignments
Michelle Gowdy – Local government authority, planning and zoning, legal matters, housing, Freedom of Information, telecommunications and technology. mgowdy@vml.org; 804-523-8525
Janet Areson – Health and human services, and the state budget. jareson@vml.org; 804-523-8522
Mike Polychrones – Environment, land use, natural resources, elections and transportation policy. mpolychrones@vml.org; 804-523-8530
Neal Menkes (under contract) – Taxation and finance, the state budget, transportation funding, retirement, education funding and community and economic development. nmenkes@vml.org; 804-523-8523
Roger Wiley (under contract) – Courts, criminal law, civil law, and procurement. roger@heftywiley.com; 804-780-3143
Chris LaGow (under contract) –Insurance and workers' compensation. chris@lagowlobby.com; 804-225-8570