eNews Mar 8, 2017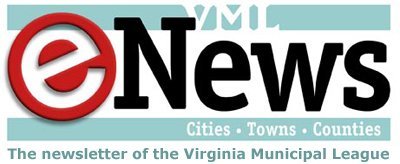 Thursday, March 09, 2017 - 01:15pm
Weigh in now: Ask governor to sign short-term rentals bill without amendments
There continue to be efforts to have SB1578 amended or to have language added in the budget that would remove some local authority.  VML continues to support the bill as passed and has asked the Governor to not seek amending either the budget or the bill. 
We encourage all localities to send a letter to the Governor asking him to sign SB1578 without any amendments and to not approve any changes in the budget with regard to short term rentals either.
VML will also be encouraging all localities to review their ordinances regarding this use and will provide more information during its educational sessions this spring and summer.
VML contact: Michelle Gowdy, mgowdy@vml.org
Freedom of Information Advisory Council begins its work
The Virginia Freedom of Information Advisory Council (FOIA Council) met on Tuesday of this week to begin its work for the 2018 General Assembly Session.  The topics for this year include: proprietary records and trade secrets (§2.2-3705.6 and other exemptions), personnel records (§2.2-3705.1) and access to law enforcement records (§2.2-3706).  They will also consider how to modernize FOIA in light of new technology as well as reorganize the code sections for easier use.
Unlike previous years, the Council will use just one subcommittee to deal with a set of specific issues.  The Council found that multiple subcommittees and work groups bogged down the process.  Council members will volunteer to deal with particular topics.  The proposed schedule includes proprietary meetings/trade secrets and personnel issues to be considered from March to June, law-enforcement records and technology issues from July to September and finish with the organization of FOIA at the end of the year.
The next full committee meeting is May 15th at 1:30 p.m. in Richmond.
VML contact: Michelle Gowdy, mgowdy@vml.org
Governor vetoes bill allowing guns in emergency shelters
On Monday, the Governor vetoed HB2077 which would have eliminated the authority of state and local governments to prohibit persons from bringing firearms into shelters during a state of emergency.  VML sent a letter asking the Governor to veto this bill.
VML's policy statement on public safety supports legislation that preserves locality's law and order and promotes the safety and quality of life of their residents.  This bill would have been a setback in the ability of a locality to keep their citizens safe during a grave time of need.
VML contact: Michelle Gowdy, mgowdy@vml.org
Transit funding debate on schedule for 2018 legislative session
This week the Transit Capital Projects Revenue Advisory Board (RAB) met in Richmond to consider an approach for prioritizing transit capital needs and to discuss principles for estimating transit capital revenue.
The RAB is hardly a well-known group.  It was established last year by the General Assembly (HB 1359) within DRPT to examine the effects of the loss of state transit capital funds, identify additional sources of revenue, and develop proposals for prioritization of transit capital funds.
The RAB's deadline for submitting a final report to the Governor and General Assembly is August 1, 2017.  The idea is to give leaders in the executive and legislative branches sufficient time, well before the 2018 session convenes, to consider the report's recommendations (and quite possibly in time for the electorate to consider when choosing the next Governor and members of the House of Delegates).
Why is this group's work so important?  The impending expiration of Capital Project Revenue bonds authorized ten-years ago will leave transit systems throughout the state without adequate funding for capital improvements.  As a pre-condition for any action taken on revenues, HB 1359 also required the development of a prioritization process for transit projects – a process that could lead to a Six-Year Improvement Program for transit capital expenditures which can be integrated into the Program adopted annually by the Commonwealth Transportation Board.
The work of the RAB and the reception of its recommendations by the Governor and General Assembly will affect every locality that operates a transit system or participates in a regional transit authority.  If transit capital funding needs are not met, even projects that promote a state of good repair will have to rely more heavily on the fare box and local government appropriations.
Report reflects local support of public education
In FY 2016, local governments spent $7.4 billion – more than double their required local effort – under the Standards of Quality for operations for public education in FY2016, according to a Department of Education report released earlier this year.
The $7.4 billion includes the $3.5 billion required local effort, and $3.9 billion that exceeds local effort.
Look no further than this report for a big reason why local governments are under fiscal stress. They continue to pay a disproportionate share of the true cost of providing Virginia's children with a quality public education.
All school divisions exceeded required local effort, with support in excess of RLE ranging from 7.69 percent in Patrick County to 258.8 percent beyond RLE in West Point.
Overall, thirty-four percent, or 46 of the 135 divisions contributed more than double their required funding.
Read this year's report at: https://bit.ly/2neVnlM.
Staff contact: Mary Jo Fields, mfields@vml.org
Superintendent's budget estimates released
The Superintendent's memorandum detailing the estimates to be used for budgetary purposes for public education based on the budget actions taken by the General Assembly at the 2017 session has been posted here. 
Attachments to the memorandum include a narrative summary of changes as well as projected state payments and required local matches by school division for the various education programs in FY2017 and FY2018.
In addition, the memorandum notes that while the State has confidence in its statewide average daily membership numbers, school divisions may have more accurate ADM information for their individual division.  If that is the case for your division, the memorandum has a link to an Excel calculation tool that can be used.
Staff contact: Mary Jo Fields, mfields@vml.org
Special Joint Subcommittee established to tackle local government fiscal stress
It's been a long time since the General Assembly paid attention to complaints about local fiscal stress.  But, recent events in the City of Petersburg have commanded legislative interest.  And, if the 2017 session is an indicator, then state legislators are about to embark on a journey, learning how local elected officials must balance each year the increasing demands for public services against static local resources and "now you see it and now you don't" state dollars.
This year's General Assembly session adopted several budget amendments to identify issues and potential solutions tied to local fiscal stress.
Joint Subcommittee on Local Government Fiscal Stress
Five members of the Senate Finance Committee, four delegates from the House Appropriations Committee, and two members of the House Finance Committee will constitute a Joint Subcommittee on Local Government Fiscal Stress.
The Joint Subcommittee is the idea of Senator Emmett Hanger.  His language amendment pulls together representatives from all three "money committees" along with the staffs of the money committees and the Commission on Local Government to review:
Savings opportunities from increased regional cooperation and consolidation of services;
Local financial challenges in serving as the provider of state-mandated or state-high priority programs;
Causes of fiscal stress among local governments;
Potential financial incentives and reforms to encourage increased regional cooperation; and
Different taxing authorities of cities and counties.
The daunting task before the Joint Subcommittee is not one that will result in proposals for next year's legislative session.  Senators Hanger and Norment, who serve as co-chairs of the Senate Finance Committee and Delegate Jones who is the chairman of the House Appropriations Committee understand that the issues are complex and that solutions will be thorny and difficult.  The Joint Subcommittee's mission will take more than a year or two to complete, and localities will have stay on top of the Subcommittee's work.
Management Letters and Monitoring Local Fiscal Stress
The first language amendment directs the Auditor of Public Accounts to include certain requirements for independent certified public accountants who audit localities and local government entities.  The requirements are to address the communication of significant findings dealing with internal control deficiencies or financial matters.  In short, the accountants are to make sure that their findings are in the form of official, written communications to the local governing body.
The next budget amendment establishes a cooperative legislative and executive system to monitor potential local fiscal distress.  Fiscal distress is defined in the amendment as a situation whereby the provision and sustainability of public services is threatened by administrative and financial shortcomings.  The causes may be internal or external to a locality.  It will be the responsibility of the Auditor of Public Accounts to develop an early warning system using information regularly collected by the state or otherwise regularly made public by local government. 
The amendment also provides a mechanism (backed by up to $500,000 from unexpended general fund balances) for potential state and/or private sector technical assistance to carry out an approved state plan to investigate and recommend remediation efforts.  To access the state assistance, the local governing body or chief executive officer must make a request following the Auditor's conclusion that the locality may meet the criteria for fiscal distress.
VML will closely monitor over the coming months the development of the state process to preliminarily determine if a local government may be in fiscal distress.
Be on the lookout for VML policy committee nominations!
Nominations forms for the 2017 VML policy committees will soon be sent to full member local governments. VML has six policy committees:
Community & Economic Development
Environmental Quality
Finance
General Laws
Human Development & Education
Transportation
Each year, VML's policy committees meet to learn about and discuss current and emerging issues, and develop policy positions on these issues.  Policy committee meetings are scheduled in late July.  Exact dates will be announced.
Local governing body members and local appointed officials/staff are eligible to serve on these committees, which offer an opportunity to learn more about statewide issues and to talk with colleagues from across the state about issues of mutual interest.
VML will send the policy nominations form to the key official in each locality (manager or mayor), as well as council and board clerks.   Each local government fills out the nominations form for its participants.
If you have any questions about policy committees, please email or call Janet Areson at VML, jareson@vml.org; 804/523-8522.
Virginia Tech enters partnership with Virginia GFOA; adds new courses in public and non-profit financial management
The Virginia Government Finance Officers' Association (VGFOA) is partnering with Virginia Tech's School of Public & International Affairs (SPIA) and Office of Continuing Professional Education (CPE) to deliver a new series of educational programs focused on critical topics for local government finance professionals.
In this first year, Virginia Tech will offer four in-person workshops and three on-line webinars to address topics such as compliance, budgeting, payroll law, procurement, leadership and technology.  Workshops will be held at Virginia Tech venues across the state.  The first workshop, focusing on capital improvement planning, will be held April 25 at the Roanoke Higher Education Center.  It will feature best practices from towns, cities, and counties, and include discussion of how plans are developed, implemented, and evaluated.   Additional information may be found at www.vgfoa.org.
In addition to this new partnership, Virginia Tech has announced new courses to be added to its Graduate Certificate in Public and Non-Profit Financial Management.
The Certificate includes five courses, including an introduction to public and non-profit financial management; budgeting for performance management and outcomes; capital and debt financial management; and financial health for public and non-profit organizations.
These courses will be offered on-line for the convenience of working professionals as well as students.  For more information about the certificate program, please email Stephanie Davis, program director, at sddavis@vt.edu
No Kid Hungry conference call scheduled with First Lady McAuliffe
March 15th  1:00 pm
Local officials are invited to participate in a conference call with First Lady Dorothy McAuliffe and Chapel Hill Mayor Pam Hemminger on No Kid Hungry Virginia on March 15th from 1-1:30 pm.
The call will focus on the importance of the Summer Feeding Program and how local governments can help end summer hunger for children in their community.
To participate: Dial-in: 866-842-5779, Access Code: 4983653267
Additional information on the summer program is available at No Kid Hungry's Center for Best Practices website and on the No Kid Hungry Virginia's website.
The No Kid Hungry team would be happy to talk more with anyone interested in learning about what the Summer Food Service Program looks like their community and brainstorm the best ways for them to get involved. Sarah Steely, No Kid Hungry Virginia Outreach Associate, at (804) 864-7510 or sarah.steely@vdh.virginia.gov is the primary contact.
Supreme Court Midterm Webinar
Hosted by State and Local Legal Center
March 30, 2017 2:00 p.m.                  Register here
The Supreme Court's 2016-17 docket is set. While the Court is still down a Justice and will decide fewer cases than usual this term, it will decide many cases of interest to states and local governments including a number of police cases, First Amendment cases, and a preemption case.
Join Matt Wessler, Gupta Wessler, who argued the preemption case; Tom Bondy, Orrick, who co-wrote the merits brief for Los Angeles county in the most important police case of the term; and Lawrence Hurley, Supreme Court correspondent for Reuters, in a discussion of the cases and the future of the Court.
Future of small cities is focus of Hometown Summit
Leadership, innovation, talent and creative placemaking as the four keys for small cities to flourish will be the themes covered in Future of Small Cities portion of the Hometown Summit, to be held April 13-15 at the Jefferson School African American Heritage Center in Charlottesville.
Sessions include a far-flung range of topics including reimagining the suburban strip mall, activating citizen leadership, coastal adaption and resilience, tax incentives and defining a shared vision of the future.
The program is posted here.  Registration information and more details on the Hometown Summit are posted here.