eNews Mar 18 2016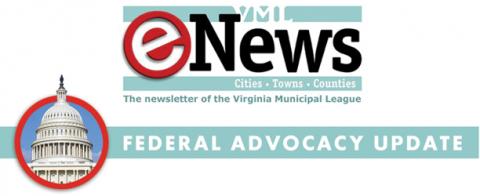 Friday, March 18, 2016 - 02:45pm
General Assembly pushes ahead on GO Virginia
The House of Delegates and the Senate approved by an overwhelming majority legislation (SB 449 and HB 834) to establish the Virginia Growth and Opportunity Board and the Virginia Growth and Opportunity Fund for regional economic and workforce development projects. The legislation authorizes regional councils to be set up across the Commonwealth, consisting of representatives of government and the business and education communities.  Councils may submit applications for collaborative projects in their region that enhance private-sector growth, competitiveness, and workforce development. A portion of the grant funds will be awarded on a population basis and a portion on a competitive basis.  The General Assembly appropriated in the next biennium over $35.0 million for regional grants and an additional $450,000 for staffing and administration.
As part of the GO Virginia legislative package, the General Assembly also enacted SB 459 and HB 846 to create the Virginia Collaborative Economic Development Performance Grant Fund.  Localities with an approved collaborative economic development plan and making agreed-upon investments for particular projects can apply for state grants of up to 50.0 percent of the total investment or contributions made by the participating localities.  This Fund would be capitalized by up to 45.0 percent of the total annual amount of personal income taxes paid to the state by the project's new employees.  Although the legislation provides for exceptions, an eligible project must create at least 200 net new jobs with personal benefits and with salaries in line with the average wages paid in the participating localities.  There is also a capital investment threshold of at least $25.0 million.
Gov. McAuliffe has until the end of April 11 to act on these bills – sign them into law, offer amendments, or veto.
Cloudy state revenue picture may not clear up until June
The optimism that led to an upgrade of the FY 2016 revenue forecast may be fading.  Because of strong tax collections from the previous fiscal year, the FY16 forecast originally called for a 0.1 percent decline to meet its target.  However, a steady rise in employment numbers and tax collections changed the minds of state decision makers, resulting in a revised December revenue forecast of 3.2 percent growth.
That optimism may have been misplaced.  With the fourth quarter of FY16 just a few weeks away, here is the scorecard through February of this year.
Individual income tax withholding
This category accounts for 63.0 percent of general fund revenues.  On a year-to-date basis, withholding collections are 2.4 percent ahead of the same period last year.  This is in line with the actuals from FY13 and FY14, but badly trails the 5.3 percent growth in FY15 and the official FY16 estimate of 4.1 percent growth.
Sales tax
Collections of sales and use taxes comprise 19.0 percent of general fund revenues.  On a year-to-date basis, these taxes have increased by 0.8 percent.  With the artificial boost from the accelerated sales tax program, collections have grown by 3.3 percent for the year.  The official FY16 forecast estimates 4.1 percent growth.
Recordation taxes
Collections in this source have increased by double digits in twelve of the last fifteen months.  Thus far in FY16, recordation taxes are up 10.2 percent which is close to the 10.6 percent annual forecast.  This category of wills, suits, deeds, and contracts account for 2.0 percent of general fund revenues.
Individual income tax non-withholding
This is the "wildcard" category comprising 17.0 percent of general fund revenues.  It is made up of capital gains, quarterly estimated individual income taxes, and other non-wage income.  Year-to-date collections through February are 5.8 percent greater and well ahead of the annual forecast estimate of 1.9 percent growth.  Because a significant amount of these taxes are remitted in May and June, a strong finish could make the difference in whether or not the state makes this fiscal year's forecast.  Non-withholding revenues were critical to the revenue surpluses in FY13 and FY15.
Implications
If collections fail to meet the official forecast, the amount of the shortfall will be carried forward in fiscal years 2017 and 2018, resulting in lower revenue estimates in both years.  Depending on the size of any shortfall, salary increases for state employees, teachers and other state-supported local employees could be jeopardized along with other state spending.
Final bond package includes $20 million for local stormwater projects
Late last week VML reported that the biennial budget passed by the legislature did not include any money for the Stormwater Local Assistance Fund (SLAF). We are happy to report now that the General Assembly did authorize $20 million in bond proceeds for SLAF through the passage of SB 731. The legislation authorizes a total of $271 million in bond proceeds, primarily for capital projects at state universities. Last minute negotiations led to the inclusion of new funds for SLAF. This is welcome news because the SLAF would have been exhausted without the authorization, leaving no money available for grants in FY 17.
Additionally, budget language in HB 30 will now permit SLAF dollars to be used for the acquisition of nonpoint nutrient credits starting in FY 17.
Thanks to all our members who contacted their legislators in support of this VML legislative priority.
Eminent domain bill for public service companies
This bill as introduced would have been problematic for localities and VML asked that localities oppose SB478 (Obenshain).  The original bill would have made out-of-court settlement of condemnation cases more difficult and add significantly to the cost of public projects.   Of particular concern were costs of public water and sewer lines, highway improvements, etc.
The House adopted a substitute that essentially wrote local government utility departments and water and sewer authorities out of the unfavorable provisions of this bill, treating them like Dominion and other private companies. The new requirements would still apply to local condemnations for other purposes, but utilities were a big victory.
Unfortunately, the Senate rejected the House substitute and put the bill in conference.  In the end the agreed upon language includes preserving the current exemption from having to a pay landowners' appraisal costs when acquiring easements valued at less than $10,000 and exempts local government utility departments and water/sewer authorities.
The negative aspects of the bill will still apply to local condemnations for roads and other non-utility public projects, but exempting utility easements should be a big help for many localities.  This bill is awaiting the Governor's signature.
Omnibus Conflict of Interest Act bill brings improvements, clarity
HB1362 (Gilbert) incorporates numerous other pieces of legislation (over 10 bills) that were introduced this year and is an attempt to make the Conflict of Interest Act better.  First, the forms that were actually written into the code were all deleted and the Virginia Conflict of Interest and Ethics Advisory Council ("the Council") was instructed to draft relevant forms.  The bill also allows the forms to only be submitted annually rather than 2 times a year.  The new forms will be effective for the January 2017 filing.
The definition of gift was decreased from fifty dollars to less than twenty dollars.  The definition of procurement transaction previously did not have a dollar threshold and now has a dollar threshold of $5 million or more.  In addition, records relating to formal or informal advisory opinions (notes, correspondence, etc.) are excluded from the mandatory provisions or FOIA.  However, formal advisory opinions are public documents upon approval by the Council.  These provisions of the bill are effective immediately.
The annual filing and the forms should make compliance easier for all of us.  This bill is awaiting the Governor's signature.
VML asks Governor to veto party ID bill
VML asked Governor Terry McAuliffe on March 16 to veto the bill that would require party identification for candidates for local offices who are nominated by a political party.
SB 767 (Suetterlein) passed the House of Delegates on a 50-45 vote.
View the letter to Gov. McAuliffe
VML encourages officials to communicate with the Governor's office about the bill by April 1. It is important that local officials tell their own stories about the effect of partisan elections on their locality.  Information should be sent to Terence.McAuliffe@governor.virginia.gov with a copy to Anna James at anna.james@governor.virginia.gov.
You can also view the resolution from the town of Ashland in opposition to partisan local elections. (You will see that the resolution addresses two House bills introduced during the 2016 session, but SB 767 is essentially the same bill).
VML contact: Mary Jo Fields, mfields@vml.org
State budget salary provision raises concern
In addition to funding a 2% salary increase for teachers and instructional staff, the budget adopted last week includes funding for a 2% salary increase effective Dec. 1, 2016 for state-supported local employees. The budget further specifies that employers have to certify that the listed employees will receive the stated pay increase.
This language has not been included in previous state budgets.
Preliminary information is that the state Compensation Board is interpreting this language to say that localities will have to certify that they are passing along the increase to the employee.  The assumption is that this would apply to the amount of the increase in the salaries approved by the Compensation Board, not necessarily to any local supplements provided above those levels.  If the locality provided a 2% increase based on the Compensation Board salary amount, and not on the local supplement, the employee would see less than a 2% increase.
The Compensation Board is also interpreting the language to say that if the locality does not certify that they will provide the increase amount to the employee, then the Compensation Board salary would not be increased and the locality would not receive any additional reimbursement.
If the locality is not providing any local supplement, the 2% increase would have to be passed on to the employee or officer.
VML will pass on further clarification as we receive it.
This approach is very different from that taken in the matter of teacher salary increases.  The General Assembly was quick to tout that the per-pupil distribution from Lottery Funds provided needed flexibility and would allow for local tax relief.
State-supported local employees include constitutional officers and their employees, regional jails, general registrars and electoral boards, community services boards, centers for independent living, secure detention centers, juvenile delinquency prevention and local court service units, local social services boards, local Pre-Trial Services Act and Comprehensive Community Corrections Act employees, and local health departments where a memorandum of understanding exists with the Virginia Department of Health.
VML contact: Mary Jo Fields, mfields@vml.org
Detailed education budget information released
Details on estimated state payments and required local funding figures by school division are available through the Virginia Department of Education at this website: https://1.usa.gov/1S6jWvE.
The memorandum from the Superintendent of Public Instruction includes links to a narrative summary of changes as well as projected state payments and required local matches by school division for the various education programs for FY16 and FY17-18.
In addition, the memorandum notes that while the State has confidence in its statewide average daily membership numbers, school divisions may have more accurate ADM information for their individual division.  If that is the case for your division, the memorandum has a link to an Excel calculation tool that can be used.
VML contact: Mary Jo Fields, mfields@vml.org
How localities negotiated the proffer bill
This chart shows how far the proffer bill evolved from the introduced bill and also reflects wishes that localities had during the negotiations of this legislation.
Blaze a Trail:  Older Virginians Month to be celebrated in May
Blaze a Trail is the theme of this year's Older American's Month/Older Virginians Month to be celebrated during the month of May.
The Virginia Department of Aging and Rehabilitative Services (DARS) and the federal Administration for Community Living (ACL) encourage communities to take time during the month of May to highlight the ways that older Americans advocate for themselves, their peers, and their communities, and help one another to thrive.
The ACL website offers an array of resources and items for communities to use, including a model proclamation, sample articles, logos, posters, event tips, and a trailblazer story completion guide.
The Virginia Governor's Conference on Aging is being held May 2-3, in conjunction with Older Virginians Month.  Information about this annual conference may be found at www.vgcoa.com.
If you have questions about Older Virginians Month, please email or call Amy Marschean, senior policy analyst at the Virginia Department for Aging and Rehabilitative Services (Amy.Marschean@dars.virginia.gov; 804/662-9155).
VML contact:  Janet Areson (jareson@vml.org)
Virginia prepares for Zika
Late last month, the Virginia Department of Health (VDH), in cooperation with a number of state agencies, local health departments and local governments, and private sector partners, began a process to prepare Virginia's defense against the transmission of the Zika virus, a mosquito-borne illness, in the state.  This includes the development of a surveillance and investigation plan, a mitigation plan, establishment of a blood supply security task force and plan, a communications plan, and exercise-in-a-box for use at the local, regional, and state levels.
VML is a participant in the public-private task force established by Gov. Terry McAuliffe and facilitated by VDH to help guide preparedness initiatives related to the Zika virus.
Localities should expect to see information in the coming weeks about ways to communicate information about state and local prevention measures and raise awareness among residents.
For more information about Zika, visit the VDH website at www.vdh.virginia.gov .
VML contact:  Janet Areson (jareson@vml.org)
Eat and Greet
Each spring and fall, VML hosts regional suppers around the state to give local government officials the latest news and developments affecting localities in Virginia. Elected and appointed officials from member localities are encouraged to attend one of these informative get-togethers.
Register online today!
| | | |
| --- | --- | --- |
| May 19 | Town of West Point | St. John's Episcopal Church |
| June 2 | City of Winchester | The George Washington Hotel |
| June 15 | Town of Big Stone Gap | Carmine's Visitor Center |
| June 16 | City of Danville | Institute for Advanced Learning and Research |
| June 22 | City of Suffolk | Hilton Garden Inn Chesapeake/ Suffolk |
| June 23 | Town of Gordonsville | Town Office |
Regional suppers include presentations by VML staff and other subject experts on important issues for localities. Each supper starts at 6 p.m. and costs $35.
VML 2016 Annual Conference – Reserve your rooms TODAY
Conference registration opens July 1
Registration for the 2016 VML Annual Conference in Virginia Beach is forthcoming, but NOW is the time to reserve your hotel room on-line at https://resweb.passkey.com/go/VML2016
Conference Hotels
DoubleTree by Hilton Hotel
Hilton Virginia Beach Oceanfront
Sheraton Virginia Beach Oceanfront
We strongly recommend that you book your reservation online within our housing block as VML makes every effort to include a range of accommodations for its attendees, with consideration of comfort, quality and safety as well as other factors.  Complimentary continuous shuttle service will be provided to the official conference hotels only.
Please e-mail any housing inquiries to Eric Logan, Convention Housing Manager, at ellogan@visitvirginiabeach.com  or call direct line (757) 385-6656.
Registration now open!
Register here
The 2016 Institute for Local Officials will be held July 22-23, 2016 at the Hilton Richmond Downtown in Richmond, Virginia. This event replaces what was previously known as the Newly Elected Officials Conference.
This event is open to newly elected officials and veterans alike. Topics to be discussed will touch on the fundamentals of serving as a council member, including information on making the most of meetings, budgeting, the Freedom of Information Act, the Conflicts of Interest Act, interacting with constituents, dealing with media and public officials liability. Participants will also visit the VA state capitol.
Cost: $175 for Members and $75 for Guests
Hotel accommodations are available at the group rate of $121/night.
To learn more or register, visit https://bit.ly/1WvVLI4.
VML MBA Program
Connecting local government members to products and services to serve the municipal market
Local Government Members
Are you looking for products and services for your municipalities? Have you viewed the current Municipal Business Associate listing online? The updated listing includes enhanced profiles for each member along with contact information for local representatives. View the updated listing here.
Businesses
Are you looking to connect with local governments as a way to expand your business or to increase your exposure across the Commonwealth?  Get your firm's name in front of all Virginia's 38 cities, 160 towns and eight counties by joining VML as a Municipal Business Associate.
For more information, visit https://bit.ly/1GTtSqG.
Staff contact: Anita Yearwood, CMP, CGMP ayearwood@vml.org
Grants Management Training
May 5-6 in Portsmouth
The Portsmouth Police Department and Grant Writing USA will present a two-day grant management workshop, May 5-6.  This training is for grant recipient organizations across all disciplines.  Attend this class and you'll learn how to administer government grants and stay in compliance with applicable rules and regulations, including the updated OMB Circular.
Click here for full event details.
We are excited to offer VA Municipal League members and their staff a special tuition rate of $565. Please use code "VAASSN" to receive this $30 discount off full price at registration. Tuition includes Grant Management USA's 400-page grant management workbook and reference guide.  Seating is limited; online reservations are necessary.
Multi-enrollment discounts and discounts for Grant Writing USA returning alumni are available.  Tuition payment is not required at the time of enrollment.
Complete event details including learning objectives, class location, graduate testimonials and online registration are available here. Contacts: Janet Darling , Grant Writing USA , 888.290.6237, janet@grantwritingusa.com or Lt. T Thursby, Portsmouth Police Department, 757.393.8088, thursbyt@portsmouthva.gov.