eNews June 8, 2018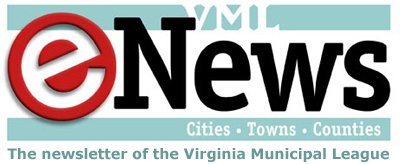 Friday, June 08, 2018 - 12:17pm
In this issue
It's finally a wrap: Governor signs budget bill
Legislative summaries available
Banquet is Tuesday night at 2018 VML annual conference
Deeds subcommittee discusses Medicaid, diversion, and capital needs
Big changes coming for foster care system, with impact on CSA
Proffer party update
Updated summer meals program toolkit; Recording of May 24 conference call available
Intercity passenger rail issues explored
It's finally a wrap: Governor signs budget bill
Governor Ralph Northam signed the budget bills on the Capitol steps Thursday afternoon to an enthusiastic crowd of legislators, staff and lobbyists, including VML Executive Director Michelle Gowdy.  He thanked all the people that for years had told their stories about the need for expansion and credited former Governor McAuliffe for beginning this journey.  To no one's surprise, Senator Emmet Hangar received many accolades for his work.
While it is good that the budget bills were signed, VML is aware of the Communications Sales and Use Tax Trust Fund "grab" to take $2.0 million each year from the Trust Fund for transfer to the state general fund. We have asked the Governor to submit amendments at the 2019 General Assembly session to rectify this action.
Make sure you've read VML's article on the budget, which was sent out in the June 6 eNews.
Other information is available as well. The Superintendent of Public Instruction has posted a memorandum containing links to a narrative description of the budgets and their effect on K-12 education. The sheets for individual school divisions that detail state and local required shares is presented differently from previous years, however. Follow this link http://www.doe.virginia.gov/school_finance/budget/calc_tools/2018-20/1820-calculation-template.xlsm  to get to those sheets. At the bottom of this page, you can click to continue, and you will be taken to a different page where you can select your school division.
The State Compensation Board has sent out information on FY19 budget estimates for constitutional officers; that is posted here.
VML contacts: Michelle Gowdy, mgowdy@vml.org; Neal Menkes, nmenkes@vml.org and Janet Areson, jareson@vml.org
Legislative summaries available
VML has produced two reports on the 2018 session that should be of use. The first report details the bills affecting local government that were enacted or failed by subject area (such as conflicts, land use, etc.). The second report is a guide that identifies bills that require or allow localities to take some kind of action. Please note that this report is only a guide. The local government attorney and staff should be consulted before any action is taken. If you need either report as a word document, please email Mary Jo Fields at mfields@vml.org.
Also, the state Division of Legislative Services produces an excruciatingly detailed report on all legislation introduced in the session, organized by title of the Code of Virginia. Note that the document is 288 pages long and may take a bit of time to download.
Banquet is Tuesday night at 2018 VML annual conference
Make your room reservation now, conference registration opens soon
The 2018 Annual Conference begins on Sunday, Sept. 30, 2018 and concludes with a reception and banquet dinner on Tuesday night, October 2, 2018. Make sure you've made your reservation for the right days! If you haven't reserved a room, reservations may be made on-line here.
Also, the 2018 Mayors Institute will begin bright and early Saturday, Sept. 29, and conclude at noon on Sunday, Sept. 30, prior to the opening of the Exhibit Hall and the start of the annual conference.
Registration for the annual conference will open soon.  We will send out information when it opens.
Deeds subcommittee discusses Medicaid, diversion, and capital needs
Saying that the recently-passed state budget was the most significant budget the state had seen for mental health in "maybe 200 years," Senator Creigh Deeds, chair of the Joint Subcommittee to Study Mental Health Services in the 21st Century, stated that the real work is just beginning for the group.  The work to be done includes incentives to build the work force to meet the needs of the state's behavioral health system at every level, and "rightsizing" of the system to ensure that people are served in the community as well as in state facilities.
The subcommittee met on June 5 at Central State Hospital in Petersburg.  They began with a tour of the facility, which by any measure needs replacing to ensure basic health and safety for consumers and staff, as well as better accessibility for treatment needs and modern health record-keeping capability.
A total of $3 million was put into the state budget for planning; estimated costs for replacement of facilities was pegged at between $200 – $300 million.  Senator Emmet Hanger said that he thought that some of the new buildings could be modeled after Western State, which previously underwent a reconstruction, and which used modular building construction.  He expressed his wish that replacement work start sooner than later.
The criminal diversion workgroup of the subcommittee met briefly to review its proposed workplan for the year, including identifying for further analysis and study the barriers to community services boards (CSBs) providing services to jails, and reviewing data on recently approved improvements including the mental health jail screening tool, forensic discharge planning, and alternative transportation.  Members of the workgroup expressed interest in looking at the issue of limiting use of restraints in local/regional jails, and diversion of individuals with mental health issues prior to custody.  Senator Hanger said that the approved language in the budget to streamline Medicaid enrollment of inmates and overall expansion of Medicaid could allow the workgroup to look at better coordination of services with CSBs.
In the full subcommittee meeting, Senator Deeds noted that with movement to solve issues around transportation and supervision of people taken in on a temporary detention order, it could be time to look at lengthening the period of time a person could be kept for an evaluation.  Although Virginia increased the number of hours someone could be kept for evaluation, it is still one of the most restricted time periods of any state.
The subcommittee also heard presentations from the Department of Medical Assistance Services and Department of Behavioral Health and Developmental Services regarding their roles in the public health system, and in DBHDS's case, how the Department interacts with community services boards.
The subcommittee is attempting to meet at state facilities across Virginia; the next meeting is tentatively set for Catawba Hospital.
VML contact: Janet Areson, jareson@vml.org
Big changes coming for foster care system, with impact on CSA
The federal budget signed into law by President Trump in February contained a big change for the national foster care system.  The Family First Prevention Services Act will change the priorities of the foster care system and try to keep children in their homes and out of foster placements or residential placements whenever possible.
The State and Local Advisory Team (SLAT) of the Children's Services Act (CSA) heard on June 7 a briefing on the new law by Carl Ayers, director of family services for the Virginia Department of Social Services.  The new law may have substantial impact on CSA.  In all other states, foster care is handled by the state social services department, but in Virginia, CSA plays a major role.
Under this new federal act, which represents the first major revision of the Title IV-E foster care program since 1981, states and localities will be allowed to use federal IV-E funds for prevention as well as for foster care placements.  Prevention funds could go towards services for the child and family, not just the child.  Some Virginia local governments operate prevention programs for children through CSA, but it is not done statewide, nor is it a uniform set of programs. With this new law, the state will have to develop a statewide prevention program platform.  The federal program calls for three major service buckets within prevention:  substance abuse; mental health; and in-services such as parenting assistance and other home visiting.
All prevention programs under the new federal program will have to be evidence-based.  Ayers said that the federal government will have to create an evidence-based clearinghouse of allowable services, but in the meantime, people could look to California, which currently has such a clearinghouse.
States will also have to define what it means to be "at risk of removal" from the home, in order to use the prevention services allowed under the new law.  Ayers said that Virginia used to have a broad definition of this term, but it was subsequently narrowed significantly.  He said the state may need to reexamine the need to broaden its definition.
The IV-E program will continue to require a 50/50 state-federal match.  Ayers said that while there is no local match for IV-E, there was an open question of whether that would continue to be the case.
He said that new guidelines for use of funds could mean a savings for CSA, because every dollar that can be used for the new IV-E program could save some CSA match money.
While access to prevention money may become easier, using funds for residential placements will face new requirements and restrictions.  Again, the focus of the new act is to encourage family preservation and discourage out-of-home placements unless absolutely necessary.  As such, private providers will face new certification requirements, and judges will have to approve residential placements.  In addition, family-based follow-up services will be required for six months following a child's discharge from a residential/congregate care program.  Ayers warned that if the IV-E funds were not allowed for these services, CSA funds could not be used either.
More will be known about the new federal requirements when guidance is issued, likely in October of this year.  Virginia Social Services is also convening a steering group to start looking at changes needed in Virginia.  This multi-agency, multi-stakeholder group will include representatives from VML and VACo.
Contact:  Janet Areson (jareson@vml.org)
Proffer party update
VML continues to be involved in the work on possible changes to the proffer statute. The Senate Local Government Committee has charged localities and the homebuilders to work out proposed changes.
Senator Peake's aide recently hosted a private party on proffers that included representatives from VML, VACo, Goochland County and the Thomas Jefferson Planning District. The basic upshot of the meeting was that local governments and homebuilders were told to meet and develop sensical changes to the proffer statute. Andrew Clark of the Virginia Home Builders Association committed to working on a solution by mid-August for all parties and providing monthly updates on the status of his proposal.
Here is the update from Clark sent on June 7th:
"My apologies for the delay in responding – been on the road for the last week.
We are continuing to have internal discussions with our legislative committee and members from around the state about the concerns that have been expressed by local governments.  We are considering several concepts but as of this moment, those draft concepts are not ready for distribution.  But the progress thus far is promising.  Will continue to provide everyone with updates on our deliberations."
VML contact: Michelle Gowdy, mgowdy@vml.org
Updated summer meals program toolkit; Recording of May 24 conference call available
During the summer months, children from low-income families lose access to school breakfast and school lunch.
The Summer Meals Program helps fill this gap.  Unfortunately, only 15% of Virginia children who rely on free or reduced-price school lunches are also getting free meals during the summer.
The Local Government Toolkit and Checklist for the summer meals program has been updated and is posted here.
In case you missed the May 24 conference call with First Lady Pamela Northam and Richmond Mayor Levar Stoney on the summer meals program, you can listen to it here: https://attendee.gotowebinar.com/recording/5406241890130635521
VML contact: Janet Areson, jareson@vml.org
Intercity passenger rail issues explored
More people are choosing to take the train over driving or flying than at any time in the past 50 years and Virginia has emerged as one of Amtrak's most successful state partners, according to a recent University of Virginia News Letter. The Lynchburg-Charlottesville-Washington-New York train is Virginia's best-performing single daily train among the state-supported regionals. The best-performing station on the route is Charlottesville, with more boarding and alighting passengers annually (84,394 in 2017) than any other station on the entire route, including Washington, DC, and New York.
This News Letter is Part 1 of a two-part series that also examines evolving state and national transportation policies and the potential for expansion of passenger rail. The second part of the series is to be published this month. The author, Meredith Richards, a former vice mayor and member of the city council in Charlottesville, is the founder and chair of CvilleRail and the Piedmont Rail Coalition.