eNews June 7, 2019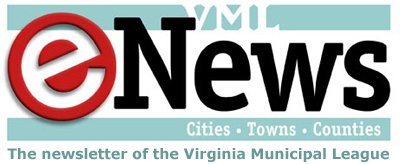 Friday, June 07, 2019 - 02:43pm
In this issue:
Support for Virginia Beach
VML staff joins our members in expressing our sincerest condolences in response to last Friday's horrific attack at the Virginia Beach Municipal Center. To help organize efforts to assist victims' families and affected personnel, the City of Virginia Beach has partnered with The United Way of South Hampton Roads and VOLUNTEER Hampton Roads.
To make a financial contribution, click here for a direct link to The United Way's donation page or text VABEACH to 41444. For more information on volunteer opportunities, click here to learn more about VOLUNTEER Hampton Roads.
Governor calls special session
In the wake of the Virginia Beach attack, Governor Ralph Northam announced Tuesday that he plans to convene a special session this summer to address gun violence in the Commonwealth. Preliminary priorities outlined by the Administration include:
Universal background checks
A ban on assault weapons, to include suppressors and bump stocks
Extreme risk protective orders
Reinstating the one-gun-a-month law
Child access prevention
Required reporting of lost or stolen firearms
Expansion of local authority to regulate firearms, including in government build
The special session will begin on July 9. VML will keep members apprised as more details become available.
VML Contact: Jessica Ackerman, jackerman@vml.org
Legislative committee addresses full agenda
Education funding, broadband mapping, E-911 funding, scooters and workplace safety were among the issues on the agenda of VML's Legislative Committee, which held its first meeting of the year on June 6 in Richmond.  Suffolk Council Member Roger Fawcett chairs the committee and Williamsburg Council Member Benny Zhang serves as vice chair.
Virginia Secretary of Education Atif Qarni talked with the committee about the Northam Administration's priorities, including early childhood education, equity and excellence in the K-12 system, the Career Pathways program – which will streamline pathways from K-12 to employment – and higher education opportunities, and affordable post-secondary education opportunities.
Michael Saperstein, vice president of law and policy for US Telecom, spoke about the challenges and opportunities of broadband mapping and explained his association's pilot program (which includes Virginia). The goal is to create a single, nationwide database of broadband availability, where service providers can overlay maps of where they can, or cannot, provide service. This pilot began in March and is expected to be completed this summer, in July or August. The Federal Communications Commission (FCC) and some members of Congress have expressed interest in this pilot.
Angelina Panettieri, technology & communications principal associate for the National League of Cities, gave the committee an update on federal issues, including small cell preemption order review, and legislative efforts on infrastructure, community resilience and workforce development. Bryan Griffith, NLC's new manager of state league services, also participated in the meeting.
Local and state funding issues surrounding E-911 and Next Generation 911 (NG 911) were presented by Terry Hall, director of emergency communications for York-Poquoson-Williamsburg. Hall discussed the estimated deployment costs for NG 911 ($60 million). He also outlined how changes to 911 revenue collection (the state took it over from localities) and funding distribution (state grants to localities with a portion of the funds staying with the state) could ultimately triple local costs for NG 911 operational and recurring costs. He discussed a survey that will go to localities about 911 funding distributions and program costs. This survey will be going out through VML and VACo, using the POLCO survey platform.  Hall expressed his belief that the use of the POLCO platform will greatly enhance the response rate for the survey because it allows for better targeting of the local staff who will be completing portions of the survey. He thanked VML for its leadership and assistance on this issue.
Jim Regimbal of Fiscal Analytics (who contracts with VML on economic forecasting and budget issues) gave the committee a thorough overview of budget issues from the 2019 Session, and the issues he believes would be of greatest interest to localities in the coming months.
VML legislative consultant Bernard Caton discussed E-scooter legislation approved by the 2019 General Assembly and the need for localities to act on ordinances or take administrative action to create pilot programs by the end of 2019. Those committee members whose localities have already begun dealing with dockless E-scooters provide additional detail.
Considering last week's events in Virginia Beach and the Governor's subsequent announcement of a special session on gun control, the committee spent considerable time discussing local workplace safety. The committee discussed potential actions, including recommendations regarding local authority over firearms on local government property. The committee's recommendation will be taken up by VML's executive committee before the commencement of the July 9 special session.
Finally, the committee assigned issues to VML's six policy committees, including state assistance to local enforcement (HB 599 funding), community services board funding, and communications sales and use taxes.
The committee's next meeting will be held September 6 in Richmond.
VML Contact: Janet Areson, jareson@vml.org
Will Washington chaos spread to the Old Dominion?
There was a period in Virginia's history when state politicians disdainfully referred to federal dollars as "tainted."  Flash forward to these trying times and you might find Virginia's political elite complaining that the flow of federal dollars "t'aint enuff."
The General Assembly appropriated over $20 billion of federal money in this year's legislative session.  Federal dollars make up roughly 20 percent of the state's operating budget with most of the "D.C. money" concentrated in the state's education, health and human resources, transportation, and environmental protection programs.
Without these dollars, state policymakers would be forced to raise state taxes, cut popular and essential services, dump the funding responsibility on other payers like local governments or families of college students, or opt for actions from all three categories.
But, the importance of federal dollars is more meaningfully measured by the impact this money has on the Commonwealth's economy. Virginia is a major recipient of federal defense dollars ($46.2 billion in FY 2017), trailing only California in the total value of defense contracts, military installations, and stationed military personnel. Measuring defense spending as a share of the state gross domestic product, Virginia tops all other states with a percentage of 8.9 percent.
Federal entitlement spending (e.g., Medicare, Medicaid, and Social Security) and discretionary spending (e.g., defense and domestic programs) supercharge the state's economy in Northern Virginia, Hampton Roads and other points south and west of the I-95 and I-64 axis. Federal largesse has propelled the Virginia economy and insulates us, to some degree, from economic trends popping up elsewhere in the country.
So, how will Congress and President Trump make sure that the federal spigot continues to function?  Well, if the past is a guidepost for the future, then call a plumber.
The great partisan divide between Democrats and Republicans, between the House of Representatives and the Senate, and between Congress and the president appears bottomless. Skirmishes over border security and immigration policies, infrastructure funding, the $19.1 billion disaster-aid package, and trade agreements and imposition of tariffs are the new normal. Bipartisan solutions and compromises are shouted down. How can congressional legislating compete against cable news headlines featuring Russian interference in U.S. elections, the issuance of multiple subpoenas, cries of impeachment, fake videos of elected leaders and fake social media accounts, and nasty partisan one-upmanship?
The fact is that precious little has passed both the House and Senate. Only a total of eighteen bills have become law since January and supporters of those bills had to wait out the 35-day partial shutdown of the federal government.
Congress needs to turn its attention towards debating the annual military policy bill, reauthorization of the Violence Against Women Act, and President Trump's demand for another $4.5 billion for the southwestern border wall.
But, before congressional paralysis sets in on these issues, there are even more difficult challenges ahead.  In the October-November timeframe, the U.S. Treasury will run out of debt capacity to borrow money to keep the government operating. Failure to raise the debt ceiling could damage the fiscal stability of the country and possibly force the government to default on its ever-growing debt.
In addition, if a comprehensive budget deal is not reached, the specter of sequestration authorized under the 2011 Budget Control Act turns into an automatic $125 billion spending cut, whittling both military and domestic programs. And if that scenario turns true then the financial and economic impacts on state government and Virginia's overall economy could be significant.
Stay tuned.
VML Contact: Neal Menkes, nmenkes@vml.org
DEQ request input on Stormwater Local Assistance Fund needs
The Virginia Department of Environmental Quality (DEQ) is seeking your input to identify future funding needs for Stormwater Local Assistance Fund (SLAF)-eligible nutrient reduction projects in the Commonwealth. They have prepared a survey to solicit your input.
https://www.surveymonkey.com/r/MNT553Q
This survey intends to capture an estimate of the SLAF funding needed for local governments conducting stormwater projects in the near future. This link goes to a PDF of a letter from DEQ director, David Paylor, with additional details regarding the importance of this survey.
VML encourages our member to participate by completing the survey by July 3, 2019.
Questions about this survey should be directed to Mike Crocker at 804-698-4012 or cwfap@deq.virginia.gov.
SLLC offering free webinars
The State & Local Legal Center has announced two free webinars in July:
Supreme Court Review – July 23 – 1:00 PM EST: The census citizenship question case and the Maryland and North Carolina partisan gerrymandering cases are expected to be the blockbusters of the current Supreme Court term for states and local governments. Read more and register here.
Supreme Court Police Cases – July 10 – 1:00 PM EST: The Supreme Court decided no shortage of police cases this term. Topics covered range from forfeitures to fabrication of evidence to First Amendment retaliatory arrest. Read more and register here.
Contact: Lisa Soronen (SLLC Executive Director), lsoronen@sso.org
VDOT workshops in Williamsburg; project submissions requested
City, county and town managers and administrators are encouraged to join VDOT for the Local Programs Workshop at the Williamsburg Lodge on September 9-11. This eighth annual workshop will bring together local government, VDOT, FHWA and Consulting Engineering staff to focus on providing an overview of local programs and provide training for program management and project development.
This year, one track will be VDOT's new Qualification Program classroom course.  This course is available to local government staff only.  You can find information about the Qualification program here.
There will be 15 other breakout sessions, including:
Funding program information
Project Development
Project Delivery
New Technologies
and more!
Mobile Workshops will offer an opportunity to see various completed projects in the Williamsburg area:
Capital Trail Bicycle Tour (Jamestown Settlement to Chickahominy Bridge)
Jamestown Discovery Boat Tour
Jamestown Settlement & American Revolution Museum at Yorktown
Colonial Williamsburg and City of and City of Williamsburg projects Walking Tour
VDOT is looking for submissions of projects to highlight in the local programs workshop. To submit a project for inclusion in the showcase visit the Project Showcase page.
Early registration for the workshops ends on July 15. Register before then to enjoy the reduced rate.  You can find all workshop and registration information at www.vdotlocalprogramsworkshop.com.