eNews June 5, 2020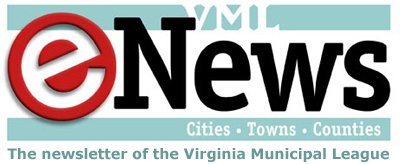 Friday, June 05, 2020 - 04:49pm
In this issue:
Virginia localities speak about the events of the past week
VML stands with our communities and looks forward to the discussions that our legislative and policy committees will have this summer, discussions that will certainly be shaped by the historic events and actions of the past week. In the meantime, it is heartening to read what our communities and national partners are communicating to their residents and members. What follows is a sampling of what's been said this week.
The National League of Cities (NLC) on equity: "Racial equity efforts at the city level are not just about policing. Local government policies, practices, and programs of all kinds can perpetuate existing racial disparities or help to dismantle them." View the full video statement here >
Arlington County Board on striving to be better: "The anger and grief currently on display in cities across the nation is not only a reaction to these acts of ultimate violence against Black Americans, but also to the systematic racism that pervades life, and access to opportunity, in our nation. We know that Arlington is not exempt from this racism and its impacts…As we mourn the death of George Floyd, we are also inspired to be better and do better." Read the full statement here >
City of Fairfax Chief of Police on the future: "We recognize that events involving law enforcement impact the reputation of all law enforcement officers, regardless of where the event occurs.  We hope, and constantly strive, to maintain our community's trust and support. We know this will take honest and open dialogue, unconventional partnerships, commitment, dedication, and a willingness to learn from the past.  We must work together to build a future that strives for fairness, respect, dignity, security, and justice for all." Read the full statement here >
City of Manassas Mayor and Council on shared purpose: "We know that this has been an extremely emotional time for the entire country and that we have suffered as a community along with other communities across the United States. The Manassas City Council shares your grief for a country in turmoil. Our hope is for this strife to turn into conversations and change that will be the catalyst for a future without racial tensions or inequity…We are here to listen. We are here to help. We are here." Read the full message here >
City of Falls Church Mayor, Vice Mayor, City Council and City Manager of the City of Falls Church on local government's role: "Our elected officials, our city staff, and those who are responsible for the protection and safety of our residents have an obligation to stand up for the rights of all people.  We affirm the foundational importance of the rule of law and decry violence in all its forms.  We will continue to listen and lead as we all heal together and move from division to unity in the coming days." Read the full statement, as well as statements from other city officials and staff, here >
Prince William County Board of Supervisor member on creating a Cultural Diversity Commission: "We need to be there to listen. We need to dig deeper to understand race issues from people who've lived it…It's important to gain a deeper understanding of these issues…We need to dive in on this, because I think that's where we've messed up as a country." Read the full story by Emily Sides from InsideNoVa.com here >
City of Alexandria Chief of Police on adapting to change: "The Alexandria Police Department has worked extremely hard for a long time to become a professional policing agency and has been recognized as such for a number of years. Yet, we also know we can always improve and must be receptive to making changes that make sense for us and the community." Read the full statement here >
City of Charlottesville statement from Mayor Nikuyah Walker on wrongful devaluation: "There is nothing just about the devaluation America has placed on Black Lives and the constant danger it puts us in. To my Black people: I see you. I grieve with you. I breathe fear with you. And I will continue to fight for us and demand that white America stop murdering, stealing, and restricting our breaths." Read the full statement click here >
City of Chesapeake statement on taking ownership for actions: "We make mistakes, we do things we wish we hadn't, we say things we'd like to take back. The difference is, we take responsibility for our actions, we own the issues, and we try constantly to learn from today so tomorrow will be better." Read the full message here >
City of Richmond Mayor on changing hearts and minds: "Yes, we must interrogate and condemn the America that treats Black lives as expendable, whether at the hands of the police or the coronavirus. But it is not enough to believe, this is all about changing hearts and minds…It is the responsibility of us all – no matter our race or station – to question and transform institutions predicated on racism, and to do so with love in our hearts and the names of our lost brothers and sisters on our lips." Read the message here >
City of Williamsburg City Council about moral obligations: "We cannot afford to tolerate or turn a blind eye to these senseless acts of violence and discrimination. Similarly, we must also fight against the less obvious, but no less insidious, behaviors that passively persecute others. Recent events reinforce the urgency for us, as a City Council and a City Government, to recommit to our core values and mission." Read the full statement here >
City of Hampton Chief of Police on building trust: "The death of George Floyd is certain to have a negative impact on the perception of police in Hampton as well. Thus, we will continue to work relentlessly to maintain and develop relationships, build trust, and partnerships with our community. The Hampton Police Division will continue to mandate the highest quality training in professional policing especially in de-escalation and critical incident management." Read the full statement >
City of Roanoke Mayor on eradicating excessive force: "Together, representing the City Council, the Roanoke Police Department and the entire City organization, we state unequivocally that brutality by police in any circumstance is inappropriate and in conflict with what we value as an organization and a community." Read the full statement here >
VML Contact: Rob Bullington, rbullington@vml.org
VML Newly Elected Officials Conference to be held virtually in July
VML's Newly Elected Officials Conference provides a valuable opportunity for both new and seasoned public officials to learn from speakers with extensive experience working with local government officials. Furthermore, the conference offers an excellent opportunity to learn what it takes to succeed and how to avoid common pitfalls as an elected official.
In July, VML will offer our Newly Elected Officials conference virtually over the course of two days:
Thursday, July 9
Friday, July 10
Participants should plan on attending both days. More details, including specific times, registration information, and a full schedule, will be posted to VML's website here as soon as they are available.
Topics to be covered include (but are not limited to):
How the Virginia Municipal League works for you
ABCs of Local Governing
Budgeting Basics
FOIA
Innovation, Financing and Foresight (presented by VRSA staff)
Council / Manager Form of Government
COIA
Investment / Finance
Public Officials' Liability
VML Contact: Mitchell Smiley, msmiley@vml.org
Recent additions to VML COVID-19 Resources page
The following were added in the past week.
Virginia Department of Social Services: Phase 2 Child Care Guidelines

Addresses topics for childcare and summer day camp programs including group size, swimming Pools and water activities, outdoor activities and playgrounds, and links to additional resources.
Office of the Governor: Executive Order 63

Requirement to wear face coverings while inside buildings.
U.S. Treasury Department – Coronavirus Relief Fund guidance:
VML Contact: Rob Bullington, rbullington@vml.org
Chesapeake Bay Awareness Week starts tomorrow
The fifth annual Chesapeake Bay Awareness Week will take place June 6-14, 2020. While this week has been officially designated in Maryland, Pennsylvania and Virginia, organizations and localities will be celebrating rivers throughout the entire watershed to raise awareness about this valuable economic and environmental resource—a national treasure that directly connects over 18 million residents.
This year's theme highlights the many creeks, rivers, and streams that thread through the Chesapeake Bay region. These tributaries send fresh water into the Bay, offer vital habitat to aquatic plants and animals and provide people with public access points where they can fish, boat and swim.
There are nearly 1,800 local governments in the Bay watershed, including towns, cities, counties and townships, and much of the important work to protect and restore the Bay and its tributaries happens at the local level.
Typically, Chesapeake Bay Awareness Week is marked by a wide variety of events spanning the Bay's 64,000 square-mile watershed. This year's celebration will look a bit different, as watershed residents continue to socially distance as a result of the COVID-19 pandemic. Despite not being able to gather together, there are still plenty of ways to enjoy and celebrate the Chesapeake region.
For virtual events throughout the week, visit the Chesapeake Bay Program's calendar.
For more information, read the full press release here >.
VML Contact: Mitchell Smiley, msmiley@vml.org
Virginia Tech survey outlines food forestry opportunities and challenges in small towns
Sixty-eight mayors of small municipalities (<25,000 residents) in Virginia recently used a survey created by the Virginia Tech Department of Forest Resources and Environmental Conservation to weigh in on the use of food-producing trees and shrubs in public spaces. Food forestry "intentionally integrates food-producing trees and shrubs in built environments to bolster community resilience."
The findings of that survey have now been made available here >
From the document:
"Ecosystems likely will be strained in coming decades as human population growth continues, thus heightening the need to strengthen local resilience. If the 68 Virginia mayors are a window into the world, then policies promoting food forestry systems in small towns are few and far between, but the potential exists if the right benefits are emphasized and the need transcends the scope and scale of any given project. In that regard, "local" may find greater space in a community's consciousness given our current circumstances, and food forestry could play an important role in the years to come."
Virginia Tech Contact: Sarah Coffey, secoffey@vt.edu