eNews June 4, 2021

Friday, June 04, 2021 - 04:37pm
In this issue:
ARPA
VML's "APRA Survey for Localities" results now available for members
American Rescue Plan Act (ARPA) funds are in the process of being distributed to states, towns, cities, and counties. Virginia localities will receive some $3 billion for ongoing pandemic response costs, paying essential workers, offsetting pandemic-related lost revenue, and certain infrastructure investments.
The various ARPA fund uses can be complex, and VML is working to provide as much helpful information to localities as possible.
So that VML might be most helpful, we surveyed all town, city, and county members over two weeks in mid-May. We wanted to get a sense of your most pressing questions, needs, and priorities. We were pleased to receive an impressive 40% response rate from members.
The survey results are available to view/download from the VML ARPA Resources (secured page) >.*
*Note: Content on VML's secured page is only available to officials and staff from VML member localities. If you believe you should have access, but are unable to view the content, please contact Rob Bullington, rbullington@vml.org to obtain credentials. All requests will be fulfilled beginning Monday, June 7 in the order in which they were received. Thank you!
VML Events
Mayors Institute being held July 15-16 in Charlottesville
From improving the current infrastructure to preparing for autonomous vehicles, local communities are moving toward the future. Learn how you can meet the needs of a new generation of citizens at the Virginia Mayors Institute. The program explores issues essential to the responsibilities of mayors and vice mayors as local government leaders.
VML is pleased to present this in-person event at the Omni Hotel in Charlottesville for all those interested in attending. The first day will feature FOIA/COIA training and will conclude with an evening reception and dinner. Day 2 will include additional training and the presentation of certificates.
More information including pricing, a link to register, and hotel room reservations is available on VML's website here >.
VML Contact: Jessica Ackerman, jackerman@vml.org
Newly Elected Officials Conference happening July 15 in Charlottesville
VML's Newly Elected Officials Conference provides a valuable opportunity for both new and seasoned public officials to learn from speakers with extensive experience working with local government officials. Furthermore, the conference offers an excellent opportunity to learn what it takes to succeed and how to avoid common pitfalls as an elected official.
VML is pleased to present this in-person event at the Omni Hotel in Charlottesville for all those interested in attending.
More information including pricing, a link to register and hotel room reservations is available on VML's website here >.
VML Contact: Mitchell Smiley, msmiley@vml.org
VML Webinars
ARPA: Local Fiscal Recovery Funds webinar announced for June 10
Join Margaret Rockwell and Preston Bryant from McGuireWoods Consulting as they discuss the permitted uses of the Local Fiscal Recovery Funds going to localities as part of the American Rescue Plan Act (ARPA). There will be time for Q&A at the end of the presentation. This is the first in a series of webinars VML will be hosting regarding the use of ARPA funds.
Information and registration available here >.
Please note – this webinar is restricted to officials and staff from VML member localities. Please register using your local government email address. All others will be removed prior to the start of the event. If you would like to request special accommodation, please contact Rob Bullington, rbullington@vml.org for consideration. Thank you.
Marijuana: Legal Considerations for Virginia's Local Governments webinar hosted by VML on June 9
With the legal status of marijuana in Virginia set to change on July 1, VML invites our members to attend this session with attorneys Faith Alejandro and Patrick Callahan from Sands Anderson.
Information and a link to register are available here >.
Issues and considerations to be covered include:
Disconnect between Federal and State laws
Impact of recent Virginia laws regarding marijuana:
Background checks/simple possession
Cannabis Oil statute
Legalization of marijuana
Recommended workplace policies/approaches:
Background checks
Drug-free workplace policies
Drug testing implications
ADA/Reasonable accommodations
HIPAA implications
Collective bargaining implications
Transportation issues
Please send questions
Time will be set aside for Q&A at the conclusion of the session. Please send any question you would like to have addressed during the event to Mitchell Smiley, msmiley@vml.org.
VML Contact: Mitchell Smiley, msmiley@vml.org
VML News
VML Legislative Committee begins process for 2021
The American Rescue Plan Act (ARPA), the follow up for marijuana legislation, housing studies, and election reforms were among the topics for presentations and discussion at the first meeting of the VML 2021 Legislative Committee. The Committee is chaired by City of Hampton Councilwoman Christine Snead. Harrisonburg Mayor Deanna Reed serves as vice chair.
ARPA was a major issue of focus and discussion. Paul LaPointe, legislative assistant with Senator Tim Kaine's office, discussed with the Committee the background of ARPA and the areas of focus for spending. LaPointe said that guidance on use of the funds was still under refinement by the Treasury Department. He asked that localities consider providing comments to Treasury on all aspects of the Interim Final Rule by July 16, 2021. These comments may be submitted electronically through the Federal eRulemaking Portal here >.
LaPointe also asked that localities share their ARPA funds success stories with Senator Kaine's office because these could help support continuation of some aspects of the funding from this program.
Preston Bryant, senior vice president with McGuireWoods Consulting and a consultant to VML and its localities regarding ARPA funding and implementation, provided the Committee with a summary of a recent survey of VML localities regarding the use of CARES funds and preliminary priorities, plans and processes for use of ARPA funds. By far, the top interest for use of ARPA funds cited by survey respondents was water/wastewater, capital improvements (such as HVAC), and stabilizing local operating budgets. See here for more on this topic.
ARPA principles and workgroup
The Committee adopted principles regarding ARPA and the need for a joint state-local taskforce to develop a framework for cooperative planning and partnerships to ensure the highest and best use of these federal funds.
The principles stress the need to address pressing and unmet public service and infrastructure needs that are the funding responsibilities of both the state and local governments, and that the 2021 Special Session II is an opportunity to set goals for transforming public services and infrastructure through a joint state-local taskforce. Working together, the state and localities can develop strategies to best leverage funding coming to Virginia and address needs in areas such as broadband; K-12 education (school renovation and services); public health investments; transit (non-infrastructure); and water quality (including water and sewer upgrades).
The Committee also agreed to create a working group to keep up with ARPA issues before it meets again in early September.
Other issues discussed
Yucel Ors, legislative director for public safety at the National League of Cities, addressed the Committee on federal public safety-related legislation and components of House-passed legislation that would eliminate qualified immunity in all cases. Legislation in the Senate is still being drafted; the qualified immunity components have not been agreed upon.
The Committee also heard an update on the marijuana legislation as it affects local authority; members agreed to form a working group on this issue as well.
Finally, the Committee agreed on potential issues to forward to the VML policy committees, including the housing studies and affordable housing issues; the state's warehousing of state responsible inmates in regional jails that leads to overcrowding and puts localities in the position of subsidizing the state's responsible inmates; environmental justice issues; water quality; FOIA charges by localities; transit equity; the six-year improvement plan for transportation; and school construction issues.
The Legislative Committee is tentatively set to meet next on September 10, 2021.
VML Contact: Janet Areson, jareson@vml.org
New episode of VML Voice podcast now available: "The Tales of Two Managers"
In early May, the VML Voice spoke with Terry Tilley, town manager of Stuart, and Keith Barker, city manager of Galax. Both these managers are set to retire this year after many years of service to their communities. We used the occasion to ask them about their experiences in local government, what got them started and what kept them going, advice for those who will follow them, and their post-retirement plans. As a bonus, this episode of The VML Voice is now available with extra goats!
Listen to the new episode here >.
Don't miss future episodes! Subscribe to the podcast here >.
VML Contact: Rob Bullington, rbullington@vml.org
Announcing the VML 2021 "Virginia You Love" survey contest
Tell us about your favorite Virginia things
Hey Virginia, you've probably heard the good news: After more than a year of more-or-less staying put, it's finally time to start experiencing the world again!
And when it comes to experiencing all the world has to offer, it's no secret that we here at VML are big fans of keeping it local. So, we want to know more about the best things made right here in Virginia.
Help us out by responding to our survey contest here >.
Tell us about your favorite Virginia things
Answer as many (or as few) of the survey categories as you like. It can be something from your locality or something from another locality that you discovered on your own explorations of the state. The only rule is that it must be something from the great Commonwealth of Virginia.
Best reasons "Why" win!
When answering "Why?" please be as creative and as personal as you can. In fact, that's how we're going to judge which entries win. Make us laugh, make us cry, make us want to get in our car and try it for ourselves!
What do I get if I win?
Fame. We'll publish your favorite thing (or things if you win in more than one category) in the July/August issue of our magazine. We'll include your photo (if you want) and an enthusiastic shout-out to your homegrown favorite.
VML Contact: Rob Bullington, rbullington@vml.org
Budget & Economy
Economic recovery stays on a slow and steady course
The federal government announced this week that the U.S. economy added some 559,000 jobs last month. The gains were driven strongly by new jobs at restaurants, bars, and other food-service establishments, which added 186,000 workers. It was also reported that amusements, gambling and recreation, as well as hotels and accommodations, saw strong gains in May, adding 58,000 and 35,000 jobs respectively. These industries were hit particularly hard by the pandemic. The graph below depicts the employment crash in these industries and the growing rebound as the number of vaccinations increase and consumers feel more comfortable venturing out of lockdown.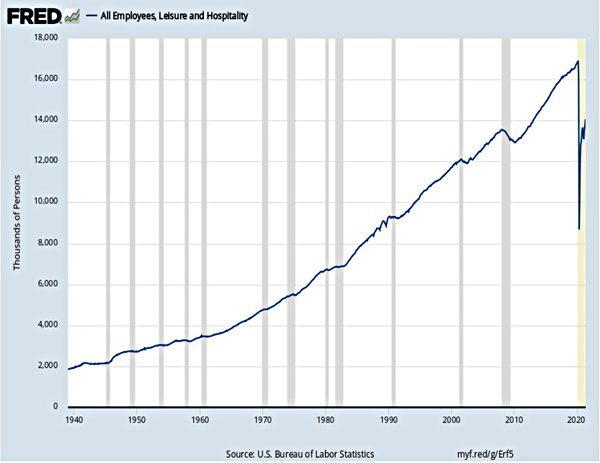 Although the job numbers continue to improve, the labor force participation rate's downward spiral persists. This trend affects the nation as well as Virginia. The impact of a declining workforce rate is a likely contributing factor in a tightening job market. How much of the trend is due to retirements among the "Boomer" generation or the challenges of finding quality childcare and eldercare, or workplace fears concerning COVID-19 is not yet quantified.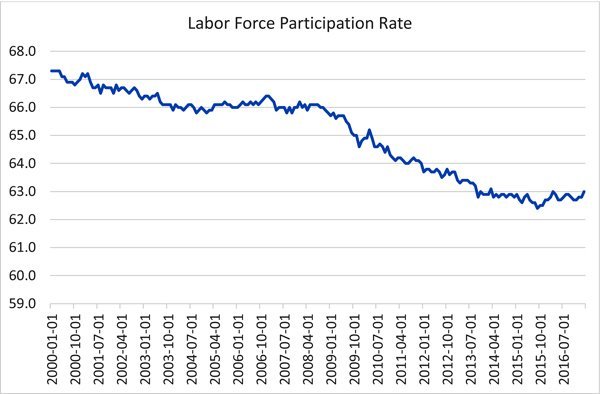 The bottom line is that the country still has more than 7.5 million less people employed than it did in February 2020 and needs to regain those jobs at an accelerated rate to make a full recovery by sometime next year. At the pace of job gains in May, however, the economy would not fully recover the jobs lost during the economic shutdown before July 2023.
The Virginia Employment Commission (VEC) announced this week that the number of initial claims filed during the most recent filing week continued the trend of recent weeks' lower claims volumes.
For the filing week ending May 29, the figure for seasonally unadjusted initial claims in Virginia was 8,090. The latest claims figure was a decrease of 1,753 claimants from the previous week. This brought the total number of claims filed since the March 21, 2020, filing week to 1,690,912, compared to the 477,600 average filed during the previous three economic recessions since 1990.
For the most recent filing week, continued weeks claimed totaled 52,228, which was a decrease of 1,935 claims from the previous week, but 87 percent lower than the 398,411 continued claims from the comparable week last year.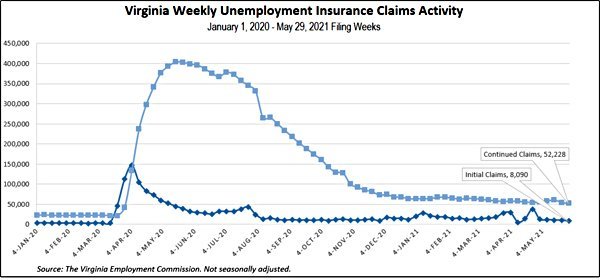 Over half of claims that had a self-reported industry were in the accommodation and food services, administrative and waste services, retail trade, and health care and social assistance industries.
VML Contact: Neal Menkes, nmenkes@vml.org
Wall Street numbers still climbing despite inflation concerns
Bloomberg reported on Friday that U.S. stocks continued to rise after May's pickup in hiring boosted confidence among investors even as the rise in hourly wages added to inflation worries.
The ebbing of the pandemic has brought price increases, supply bottlenecks and labor shortages. The Biden Administration and the Federal Reserve Bank believe the price splurges and product shortages are temporary and not widespread throughout the economy.
But no one knows for sure.
It is possible that the pandemic changed the economy in ways that are not yet fully understood, or that short-term disruptions could have long-lasting ripple effects. Only time will tell and there are economists who are lining up on both sides of the argument.
Consumer prices leaped 4.2 percent in April from a year earlier, the biggest jump in more than a decade. But the largest increases were mostly in categories where demand is rebounding after collapsing during the pandemic, like travel and restaurants, or in products plagued by supply-chain disruptions, like new cars. Those pressures could ease in the coming months.
What would be more concerning to economists is any sign that price increases are spreading to the rest of the economy. Researchers at the Federal Reserve Bank of San Francisco studied sales patterns from early last year to categorize products and services based on the pandemic's impact. Their Covid-insensitive inflation index so far shows little sign of runaway inflation beyond pandemic-affected areas.
The chief U.S. economist at Morgan Stanley looked for a simpler measure, and that shortcut is rents.  The rental component of C.P.I. (as well as the "owner's equivalent rent" category, which measures housing costs for homeowners) is the largest single item in the overall price index, and should be less affected by the pandemic than some other categories. If rents start to rise rapidly beyond a few hot markets, overall inflation could follow. The Federal Reserve Bank graph below shows that rent has not been affected (yet) by the price spikes.

Wage growth is also a sign associated with inflation concerns. Wages remained relatively strong during the pandemic, at least compared with past recessions, when low-wage workers, in particular, lost ground. Many businesses that stayed open during last year's lockdowns had to raise pay or offer bonuses to retain workers. Now, as the pandemic eases, companies are raising pay again to attract workers.
The question is whether the recent wage gains represent a blip or a longer-term shift in the balance of power between employers and employees. Figuring that out will be difficult because the United States lacks a reliable, timely measure of wage growth.
The Labor Department releases data on average hourly earnings as part of its monthly jobs report. But those figures have been skewed during the pandemic by the huge flows of workers into and out of the work force, rendering the data nearly useless. Economists are still watching industry-specific data, which should be less distorted. In particular, average hourly earnings for nonsupervisory leisure and hospitality workers should reflect what is happening among low-wage workers.
Inflation variables are more than just wages and labor availability. Interest rates, government spending, producer prices, inventory data, and international trade also influence the prospects of inflation. At this point in time, it is not possible to say if inflation is or will be raising its ugly head. Until we know more, stay tuned.
VML Contact: Neal Menkes, nmenkes@vml.org
Health & Human Services
Body-worn camera workgroup reconvenes
A workgroup looking at issues concerning body-worn cameras and the impact on Virginia's justice system (including Commonwealth's Attorneys offices, public defenders, and the Courts system) met Wednesday, June 2 to resume its work. This workgroup has been in place since 2018 and includes representatives of VML and VACo, police and sheriffs' departments, Commonwealth's Attorneys offices, public defenders, legislative budget-writing committee staff, and staff of the Virginia courts' system. Secretary of Public Safety & Homeland Security Brian Moran chairs the workgroup.
The impact of body-worn camera video on Commonwealth's Attorney offices was the impetus for the creation of the workgroup and has been its major point of focus since its inception. Of current interest is a workload study of Commonwealth Attorney's offices that is being undertaken by the State Compensation Board in cooperation with the Center for State Courts. This study was a proposal in the state budget during the 2021 General Assembly session. VML had asked that body-worn camera video review/use be considered as part of the workload study; while the language was not included in the final budget language, the Compensation Board is including body-worn camera video review/use as a component of the study.
The recent awarding of state grants for body-worn camera systems was also discussed at this meeting.  Tracy Matthews with the Department of Criminal Justice Services said that the grant program's 50 percent local match requirement created a challenge for smaller law enforcement programs and smaller localities, and as a result not all the funding approved for grants was awarded. The budget language creating the one-time program would have to be revisited and funds reappropriated to allow another possible grant opportunity. It is not known if this would be pursued, and if so, if it would be for the budget to be presented for the 2022 General Assembly or during a special session prior to that session.
VML Contact: Janet Areson, jareson@vml.org
Resources & Opportunities
ARPA funding and broadband webinar being held on June 9
Through the American Rescue Plan Act, Virginia localities will be receiving an estimated $1.6 billion in funding. Uses for this flexible funding include investments in broadband infrastructure and many localities are interested in using these funds to expedite universal broadband coverage in unserved communities.
On June 9, you are invited to join the Virginia Local Broadband Network (VLBN), in partnership with the Virginia Association of Counties (VACo), the Virginia Municipal League (VML), and the Virginia Association of Planning District Commissions (VAPDC), for a webinar discussing this funding and broadband.
Registration is available here >
The one-hour webinar will be presented at two times (11:00 AM and 4:00 PM). You only need to select one time when registering.
Note: This webinar will be about using the VATI program and your local ARPA money; there are many other sources of broadband money that should also be explored.
Contact: commonwealthconnect@governor.virginia.gov
State agency announces Business District Resurgence grant program
The General Assembly and Gov. Northam approved a one-time $1.5 million initiative earlier this year to advance and accelerate the post-COVID economic recovery of Virginia's business and commercial districts.
The initiative will focus on economically disadvantaged communities and businesses that have been disproportionately hurt by the pandemic.
Money can be used for consultant services, technical assistance and training opportunities for entrepreneurs and small business owners, mixed-use building owners, small-scale real estate developers, and local networks and organizations supporting community and economic development in targeted business districts.
Eligible applicants include local governments and economic development organizations, regional development organizations including planning district commissions, non-profit groups working with small businesses, and chambers of commerce.
All grant applications will require a 5:1 match of either cash or in-kind. Applicants can use a variety of funding sources for the match, including American Rescue Plan Act dollars, CARES Act funding, CDBGs, GO Virginia awards, and Small Business Administration assistance.
The Virginia Department of Housing and Community Development will sponsor a "how to apply" webinar this month with an application deadline set for the end of July 2021.  Grant awards will be made in September with all projects to be completed by June of 2022.
Contact: For additional information call 804-371-7171 or email mainstreet@dhcd.virginia.gov.
Virginia BearWise cost-share program survey for community projects now available
Whether or not your community has received funding from the Virginia BearWise Cost-share program, your perspective on this program and human-bear interactions can help improve DWR's assistance to Virginia's localities.
Clemson University and the Virginia Department of Wildlife Resources (DWR) invite local government elected officials and staff to take a quick survey regarding the Virginia BearWise Cost-share Program.
Please take the survey here >.
Background
The American black bear population has made a remarkable recovery across the Commonwealth of Virginia. Bears presently occur in 92 of Virginia's 95 counties. This can pose challenges for the public in learning to coexist with their new neighbors. Local governments can help residents reduce or mitigate human-bear interactions in many ways. Did you know for instance, that each year, the Virginia Department of Wildlife Resources (DWR) allocates funding to assist towns, cities, and counties of the Commonwealth with projects to reduce human-black bear conflicts? Proposed projects aim to secure or remove food sources, such as garbage, with equipment maintained in working order by the applicant for a specified time. This non-grant funding is made available as a cost-share; all applicants are required to contribute financially, in-kind, or in combination, for a 30 percent match of the project cost.
VML Contact: Mitchell Smiley, msmiley@vml.org
FEMA releases Local Government Solutions Guides for COVID-19 and beyond
The following Local Government Solutions Guides are available on FEMA's website at www.fema.gov/disasters/coronavirus/governments.
The Adaptive Design Local Solutions Guide covers four sub-topics that describe short- and long-term approaches to community revitalization and development: public space, building, zoning, and community engagement. The first three sub-topic sections consider the impacts of COVID-19 on how people use community spaces and how local governments can support healthier spaces for community recovery. The discussion on public space emphasizes consideration for locations to prioritize, ways different types of public space can be converted, and implementation considerations. The building section considers ways buildings can be adapted for community health and ways that unoccupied buildings can be repurposed to provide social services or housing. The third section, zoning adaptations, examines ways that state, local, tribal, and territorial governments can align some of the strategies discussed in the public space and building sections with local ordinances, either through relaxation or amendment. Finally, a fourth section, community engagement, emphasizes the need for community input throughout the decision-making process, with considerations for both virtual and non-virtual participation.
The Grants Management Capacity Local Solutions Guide seeks to simplify the process of building local government capacity for grants management through this comprehensive explanation of a grant's entire lifecycle. To do so, it covers seven steps of grants management from pre-award to post-award (i.e., Project Development, Funding Identification, Proposal Preparation, Proposal Submission, Award Acceptance, Award Management, and Award Closeout). Additionally, this guide has incorporated tips that can help smaller communities secure funding through use of federal/partner technical assistance and cost saving measures. It also highlights major impacts to grants management brought about by COVID-19 at the close of 2020. While this guide is focused on federal grant programs, many of the tools and practices discussed within it are general enough to also assist with non-federal grant program applications.
The Alternative Public Service Local Solutions Guide proposes methods local governments can use to provide ongoing services or partner with others to meet residents' needs despite budget constraints. As local governments face continued fiscal stress, alternative models for delivering public services can provide economic relief while promoting innovation and growing stronger networks among municipalities. Alternative Public Service Solutions are different models for rethinking public service funding and delivery, which can address varied needs from recovery and planning to stewardship of parks and waters to delivery of public safety services. The guide is divided into five subsections describing different types of solutions: Crisis Budgeting, Public-Private Partnerships, Local Government Organizations, Shared-Services, and Technical Assistance (Universities and Foundations). While there is variation in the steps for each of the solutions, all these innovations require: Community Engagement, Communication, and Partnerships.
Reconstituting Operations
Get help deciding when and how to resume operations while protecting the well-being and safety of your employees and communities.
FEMA Contact: David Thomason, Senior Program Specialist/Tribal Liaison, David.thomason@fema.dhs.gov
New statewide business district resurgence grant fund now accepting applications
The Virginia General Assembly recently funded a new Virginia Statewide Business District Resurgence Grant Fund. This fund seeks to advance and accelerate the post-pandemic recovery of Virginia's business and commercial districts by supporting historically economically disadvantaged communities and those business districts and sectors that have been disproportionately impacted by the pandemic. Funding will provide a more inclusive framework for community-driven, comprehensive revitalization, resilience, and vitality. Local governments and/or nonprofit organizations may apply for both the Capacity Building and Business Support grants for a total potential award of $150,000. Applications are due July 30, 2021.
Register now for Virginia DHCD's How-to-Apply webinar on June 15, at 2:00 PM to learn more about eligibility, application submission requirements, grant selection and more specific program information.
DHCD staff can help identify and prioritize appropriate projects and provide direct technical assistance for applicants.
Contact: DHCD staff, cro@dhcd.virginia.gov
DMME hosting Fundamentals of Energy Savings Performance Contracting in Virginia webinar
The Virginia Department of Mines, Minerals and Energy (DMME), the Energy Services Coalition, and the National Association of State Energy Officials will present a This workshop to gather key stakeholders for ESPC projects throughout Virginia, provide an overview of how to apply this financing mechanism in Virginia, and hear directly from facility managers who have implemented these projects.
The event will be held virtually on June 16 from 2:00PM – 3:30PM.
Registration is available here >.
Energy Savings Performance Contracting (ESPC) offers states, localities, public infrastructure, and institutional facilities an opportunity to finance energy efficiency investments by leveraging the energy, water and operational cost savings that projects achieve over time. While ESPC projects have already financed over $50 billion in energy-saving investments, estimates by Lawrence Berkeley National Laboratory show there could be over $300 billion in additional cost-effective ESPC projects nationally. Facilities such as state and municipal buildings, universities, K-12 schools, and hospitals, as well as highway, street, and parking lot lighting are particularly well suited to these investments.
More information about the event is available here >.
DMME Contact: Public Relations Manager Tarah Kesterson, Tarah.Kesterson@dmme.virginia.gov
Small and Rural Schools virtual summit happening June 10
On June 10, the Coalition for Small and Rural Schools of Virginia will host the third iteration of its annual day-long conference to address school construction and modernization issues. "School Infrastructure: From Crumbling to Thriving" will offer opportunities to hear from researchers, financial advisors, school administrators, and representatives from both the administration and the House of Delegates.
Registration for the virtual event is $100 for individuals, $200 for groups of up to six local representatives.
The Coalition of Small and Rural Schools of Virginia was established in 2017 to provide school divisions with a strong, collaborative partnership. Insisting on a "hold harmless" approach to legislation and policy impacting nonparticipating divisions, the Coalition seeks to better advocate for the students, teachers, staff and stakeholders of small and rural school communities throughout the Commonwealth.
VML Contact: Jessica Ackerman, jackerman@vml.org