eNews June 28, 2018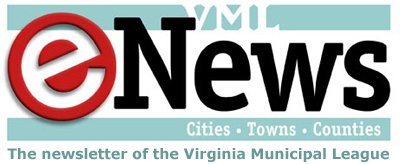 Thursday, June 28, 2018 - 02:54pm
In this issue:
Supreme Court overturns Quill Decision
National economic trends demand closer scrutiny
Virginia economy continues to hum
VDSS to provide additional administrative funding in FY2019
Medicaid expansion information available
Public comment open on review of DEQ permitting, monitoring, enforcement
Public comment open regarding revamp of CSA assessment tool policy
State Board of elections ponders voting issues
Code Commission discussed Section 15.2
Evictions Workgroup meeting focuses on tenant rights
FOIA meetings subcommittee defines public record and social media
VLGMA elects officers and board
Register now for 2018 VML Annual Conference
U.S. Supreme Court overturns Quill Decision
Policy Questions Must Be Answered Before Additional Sales Tax Dollars Can Be Collected.
By a slender 5-4 vote the U.S. Supreme Court reversed a decades-old previous court decision that basically prohibited any state from requiring on-line retailers who are not physically present in a state from collecting and remitting sales taxes. The Supreme Court overturned its 1992 ruling in Quill Corp. v. North Dakota, deciding in the new case (South Dakota v. Wayfair, Inc.) that the physical presence rule of Quill is both unsound and incorrect.
In a presentation to the Senate Finance Committee earlier in June, Secretary of Finance Aubrey Layne said a favorable ruling could boost Virginia tax revenue by up to $300 million a year. A 2013 Fiscal Impact Statement prepared by the Virginia Department of Taxation for HB 2313 estimated that local sales tax revenues could increase by $60 million a year.
It is important to note that this is not a new tax. Under existing state law, consumers already owe the tax. It is too impractical for the state tax department to collect sales taxes if an on-line retailer without a physical presence in Virginia chose not to do so. The Court's decision removes the collection hurdle.
Before the new money makes its way into the state treasury, however, there are other obstacles and policy questions.
First and foremost is the possible action that Congress could take. Congress could write its own rules, defining what goods or services are subject to taxation, establishing a minimum threshold of sales transactions and/or gross dollar sales to exempt small businesses from collecting the taxes, junking the various states' sales tax rates in favor of a single interstate tax rate, or setting up accounting, auditing and recordkeeping requirements different from state standards and practices. And, any federal law would pre-empt a state statute.
At the state level, Gov. Northam and the General Assembly would have to decide in the 2019 session or in a special session in the Fall if the allocation formulae for the on-line sales tax revenues spelled out in HB 2313 remain relevant; if the additional money should go to the state general fund or be dedicated for transportation purposes; or if any action taken on this issue be built into an overall tax reform initiative. The tax changes made at the federal level, the provider taxes approved by the General Assembly for Medicaid expansion, and the revenue surplus projected for FY 2018 might persuade state legislators (in an election year) that a reduction in motor fuels taxes would be a good policy objective.
National economic trends demand closer scrutiny
As the U.S. economy closes in on nine years of economic expansion there are potential signs of trouble ahead that could affect the Virginia economy. Here are three items to watch over the coming months.
Interest Rates:
The first item is the "yield curve." The yield curve is the difference between interest rates on short-term U.S. government bonds like two-year Treasury notes and long-term government bonds like 10-year Treasury notes.
In a healthy economy, the interest rate on longer-term bonds runs higher than the rate for short-term notes. The higher rates are driven by the risk that strong economic growth over time could set off a broad rise in prices. Think inflation.
In a recent article in The New York Times, it was reported that long-term bond yields have been slow to rise, suggesting that bond traders are concerned about long-term growth even though the national economy continues to grow. At the same time, the Federal Reserve Bank has been raising short-term interest rates, resulting in a shrinking gap between short-term and long-term rates. Last week, the gap was roughly 0.34 percentage points. It was last at these levels in 2007 when the U.S. economy fell into the Great Recession.
If the yield curve is inverted, meaning long-term interest rates fall below short-term rates, economists view this as recession tripwire. Every recession of the past 60-years has been preceded by an inverted yield curve. According to the San Francisco Federal Reserve Bank, curve inversions have correctly signaled all nine recessions since 1955 and had only one false positive, in the mid-1960s, when an inversion was followed by an economic slowdown but not an official recession. In the past a recession has come as soon as six months or as long as two years after the inversion.
Federal Deficit:
The Congressional Budget Office (CBO) released earlier this week a report showing that government debt is on track to hit historically high levels and at its current growth rate will be nearly equal in size to the U.S. economy by 2028. By the end of calendar 2018, the ratio of federal debt to the U.S. gross domestic product will reach 78.0 percent, which is the highest ratio since 1950.
The previous record set in 1946 was driven by a spending push to fund World War II. The current bump comes amid a healthy economy, suggesting a major structural gap between the federal government's revenues and spending.
The impact of federal tax changes approved in 2017 is debatable. Those changes included cuts to the individual income tax which are slated to expire before the end of the 2020 decade. If the tax breaks expire, the impact of the 2017 federal tax changes on the nation's debt is projected to be modest. However, if the individual income tax cuts are extended, the projected additions to the federal deficit would increase dramatically. The CBO projects rapid growth in the amount spent on debt interest payments. Interest costs are expected to double as a share of the economy over the next decade and even overtake by 2048 the cost of funding Social Security, which is currently the greatest expenditure in the federal budget.
Trade:
More than 10.0 million American jobs, according to the U.S. Department of Commerce, are supported by exports. More than half of U.S. imports are considered intermediate inputs or capital goods, meaning American producers incorporate these items in their own manufacturing or commercial enterprises. A full-scale trade war with China, the European Union and the two other members of the North American Free Trade Agreement (NAFTA) will raise costs for businesses and consumers.
Trade wars are not good and are not easy to win. Most economists say it is unlikely that the U.S. economy would fall into a recession just on trade alone, but they do agree that a trade war is likely to curtail growth as businesses suspend hiring more workers, building new factories, or investing in additional equipment. Even the uncertainty that accompanies the talk of trade wars can affect economic activity.
Virginia has an important stake in international trade. The Port of Virginia reports that 374,000 jobs or 9.4 percent of the state's resident workforce are employed in port-related jobs. Port-related economic development drove $1.6 billion in capital investment in 2017. Over 700 internationally-owned companies have located in the Commonwealth.
The Ports of Hampton Roads have the third largest market share of all the U.S. east coast ports and the sixth largest of all U.S. ports. Only the ports of New York/New Jersey and Savannah pull down larger market shares on the east coast.
2017 Total Cargo in Millions of U.S. Dollars
Rank
Exports
Value
 
Rank
Imports
Value
1
China
$3,065
1
China
$11,193
2
Brazil
$2,212
2
Germany
$6,189
3
Belgium
$1,947
3
India
$2,845
4
United Kingdom
$1,542
4
Italy
$2,432
5
Germany
$1,510
5
Japan
$2,124
6
Netherlands
$1,330
6
Malaysia
$1,556
7
Japan
$1,020
7
France
$1,555
8
India
$816
8
Vietnam
$1,491
9
Spain
$781
9
Brazil
$1,434
10
Austria
$685
10
United Kingdom
$1,262
Source: The Port of Virginia
When ground transportation is considered, exports from Virginia to Canada exceed those to China and Virginia exports to Mexico rank third largest.
Most of the nations listed as Virginia's top traders are those targeted for higher tariffs by President Trump.
The top goods exported from Virginia are in the graph below. If China slaps on additional tariffs on soybeans and soybean products processed in Virginia, it will hurt the state's agricultural and agribusiness community.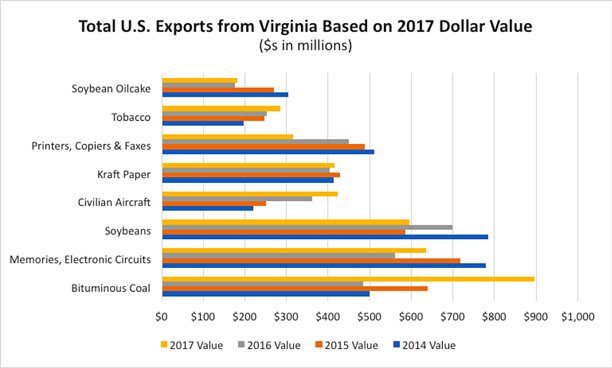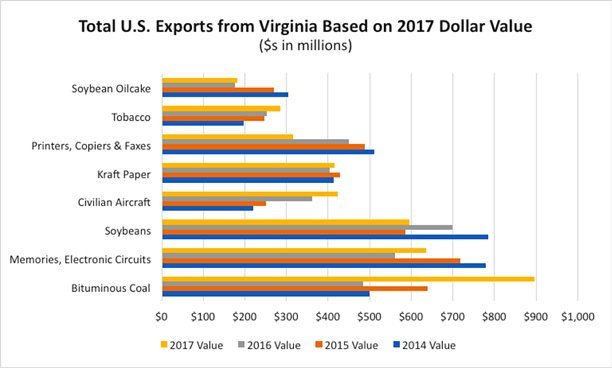 Virginia economy continues to hum
The Virginia Employment Commission released last week employment information for the month of May. The seasonally adjusted unemployment had dropped 0.1 percentage point to 3.2 percent. This is more than a half percentage lower than the rate a year ago. In fact, this is the lowest unemployment rate since the October 2007 rate of 3.2 percent.
The state labor force grew in May by 7,656, which was the fourth consecutive monthly increase, raising the number of working Virginians to a record-high 4,338,619. From May 2017 to May 2018, Virginia's seasonally adjusted total nonfarm employment was up 53,000 jobs, or 1.3 percent. Over-the-year employment growth in the state has been positive for 50 consecutive months.
As for housing markets, housing starts in April were up 5.4 percent over the same period a year earlier. According to CoreLogic Information Solutions, Virginia homes appreciated 0.6 percent in April and rose 3.0 percent on a year-over-year basis.
Regarding military spending, both the U.S. House of Representatives and the U.S. Senate have passed their respective versions of next fiscal year's defense spending authorization bills. Major provisions that affect Hampton Roads are included in the two bills known as the 2019 National Defense Authorization Act (NDAA).
The spending plan includes $12.3 billion for shipbuilding projects that benefit Virginia, with the bulk of the money going to Newport News Shipbuilding. There is also funding for the Norfolk Naval Shipyard in Portsmouth to expand its civilian workforce, perhaps by as many as 500 more workers. And, there is funding for projects at Oceana Naval Air Station and its Dam Neck Annex as well as for Joint Base Langley-Eustis.
Also, in the news was Gov. Northam's announcement earlier in the week of a partnership with Newport News Shipbuilding to support a major hiring initiative – 7,000 people including the creation of 2,000 new jobs in the City of Newport News over the next five years.
What appears to be the only cloud in the sky is the statistic showing Virginia's labor participation rate stuck at below the pre-Great Recession level. Without new workers moving to Virginia it may prove difficult to meet job demand in an expanding economy.
VDSS to provide additional administrative funding for coming fiscal year
On June 8, Virginia Department of Social Services (VDSS) Commissioner Duke Storen officially notified local social services directors that the state will provide additional administrative funding to assist local DSS offices with increased eligibility caseload  due to Medicaid expansion during Fiscal Year 2019.  This funding will not require a local match during FY2019 only.
In addition, each local DSS director was notified on June 8 the amount of the additional administrative funding to their office.
Local allocations were determined using three equal factors:
Distribution of current funding versus current workload for benefit program specialists
Projected increase in workload due to Medicaid expansion (minimum allocation of $45,000)
Historical staff and operations (budget lines 855 and 858) spending
This funding is only appropriated for Fiscal Year 2019, which means local governments will need to address with the state any additional assistance after that fiscal year.
Contact: Janet Areson (jareson@vml.org)
Medicaid expansion information available
On June 7, ​Governor Ralph Northam signed into law the State's 2019-20 biennial budget, which included expanded eligibility for new health coverage to approximately 400,000 Virginia adults.  Coverage will begin on January 1, 2019.
The Cover Virginia website is designated as the main source of information for consumers and stakeholders about the new coverage.
Initial information has already been posted at www.coverva.org.  Virginia Medicaid will continue to post regular updates as new details become available; you can bookmark the address and check in regularly to see the latest information available on the roll out of the program. You can also put this link on your website so that residents interested in finding out more about the program can link directly to it.
Contact: Janet Areson (jareson@vml.org)
Governor invites public comment on review of environmental agency's permitting, monitoring and enforcement activities
On April 4, Gov. Ralph Northam signed Executive Order 6 which requires the Department of Environmental Quality (DEQ) to review its performance and report to him by April 30, 2019 with recommendations. The executive order directs the state agency to report monthly to the Secretary of Natural Resources on the progress of the reviews.
The executive order states that public health, recreational opportunities, safe drinking water, economic vitality, and quality of life are directly linked to a health environment. "It is critical that the Commonwealth's natural resource agencies have the tools necessary to protect and improve our environmental quality."
Under the Executive Order, the DEQ Director will take these actions:
Review DEQ's permitting, monitoring, and enforcement activities across the air, water, and solid waste programs;
Evaluate every proposed federal regulatory or guidance modification released after January 20, 2017, regarding air, water, and solid waste to determine the impact on public health, drinking water supplies, and land and water protection; and
Work with stakeholders to improve communication with the public and the regulated community and provide more opportunities for proactive education, especially among underserved and lower income populations.
The public is invited to comment on the review through August 31, 2018. (Click here.) Comments submitted thus far have singled out issues concerning stormwater regulations, regulatory stability, adequacy of DEQ funding, agency transparency, and greenhouse gas monitoring.
State Board of elections ponders voting issues
The State Board of Elections met on June 19th and discussed the misassigned voters in Virginia.   First, they discussed who is responsible for drawing what lines as well as the structure at the local level.  Each County and City has an electoral board which is appointed by the Chief Judge, is comprised of 3 people, 2 of which are of the prevailing political party having the highest number of votes in the Commonwealth for the last election for Governor and the third from the second highest number of votes. The Electoral Board appoints a general registrar. Then there is the State Board of Elections which is 3 members appointed by the Governor from qualified voters and again with the political party representation the same as the local electoral board; they are subject to confirmation by the General Assembly.
For the law; the Code of Virginia does not provide any single entity the authority to modify local election district lines. The General Assembly draws the Congressional, House and State Senate District lines, the localities draw local office district lines and voting precincts (not the Registrar, the governing body). To add to the mix, changes to locality lines or precincts after 2011 cannot be considered when looking at voting precincts. (See VA Code 24.2-302.2(c))
They also discussed the role of the Department of Elections (ELECT) who is the conduit for the district lines and voting precincts but has no authority or oversight in ensuring that voters are properly placed. ELECT uses GIS mapping software along with the US Census block data to assist in this process.     The study identifying potential mis-assigned voters were mostly "edge cases" meaning that they were on the outer limits of the districts. Reasons for the miss assignments appear to be human error, historical disputes of county lines and a misunderstanding of the use of precinct descriptions along with informal agreements between localities or the incorrect use of county information (where taxes are paid, or utilities are servicing a property).   There is regulation that says that you "vote where you sleep" (1 VAC 20-40-30(E)) states that if your house straddles a jurisdictional boundary line that you vote where your usual sleeping area is.
At the end of the State Board of Elections meeting, it was clear that they wanted to fix this matter but pondered who ultimately was responsible for the errors … there was no answer.   Chris Piper, Commissioner of the Department of Elections committed to working with localities and the Board on this issue but indicated that the responsibility currently lies in a lot of places. VML and VACo will be meeting with Mr. Piper on Friday to ask for further guidance on this matter.
Here are the relevant materials. https://www.elections.virginia.gov/Files/Media/Agendas/2018/20180619BWP.pdf
Contact: Michelle Gowdy (mgowdy@vml.org)
Code Commission discussed Section 15.2
The Code Commission met on June 18th and further discussed the items in Section 15.2 of the Virginia Code that are not set out in the code. The list is in the link below along with the recommendations from staff.   http://codecommission.dls.virginia.gov/documents/2018/06-18-2018MeetingBinder.pdf. This will be discussed further at their next meeting which is on August 6th; they wanted to wait until all of their members were present before taking action.
Contact: Michelle Gowdy (mgowdy@vml.org)
Evictions Workgroup meeting focuses on tenant rights
The Housing Commission created an evictions workgroup which met on June 19th to discuss the following questions:
Should there be more than one right of redemption if the tenant pays in full during a 12-month period?
Should the landlord's pay or quit deadline be extended from 5 days to something more?
How can we facilitate or incentivize the rental of residential properties by landlords to low-income and moderate-income individuals?
The group consisted of housing advocates, apartment owners or their association, the homebuilders of Virginia, local government and realtors. After a lengthy discussion, everyone agreed to continue discussing question 1 and agreed that there was no consensus on questions 2 & 3. There will be another meeting in the fall.
Contact: Michelle Gowdy (mgowdy@vml.org)
FOIA meetings subcommittee defines public record and social media
The FOIA Meetings Subcommittee met on Wednesday of this week to discuss the definition of public record and social media as well as trade secrets and proprietary records.  Senator DeSteph who patroned SB730 in the 2018 General Assembly Session was not able to attend so the subcommittee did not discuss the definition of public record and social media.   The draft of the revised bill only applies to the General Assembly members, but I urge you to review it here: http://foiacouncil.dls.virginia.gov/subcom_mtgs/2018/LD0055.pdf
With regard to trade secrets and proprietary records, staff reported that this has been discussed at over 30 meetings and no consensus has been built.   After a lot of discussion, primarily centered around fracking and the disclosure of chemicals, the subcommittee asked that two drafts be presented at their August 8th meeting – one draft related to the fracking issue and one with a general trade secret exemption.
Contact: Michelle Gowdy (mgowdy@vml.org)
Public comment open regarding revamp of CSA assessment tool policy
Local officials have until August 10, 2018, to comment on whether the State Executive Council for the Children's Services Act (CSA) should revise its policy governing the use of the Child and Adolescent Needs and Strengths (CANS) assessment tool. CANS is a uniform assessment tool mandated for use by local government staff and others who work with children served under CSA.
The State Executive Council (SEC) approved the public comment period at its meeting on June 21 in Richmond. The public comment being sought is whether policy revisions should be advanced (no revisions are yet known; a policy draft from the Office of Children's Services will be given to the SEC at its September meeting); public comment may also offer suggestions for the substance of the policy.
The Code of Virginia requires that localities use a uniform assessment instrument to identify levels of risk (and subsequent progress or not) of CSA youth, and to report client-specific assessment information in the CSA database. A locality's reimbursements from the CSA funding pool depends on its demonstrated use of an assessment instrument. CANS is the assessment tool most recently adopted by the SEC for use by localities; it has been in use for approximately nine years.
SEC policy regarding the use of CANS is minimal; it states that CANS shall be the uniform assessment instrument for children receiving services funded through the CSA pool of funds. Additional guidance from the Office of Children's Services has been developed over the years regarding administrative aspects of the use of CANS, such as frequency of administration, entry of information into the state's database, and certification requirements for those performing the CANS assessments.
Along with OCS policy and guidance, localities must also abide by Medicaid requirements for timing and frequency of CANS assessments if a child receives Medicaid-funded services.
The Office of Children's Services has convened a workgroup to try to clarify guidance for local government regarding the use of CANS, such as time frames for its administration, the appropriate use of the comprehensive version versus the reassessment version, and the purpose and timing of the discharge CANS (done when a child is leaving CSA coverage or moving out of a locality). Information from this workgroup will likely inform the policy draft that will be given to the SEC in September.
Comments can be submitted via the Public Policy Comment Forum on the CSA website (preferred method) (www.csa.virginia.gov) or via US Mail to the Office of Children's Services at 1604 Santa Rosa Rd. Suite 137, Richmond VA 23229 or e-mail to: csa.itsupport@csa.virginia.gov. The public comment period for this Notice Stage will end at 5:00 PM on August 10, 2018.
Contact: Janet Areson (jareson@vml.org)
VLGMA elects officers and board
Chesterfield County Administrator Joseph Casey will lead the Virginia Local Government Management Association (VLGMA) as its president in the coming year. Casey takes over from Charlottesville City Manager Maurice Jones, who served as VLGMA president for 2017-2018. The election of officers and board members took place during the Association's annual conference in Virginia Beach last week.
Joining Casey as an officer in the Association are Rocky Mount Town Manager James Ervin as president-elect; Falls Church Assistant City Manager Cindy Mester as first vice president; Montgomery County Administrator Craig Meadows as second vice president; Vienna Town Manager Mercury Payton as third-vice president, and Augusta County Administrator Timothy Fitzgerald as secretary. Maurice Jones will become Immediate Past President.
New board members for the Association are Roanoke County Assistant Administrator Richard Caywood; Scottsville Town Administrator Matt Lawless; York County Deputy Administrator Vivian McGettigan; Manassas City Manager Pat Pate; Lexington City Manager Noah Simon; and King George County Administrator Neiman Young.
These new board members join current board members: Alexandria Deputy City Manager Debra Collins; Chesapeake Deputy City Manager Laura Fitzpatrick; Winchester City Manager Eden Freeman; New Kent County Administrator Rodney Hathaway; Madison County Administrator Jack Hobbs; and Staunton Deputy City Manager Steven Rosenberg.
VLGMA, a state affiliate of the International City/County Association (ICMA), is an affiliate organization of VML; Janet Areson serves as its executive secretary.
2018 VML Annual Conference and Mayors Institute – plans are under way
On-line registration is open; Preliminary agendas posted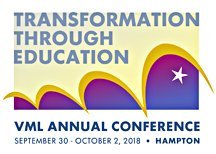 Don't forget to register for the 2018 Annual Conference, to be held Sept. 30 through Oct. 2 at the Hampton Convention Center! Conference updates, preliminary agenda, hotel information, and on-line registration are here. Also, the conference concludes Tuesday evening with a reception and banquet dinner.
Prior to the conference, you may also want to attend the 2018 Mayors Institute on Saturday, Sept. 29, and will conclude at noon on Sunday, Sept. 30. This two-day program exposes mayors and vice mayors to issues essential to their roles as local government leaders. The Virginia Mayors Institute includes a reception and dinner and is held in conjunction with the VML Annual Conference.
Contact: Leslie Amason (lamason@vml.org)
Institute for Local Officials begins July 19 – register now
The Institute for Local Officials will be held July 19-20, 2018, at the Hilton Richmond Downtown. The Institute offers key training for newly elected officials, as well as, veteran officials and will include topics such as council manager relations; Freedom of Information Act, budgeting basics and understanding the conflicts of interest law. More information and registration for the Institute for Local Officials may be found here 2018 Institute for Local Officials Registration
Contact: Leslie Amason (lamason@vml.org)