eNews June 26, 2020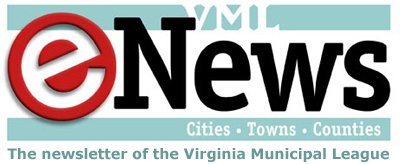 Friday, June 26, 2020 - 05:39pm
In this issue:
A note to our readers: We will not publish an edition of eNews next week due to the holiday. However, VML will continue to update our members as needed and will publish Special Editions of eNews during the week should events warrant. Happy Fourth of July everyone!
Economy
Latest version of CARES Act FAQs now available
The updated (version 3.1) FAQs: Analysis of CARES Act Funding Questions Raised by Local Governments about Eligible Spending Purposes from the VML Task Force is now available on our website.
View/download the latest version from this page >
Newly added topics include:
Different uses of CARES funds (including matching FEMA dollars)
Wages for public safety and public health employees
Timeline issues
Documentation questions
If you have questions you would like the Task Force to address, please email Jessica Ackerman at jackerman@vml.org or Neal Menkes at nmenkes@vml.org.
State revenue collections will not meet expectations
Senate Finance staff give overview of federal relief packages
Earlier this week before the Senate Finance Committee, Secretary of Finance, Aubrey Layne, Jr., tackled the state's precarious revenue situation. His presentation (which you can view/download here) was followed by a briefing by the Senate Finance Committee staff on the amount and types of federal aid flowing to the Commonwealth to deal with the health and economic impacts of the Coronavirus pandemic (download the briefing here).
Using data from April, Secretary Layne painted a gloomy economic picture. Payroll employment fell by 365,000 jobs, a drop of 9 percent compared with last April. The Virginia Leading Index dropped 5.3 percent following the previous month's deep dive of 6.7 percent. The economic indexes declined for all eleven metropolitan areas in Virginia.
Layne presented information showing that Virginia's small businesses have taken it on the chin during the economic crisis. The table below tracks payroll income tax withholding payments from March through May by percent changes in the payments made.  (Dealers with $5,000 monthly withholding equate to an annual payroll of about $1.5 million, $10,000 per month equals $3 million, and $100,000 per month equals $30 million.) According to the presentation, payroll withholding by size of firm has shown small businesses have been disproportionally affected by COVID-19.

State Tax Collections
Collections of sales and use taxes, reflecting mainly April sales, decreased 12.5 percent in May. On a year-to-date basis, collections increased 5.4 percent, behind the annual estimate of 7.4 percent growth.  The graph below depicts the beating that sales tax collection have taken since the COVID-19 pandemic almost shutdown the state's economy. Sales taxes account for just under 20 percent of state revenue collections.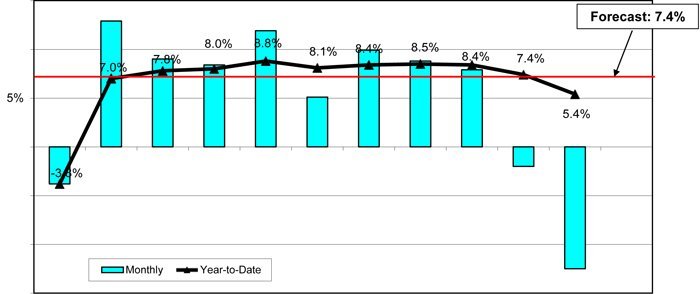 The "bread and butter" of state taxes is the individual income tax. Year-to-date collections of net individual income tax decreased 3.6 percent from the same period last year, behind the annual estimate of 1.3 percent growth. However, Gov. Northam's action to move the filing date from May 1 to June 1 has made meaningless any comparisons with previous years. Gov. Northam will announce on July 10, the size of the FY 2020 revenue shortfall.
June collections need to be $3.3 billion to attain the modest revenue increase originally projected for FY20. Last year's collections were $2.4 billion. The table below shows the revenue plunge thus far from July 2019 through May 2020 and the "bounce" of over 36 percent that would be required in June to meet the forecast. Long story short: Not going to happen.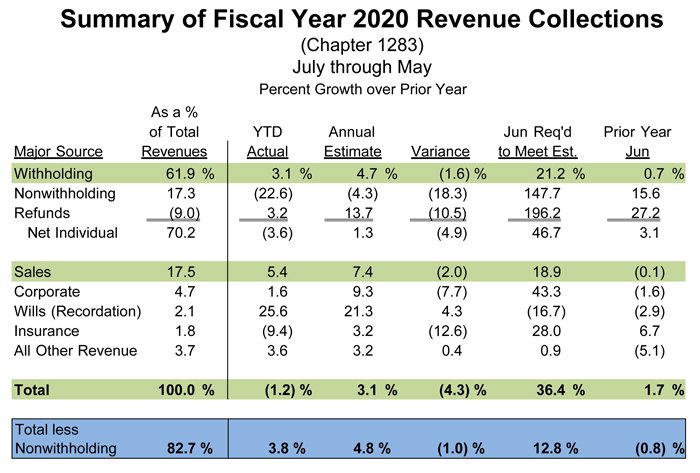 After giving the revenue report, Senate Finance staff provided an overview of federal relief funding for Virginia.  The presentation covered all the federal aid packages. Thus far, the scorecard shows:

In terms of grant programs, the breakdown of funding is as follows:

It is interesting to note that Virginia is one of only fourteen states providing a portion of the Coronavirus Relief Fund to local governments, allocating $644.6 million to the local level thus far. Whether additional dollars from the CRF end up with Virginia's localities may not be answered until after the Special Session to be held in late August or early September.
The Governor's Advisory Council on Revenue Estimates will meet on August 3 to review the latest economic data and tax collections from FY 2020 to help Gov. Northam prepare for his August 18 appearance before the House Finance, House Appropriations and Senate Finance Committees to discuss this troubled budget year and the challenges for FY 2021 and FY 2022.  Stay tuned.
VML Contact: Neal Menkes, nmenkes@vml.org
Health and Human Services
State working on vaccination plan, moving to Phase III
Virginia Department of Health staff told state and local stakeholders on a June 26 conference call that work is progressing on a vaccination plan in preparation for the availability of a Covid-19 vaccine as soon as mid-fall. A vaccination workgroup is developing goals and objectives for this plan and using past VDH experiences and information from influenza vaccination efforts to inform its work.
The joint information center, which consists of public information staff from a number of state agencies, has been developing materials and messaging and answering media and public inquires since the state moved into active response mode in March; it has answered more than 100,000 calls from the public and 3,500 media email inquiries since mid-March. This group has been working most recently on messaging for Phase III, which reduces the focus on "stay at home" and increases the focus on good sanitation practices, distancing, and use of masks as more businesses, stores, restaurants, schools and places of worship reopen. Center staff has also developed draft guidelines for hurricane season/evacuation procedures that consider additional safety measures to thwart the further spread of the virus in any evacuation situation.
The state continues to work on obtaining more personal protection equipment (PPE); a workgroup at the Secretariat level will be reviewing and making recommendations for prioritization and appropriate use, that is, what populations should be using what level of PPE to ensure that appropriate supplies are getting to, and used properly by the appropriate audiences.
VML Contact: Janet Areson, jareson@vml.org
National Drug Control Policy "Rural Community Toolbox" website and fact sheet now available
On Thursday, June 24 the Office of National Drug Control Policy hosted a webinar to launch its Rural Community Toolbox website: www.ruralcommunitytoolbox.org/.
More information is available on the RCTB fact sheet.
The webinar included remarks by Jim Carroll (Director, Office of National Drug Control Policy), Kellyanne Conway (Assistant to the President and Senior Counselor), Betty-Ann Bryce (Rural Health Liaison, U.S. Department of Agriculture), Gary Moore (Judge Executive of Boone County, Kentucky and First Vice President of the National Association of Counties), A.J. Louderback (Sheriff of Jackson County, Texas), Admiral Brett Giroir (Assistant Secretary for Health, U.S. Department of Health and Human Services), and Bette Brand (Deputy Under Secretary for Rural Development, U.S. Department of Agriculture) to give an overview of the new Rural Community Toolbox resource and discuss the Trump Administration's support for rural communities impacted by addiction.
The full press release is available here>.
Office of National Drug Control Policy Contact: Anne C. Hazlett – Senior Advisor for Rural Affairs, Anne.C.Hazlett@ondcp.eop.gov
Board of corrections considering new jail behavioral health regulations
Local and regional jails will be subject to new behavioral health regulations. The open questions are when the regulations will go into effect and exactly what they will look like.
The 2019 General Assembly approved legislation (HB 1942) requiring the Board of Corrections to implement new regulations for behavioral health practices and procedures in local and regional jails.  VML worked with other local partners to amend the bill to require a workgroup be created to consider the cost of implementing the legislation. A workgroup was formed right after the 2109 session to look at the potential components of new regulations and to come up with proposed wording and cost estimates. This group included representatives of the community services boards, local and regional jail leadership, members of the Board of Correction, staff from the Departments of Behavioral Health and Developmental Services and Medical Assistance Services, and local government representatives. This group worked through the summer and early fall and came up with recommendations for the substance of new regulations. Those recommendations were given to the Board of Corrections in the fall of 2019 as required by the legislation.
A smaller group was also developed to take the preliminary fiscal impact estimates and develop a more detailed impact analysis. The group was supposed to have its information by June 1, 2020; it was given more time because of the impact of the pandemic.
The coronavirus pandemic also delayed the Board of Correction's initial discussion of proposed regulations until June 24, when it met by conference call to review the large workgroup's recommendations. The Board did not fully accept those recommendations, and a small workgroup of its own members is now working on changes and will report back at the Board's next meeting.
The Board will next consider whether to attempt to have these regulations go through an emergency process which would speed the adoption and implementation, or to go through the normal administrative process for adoption. A staff member advising them on the regulatory adoption process told them that there was no guarantee that an emergency wavier would be granted; a member of the board agreed that it could be more difficult to go that route because the regulations will contain unfunded mandates for jails (and the local governments that pay for jail operations).
VML Contact: Janet Areson, jareson@vml.org
Emergency management
FEMA offers guidance for 2020 hurricane season amidst COVID-19 pandemic
In preparing for the 2020 hurricane season, FEMA's 2020 Hurricane Pandemic Plan document provides actionable guidance to State, Local, Tribal & Territorial officials to prepare for response and recovery operations and encourages personal preparedness measures amidst the ongoing COVID-19 pandemic.
Read the full press release here >.
While the document focuses on hurricane season preparedness, most planning considerations can also be applied to any disaster operation in the COVID-19 environment, including no-notice incidents, spring flooding and wildfire seasons, and typhoon response.
VML Contact: Rob Bullington, rbullington@vml.org
VML Events
Registration slots still available for Newly Elected Officials conference
VML's Newly Elected Officials Conference provides a valuable opportunity for both new and seasoned public officials to learn from speakers with extensive experience working with local government officials. Furthermore, the conference offers an excellent opportunity to learn what it takes to succeed and how to avoid common pitfalls as an elected official.
In July, VML will offer our Newly Elected Officials conference virtually. The event will cover two days:
Thursday, July 9 — 12:00 PM – 5:45 PM
Friday, July 10 — 9:30 AM – 12:00 PM
Participants should plan on attending both days.
This event is offered free of charge. Registration is available here >
Topics to be covered include (but are not limited to):
How the Virginia Municipal League works for you
ABCs of Local Governing
Budgeting Basics
FOIA
Innovation, Financing and Foresight (speakers sponsored by VRSA)
Council / Manager Form of Government
COIA
Investment / Finance
Public Officials' Liability
Visit VML's conference webpage for more information.
VML Contact: Mitchell Smiley, msmiley@vml.org
"Anticipate the Future" conference schedule & speakers now available
Register today for this free event coming July 7 and 9
On July 7 and July 9, VML will offer virtual conference that looks beyond our present predicament to plan a better future. This two-day event will feature presenters, roundtables, breakout sessions, discussions, and happy hours.
Download the full schedule to learn more about the topics and speakers taking part in this valuable event being provided free of charge thanks to a sponsorship from the Virginia Risk Sharing Association (VRSA).
Attendees should plan to register for both days:
Tuesday, July 7
Thursday, July 9
This event is being produced by Rebecca Ryan, APF and hosted by the Virginia Municipal League for our members. Learn more on our website here >.
VML Contact: Rob Bullington, rbullington@vml.org
Other events & opportunities
Comcast extends free internet service offer through end of year
As cities and towns across the country begin to open, Comcast is continuing its efforts to help people connect to the internet during the COVID-19 crisis. Recently, the company announced it will extend free access to its 1.5 million public Xfinity WiFi hotspots to anyone who needs them, including non-customers, through the end of 2020.
Find a hotspot near you at www.xfinity.com/wifi and learn more about the program here >.
Additionally, Comcast previously announced it would provide 60 days of free Internet service to new, eligible Internet Essentials customers. This offer was originally set to expire on June 30 but will now be available through the end of this year. The press release is available here >.
The Internet Essentials program offers low-cost, high-speed Internet service for $9.95 a month plus tax, also provides multiple options to access free digital skills training in print, online, and in person. Customers also have the option to purchase a low-cost Internet-ready computer.
Comcast Contact: Terry Ellis, Vice President – Government & Regulatory Affairs, Terry_Ellis@comcast.com
VAPDC presents "Four Thursdays in July"
Like most other organizations, The Virginia Association of Planning District Commissions (VAPDC) is adjusting to the COVID-19 pandemic and has cancelled its annual summer conference for 2020. And like most other organizations, they do not want to lose touch with their members and partners. Conferences provide an opportunity to present timely educational and informational content, while providing a forum for connecting with one another to exchange ideas and information. Since it is not possible to do this in person this year, VAPDC is offering these things in a Summer Series, "Four Thursday's in July."
These four online meetings will cover a variety of topics and begin at 10:00 am and end by 11:30 am.*
Registration
Participants can register for each of these sessions individually or the series of four at a discounted rate.
All Four Meetings: $35 Best Deal
Per Session: $10
Registration is available here >
Participants will receive login information prior to the event(s) for which they have registered with instructions for joining the meeting and any applicable details and handouts.
*On Thursday, July 16th, VAPDC will hold its Annual Business Meeting following the online event, beginning at 11:30 am and ending by 12:00 pm
Topics & Speakers
Week 1: July 9, – The Other Side of COVID-19: A Futurist's View. John Martin, CEO & Managing Partner, Southeastern Institute for Research will serve as speaker for this virtual meeting.
Martin will discuss what the "other side" of COVID-19 might look like for Virginia's communities. Be sure to join VAPDC for this interactive online session that will launch VAPDC's Summer Series 2020.
John Martin's bio is available here >.
Week 2: July 16 – Travel, Tourism and Leisure – Seeking to be Stronger (following by VAPDC Annual Business Meeting @11:30 am). A panel of presenters to discuss travel, tourism, and leisure in the recovery phase of COVID-19. The panel will include:
Rita McClenny, President and CEO, Virginia Tourism Corporation
Eric Terry, President, Virginia Restaurant, Lodging and Travel Association
Cassidy Rasnick, Deputy Secretary of Commerce and Trade, and Director of the Office of Outdoor Recreation, Commonwealth of Virginia
The speakers' bios are available here >.
Future offerings include:
Week 3: July 23 – Transportation and Mobility Reimagined — Making it Future Ready. Details available soon.
Week 4: July 30 – Virginia's PDCs: Regional Responses and Resources. Details available soon.
VAPDC Contact: David Blount, DBlount@tjpdc.org
Wellness program grant opportunity available
The National Association of State Treasurers, IMPA-HR, Center for State and Local Government Excellence and Wells Fargo have teamed up to offer a grant that will cover the costs of developing and deploying a financial wellness program to employees.
Open to both state and local entities, 26 grants will be awarded up to $100,000 each based on company size.
Sqwire, a company that develops custom financial wellness programming as a value-added employee benefit can help design and implement a custom program for employees. Sqwire can also help write the grant proposal.
Grant applications are due on July 15.
If you would like to apply to receive these funds, please reach out immediately.
Sqwire Contact: Zee Worstell, (757) 869-2628