eNews June 19, 2020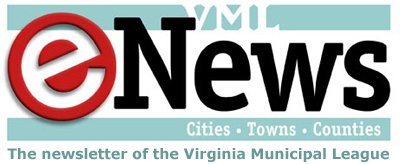 Friday, June 19, 2020 - 05:29pm
In this issue:
Events, Resources & Opportunities:
VML Announcements
On beyond COVID: VML futurist conference coming in July!
On July 7 and July 9, VML will offer a free virtual conference that looks beyond our present predicament to plan a better future. This two-day event will feature presenters, roundtables, breakout sessions, discussions, and happy hours.
Attendees should plan to register for both days:
Tuesday, July 7
Thursday, July 9
More information is available on VML's website here.
This event is being sponsored by the Virginia Risk Sharing Association (VRSA), produced by Rebecca Ryan, APF and hosted by the Virginia Municipal League for our members.
VML Contact: Rob Bullington, rbullington@vml.org
Fawcett, Snead to lead 2020 Legislative Committee
VML President Tommy Smigiel and the Executive Committee have appointed the members of the 2020 Legislative Committee.
Suffolk Council Member Roger Fawcett will chair VML's 2020 Legislative Committee, joined by Hampton Council Member Christine Snead as vice chair.
VML's Legislative Committee consists of 24 individuals from VML communities across the Commonwealth, with members representing the city, town, and urban sections of the League.  The Committee meets at least three times during the year to assess issues and determine which ones should be included in the League's annual legislative program.
Confirmed members of this year's committee include:
City Section
Hector Cendejas, Council Member, City of Manassas Park
Frank Friedman, Mayor, City of Lexington
Mary Person, Mayor, City of Emporia
David Smith, Mayor, City of Winchester
Jon Stehle Jr., Council Member, City of Fairfax
William Withers Jr., Vice Mayor, City of Fredericksburg
Town Section
Nancy Bailey, Vice Mayor, Town of Big Stone Gap
Jennifer Baker, Council Member, Town of Herndon
Michael Barber, Mayor, Town of Christiansburg
Kelly Burk, Mayor, Town of Leesburg
Keith Harless, Town Manager, Town of Pennington Gap
Urban Section
Kattie Cristol, Board Member, County of Arlington
Robert Ike, Council Member, City of Chesapeake
Alonzo Jones, Mayor, City of Danville
Deanna Reed, Mayor, City of Harrisonburg
John Rowe, Mayor, City of Portsmouth
Tina Vick, Vice Mayor, City of Newport News
Sabrina Wooten, Council Member, City of Virginia Beach
VML Contact: Janet Areson, jareson@vml.org
Economy
Utility disconnections, interest, and fees remain on hold…for now
Information about VML member utilities is needed to plan for the economic impact when they resume
When the economy began tumbling and job losses began mounting because of the COVID-19 pandemic, the State Corporation Commission (SCC) by dictate paused the disconnection of public utilities and the accrual of interest and fees. Most municipal utilities are not regulated by the SCC. However, recent conversations with municipal wastewater and water utilities have made it clear that nearly every utility in Virginia has chosen not to disconnect utilities or begin accruing interest or fees on delinquent accounts.
Although not required to do so by state regulations, these municipal utilities are continuing to make good faith efforts to comply with the spirit of the disconnect freeze while working with customers who are experiencing financial challenges.
Pressure is beginning to mount, however, as the fiscal challenges of these efforts begin to show up on the "bottom line". Also increasing are the unpaid balances of customers who will receive large utility bills when the disconnect freeze ends.
In fact, since the freeze began, the number of accounts past due or carrying a balance have doubled or tripled (primarily in larger jurisdictions). Adding to the potential shock coming for many utility customers, fewer payment plans have been established during this time. Ironically, this is possibly a result of the freeze on disconnects, interest, and fees removing the incentive for customers to sign on to a payment plan.
Aware of the coming crunch, some utilities have already announced a freeze on rates for the next year so as not to aggravate their customers' financial woes.
Recently reported fiscal impacts
The City of Roanoke's Water Authority has seen revenues drop 5 percent, or about $3.5M.
Hampton Roads Sanitation District reports $6M in accounts with a 90 days or greater past due balance, a $2.5M increase since February and nearly twice the amount for the same time period in 2019.
The City of Alexandria cites a 184 percent increase in the number of delinquent accounts; the amount owed has also increased 136 percent.
Chesterfield County reports 19 percent of bills since March have had either late payments or accrued a balance.
Halifax County has seen the smallest reported decrease in revenue with about $30,000 in delinquencies out of a $5.8M operating budget. The utility views this amount as "negligible."
The case for state aid to affected localities
To forestall the cascading impacts when disconnections, interest, and fees resume (as they inevitably must), a small investment from the state could aid utility customers who have accrued balances on their accounts. The need is real, with larger urban jurisdictions seemingly most at risk.
The state could provide funds to localities or create their own program to get direct aid to utility customers as they try to pay off their accrued balances. This aid would not be intended to replace revenue; rather, it would be made available to those who have new balance accruals since March.
Let us hear from you!
VML would like to hear from members about their experience with their public utility's response to the COVID-19 pandemic and how that is impacting municipal budgets – either in the short or long term regardless of customer type (residential, commercial, industrial) – as we consider this issue.
VML Contact: Mitchell Smiley, msmiley@vml.org.
Op-ed
Too much being asked of schools in reopening buildings
By Andre Jones
While there are steps being taken to make sure students can return to learning in a physical environment inside of buildings, the reality is that the guidelines being presented by the state and the Center of Disease and Control (CDC) are unrealistic for it to happen.
In more than 100 pages of document, schools are instructed to have a phased reopening of schools. While both Charles City and New Kent are in phase two at the current moment, the expectations and realism of adhering to each one of these guidelines is impossible.
Let me preference by saying that I understand the nature of having these guidelines are in place to prevent the spread of COVID-19. However, no amount of prevention will ever replace the possibility of the spread of the virus when being in a public environment.
I'm going to hit on just a few of the recommendations that are being tasked by the CDC. In classrooms, desks are recommended to be at least six feet apart. That immediately reduces the class size from roughly 20 students to around 11 or 12. Next, if the social distance can't be met with the desk separation, then plastic shields are to be placed up between each student. That means a shield for each student in each classroom at each table or desk. That means another expenditure for schools with funds that they don't have.
Next comes one of the most absurd things that has been requested. The guidelines also request that school buses have social distancing as well. That means a bus that usually carries 50-60 students will carry 10-15. Think about that for a moment. That means more gas, more routes, and more work for bus drivers.
Even before the standards, employing bus drivers is difficult in the first place. This past year, both Chesterfield and Henrico had more than 50 vacancies. Now, imagine trying to add drivers to run additional routes and they are considered hourly employees and not full-time employees. If you want to add a little more fuel to the fire, schools don't have to transport students to schools unless they are identified as special needs students. Do you think any school district will scrap their transportation services for students? I highly doubt that.
Continuing on, there are other difficulties with the plans. Staggered starts and times for usages of common areas will only cause additional headaches. What use to be two to four lunches in schools suddenly becomes eight or nine. The toll on the hardworking cafeteria staff will continue as they may have to deliver food to the classroom. Extracurricular activities are in the same boat as despite any precaution taken to participate, there will be some sort of contact in sports and some sort of interaction with other students in clubs and activities (such as band, theater, etc.).
There is no way around what is going to happen to our schools. The question that we haven't heard is when will parents and guardians get a say in how to reopen. Surveys are currently going out by some jurisdictions for feedback, but it's ultimately up to the parent if they want their child to enter into the building once again.
There will never be a clear-cut answer if the risk will outweigh the factors of keeping the student at home. There are some parents who cannot hold down a full-time career and stay at home with their child and instruct them educational-wise. There are some areas (especially in Charles City and New Kent) where remote learning is impossible to conduct.
If you want to be more specific, many people know about the lack of Internet in Charles City that has stemmed back since 2014. In New Kent, the continuing growth of student population became more of a hindrance after county leaders elected to postpone construction of a new elementary school by a year.
It's a painful world we are living in, and schools are coming up with "return-to-school" plans to submit to several entities for approval. But realistically, I believe there will be some sort of consensual plans in place that will allow parents to make a choice to have students in either a school environment or continuing their education at home. Either way, the school districts will still be responsible.
As these matters continue, remember leaders at the school level are doing what they can to continue education for students. The atmosphere has changed, but not the dedication to make sure that the next generation is prepared to be successful.
About the author: Andre Jones is the editor of the New Kent – Charles City CHRONICLE. This article originally appeared in that publication on June 16.
Health & Human Services
Commission on Racial Inequity in Virginia Law meets to discuss policing
Changes to policing in Virginia were the subject of presentations and discussions at the June 17 meeting in Richmond of the Commission to Examine Racial Equity in Virginia Law. Formed by Gov. Ralph Northam just over a year ago, the commission has worked to examine and identify racially discriminatory language in Virginia's Acts of Assembly and the Code of Virginia so that it can be repealed.
Governor Northam recently expanded the term and broadened the scope of the Commission's work, directing it to identify current state laws and regulations that create or perpetuate inequities, propose changes to increase protections for minority and marginalized Virginians, and provide policy recommendations for state agencies and institutions. The Commission will focus the next stage of its work on public safety, criminal justice, education, health, housing, and voting.
The June 17 meeting included a presentation by George Mason University Professor Laurie Robinson, who previously served on a presidential task force examining policing following the 2014 death of Michael Brown in Ferguson, MO. That task force authored a comprehensive report that offered recommendations on building community trust and partnership through impartial and respectful law enforcement practices.
Commission members also discussed questions related to the current funding of law enforcement functions to better understand how funding is currently allocated, its necessity, and possible reallocation for mental health initiatives such as building capacity for mental health professionals to respond to crisis situations.
More recommendations and considerations were made for the commission to consider before their next meeting. More information about the commission is available here >.
VML Contact: Josette Bulova, jbulova@vml.org
Transportation
New grant program for public transit to open June 22
Applications due July 10
The Virginia Transit Association (VTA) is pleased to announce its Free Transit Fare for Working Families program, a new competitive grant program designed to help needy families by promoting access to employment and job training through public transit. In total, up to $1 million will be made available to local governments, nonprofit organizations, and transit agencies.
The new program is funded though Virginia's federal Temporary Assistance for Needy Families (TANF) block grant. This program will support projects that benefit persons that have a dependent child and are below 200% of the federal poverty level. Eligible projects include providing fixed route bus service, on demand bus service, public van pools, and other public transit services for TANF eligible persons traveling to and from work or job training.
The application window will open on Monday, June 22 with applications and cost estimate projections due by July 10 at 4:00PM. To apply, download program guidelines, the application form, and the cost estimate form at https://vatransit.com/TANFGrant.
Program related questions can be emailed to TANFgrant@vatransit.com.
VML Contact: Mitchell Smiley, msmiley@vml.org
Events, Resources & Opportunities
Office of Secretary of Veterans & Defense Affairs COVID-19 posture update available
The Office of Secretary of Veterans & Defense Affairs has published its most recent version (#6) of its COVID-19 posture update (dated June 18, 2020).
In addition to updates from the Office of Secretary of Veterans & Defense Affairs, the Virginia Department of Military Affairs, and the Virginia Department of Veterans Services (DVS), the document includes mental health & well-being resources as well as a comprehensive list of contacts around the state for staying informed.
The full document is available here >.
Contact: Secretary Hopkins, vada@governor.virginia.gov
Oracle Community Development webcast series offered July-September
Oracle invites you to learn more about their cloud-based Community Development solution for cities, counties, states and special districts. Each month, they will be hosting a 30-minute webcast that will dive into one aspect of Oracle's solution for Building, Planning and Code Enforcement departments. Register here for one or more of the following (all starting at 10:00 AM EST):
July 1 – Planning and Zoning
August 5 – Code Enforcement
September 2 – System Administration
Oracle is a VML Municipal Business Associate member.
Oracle Contact: Roger Keren, Citizen Experience Manager, roger.keren@oracle.com
Rural stakeholder webinar offered by the White House Office of National Drug Control Policy
You are invited to join James W. Carroll, Director of the White House Office of National Drug Control Policy, and Senior Administration Officials for a virtual launch of the Rural Community Toolbox website on June 24th. The website will serve as a clearinghouse for funding and resources in over a dozen different agencies to help rural leaders respond to addiction by building strong, healthy, and drug-free communities.
On this webinar, senior Agency officials will share details about this valuable resource as well as information about new data sets available to inform local action.
Additional information is available here >.
Date: Wednesday, June 24
Time: 3:00 PM EST
Registration: Due to a high early response, the maximum number of attendees for the webinar has been reached. However, interested parties may join via audio by registering here >.
VML Contact: Rob Bullington, rbullington@vml.org
E Pluribus Unum Fund announces new Unum Fellows Program
The Unum Fellow Program will be a fellowship focused initiative to develop leaders' understanding of racial and economic equity to foster transformative, sustainable change in their communities.
The fellowship will provide:
Training and resources for fellows to deepen their knowledge base and deploy more effective equity tools.
A platform for them to exchange ideas with other elected leaders doing similar work across the South.
Support from a range of experts as they develop and implement an equity project in their community; and funding of up to $75,000 to make their project come to life.
According to the press release: "We're looking for candidates who are local elected officials and will still be in office at the end of 2021. We want mayors, county commissioners, parish presidents, city councilmembers, school board members, or law enforcement officials. Leaders should have experience collaborating with others to build common understanding and solve issues that are facing residents. They should also have a commitment to advancing racial and economic equity in their communities, although they do not need to have significant experience in equity work."
Visit the group's website at unumfund.org/fellows to learn more about the eligibility requirements and application process. The deadline is July 31, 2020 at 11:59 EST.
About the E Pluribus Unum Fund
"The E Pluribus Unum Fund will bring people together across the American South around the issues of race, equity, economic opportunity and violence, proving the American motto that "out of many, one," and we are better for it."
E Pluribus Unum Contact: info@unumfund.org
Speridan webcast to cover Rapid Contact Center solutions for crisis response
Speridian Technologies developed a flexible solution that was configured and deployed in 4 days for the New York State Coronavirus Hotline. Speridan will be hosting a free, 45-minute webcast on Tuesday, June 23 at 12:00 PM EST to provide an overview of this simple, repeatable, cost effective solution that VML members – particularly managers and IT staff – may find useful.
Registration and additional information are available here >
Speridan Contact: Hanno Hesse, Vice President, hanno.hesse@speridian.com