eNews June 18, 2021

Friday, June 18, 2021 - 10:15am
In this issue:
Legislation
OAG Confirms: Comp time no longer allowable under HB2063
Following debate among localities and questions from the Department of Labor and Industry (DOLI), the Office of the Attorney General confirms that employers will no longer be allowed to offer compensatory time in lieu of overtime pay starting July 1, 2021. Following the General Assembly's 2021 passage of HB2063, or the Virginia Overtime Wage Act, Virginia Code § 40.1-29.2 (B) will now state that employers "shall pay [any nonexempt] employee an overtime premium at a rate not less than one and one-half times the employee's regular rate, pursuant to 29 USC § 207." Additional language was added to account for fire protection, law enforcement, and other public employees who are subject to the federal Fair Labor Standards Act (otherwise known as 29 USC § 207).
Local governments should consult their local government attorney for advice on how to implement the new rule.
VML Contact: Michelle Gowdy, mgowdy@vml.org
VML Announcements
Mayors Institute will be held July 15-16 in Charlottesville
This will be the only Mayors Institute event of 2021
Registration is now open for VML's Mayors Institute happening at the Omni Hotel in downtown Charlottesville July 15-16. Although in years past this event has been held just prior to the fall Annual Conference, the July event will be the only Mayors Institute event of 2021.
About the event
From improving the current infrastructure to preparing for autonomous vehicles, local communities are moving toward the future. Learn how you can meet the needs of a new generation of citizens at the Virginia Mayors Institute. The program explores issues essential to the responsibilities of mayors and vice mayors as local government leaders.
VML is pleased to present this in-person event at the Omni Hotel in Charlottesville for all those interested in attending. The first day will feature FOIA/COIA training and will conclude with an evening reception and dinner. Day 2 will include additional training and the presentation of certificates.
More information including pricing, a link to register, and hotel room reservations is available on VML's website here >.
VML Contact: Jessica Ackerman, jackerman@vml.org
Newly Elected Officials Conference happening July 15 in Charlottesville
VML's Newly Elected Officials Conference provides a valuable opportunity for both new and seasoned public officials to learn from speakers with extensive experience working with local government officials.
The FOIA/COIA training required of elected officials will be provided in the afternoon.
Furthermore, the conference offers an excellent opportunity to learn what it takes to succeed and how to avoid common pitfalls as an elected official.
VML is pleased to present this in-person event at the Omni Hotel in Charlottesville for all those interested in attending. More information including pricing, a link to register and hotel room reservations is available on VML's website here >.
VML Contact: Mitchell Smiley, msmiley@vml.org
Hey Virginia! Tell us about your favorite things
When it comes to experiencing all the world has to offer, it's no secret that we here at VML are big fans of keeping it local. So, we want to know more about the best things made right here in Virginia.
Help us out by responding to our survey contest here >.
Tell us about your favorite Virginia things
Answer as many (or as few) of the survey categories as you like. It can be something from your locality or something from another locality that you discovered on your own explorations of the state. The only rule is that it must be something from the great Commonwealth of Virginia.
Best reasons "Why" win!
When answering "Why?" please be as creative and as personal as you can. In fact, that's how we're going to judge which entries win. Make us laugh, make us cry, make us want to get in our car and try it for ourselves!
What do I get if I win?
Fame. We'll publish your favorite thing (or things if you win in more than one category) in the July/August issue of our magazine. We'll include your photo (if you want) and an enthusiastic shout-out to your homegrown favorite.
VML Contact: Rob Bullington, rbullington@vml.org
ARPA
VML's "Guidance for Coronavirus Local Fiscal Recovery Funds under the American Rescue Plan: FAQs for Virginia's Cities and Towns" available to members
The first iteration of VML's analysis of questions raised by localities around funds to be distributed under the American Rescue Plan (ARP) is now available. This document was created using questions submitted by city and town managers, local finance and budget directors, and elected officials during recent webinars hosted for members by VML
VML member officials and staff can access the secure document under "Resources" here >.
If you are an official or staff from a VML member locality, but are unable to access the secure site, please contact Rob Bullington at the below address to obtain credentials. All requests will be handled in the order in which they are received. Thank you.
 VML Contact: Rob Bullington, rbullington@vml.org
Updated guidance for ARPA spending from U.S. Treasury now available
In response to questions about eligibility requirements for broadband projects, US Treasury has issued updated guidance that addresses the following topic areas:
Expanded definition of how services ought to "be designed to" provide service to unserved or underserved households and businesses;
Expanded definitions of unserved and underserved households and businesses;
Expanded definition of "reliability" in broadband service; and,
Eligibility of middle mile broadband projects.
VML Contact: Jessica Ackerman, jackerman@vml.org
VML webinar on Eligible Water & Wastewater Projects coming June 30
As part of our continuing series of ARPA webinars on subjects identified as priorities by our members, VML is pleased to announce this opportunity for officials and staff from VML member localities.
Many Virginia localities are seeking information about how the American Rescue Plan Act can be used to fund water and wastewater projects. In this webinar, Margaret Rockwell and Preston Bryant from McGuireWoods Consulting will discuss the types of water and wastewater projects that are eligible for funding under the State and Local Fiscal Recovery Funds and provide further insight on the topic as detailed in the U.S. Department of the Treasury's Interim Final Rule.
More information and registration available here >.
Please note – This webinar is restricted to officials and staff from VML member localities. Please register using your local government email address. All others will be removed prior to the start of the event. If you would like to request special accommodation, please contact Rob Bullington at the address below. Thank you.
VML Contact: Rob Bullington, rbullington@vml.org
FOIA
Freedom of Information Act Council updates
New Local Government representative confirmed
Lola Rodriguez Perkins is the new Local Government representative to the Virginia Freedom of Information Advisory Council! Lola is a former President of Local Government Attorneys of Virginia and is currently the Senior Deputy City Attorney for the City of Hampton. She was endorsed by Mayor Tuck of the City of Hampton and VML and VACo.  Senate Rules confirmed her appointment last week. Congratulations Lola!
Records Subcommittee meets
The Virginia Freedom of Information Advisory Council (FOIA Council) Records Subcommittee met this week to take up two pieces of legislation: HB2000 (Roem) and HB2196 (Mullin).
HB2000 changes the way public bodies would charge for FOIA requests. It essentially says that the first two hours of any request are free if the requester has made four or less requests within 31 days. It then goes on to state that there is a cap of $33.00 per hour that can be charged to fill a request. FOIA Council staff gave a presentation on what other states charge for FOIA requests and public comment was taken.   The full FOIA Council will meet in July and this subcommittee will meet after that to work on draft bill language.
HB2196 would require the release of law-enforcement disciplinary records related to completed disciplinary investigations. The bill further defines "law-enforcement disciplinary records" as any record created in furtherance of a law-enforcement disciplinary proceeding or any other administrative or judicial proceeding." The subcommittee took substantial testimony from the public today and then stated that they would hold another meeting after the July full FOIA Council meeting to draft language.
VML Contact: Michelle Gowdy. mgowdy@vml.org
Broadband
Broadband VATI program guidelines now available
The final VATI program guidelines are now available here >.
Thank you to everyone who submitted comments, attended stakeholder input sessions, and participated in making this program more successful. Please reach out if you have any questions about the guidelines. Some changes this year to highlight include:
For a wireless project, a proposed area is considered eligible if 25 percent or fewer of serviceable units have access to service with no special construction costs from any provider as of the date of the application.
To accelerate broadband access in RDOF awarded areas, passings in those areas may be included in VATI applications, provided the auction winner and the VATI co-applicant are the same. All RDOF passings included in a VATI application that is awarded funding must be provided access to broadband service within the VATI contractual period. RDOF passings may not exceed VATI passings in the application.
All areas preliminarily awarded RDOF, regardless of bidder, are eligible to be included in a VATI application. RDOF awardees who are not the VATI co-applicant may challenge an application that includes all, or portions of their final RDOF awarded area. If the challenge is determined to be credible, the applicant will be required to remove the area(s) that overlap from their application. The challenging RDOF awardee must commit to providing broadband access in the challenge area(s) within 3 years of the announcement of FY 2022 VATI awards and will be required to enter into a Memorandum of Understanding (MOU) with the VATI applicant committing to construct the removed area(s).
Applicants and challengers must provide point and polygon shapefiles of the proposed (or challenged) project areas.
Project cost efficiency and universal coverage are weighted more significantly in scoring criteria.
Upcoming deadlines
July 27: Deadline for Public Notice for VATI Applications
September 14: VATI Application Deadline
Assistance available
As always, the VATI team is available to help localities and ISPs develop high-quality applications. Schedule technical assistance by contacting vati@dhcd.virginia.gov.
VML Contact: Michelle Gowdy, mgowdy@vml.org
Utility Leverage Program: Unserved designation guidance now available
Pursuant to legislation going into effect on July 1 for the utility leverage program, guidance establishing the process for petitioners to submit proposed project areas to the Department of Housing and Community Development (DHCD) for designation as unserved by broadband is now available.
View/download the guidance here >.
The guidance also outlines the process for entities to challenge proposed areas and how petitioners and challengers can request exemption from the Freedom of Information Act (FOIA). Please note this process largely follows the VATI process for submitting projects and challenges.
For notifications when new proposed projects are posted on the DHCD website, you can sign up to be on the Utility Leverage Program distribution list by emailing broadband@dhcd.virginia.gov.
VML Contact: Michelle Gowdy, mgowdy@vml.org
Local Fiscal Recovery Fund webinar materials now available
On June 9, Commonwealth Connect held a webinar to outline the Local Fiscal Recovery Fund.
VML Contact: Michelle Gowdy, mgowdy@vml.org
Budget & Economy
State revenue collections soar above expectations
Revenue surplus for the fiscal year is likely to exceed $1 billion
In what is likely his last monthly revenue report before leaving office, Secretary of Finance Aubrey Layne informed Gov. Northam and the General Assembly that total FY 2021 revenues through May are an eye-popping 17.8 percent ahead of the annual forecast predicting 2.7 percent growth. Strong collections are expected to continue through June 30. In part this is due to estimated payments from corporations and individuals with another payment to be submitted in June.  (Year-to-date, collections of these non-withholding income taxes grew by 69.2 percent, ahead of the annual estimate of a 4.4 percent increase.)
Payroll withholding, sales, and recordation taxes also posted solid gains as the economy continues a strong growth arc.
To attain the 2.7 percent annual revenue forecast, June collections must be $351 million, compared with $3.1 billion collected in June of last year. It is a "hurdle" the state will easily clear.
In Virginia, payroll employment rose 7.7 percent in April from April of last year. Employment in Northern Virginia rose by 8.2 percent; Hampton Roads rose 8.8 percent; and Richmond-Petersburg rose 5.7 percent. The seasonally adjusted unemployment rate fell 0.4 percentage point to 4.7 percent and stands 6.6 percentage points below a year ago. However, payroll employment growth in Virginia continues to lag the national rate (7.72 percent versus 10.87 percent).
Since April 2020, Virginia employment was up by 278,700 jobs (7.7 percent), on net. However, employment was down 4.9 percent for February 2020 (before the pandemic) meaning the state's economy has room to grow. Case in point, there were 26,300 continued claims in February 2020 prior to the surge in claims during the spring of 2020. In April 2021, continued claims stood at 81,000.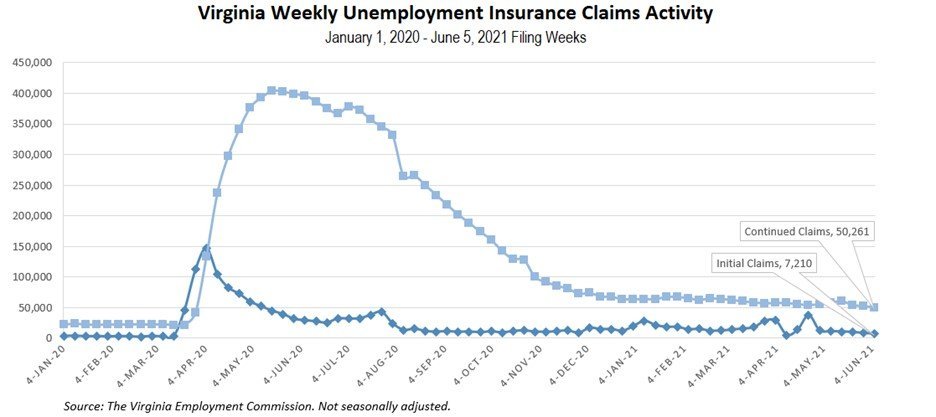 The Virginia Leading Index rose 0.8 percent in April after falling 0.5 percent in March. All four components: auto registrations, future employment, initial unemployment claims, and the U.S. leading index improved in April, and the indexes for all metro areas increased for the month.
The good revenue news also includes transportation taxes. State transportation revenue collections are running through May at strong clip of 12.1 percent, far ahead of the 4.1 percent growth included in the official state forecast.
Although motor fuel taxes lag the official forecast by 5.3 percent, the pain is significantly reduced by the strong showings of revenue collections tied to the motor vehicle sales and use tax (13 percent actual versus a negative 2.6 percent projected), the state sales and use tax (11.3 percent actual versus 5 percent projected), and state recordation taxes (41.4 percent actual versus 12.5 percent projected). The two sales taxes are more than twice the projected amount of motor fuels taxes.
The Commonwealth's strong revenue situation along with the flow of American Rescue Act money to the state and localities mean this summer's special session of the General Assembly will afford the legislature with opportunities not seen in years. At this point in time, their budget objectives and priorities are unknown, but all will be revealed in good time. Stay tuned.
VML Contact: Neal Menkes, nmenkes@vml.org
National summit on Regional Economic Connectivity to promote growth, equity, and resilience
The National League of Cities (NLC) and the Rural Community Assistance Partnership (RCAP) are holding a national summit to support regional economic development strategies, connect urban and rural communities within regions, and promote growth, equity and resilience. The event will include the release of new research, discussions with key practitioners and policy leaders, and opportunities to engage on strategy development. Local, regional, and state economic development officials and staff are encouraged to attend.
The event will be held virtually on Tuesday, June 29 from 2:00 – 5:00 p.m.
More information and link to register are available here >.
NLC Contact: Research Director Center for City Solutions Christiana K. McFarlan, mcfarland@nlc.org
Events & Opportunities
VDEM 2021 Hurricane Season Briefing being held June 29
VDEM invites local government officials and staff to attend a virtual 2021 Hurricane Season Briefing on Tuesday, June 29 at 1:00 p.m. This will be an opportunity to hear from several key speakers on updates related to hurricane readiness, response, and recovery. The hour-long event will include an opportunity for Q&A at the end.
To join: Link to join meeting >
Meeting number: 161 553 4227
Password: qNPtN4xPw23
Join by phone:
+1-517-466-2023 US Toll
+1-866-692-4530 US Toll Free
Access code: 161 553 4227
VDEM Contact: Policy & Intergovernmental Affairs Coordinator Jumoke Akinrimisi, Olajumoke.Akinrimisi@vdem.virginia.gov
All localities encouraged to participate in Virginia BearWise cost-share program survey for community projects
Whether or not your community has received funding from the Virginia BearWise Cost-share program, your perspective on this program and human-bear interactions can help improve DWR's assistance to Virginia's localities.
Clemson University and the Virginia Department of Wildlife Resources (DWR) invite local government elected officials and staff to take a quick survey regarding the Virginia BearWise Cost-share Program.
Please take the survey here >.
Background
The American black bear population has made a remarkable recovery across the Commonwealth of Virginia. Bears presently occur in 92 of Virginia's 95 counties. This can pose challenges for the public in learning to coexist with their new neighbors. Local governments can help residents reduce or mitigate human-bear interactions in many ways. Did you know for instance, that each year, the Virginia Department of Wildlife Resources (DWR) allocates funding to assist towns, cities, and counties of the Commonwealth with projects to reduce human-black bear conflicts? Proposed projects aim to secure or remove food sources, such as garbage, with equipment maintained in working order by the applicant for a specified time. This non-grant funding is made available as a cost-share; all applicants are required to contribute financially, in-kind, or in combination, for a 30 percent match of the project cost.
VML Contact: Mitchell Smiley, msmiley@vml.org
Virginia Community Flood Preparedness Fund grant round now open
Q&A sessions announced
As of June 4, the Virginia Department of Conservation and Recreation (DCR) began accepting applications for grants through the Community Flood Preparedness Fund.
A total of $18 million will be made available in this first grant round. Applications must be received by 4:00 p.m. on Sept. 3, 2021.
Information about the fund, eligibility rules, application procedures and instructions are available in the fund's grant manual posted at www.dcr.virginia.gov/cfpf. Local floodplain managers play a critical role in the success of this program. Please review the guidance and plan to join one of the Q&A sessions if you have questions.
Q&A sessions
If you have questions about the fund or the application process, we encourage you to sign up for one or more of these virtual Q&A sessions.
July 15 from 1:00 – 3:00 p.m.
August 13 from 1:00 – 3:00 p.m.
About the Community Flood Preparedness Fund
The fund was established to provide support for regions and localities across Virginia to reduce the impacts of flooding. Projects that are in concert with local, state and federal floodplain management standards, local resilience plans and the Virginia Coastal Resilience Master Plan will be prioritized.
Eligible activities include flood prevention and protection projects and studies, capacity building, and planning.
DCR Contact: Senior Public Relations and Marketing Specialist Julie Buchanan, julie.buchanan@dcr.virginia.gov
VDEM to host 13 sub-regional Hazard Mitigation Assistance Grants equity workshops
The Virginia Department of Emergency Management (VDEM) will be hosting thirteen sub-regional workshops across 40 local jurisdictions this summer. Building off the COVID-19 Health Equity Workgroup efforts, Deloitte performed an analysis of vulnerable populations in areas with riverine and coastal flood zones. According to the press release, Deloitte's Health360 platform provides a data-driven 360-degree view of an individual community. The result was identified census tracts that would likely require the most individual needs, resources, and services following a disaster, and therefore should be the focus area for implementing hazard mitigation projects (the long-term reduction of risk). The workshops are intended for local and regional government professionals in the fields of planning/zoning, engineering, building/code officials, public utilities, public works, transportation, emergency management, environmental justice, historic preservation, floodplain management, and grants administration.
The summer sub-regional workshops will involve a pre-workshop survey so that the state is more informed and get the local perspective of flood risk in these census tracts, or any others that the locality identifies. The workshops will also include information on funding opportunities from the Virginia Department of Conservation and Recreation Virginia Department of Housing and Community Development.
The Virginia Modeling and Simulation Center (VMASC) at Old Dominion University will be facilitating the sub-regional workshops. The workshops are intended for local and regional government professionals in the fields of planning/zoning, engineering, building/code officials, public utilities, public works, transportation, emergency management, environmental justice, historic preservation, floodplain management, and grants administration. State agencies and local volunteer and faith-based organizations with an interest in these areas are also invited to join.
All workshops will be held from 10:00 a.m. to 12:00 p.m.
Localities and workshop dates
Essex, Mathews, Westmoreland – June 28
Alleghany, Covington, Roanoke City – June 30
Emporia, Franklin City, Southampton, Suffolk, Sussex – July 7 
Buena Vista, Rockingham – July 13 
Danville, Halifax, Henry – July 14 
Bland, Grayson, Smyth, Wythe – July 20
Giles, Pulaski – July 22
Hampton, Newport News, Poquoson – July 29 
Buchanan, Dickenson, Russell, Tazewell – August 3 
Lee, Scott, Wise – August 10
Chesapeake, Norfolk, Portsmouth, Virginia Beach – August 12 
Dinwiddie, Petersburg, Richmond City – August 18 
Accomack, Northampton – August 26 
For additional information on these workshops opportunity, visit  www.vaemergency.gov/hma-workshop.
VDEM Contact: vdemgrants@vdem.virginia.gov.
Grant training in Henrico being held August 5-6
Henrico County Division of Fire and Grant Writing USA will present a two-day grants workshop in Henrico, August 5-6. This class will cover how to find the funding sources and write successful grant proposals.
Beginning and experienced grant writers from city, county, and state agencies as well as healthcare organizations, nonprofits, K-12, colleges, and universities are encouraged to attend.
Limited seats for this in-person training. All health and safety guidelines will be followed. Class enrollment is limited to ensure proper distancing.
Online classes are also available.
More information including learning objectives, class location, graduate testimonials and online registration is available here.
VML member discount
Virginia Municipal League members and their staff are eligible for a special tuition rate of $425 which includes everything: two days of instruction, workbook, and access to the Alumni Forum that's packed full of tools, discussions and more than 200 sample grant proposals. Please use discount code "ASSN" to receive this $30 discount off full price at registration.
Payment is not required at the time of registration.  Checks, credit cards, and purchase orders are welcome. Government agencies have 30 days after the training to pay.
Grant Writing USA Contact: Janet Darling, janet@grantwritingusa.com
Federal legislation would protect some communities from arbitrary reclassification and potential loss of federal funds
Editor's note: The National League of Cities (NLC) shared the below press release with state leagues Thursday morning. Because this legislation would also affect a few of Virginia's localities, VML is including it here for your reference.
WASHINGTON – U.S. Sens. John Thune (R-S.D.) and Mark Kelly (D-Ariz.) today introduced the Metropolitan Statistical Area Preservation Act, legislation that would protect more than 140 Metropolitan Statistical Areas (MSAs), including Rapid City, South Dakota, from losing their MSA classifications. Losing this classification could, among other things, harm communities' access to certain federal funding opportunities and their ability to grow and attract businesses. The bipartisan Thune-Kelly bill would prevent the Office of Management and Budget (OMB) from increasing the minimum population that is currently required to be considered an MSA and ensure these communities' retain their classifications.
"Increasing the population threshold that is needed to be considered a 'metropolitan statistical area' would adversely affect communities in nearly every state, including South Dakota." said Thune. "The Metropolitan Statistical Area Preservation Act would protect communities like Rapid City from losing their current classification as a metropolitan area, address concerns I have heard from constituents in western South Dakota, and protect them from potentially losing access to certain federal funds."
"As we work to beat this virus and rebuild our economy, it's a priority for me to ensure a strong recovery in rural and small town Arizona," said Kelly. "I've heard concerns from Mayors across Arizona about how this policy change could impact their ability to support their communities by qualifying for federal transportation, housing, and other funds. That's why I'm introducing this bipartisan legislation to ensure communities can get the support they need to continue to grow and prosper."
"Rapid City's trade area is nearly 150,000 people, so losing its MSA status because its corporate boundary is only 80,000 people is counterproductive," said Tom Johnson, president and CEO of Elevate Rapid city. "It provides cities incentives for bad growth policies like unnecessary annexation and sprawl and could saddle small cities with excessive infrastructure costs to try and get to a new and arbitrary 100,000 MSA designation.   Additionally, as small cities continue to grow and attract talent, it's critical that they be seen as MSAs by young professionals who are relocating from large cities to small cities, but seeking similar amenities."
"The National League of Cities thanks Senators Thune and Kelly for stepping up to the calls from America's cities and towns who are working to meet their economic development and recruitment goals and recover from the recent pandemic," said Clarence E. Anthony, National League of Cities CEO and executive director. "Every action in Washington can lead to consequences in communities across America which is why it is imperative that Congress continue to ensure they receive and react to valuable feedback from local officials directly when Washington wants to make a change, even when that change is as small as the definition of a metropolitan statistical area."
"The National Association of Development Organizations endorses this important legislation designed to help protect the status of smaller metropolitan regions across the country," said Joe McKinney, executive director of NADO. "Maintaining the status of smaller MPO designations will help ensure that they remain eligible to receive federal funding needed to carry out critical planning functions. NADO stands in opposition to OMB's proposal to change the population standard that constitutes the core of a Metropolitan Statistical Area from 50,000 to 100,000 minimum population. Such a reclassification would effectively redefine existing distinctions between 'urban' and 'rural' which could have wide-ranging complexities, risks, and potentially harmful impacts. NADO commends Senator Thune's and Senator Kelly's leadership in taking steps to protect the status of smaller metropolitan regions, and their eligibility to access federal resources."
On January 19, 2021, OMB issued a notice and request for public comment on a set of recommendations from the Metropolitan and Micropolitan Statistical Area Standards Review Committee to revise certain requirements for communities to be classified as an MSA. Among other things, the recommendations would increase the minimum urban area population needed to qualify as an MSA from 50,000 to 100,000.
In response to the OMB notice, Thune, Kelly and a number of their colleagues sent a bipartisan letter to OMB Acting Director Rob Fairweather urging him to reject the recommendations that would increase the minimum urban area population threshold for MSA designations.
NLC Contact: Senior Specialist, State League Services Member & Partner Engagement Lenna Wilson, lwilson@nlc.org