eNews June 15, 2018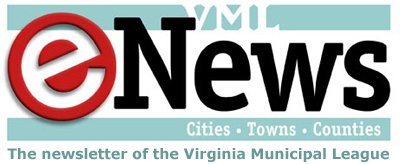 Friday, June 15, 2018 - 11:03am
In this issue
Register now for 2018 VML Annual Conference
Institute for Local Officials scheduled for July; Policy committees meet July 19
Draft annexation study released; Public hearings scheduled
VDOT Local Assistance Division Newsletter posted
FY2018 state surplus may exceed $400 million: State's AAA bond rating affirmed
Information on state payments, local required shares for K-12 released
Register now for 2018 VML Annual Conference
On-line registration is open; Preliminary agenda posted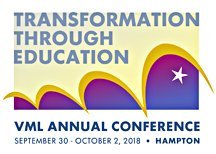 On-line registration is now open for the 2018 Annual Conference, to be held September 30 through October 2 at the Hampton Convention Center! Conference updates, preliminary agenda, and on-line registration are here. Please note that the conference concludes Tuesday evening with a reception and banquet dinner.
If you haven't reserved a room, reservations may be made on-line here.
Also, don't forget the 2018 Mayors Institute, which will begin bright and early Saturday, Sept. 29, and conclude at noon on Sunday, Sept. 30, prior to the opening of the Exhibit Hall and the start of the annual conference.
Institute for Local Officials scheduled for July 19-20
VML will hold its Institute for Local Officials starting the evening of July 19 and all-day July 20 at the Hilton Richmond Downtown, 501 East Broad Street, Richmond, VA 23219. Register on-line here. A draft agenda is posted there as well. This conference will be an excellent overview for newly-elected officials and incumbents as well. Topics to be covered include council/manager relations, the Freedom of Information Act, the Conflict of Interests Act, budgeting and more.
Policy committees scheduled for July 19
Also, don't forget: VML's six policy committees will meet July 19 at the Greater Richmond Convention Center for a day of briefings and policy developments. These six policy committees create policy statements that guide VML's lobbying efforts and steer VML's legislative process. The committees on general laws, human development and education, and transportation will meet from 9:30 a.m. to 12 noon. The committees on community and economic development, environmental quality and finance will meet from 1 to 3:30 p.m. Lunch will be available for all committee members from 12 to 1 p.m. Having these meetings on the same day allows our members to have time to talk with each other and share rides. If membership on the committees has changed due to elections on May 1 (or other reason), let Joni Terry know (jterry@vml.org). For more information on the policy process, click here.
Draft annexation study released; Public hearings scheduled
The Commission on Local Government will hold a hearing in the Richmond area on Tuesday July 10, 2018, to solicit public comment on its draft study on annexation. The COLG was directed to evaluate the structure of cities and counties, evaluate the impact of annexation and consider alternatives to the current moratorium.
More details and the draft report can be found on the Virginia Department of Housing and Community Development website: http://www.dhcd.virginia.gov/index.php/commission-on-local-government/commission-on-local-government-annexation-study.html.
A public hearing will be held at 10:00 a.m. on July 10, 2018, in the Board Room at the Virginia Housing Center (4224 Cox Road in Glen Allen, VA, 23060).
An additional hearing will be held at 2:00 p.m. on September 4, 2018, in the Board Room at the Central Shenandoah Planning District Commission (112 MacTanly Place in Staunton, VA, 24401).
Any person wishing to testify before the Commission at the public hearing may register in advance through the Commission's offices at (804) 371-8010 / Virginia Relay 7-1-1 or david.conmy@dhcd.virginia.gov.
Written testimony must be submitted or postmarked by September 3, 2018 and mailed to the Commission's offices at: Commission on Local Government, Department of Housing and Community Development, Main Street Centre, 600 East Main Street, Suite 300, Richmond, VA, 23219. Electronic testimony may also be submitted by September 3, 2018, to the following email address: david.conmy@dhcd.virginia.gov.
Anyone requiring special accommodations for the hearing should contact the Commission's offices at (804) 371-8010 / Virginia Relay 7-1-1 by July 1, 2018.
VDOT Local Assistance Division Newsletter posted
The Spring 2018 newsletter from the Virginia Department of Transportation's Local Assistance Division is posted at http://www.virginiadot.org/business/resources/local_assistance/SPRING_2018.pdf.
The purpose of the newsletter is to communicate general information about local programs to local government and VDOT staff. The Spring 2018 newsletter highlights the 2018 Local Programs Workshop and Dashboard 4.0 scheduled to go live by July 1st.
The newsletter also provides key information for locally administered projects including requirements for inspection at fabrication facilities (Source Inspections). Finally, the newsletter includes a high-level summary of several of the programs that the Commonwealth Transportation Board will be approving funding for at their June action meeting.
FY2018 state surplus may exceed $400 million
State's AAA bond rating affirmed
Strong collections of individual withholding payments in May drove year-to-date growth in state revenues, according to the May revenue letter released June 13 by Secretary of Finance Aubrey Layne.
Total general fund revenue collections rose 1.4 percent in May. On a fiscal year-to-date basis, total revenue collections rose 6.1 percent through May, ahead of the annual forecast of 3.4 percent growth. Collections in June must total $1.8 billion to attain the forecast; as a reference point, collections in June 2017 were $2.2 billion. Layne projected that the FY2018 surplus will exceed $400 million, assuming June receipts are close to forecast. The surplus will be used to increase cash reserves.
Net individual income tax collections, which are 70 percent of state general fund revenues, were up 7.7 percent over last year, ahead of the annual estimate of 3.4 percent growth. Individual income tax refunds remain a question mark, however, with Layne noting that because many high net worth taxpayers have not filed their 2017 tax returns, and, therefore, uncertainty in this area remains
The state received welcome financial news last week from S&P Global Ratings. The agency affirmed Virginia's AAA bond rating and upgraded the Commonwealth's financial outlook to stable. The agency had downgraded the state's outlook from stable to negative in April 2017. The upgrade followed the adoption of the state budget that allocates more funding for the state's primary reserve funds.
Information on state payments, local required shares for K-12 released
The Superintendent of Public Instruction released on June 8 a memorandum containing links to a narrative description of the budgets signed by Gov. Northam as they relate to K-12 education. Information on each school division, including the expected state payment and required local shares, can be found by following this link in the memorandum. http://www.doe.virginia.gov/school_finance/budget/calc_tools/2018-20/1820-calculation-template.xlsm.