eNews June 15, 2017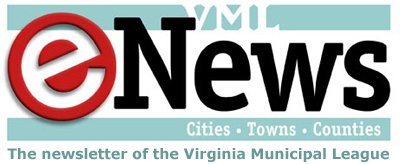 Thursday, June 15, 2017 - 03:50pm
State revenue collections up in May
May is a significant month for revenue collections for Virginia, and Secretary of Finance Richard "Ric" Brown announced this week that the state's general revenue collections in May increased 4.6 percent from a year ago, and total revenue collections rose 3.7 percent on a fiscal year-to-date basis, ahead of the annual forecast of 2.9 percent growth.
Most of the increase in revenue collections was due to individual income and sales taxes.  Collections of net individual income taxes (70 percent of general fund revenues) rose 3.9 percent from the same period last year, ahead of the revised annual estimate of 2.9 percent growth. Collection of sales taxes, which comprise 18 percent of general fund revenues, have risen 1.6 percent on a year-to-date basis, but trail the annual estimate of 2.8 percent growth.
Brown noted in his report that collections in June must total $2.1 billion to attain the forecast as compared to the $2.2 billion collected in June 2016.
Contact:  Janet Areson (jareson@vml.org)
VML policy process underway; legislative committee holds first meeting
VML members have submitted their policy committee nominations, and the 2017 policy process is getting underway.
This year's process began with the first meeting of the VML legislative committee on June 7.  The committee is chaired by Bluefield Mayor Don Harris; Roger Fawcett, Suffolk council member, serves as the vice chair.
At its June 7 meeting, the committee heard a presentation on the state's budget situation by Jim Regimbal, of Fiscal Analytics, a VML economic consultant; an update on environmental and natural resource issues from Preston Bryant of McGuire Woods Consulting, who works with VML on these issues during the General Assembly session; and a briefing on the issue of local authority concerning drones from Christopher LaGow, an attorney in private practice who represents VML and VML Insurance Programs on commerce and labor issues during the General Assembly sessions.
The committee also reviewed the actions during the 2017 General Assembly concerning the VML legislative program, and discussed potential issues of concern in the coming year.  Issues of concern for the coming year include transportation funding, including the looming transit funding cliff to be faced by 2020 as well as a floor for regional gas taxes; wireless infrastructure and municipal broadband authority; decriminalization of marijuana; opioid addiction; and principles for the clean energy economy, Chesapeake Bay cleanup, and eco-friendly programs.  These issues were assigned to policy committees for further discussion.
VML's six policy committees will meet July 20 and 21 at the VSCPA Center in the Richmond metropolitan area.  The Finance, General Laws, and Transportation Committees will meet on July 20; the Community & Economic Development, Environmental Quality, and the Human Development & Education Committees will meet July 21.
Agenda materials will be sent to all the committee members prior to their meetings.
Contact:  Janet Areson (jareson@vml.org)
Questions to be answered on historic skeletal remains
A few times a year, the Office of the Chief Medical Examiner is given Historic Skeletal Remains to test.  These are bones that often have had a previous burial and then are found again.  The Smithsonian has an interest in some of them and wants to take them for study.  Colleges and Universities also expressed interest in the study of these remains.  The Chief Medical Examiner wants to make sure that he has the authority to give the bones away for study.   On Friday June 9, 2017, there was an initial meeting to discuss the following questions:
Has your organization received historic remains?  If so, how were they disposed of?
Would your organization find value in receiving historic remains?
Do existing Virginia laws adequately cover the issue? And
What are historic remains?
The consensus of the group was that there probably did need to be legislation starting with a definition of historic remains.  For the definition consensus seemed to be bones over 50 years old.   Legislation that was discussed would be that the Office of the Chief Medical Examiner would probably obtain ownership of the remains at some point and could dispose of them.   There will be an additional meeting later in the summer and we hope to review proposed legislation at that time.
VML Contact: Michelle Gowdy, mgowdy@vml.org
Wireless communications infrastructure sub work group continues to address new structures
Senator McDougle created a sub work group consisting of industry and local government folks to discuss new wireless structures.  The group has met two times now and will meet again on the 27th of June.  The first topic which has taken up both meetings so far is zoning; the industry continues to ask for consistency in all areas of zoning.   We continue to hear about fees and how high they are which is why we conducted the survey last week.  Thank you to all who responded.
As we continue to discuss this issue, we are mindful of the needs of underserved and unserved areas.
VML Contact: Michelle Gowdy, mgowdy@vml.org
Outcome of the DHCD combined workgroup meeting addresses 2015 code change cycle
On Tuesday of this week, there was a stakeholder workgroup meeting for the Uniform Statewide Building Code (USBC) which included discussion of wireless infrastructure issues.  The issues were noted in comments received during the public comment period of the proposed regulation phase and came from Verizon and the Virginia Cable Telecommunications Association.   The issues are in regard to the Uniform Statewide Building Code treating wireline and wireless facilities differently.  Verizon alleges it is discriminatory and violates SB1282 and its prohibition against discrimination.  During the meeting; some building officials expressed concern over the expanse of the legislation.  Another workgroup was created and VML as well as VACo volunteered to participate. Comments begin on page 463.
VML Contact: Michelle Gowdy, mgowdy@vml.org
It's time to perfect your grant writing skills
A two-day Grant Writing Workshop in partnership with Hampton Roads Planning District Commission will be held on July 25-26 in Chesapeake. The workshop will cover how to write grant proposals start to finish and how to locate and track relevant grant opportunities.
Beginning and experienced grant writers from city, county and state agencies as well as nonprofits, K-12, colleges and universities are encouraged to attend this workshop.
Full details and registration can be found here.
VML members and its newsletter subscribers will be offered a special tuition rate of $425 which includes everything: two days of terrific instruction, workbook, and access to our Alumni Forum that's packed full of tools, helpful discussions and more than 200 sample grant proposals.  Please use discount code "VAASSN" to receive this $30 discount off full price at registration.  Multi-enrollment discounts and discounts for Grant Writing USA returning alumni are also available.  Tuition payment is not required at the time of enrollment.
For additional information contact Crystal Obermeyer at Grant Writing USA 
888.435.7281 toll free, crystal@grantwritingusa.com or Tara Walker at Hampton Roads Planning District Commission, 757.366.4346, twalker@hrpdcva.gov.