eNews June 12, 2020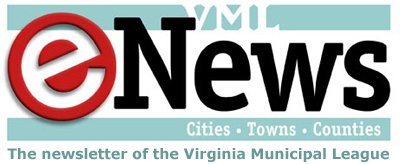 Friday, June 12, 2020 - 05:09pm
In this issue:
Op-Ed
"Monuments Can Be Replaced – Lives Cannot"
Statement on the June 10, 2020 event in Portsmouth
by Mayor John L. Rowe, Jr.
[Editor's note: VML stands with our communities and looks forward to the discussions that our legislative and policy committees will have this summer, discussions that will certainly be shaped by the historic events and actions of the past weeks. As we did in our last edition of eNews, we are again pleased to share the sentiments of our members during this transformative time.]
We all mourn the horrific death of George Floyd, by police officers in Minneapolis on May 25, 2020. His death has re-awakened not only our nation, our state, our city — but also the whole world to the injustices of racism. We must change as a nation, a state and City — we must all work together to eliminate all aspects of racism.
We are in the 18th day of a nation-wide movement that started with Mr. Floyd's death, a movement that I hope will change our nation, our state, and our City for the better. We have watched this movement unfold and develop in city after city, and for the most part, these demonstrations have been peaceful. Each city with a demonstration provides us with an opportunity to learn. What is an abundantly clear "lesson learned" is not to over-react with force — whether with the deployment of police or the National Guard. In city after city, we have seen examples of the excess use of police force leads to an escalation of damages to lives and to property. The damages to lives includes injuries and even some additional deaths. The damages to property include buildings being burned and looted. We can repair property; we cannot bring back a life that is lost in these demonstrations.
On October 10, 2017, the Portsmouth City Council adopted a resolution to move the Confederate Monument on Court Street to a cemetery as soon as the governing laws clearly permitted its relocation. That resolution remains in effect, and it has not been revoked by City Council.
The Virginia General Assembly, in its passage of House Bill 1537 in 2020 Session, gave local government the authority and specified the process of moving such monuments as ours. The process as prescribed by the General Assembly requires the local governing body to conduct a public hearing on the matter, and the local governing body must give a thirty-day notice of the date of the public hearing.
In our June 10, 2020 meeting, City Council set the date for our public hearing for July 28, 2020.
Downtown Portsmouth consists of more than 80 blocks of commercial, retail, and residential buildings, and the event that occurred at the Confederate Monument was contained to only one portion of the 80-block area. It was the goal of the City's Public Safety leadership and personnel to keep the activity contained to that one area. Yes, some of those participating in last evening's protest vandalized the Confederate Monument; however, not one pane of glass was broken out, not one fire set, not one building looted outside of this one portion of the 400 block of Court Street. Our Public Safety — police and fire — were successful in containing this piece of public property. No private property was damaged.
The natural question for one to ask is "why didn't our Police take action to stop and arrest those who were vandalizing the monument." The answer is simple — such action would have required force which would have escalated the event and spread the vandalism to other blocks of our downtown with more injuries. Our Police Department made the right choice — confine the vandalism to this one piece of public property so as to protect the remaining private property and lives.
We can repair the monument, but an injured body carries that scar for life. We can repair the monument, but we cannot bring back a life — if one was lost because of our escalating the event by the use of force.
Please do not misinterpret this as condoning vandalism; vandalism is illegal. However, given the choice between containing vandalism to only a small footprint of public property or protecting private property and lives by not escalating the event — the choice is clear — and simple. Our Police made the right choice.
Contact: Mayor John Rowe, mayor@portsmouthva.gov
Education
Northam Administration releases phased guidelines for school reopenings
This week, Governor Northam announced the state's phased model for returning students to classrooms over the course of the summer and the upcoming school year. Each phase corresponds with broader reopening phases for reopening businesses and public services. General guidance, as well as a more comprehensive guiding document that includes statewide plans for testing, graduation requirements, and policy waivers, are available on the Virginia Department of Education COVID-19 resource page.
It is important to note that, while the Administration has maintained an optimistic attitude toward preparations for the next school year, VDOE's guidance represents the ceiling for what may be implemented for the 2020-2021 school year, not the floor. School boards and local governments will need to determine which options available at each phase of reopening will be most appropriate and financially feasible given their specific circumstances. Further, final State and CARES funding levels have yet to be determined and will not be reviewed until the General Assembly reconvenes later this summer.
VML Contact: Jessica Ackerman, jackerman@vml.org
VML Announcements
Registration open for Newly Elected Officials virtual conference
VML's Newly Elected Officials Conference provides a valuable opportunity for both new and seasoned public officials to learn from speakers with extensive experience working with local government officials. Furthermore, the conference offers an excellent opportunity to learn what it takes to succeed and how to avoid common pitfalls as an elected official.
In July, VML will offer our Newly Elected Officials conference virtually. The event will cover two days:
Thursday, July 9 — 12:00 PM – 5:45 PM
Friday, July 10 — 9:30 AM – 12:00 PM
Participants should plan on attending both days.
This event is offered free of charge. Registration is available here >
Topics to be covered include (but are not limited to):
How the Virginia Municipal League works for you
ABCs of Local Governing
Budgeting Basics
FOIA
Innovation, Financing and Foresight (speakers sponsored by VRSA)
Council / Manager Form of Government
COIA
Investment / Finance
Public Officials' Liability
More details and a full schedule will be posted to VML's conference webpage as soon as they are available.
VML Contact: Mitchell Smiley, msmiley@vml.org
VML working group releases analysis of CARES Act funding inquiries
Localities across Virginia have contacted VML with questions about spending federal CARES Act money appropriated to the Coronavirus Relief Fund (CRF) and possible post-spending audits undertaken by either the federal government or the Commonwealth of Virginia. These questions – asked by city and town managers, local elected officials, local government attorneys, and local finance and budget Directors – were taken up by a special work group of VML members and policy staff.
This group's preliminary analysis of CARES Act funding questions has also been posted at the top of VML's COVID-19 Resources page as well as the "Economy" section of that page.
It is important to note that this resource will be updated regularly as information changes and new guidance is released from either the State or the US Department of Treasury. This document and any future updates will be available on the VML website at the links provided above.
VML would like to thank the following members of its Working Group for their continued contributions to these efforts:
Tommy Smigiel, President, Virginia Municipal League and Council Member, City of Norfolk
David Blount, Executive Director, Virginia Association of Planning District Commissions
Cindy Mester, Assistant City Manager, City of Falls Church
Terry Short, Mayor and At-Large Council Member, City of Waynesboro
Marc Verniel, Town Manager, Town of Blacksburg
VML Contacts: Jessica Ackerman, jackerman@vml.org; Neal Menkes, nmenkes@vml.org
Wallerstein Scholarship recipient Baird joins VML as summer intern
VML is pleased to welcome Tristan Baird, a third-year student at the University of Virginia as a summer intern.
Tristan is currently pursuing a Bachelor of Arts degrees in in mathematical statistics and economics. He is also pursuing a master's degree in statistics and hopes to attend law school in the future with plans to eventually serve local communities.
Baird has worked as a research assistant and teaching assistant with the UVA Department of Statistics as well as a tutor in the Department of Economic and Department of Mathematics.
This summer he will work virtually with VML as the public policy intern and work with the policy team on a variety of issues affecting localities. He hopes to "strengthen his research and analysis skills" as well as "gain a better understanding of the relationship between local and state government and public policy."
Baird joins Josette Bulova, a student at Christopher Newport University, who has returned as a VML summer intern after working with the communications and policy staff last summer and during portions of the 2020 General Assembly session.
Baird was awarded the Morton F. Wallerstein Intern from the University of Virginia. The Wallerstein Scholarship Fund was established in 1973 at the University of Virginia to foster interest and research in Virginia's local government. The scholarship offers tuition and stipend opportunities through the UVA Intern Placement Program (IPP).
Three additional Wallerstein Scholarship recipients were selected for summer internships. Danielle Cormier (Studio Art: New Media Concentration; Women and Gender Studies and Entrepreneurship Minor, 2021) and Henry Gaston (History; Certificate, McIntire Business Institute, 2021) will intern with the Weldon Cooper Center and Molly Nealon (Urban and Environmental Planning,2021) who will intern with the City of Charlottesville.
VML Contact: Sandra Harrington, sharrington@vml.org
What's your favorite day trip destination in Virginia? VML wants to know.
As the weather continues to heat up, and we all feel a bit cooped up, it is only natural that folks will want to seek adventures outside their homes. This year, with so many indoor spaces closed, more Virginians than ever are discovering that outdoors is the place to be for their health, state of mind, and overall well-being. Luckily, Virginia has so many great outdoor places to visit! Have you and your family gone on hikes, walks, or day trips these past few months? If so, what has been your favorite outdoor place in Virginia to visit? We want to hear from you!
Send us your favorite outdoor day trip destination so we can feature it in an upcoming issue of Virginia Town & City.
Contact: Josette Bulova, jbulova@vml.org
VLGMA officers and executive committee elected
Falls Church Deputy City Manager Cindy Mester has been elected to lead the Virginia Local Government Management Association (VLGMA) in the coming year.  Her election came as a part of the VLGMA annual conference, which was held in a virtual format this week.
Serving with Mester as officers of the Association are Montgomery County Administrator Craig Meadows as president-elect, Vienna Town Manager Mercury Payton as first vice president, Augusta County Administrator Tim Fitzgerald as second vice president, Manassas City Manager Patrick Pate as third vice president, and Gordonsville Town Manager Deborah Kendall as secretary.  Rocky Mount Town Manager James Ervin becomes immediate past president.
New members of the VLGMA executive committee with two-year terms are Petersburg Assistant to the City Manager India Adams-Jacobs, Middleburg Town Manager Danny Davis, Bedford County Administrator Robert Hiss, Dumfries Town Manager Keith Rogers, Staunton City Manager Steve Rosenberg, and Prince George Deputy County Administrator Jeff Stoke.
Executive committee members serving the second year of their term are Goochland County Administrator John Budesky, Harrisonburg City Manager Eric Campbell, Amherst Town Manager Sara Carter, Louisa County Administrator Christian Goodwin, Williamsburg City Manager Andrew Trivette, and Loudoun County Assistant County Administrator Valmarie Turner.
About VLGMA
VLGMA is a state affiliate of the International City/County Management Association (ICMA).  VLGMA's membership includes more than 300 city, town, and county management staff and individuals involved with local government throughout Virginia.  The Association offers educational and networking opportunities throughout the year and supports efforts to support the next generation of local government management leaders, particularly through support of the VLGMA-VA Tech Local Government Certificate Program.  VML serves as the Association's secretariat.
VML Contact: Janet Areson, jareson@vml.org
National League of Cities needs your input to help secure federal funds for localities
The National League of Cities (NLC) has put together a brief survey on the local impact of the coronavirus pandemic on municipalities. NLC needs this information as part of their efforts to ensure that Congress and the Administration are fully aware of the local impacts of layoffs, employee furloughs, and unexpected expenses. VML asks that our member localities make the effort to please complete the survey by the end of the day on Monday, June 15. The more response NLC receives, the better the organization will be able to fulfill the goals of its Cities Are Essential campaign. Learn more here >.
VML Contact: Rob Bullington, rbullignton@vml.org
Economy & Business
Is it "hard times" or "harder times" ahead?
The Congressional Budget Office (CBO) released a report last week suggesting that it may take a decade for the economy to regain its pre-recessionary peak. CBO is projecting the national economy will grow $7.9 trillion less from 2020 to 2030 than it had originally projected in January of this year. But some economists think even this may be too optimistic, attributing slower economic growth to less foreign trade, drops in immigration, and lower foreign investment as well as the precarious federal budget situation.
However, the Federal Reserve Bank offered glimmers of hope this week predicting that U.S. unemployment will fall to 9.3 percent by the end of this year and to 6.5 percent by the end of 2021, signaling confidence the economy will begin to recover in coming months from the stunning recession.  According to the Federal Reserve's forecast, the U.S. economy will grow at 5 percent next year and 3.5 percent the year after. This is a stark contrast from the Federal Reserve's prediction that the economy will contract by 6.5 percent this year, a prediction that could prove "optimistic" if there is another wave of coronavirus outbreaks.
The Fed also announced that it will continue to support the economy with historically low interest rates. The benchmark interest rate will remain near zero, likely through at least 2022, and the central bank's extensive bond buying programs will continue "at least at the current pace" for the foreseeable future.  Low interest rates make it cheaper for Americans to borrow money to buy homes or vehicles and for businesses to take out loans. Mortgage rates fell to an all-time low at the end of May, causing a surge in home buying, even during the pandemic.
Last month's employment numbers (a record 2.5 million jobs added in May that helped unemployment drop to 13.3 percent) buoyed hopes that perhaps the worst is over. It was a big surprise to forecasters who expected further losses. Businesses are reopening, and the rate of coronavirus deaths has edged down.
Despite the (mostly) positive numbers, the economy is experiencing an "epic collapse in demand," The New York Times's Neil Irwin writes. There were still nearly 20 million fewer jobs in May than there were in February.
Although the manufacturing sector improved somewhat in May, activity remains weak. The Institute of Supply Management index rose slightly from 41.5 to 43.1 in May. A score below 50 percent indicates that the manufacturing sector is generally contracting.
The weak demand is spilling over to other segments of the economy. Nearly half of commercial retail rents were not paid in May.  This was not just small "Main Street" businesses who were shutdown.  Companies as big as Starbucks say the financial devastation from the shutdown has left them unable to pay their full property bills on time. Some companies warn they will not be able to pay rent for months.  The problem for the broader U.S. economy is that when businesses like Ross Stores and T.J. Maxx stop paying rent, it sets off an alarming chain reaction. Landlords are now at risk of bankruptcy, too. Commercial real estate prices are falling. Jobs at property management companies and landscapers face cuts. Banks and private investors are unwilling to lend to most commercial real estate projects anymore.  This will have a knockdown impact for localities collecting real estate taxes tied to commercial properties.
How fares Virginia?
Businesses in Virginia are shedding fewer jobs each month, but the continued losses are shocking. The Richmond Times Dispatch reports that about 822,300 initial unemployment claims have been filed since March 15. That nearly equals all initial claims for unemployment benefits filed from 2015 until mid-March 2020. The number of jobless claims jumped from about 11,000 per month in 2019, during a period of record-low unemployment, to more than 300,000 per month since mid-March.
About 75 percent of these claims have been approved and have received payment, the VEC said, with more than $3.8 billion in payments distributed to people who have lost wages during the pandemic.
However, about 80,000 claims remain under adjudication, a review process by VEC hearing officers to determine if those claims are valid and meet eligibility for benefits. That backlog of administrative reviews is up from 59,000 reviews that were conducted for all of 2019.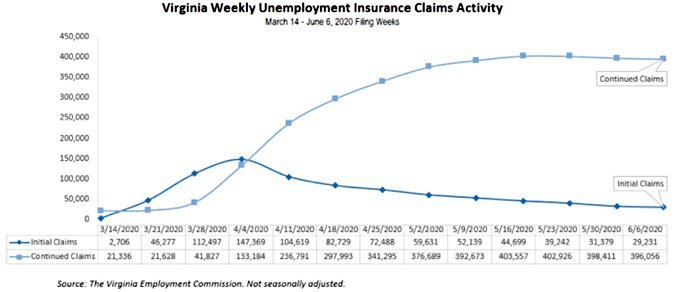 In terms of state revenue collections, the impact is (apparently) not as terrible as first assumed. In his monthly revenue report, Secretary Aubrey Layne wrote that with COVID-19 impacts to payroll withholding and retail sales, combined with delaying the individual tax due date to June 1, total general fund revenue collections fell 20.6 percent in May. On a fiscal year-to-date basis, total revenue collections have declined by 1.2 percent through May, trailing the annual forecast of 3.1 percent growth. This performance is slightly better than anticipated and consistent with our updated revenue projections reflecting the effects of COVID- 19.
The last three months of the fiscal year are significant collections months. To attain the revenue forecast the General Assembly approved earlier in the year, June collections must be $3.3 billion, compared with $2.4 billion collected in June of last year. If June collections match the previous year, total fiscal year 2020 revenues will be approximately $900 million below the official forecast.
The state is hopeful that the delayed payment date for individual taxes occurring in June will result in greater collections than a year ago.
However, a bounce back in local tax revenues is unlikely in a slow-go re-opening of the economy. Meals taxes, transient occupancy taxes, and even real estate taxes of commercial properties are dependent on an increase in consumer confidence and the return of consumers to the marketplace.
VML Contact: Neal Menkes, nmenkes@vml.org
VEC outlines work being done to support unemployment benefits
This week VML staff participated in a meeting with Virginia Employment Commission staff to discuss the work that their office is doing to assist employees as unemployment has skyrocketed since March. The Employment Commission provided fliers to help elected officials respond to constituents with questions or concerns about unemployment benefits. These fliers provide important information for members as reference materials on the process and common questions and contact information for the Employment Commission.
The documents explain how unemployment insurance works, an overview of the process of applying for unemployment benefits, common reasons applicants have not received benefits, the type of services offered at local employment commission offices and contact information for employment commission services.
Links to view/download the fliers provided at the Virginia Career Works Centers are below:
VML expects to be able to announce a webinar with Virginia Employment Commission staff in the coming days.
VML Contact: Mitchell Smiley, msmiley@vml.org
Comcast Business article explores future of work
Edward Rowan, a Senior Director with Comcast Business, has published an article titled "Parsing the Future of Work: How Technology Will Enable Remote Employees."
From the article:
For a modern organization to be successful, it must transform into a digital workplace, with the ability to conduct business from anywhere, anytime, with anyone.
That means businesses must provide employees with technologies that allow them to stay connected to colleagues and customers while being productive, even when working remotely.
Business of all sizes can help ensure that all employees can work remotely without skipping a beat by augmenting these four common workplace technologies.
Comcast Contact: Sandy Arnette, Senior Manager – Public Relations, sandra_arnette@comcast.com
Events & Opportunities
Summer series: VAPDC presents "Four Thursdays in July"
Like most other organizations, The Virginia Association of Planning District Commissions (VAPDC) is adjusting to the COVID-19 pandemic and has cancelled its annual summer conference for 2020. And like most other organizations, they do not want to lose touch with their members and partners. Conferences provide an opportunity to present timely educational and informational content, while providing a forum for connecting with one another to exchange ideas and information. Since it is not possible to do this in person this year, VAPDC is offering these things in a Summer Series, Four Thursday's in July.
These four online meetings will cover a variety of topics and begin at 10:00 am and end by 11:30 am.*
Registration
Participants can register for each of these sessions individually or the series of four at a discounted rate.
All Four Meetings: $35 Best Deal
Per Session: $10
Registration is available here >
Participants will receive login information prior to the event(s) for which they have registered with instructions for joining the meeting and any applicable details and handouts.
*On Thursday, July 16th, VAPDC will hold its Annual Business Meeting following the online event, beginning at 11:30 am and ending by 12:00 pm
Schedule of topics
Week 1: July 9, – The Other Side of COVID-19: A Futurist's View
Week 2: July 16 – Travel, Tourism and Leisure — Seeking to be Stronger (following by VAPDC Annual Business Meeting @11:30 am)
Week 3: July 23 – Transportation and Mobility Reimagined — Making it Future Ready
Week 4: July 30 – Virginia's PDCs: Regional Responses and Resources
VAPDC Contact: David Blount, DBlount@tjpdc.org
Webcast: Speridan invites you to learn about a rapid contact center solution for crisis response
Speridian Technologies, which is a partner of VML Municipal Business Associate member Oracle, developed a flexible solution that was configured and deployed in 4 days for the New York State Coronavirus Hotline. Speridan will be hosting a free, 45-minute webcast on Tuesday, June 23 at 12:00 PM EST. The webcast will provide an overview of this simple, repeatable, cost effective solution that VML members – particularly managers and IT staff – may find useful.
Registration and additional information are available here >
Overview
Public sector agencies are increasingly responsible for rapidly establishing crisis hotlines, support centers, and self-service knowledge channels in response to an emergency or crisis.  Most recently, this includes the health, social, and economic impacts stemming from the current pandemic. Organizations are experiencing several new challenges:
Need for Knowledge based solutions updated in real-time, due to the changing nature of the crisis.
Easy access to information in a rapid evolving environment
Simple guidance tools for citizens seeking advice on social services available to them, and streamlining interaction with state agencies
Infrastructure to support remote work
Enable staff without prior contact center training
Citizen self-service capabilities to minimize call center traffic
Ability to scale quickly to meet unexpected crisis demands
Reliable analytics to gain actionable insight
Speridan Contact: Hanno Hesse – Vice President, hanno.hesse@speridian.com
Funding: DCJS COVID-19 supplemental funding deadline June 26
The Virginia Department of Criminal Justice Services (DCJS) is making federal Coronavirus Emergency Supplemental Funding Grant (CESF) funds available to assist eligible applicants in preventing, preparing for, and responding to the coronavirus. The CESF Program is authorized by Division B of H.R. 748, Pub. L. No. 116- 136 (Emergency Appropriations for Coronavirus Health Response and Agency Operations) 28 U.S.C. 530C. This is a competitive solicitation.
DCJS has posted the grant solicitation for the Coronavirus Emergency Supplemental Fund (CESF) opportunity on its website here >.
Please note: The deadline for applications is Friday, June 26 at 5:00 PM.
Unlike the earlier round of this funding distributed by DCJS that was directed to specific localities by the federal government, this round is open to everyone.  Priority will be given to those localities that did not receive earlier funding (heads up, Southwest Virginia!).
VML Contact: Janet Areson, jareson@vml.org
Grants: Governor announces program to help local governments support agriculture and forestry industries
Governor Ralph Northam today announced a new way for local governments to support agriculture- and forestry-based businesses during the COVID-19 emergency through the Governor's Agriculture and Forestry Industries Development (AFID) Fund Planning Grant program.
The Virginia Department of Agriculture and Consumer Services (VDACS), which administers the AFID Planning Grant program, will expedite award decisions for applications addressing COVID-19 related challenges, especially the loss of market access for farmers selling direct to customers and restaurants.  Such initiatives could include funding shared refrigerated storage facilities, developing websites to connect growers and customers, or offsetting "last mile" product delivery fees.
Newly revised program guidelines also provide broad flexibility in the types of projects that can be supported and allow for a reduced local match requirement for economically distressed communities.
Individual communities can apply for grants of up to $20,000, while two or more communities can apply jointly for up to $35,000 in grant funding.
Additional information about the AFID Planning Grant program is available here. Questions about the program and application workshops should be directed to Jennifer.Perkins@vdacs.virginia.gov.