eNews June 10 2016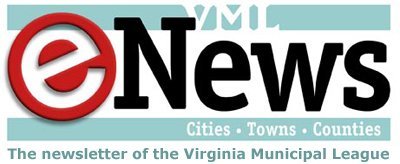 Friday, June 10, 2016 - 12:00pm
New FOIA requirements – July 1
Effective July 1, 2016, legislation passed in the 2016 session (HB 818) requires counties, cities, and those towns with a population of more than 250 to designate and identify a local FOIA officer, and to provide information on the website on FOIA. A link to this information must be provided on the locality's homepage. If your locality does not have a website, please post the required information in the location that other public notices are placed.  Also, ask your county if they are willing to add your information to their website.
Designation and identification of a local FOIA officer
The designated FOIA officer is responsible for the FOIA requests made to a locality.  This person must have specific knowledge of the provisions of FOIA and must be trained annually either by the local government attorney or the FOIA Advisory Council. (Similar requirements have applied to certain state public bodies for a number of years.)
The FOIA Council plans to host free FOIA training webinars in June, July, and August of 2016, and then once per year thereafter. These webinars will focus on making and responding to requests for public records, and are expected to last from one to one and one-half hours. These webinars have not yet been scheduled, but specific times and dates will be publicized once they are set.
Information to be posted on the local website
HB 818 requires the posting of:
Rights and responsibilities regarding requesting and providing information.
Contact information for the local FOIA officer.
List or index of the types of public records maintained by the locality.
List or description of exemptions that allow public records to be withheld.
Any local policy about the types of public records that are routinely withheld.
A prescribed statement regarding reasonable charges.
The staff to the FOIA Council has developed a model template that can be used, with some adaptations, by localities in meeting these requirements. Each locality will need to make these changes:
Make the document specific to your locality. The template refers generically to "the Department." The name of your locality should be inserted instead of "the Department."
Specify the name and contact information of the FOIA officer, or officers, who is designated to assist requesters and to whom FOIA requests can be sent. Space has been provided on the template for this information to be filled in.
Specify any additional information on the types of records maintained by the locality.
A locality may also wish to amend other provisions of the template to more accurately reflect its practices concerning FOIA requests. For example, a locality may have an existing practice to only charge a requester for records if the cost of the request exceeds a certain amount of money. In that case, the locality would amend the section of the template addressing costs to explain this specific practice.
Additional links:
HB818
FOIA Council website
Disappointing revenues felt not just in Virginia
The Congressional Budget Office reported this week that the federal budget deficit was $408.0 billion for the first eight months of federal fiscal year 2016.  That's $41.0 billion more than the shortfall recorded during the same period a year earlier.
Budget Totals, October-May

(billions of dollars)

Actual, FFY 2015

Preliminary FFY 2016

Estimated Change

Receipts

2,104

2,137

33

Outlays

2,471

2,545

75

Deficit

(367)

(408)

(41)

Sources: Congressional Budget Office; Department of the Treasury

FFY=federal fiscal year
Revenues are up by 2.0 percent in the first eight months.  Withholding has increased 4.0 percent because of growth in wages and salaries.  But, non-withholding is down 1.0 percent, and income tax refunds has increased 6.0 percent from a year ago, reducing net receipts.
Although federal revenues have increased, spending is up by 3.0 percent for the first eight months.  Social Security benefits, net interest on the public debt, Medicare, Veterans disability payments, and Medicaid have all grown by at least 3.0 percent.  Medicaid costs driven by new enrollees to the Affordable Care Act are up 6.0 percent.  Interest on the public debt has increased 11.0 percent.
Spending by the Department of Defense is down $6.0 billion or 2.0 percent, mostly in the area of operation and maintenance.  The impact of those figures on Virginia are not yet known.
Sluggish federal revenue growth along with a disappointing jobs report of just 38,000 jobs added in May will undoubtedly raise concerns of a slowdown in the U.S. economy.  The next state revenue report is due next week, and may shed some light whether the Commonwealth's revenue problems are unique.
Municipal bond market faces big changes under proposed IRS regulations
New regulations proposed by the Internal Revenue Service could make it harder for special districts to borrow money free from federal taxation.  Some 39,000 special-purpose district governments across the country that were set up to deal with major infrastructure ticket items like airports, libraries, drinking water facilities, and wastewater plants could find themselves (along with the localities that established them) at risk.  Turning the special district world upside down could lead to higher borrowing costs, forcing some districts out of existence and pressuring municipalities to carry a greater debt load.
Under the IRS proposal, in order to issue federally tax-exempt bonds, an entity would have to meet the definition of a municipality.  The IRS three-prong currently uses a test requiring a special district to have at least one of three sovereign powers – impose taxes, exercise eminent domain or employ police powers.  Meeting one of these powers qualifies a special district to issue tax free bonds.
The new IRS wrinkle is to add another test to the current one.  A special district would also have to serve a governmental purpose and be controlled by a local government or by an electorate established by state law or local ordinance.  Some special districts are governed by appointees of public officials or private entities.  Others may be elected by property owners within a special district, even if there may be only one or two residents eligible to vote.
Analyzing the governmental powers of 39,000 different districts may end up too big a task for the IRS to assume.  The agency's funding level is down 17.0 percent since 2010, and there are 13,000 fewer employees during the same time period.  Individual and business audits are at their lowest level in a decade.  Given the logistical challenges facing the IRS, the proposed regulation is, at the least, questionable.  VML will monitor the proposal through the regulatory process.
State applications for transportation projects ready to go
House Bill 2 (HB 2) is a not-so-new state law that requires the implementation of a process for prioritizing projects.  After considerable research and public hearings, the bill's provisions are ready to be implemented.  The scoring process includes five factors:
Congestion mitigation
Economic development
Accessibility
Safety
Environmental quality
There is also a Land Use factor required for areas over 200,000 in population.  Scores will ultimately be based on various weighting frameworks.
VDOT recently reported, that beginning August 1, an online application system will be available for localities to submit project applications.  Although the application deadline is in October, VDOT is encouraging local governments to begin talking with VDOT district representatives now on potential projects of local and regional importance.
Register now for regional forum on Green Government Challenge
Local officials interested in participating in the Green Government Challenge should register now to attend a forum on June 28 from 10 a.m.-2 p.m. at the Williams Mullins Center located in downtown Richmond.  The forum is sponsored by VML and the Virginia Association of Counties.  VACo is handling the registration this year; a registration form for the forum is posted here: https://bit.ly/1UoHBWH. You may also register on-line at www.vaco.org.
The forum will include a presentation on the environment and sustainability management system by Virginia Tech Faculty Fellow Harry Gregori, the presentation of the 2016 scorecard and roundtable discussions.  The agenda is posted here: https://bit.ly/1VMCo02.
A second forum may be held sometime in August in the western part of the state (date and location TBD).
The purpose of the forum is to provide information on the Green Government Challenge, a friendly competition designed to encourage implementation of specific environmental policies and practical actions that reduce the carbon emissions generated by both the local government and the broader community.
Many of the action items present opportunities for VML members to build partnerships (both public and private) to develop more sustainable and resilient communities. For example, points can be earned by participating in the FEMA Community Rating System (CRS) program, a certification process that reduces risks and damages due to flooding with the reward of lower insurance premiums for policyholders. Another example is to earn points by facilitating or supporting a "solarize" initiative in your community to lower the cost of solar panel installations through bulk purchasing.
The regional forums will include detailed presentations with instructions on how to complete many of the action items.
The website for signing up to participate in the 2016 challenge is not yet updated, but will be soon.   Follow-up information on that process will be emailed to local managers and legislative liaisons.
VML established the Go Green Virginia program in 2007 under the leadership of then-VML President-Elect Jay Fisette, member of the Arlington County Board.
Legislative members of retirement commission appointed
While the legislative members of the new Commission on Employee Retirement Security and Pension Reform have been named, the citizen members, including the local government appointee, have yet to be made. The Commission will have 21 members: 11 legislators and 10 others including one person to be appointed by the Speaker of the House to represent VML and VACo.
House legislative members include Speaker Bill Howell and Delegates Chris Jones, Lee Ware, Scott Garrett, Jimmie Massie and Betsy Carr.  Senate legislative members include Senators Tommy Norment, Emmett Hanger, Frank Ruff, Frank Wagner and George Barker.
The Commission, established in the 2016 session under HB 665, will make recommendations on:
the financial soundness of retirement plans covering state and local government employees;
the suitability of retirement plans for current government employees and future employees;
the effect of the retirement of the boomer generation on state and local governments;
and compensation and benefits packages essential to attracting and retaining a highly productive state and local government workforce.
Visit the website for the commission.  People interested in following this commission can subscribe to receive notices of meetings through this site.
VML contact: Mary Jo Fields, mfields@vml.org
Clean Water Fund – now accepting applications – deadline July 15
The Department of Environmental Quality's (DEQ) has announced the FY 2017 annual solicitation of applications for financial assistance through the Virginia Clean Water Revolving Loan Fund (VCWRLF).  VCWRLF applications are being solicited for projects that involve improvements to:
publicly-owned wastewater collection and treatment facilities;
installation of publicly-owned stormwater best management practices;
projects for the remediation of contaminated Brownfield properties;
and land conservation projects.
Eligible Brownfield loan recipients are units of local government, public service authorities, partnerships or corporations, and eligible land conservation recipients are state and local governments, public service authorities, and registered nonprofit organizations.  Special consideration may be given to projects that meet the Green Project Reserve guidelines (see descriptive excerpt on our CWFAP website under the Applications and Info Tab).
Shoreline projects now included
This year, for the first time, VCWRLF is accepting applications for Living Shoreline projects.  Local governments (which are the only eligible applicants for this program) can either apply for financial assistance in order to directly establish living shorelines themselves or to establish a local government funding program for individual citizens to establish living shoreline on their properties to protect or improve water quality.
$100 million in funds available
The department anticipate that the SWCB should have over $100 million in funds available for distribution during FY 2017.  Should demand for good water quality or public health related projects exceed availability, these funds may be leveraged in the municipal bond market to increase the amount of assistance available.
Four completed applications must be postmarked no later than Friday, July 15, 2016 or hand delivered by 5:00 p.m. on July 15, 2016.  The application form and program guidelines can be found on DEQ's webpage HERE.
Grants Training in Leesburg –  July 28-29, 2016
Loudon County Government and Grant Writing USA will present a two-day grants workshop in Leesburg, July 28-29, 2016. Attend this class and you'll learn how to find grants and write winning grant proposals. Beginning and experienced grant writers from city, county and state agencies as well as nonprofits, K-12, colleges and universities are encouraged to attend.
Virginia Municipal League members will receive a special tuition rate of $425. Use discount code "VAASSN" to receive this $30 discount off full price at registration. Multi-enrollment discounts and discounts for Grant Writing USA returning alumni are also available.  Tuition payment is not required at the time of enrollment.
Complete event details including learning objectives, class location, graduate testimonials and online registration are available here.