eNews July 8 2016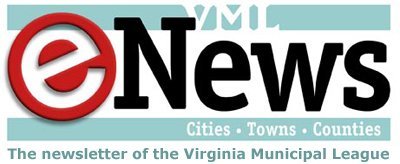 Friday, July 08, 2016 - 10:30am
VML rejects wireless infrastructure bill – update
VML met with Delegate Steve Heretick on Wednesday, July 6 and had a very successful meeting.  VML rejected a bill proposed by the wireless industry that would override local zoning authority at a June 14th meeting of the Wireless Infrastructure work group meeting.
The bill included a list of 12 items a locality may not do when reviewing wireless communications infrastructure, including considering other locations, co-location, imposing unreasonable requirements or obligations regarding presentation or appearance of facilities, setbacks, etc. Most of the requirements include language that limits the restriction to something "different from a requirement imposed on other types of commercial structures," but the bill contains no explanation of what that means.
In addition, the proposed bill includes language that requires small cell facilities and Distributed Antenna Systems to be permitted in all zoning districts; further the bill states that these facilities and systems would not be subjected to local zoning review or approval. The bill goes on to say that the laws of the state SHALL (emphasis added) allow construction of structures in the public rights of way or highways.
During the meeting, VML spoke out against this bill calling it "troubling" and, while acknowledging that robust service is important, also indicated that preservation of local zoning authority is vital.
Background
This group was created in response to HB 1347 which was introduced in the 2016 session of the General Assembly, but carried over to the 2017 session.  As introduced, HB 1347 prohibited local regulation of wireless infrastructure.  As part of the carry-over process, a work group was established to hammer out compromise legislation to be considered next session.   Prior to the next meeting on July 12th, VML will submit its proposed changes to the bill for full discussion.
The members of this work group include:
The Honorable R. Lee Ware, Jr., chair                                      The Honorable Terry G. Kilgore, ex officio
The Honorable Danny Marshall, III                                           The Honorable Kaye Kory
Invited Participants:
The Honorable Steve Heretick                                                   Dean A. Lynch, Virginia Association of Counties
The Honorable Karen R. Jackson, Sec. of Technology                 Mary Ann Curtin, Chesterfield County
Josh Levi, Northern Virginia Technology Council                         Michelle Painter, Sprint
Christy Tomlinson Morton, Center for Rural Virginia                    Vince Apruzzese, AT&T Virginia
Michelle Gowdy, Virginia Municipal League                                Chris Kyle, Shentel Service Company
William D. Fritz, Albemarle Community Development                 Richard T. Cornwell, Verizon Comm. Corp.
Reminder: New FOIA requirements for local governments
Starting July 1, 2016, HB 818 requires local public bodies with a population greater than 250 to post a FOIA rights and responsibilities document on their public government website. The bill also requires all local public bodies that are subject to FOIA to designate and identify contact information for at least one FOIA officer whose responsibility is to serve as a point of contact for members of the public in requesting public records and to coordinate the public body's compliance with the provisions of FOIA. The bill does not require you to hire additional staff, but does require you to designate a particular person on your staff that the public can contact for FOIA inquiries. The FOIA officer must possess specific knowledge of the provisions of FOIA and be trained at least annually by legal counsel for the public body, or by the Virginia Freedom of Information Advisory Council.  Similar requirements have applied to certain state public bodies for a number of years.
The FOIA Council plans to host free FOIA training webinars in June, July, and August of 2016, and then once per year thereafter.  These webinars will focus on making and responding to requests for public records, and are expected to last 1.0 – 1.5 hours.  These webinars have not yet been scheduled, but specific times and dates will be publicized once they are set. Additionally, the required annual FOIA training may also be provided by your local government attorney.
The Freedom of Information Act Advisory Council staff has developed a model template that can be used, with some modification, by any locality in developing and posting the rights and responsibility statement. The changes and additions that will need to be made by each locality include:
Making the document specific to your locality. The template refers generically to "the Department." A specific locality name should be inserted in its place.
All public bodies subject to FOIA must provide the name and contact information of a FOIA officer, or officers, designated to assist requesters, and to whom FOIA requests can be sent. Space has been provided on the template for this information to be filled in.
A locality may also wish to amend any other provisions of the template to more accurately reflect its practices concerning FOIA requests. For example, a locality may have an existing practice to only charge a requester for records if the cost of the request exceeds a certain amount of money. In that case, the locality would amend the section of the template addressing costs to explain this specific practice.
Helpful links
Go to Freedom of Information Act Advisory Committee website and click on "Annual Training for FOIA Officers."
Go Green forum August 8 – Register now
Find out more about initiatives to help your locality gain points for the 2016 Go Green Challenge by registering to attend the Aug. 8 forum at the Rockingham County Fire and Rescue Classroom in Harrisonburg.
Speakers will address Virginia Tech's Environmental and Sustainability Management System, a Chesapeake Bay update, and Virginia's clean power plan.
In addition, roundtables will be held on energy efficiency and solar initiatives, resiliency, water supply and quality, and land use and transportation planning.
Registrants are encouraged to drive their clean cars so that a clean car show can be held in the parking lot!
Registration information is posted here: https://bit.ly/1UoHBWH
The preliminary program is posted here.
Also, don't forget to sign up for the 2016 challenge.  Simply go to www.gogreenva.org and click on the Green Government Challenge link to sign up.
The Green Government Challenge is a friendly competition designed to encourage implementation of specific environmental policies and practical actions that reduce the carbon emissions generated by both the local government and the broader community.  The added advantage: Many of these actions can save local governments money.
The deadline for VML members to complete the challenge is Sept. 23.  Certificate recipients will be recognized during the VML annual conference on Oct. 9-11 in Virginia Beach. Please direct questions to Mary Jo Fields, mfields@vml.org; (804) 523-8524.
Aug. 25 deadline for submitting Stairway to Success entries fast approaching
Are you serious about early childhood education?
Stairway to Success is a friendly competition among VML member localities. The program seeks to increase local government's role in early childhood education, which in turn, builds a qualified, well-educated workforce. The competition awards points to localities for specific actions that enhance the early childhood experience. Participants will be recognized during an awards program at VML's Annual Conference on October 11 in Virginia Beach.
It's easy to participate. Complete details are posted at https://vml.org/education/stairway-success.
Eligible participants include cities, towns and counties, but partnerships with other local government and regional agencies and with the private sector are encouraged.
Completed applications must be e-mailed to mfields@vml.org no later than August 25.
Board of Education announces series of public hearings around the state
Local officials should consider testifying on the need for additional state resources for public education at one of the upcoming public hearings announced this week by the Virginia Board of Education.
VML was pleased that K-12 education funding was increased this year, but this is no time for the state to rest on its laurels.  Adjusted for inflation, state funding for K-12 still lags 2009 levels.
Local governments funded 51 percent of the operating costs for K-12 education in the past fiscal year, and virtually all capital costs.  One result of the overdependence on local funds is that, for localities with weak tax bases or with a disproportionately higher number of children who cost more to educate, they have difficulty finding the resources that allow their school systems to be successful.
Information released by the board states that the hearings are intended to gather feedback from families, educators, and community members on student expectations, how schools are accredited, and school resources.
Public comment will be accepted at each meeting. The board is specifically looking for feedback on these issues:
Development of a Profile of a Virginia Graduate, and changes to high school graduation requirements and how schools will be accredited in the future
Implementation of the Every Student Succeeds Act (ESSA) and Virginia's accountability system
Recommendations regarding the Standards of Quality (SOQ)
Identifying conditions and needs of public education, for updating the Board's comprehensive plan and annual report to the Governor and General Assembly
Schedule for public hearings around the state
July 14 – Manassas
6:30 p.m., Osbourn High School (Auditorium), 9005 Tudor Lane, Manassas, VA  20110
July 19 – Williamsburg
6:30 p.m., Lafayette High School (Auditorium), 4460 Longhill Road, Williamsburg, VA 23188
August 24 – Abingdon
6:30 p.m., Southwest Virginia Higher Education Center, One Partnership Cir, Abingdon, VA 24210
August 24 – Lynchburg
6:30 p.m., Heritage High School, 3020 Wards Ferry Road, Lynchburg, VA 24502
A sign-in sheet will be provided at each hearing for those individuals wishing to address the Board. So that Board members are able to hear from as many people as possible, each speaker is asked to limit their comments to 3 minutes. Written comments and additional materials also can be submitted.
Although it is not required, staff for the board appreciates an RSVP for people planning on attending.  To RSVP or for more information, please contact Melissa L. Luchau, Director for Board Relations, Department of Education, Melissa.Luchau@doe.virginia.gov, 804-225-2924.
VML contact: Mary Jo Fields, mfields@vml.org
Abingdon's town manager to lead VLGMA
Abingdon Town Manager Greg Kelly was elected president of the Virginia Local Government Management Association (VLGMA) for 2016-17 at the Association's annual conference last month.  Charlottesville City Manager Maurice Jones was elected as the Association's president-elect.
Along with Kelly and Jones, the 2016-17 officers for the Association are:  Chesterfield County Administrator Joe Casey, first vice-president; Rocky Mount Town Manager James Ervin, second vice-president; Falls Church Assistant City Manager Cindy Mester, third vice-president; and Montgomery County Administrator Craig Meadows, Secretary.  Acting Chesterfield County Deputy Administrator Rebecca Dickson is the immediate past president.
Along with the officer, VLGMA' also elected it's 12-member executive committee at the conference.  The members of the executive committee are: Charlottesville Assistant City Manager Leslie Beauregard; Mecklenburg County Administrator Wayne Carter, III; Gloucester Assistant County Administrator for Community Development Garrey Curry Jr.; Augusta County Administrator Tim Fitzgerald; Ashland Town Manager Charles Hartgrove; Amherst Town Manager Jack Hobbs; Loudoun County Assistant Administrator Bob Middaugh Jr.; Botetourt County Deputy Administrator David Moorman; Staunton Deputy City Manager Steven Rosenberg; Strasburg Town Manager Ryan Spitzer; Frederick County Deputy Administrator for Community Development Kris Tierney; and Pulaski Town Manager Shawn Utt.
VLGMA is a statewide association of local government management professionals that seeks to strengthen the quality of local government through professional management. VLMGA focuses on ethical, inclusive, and innovative leadership, and offers training, networking, and member support services.  The Association is an affiliate of the International City-County Management Association (ICMA).
VML's policy committees to meet July 28-29
VML's six policy committees will meet later this month to learn about emerging issues, discuss potential impacts on local governments, make recommendations to VML's legislative committee, and develop policy positions to be presented to the VML membership.
Policy committees offer VML members an opportunity to learn more about issues within a particular topic area, talk over the issues with colleagues from across the state, and develop the policy statements that guide the Association and its members in the coming year.  Local governments nominate members to serve on these committees each year.
The 2016 policy committee meeting schedule is as follows:
Thursday, July 28, 10 a.m. – 2 p.m.
Environmental Quality
Finance
Transportation
Friday, July 29, 2016, 10 a.m. – 2 p.m.
Community & Economic Development
General Laws
Human Development & Education
All committee meetings will be held at the conference center of the Virginia Society of Certified Public Accounts (VACPA), 4309 Cox Road, Glen Allen (in the Innsbrook Office Park).  Free parking is available.
Policy committee members will receive agenda and other meeting materials in the next week.  If you have any questions about the policy committee meetings or process, call or email Janet Areson at VML, 804/523-8522; jareson@vml.org.