eNews July 31, 2020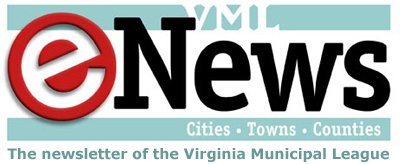 Friday, July 31, 2020 - 04:54pm
In this issue:
Member opportunities
Save the date: VML member webinar with VDEM Friday, August 7th
The Virginia Department of Emergency Management (VDEM) will host a webinar for VML members that will provide an overview of current agency initiatives, highlights of the COVID-19 response, and efforts ongoing for the upcoming hurricane season in a pandemic environment.
The webinar will be held Friday, August 7 at 12:00pm.
Login credentials will be sent to members ahead of the event next week.
VML Contact: Rob Bullington, rbullington@vml.org
Invitation to join emergency NLC call on direct federal aid to localities
On Monday, August 3, at 1:30 PM ET VML members are invited to join an emergency National League of Cities (NLC) "Cities Are Essential" campaign call to prepare for the final push to secure direct local aid.
From NLC: Next week is a critical week for negotiations around the next COVID-19 relief package. The current Senate proposal does not include aid to local governments – this is unacceptable, and we must fight to protect the future of America's hometowns. Join us as we share the most up-to-date intel from the Hill and Administration and offer on-the-ground examples to help mobilize your efforts before Congress breaks for recess.
We need every Cities Are Essential stakeholder to join this call. Together, we can make one last unified push for direct aid to local governments.
More information and a link to register for the call are available here >.
VML Contact: Rob Bullington, rbullington@vml.org
VML Updates
VML policy committees hold July meetings
Holding meetings in a virtual format offers some challenges, but VML's six policy committee meetings held over the past two weeks yielded strong attendance and opportunities for members to hear from, and ask questions of, state and local speakers on a number of important issues, including election administration, broadband, housing, economic development, policing, education funding, state and local finances, and environmental equity.
Policy committee members also virtually reviewed current policy statements and suggested potential legislative items for consideration by VML's Legislative Committee.
Human Development & Education Policy Committee met on Friday, July 24
Chair: Hector Cendejas, Council Member, City of Manassas Park
Vice Chair: Terry Short, Mayor, City of Waynesboro
Transportation Policy Committee met on Friday, July 24
Chair: Michael Barber, Mayor, Town of Christiansburg
Vice Chair: Cindy Mester, Deputy City Manager, City of Falls Church
Community & Economic Development Policy Committee met on Thursday, July 30
Chair: Jennifer Baker, Council Member, Town of Herndon
Vice Chair: Sara Carter, Town Manager, Town of Amherst
Finance Policy Committee met on Thursday, July 30
Chair: John Rowe, Mayor, City of Portsmouth
Vice Chair: Joshua Farrar, Town Manager, Town of Ashland
Environmental Quality Development Policy Committee met on Friday, July 31
Chair: Jon Stehle Jr., Council Member, City of Fairfax
Vice Chair: Pranas Rimeikis, Council Member, Town of Culpeper
General Laws Policy Committee met on Friday, July 31
Chair: Nancy Bailey, Vice Mayor, Town of Big Stone Gap
Vice Chair: Doug Napier, Town Attorney, Town of Front Royal
The draft policy statements will be posted to the VML website at the links above in a few weeks and will be taken up by the membership during the annual business meeting in October (also virtual).
Thanks to all the member local governments that participated in the policy committee meetings this year!
VML Contact: Janet Areson, jareson@vml.org
VML 2020 Annual Conference registration open
The 2020 VML annual conference will be held virtually the afternoon of October 7th and morning of October 8th. Although we will miss seeing everyone in person, VML is pulling out all the stops to make this year's event the best it (virtually) can be! To accomplish this, VML is working with an experienced virtual event production company using the EventMobi platform.
Attendees joining by smartphone, tablet or computer can look forward to a seamless, enjoyable, and productive event. Sponsors and exhibitors can expect opportunities to engage attendees to demonstrate the value of their services.
Topics to be addressed during the conference include (but are not limited to):
VML's annual business meeting
Financial good governance for localities
Equity and diversity
Emergency and crisis management
New transportation legislation
The Virginia Clean Energy Act
Housing
Risk Management
Collective bargaining
FOIA / COIA
Some positive predictions from forward looking futurists
Local Champion awards
….and more!
The full agenda with speakers, dates and times will be posted to our 2020 Annual Conference page when available.
VML Contact: Sandra Harrington, sharrington@vml.org
VML executive committee member Jill Carson featured in interview series
As part of a series of interviews with community leaders throughout the Commonwealth, the Weldon Cooper Center's Virginia Institute of Government (VIG) recently posted an interview by Associate Director Charles Hartgrove with Town of Pennington Gap vice-mayor and VML executive committee member Jill Carson and her husband Ron.
The Carsons are the co-founders of the Appalachian African-American Cultural Center in Pennington Gap.  Ron is the 2nd vice-chair of the federally appointed 400 Years of African American History Commission.
The interview can be viewed here >.
VML Contact: Rob Bullington, rbullington@vml.org
Health & Human Services
VDH site includes COVID-19 model update
In the late spring the Commonwealth began using a COVID-19 model developed in cooperation with University of Virginia Biocomplexity Institute. This model continues to evolve as information related to the course of the pandemic becomes available. The model looks at where the state has been and where we may be heading with regards to transmission rates, potential surge areas, hospital capacity, and more.
A PowerPoint update on the COVID-19 model, entitled "UVA COVID-19 model – VDEM stakeholder Meeting 2020 07 30" may be found on the Virginia Department of Health (VDH) website.
VML Contact: Janet Areson, jareson@vml.org
Vocational rehabilitation and employment information for officers now available from DARS
Information is now available from the Virginia Department of Aging and Rehabilitative Services  (DARS) regarding vocational rehabilitation and employment resources for law enforcement agencies to help former law enforcement officers who have a disability as a result of their service to prepare, obtain, and maintain suitable employment.
The letter from DARS Commissioner Kathryn Hayfield provides a list and links to DARS vocational rehabilitation and other state resources. View/Download the letter here >.
This assistance has come about from legislation passed by the 2020 General Assembly (HB 1025 – Adams, L).
DARS Contact: Catherine Harrison, Catherine.Harrison@dars.virginia.gov or visit DARS website at www.dars.virginia.gov
Events & Opportunities
NLC: Upcoming offerings
The National League of Cities (NLC) has posted the following learning opportunities for local governments:
Cities of Opportunity Learning Lab: All residents deserve a safe, secure, and healthy place to call home. The Cities of Opportunity Learning Lab is a peer-to-peer virtual forum for local leaders to work together and address the root causes of poor community health. Learn and share best practices around COVID response and recovery, data usage, civic engagement and more from local leaders across the country. Learn more and sign up to receive offerings here.
Reopening in the Fall: City & University Collaboration amid the COVID-19 Pandemic Webinar | Wednesday, August 5, 12:00 p.m. (ET). The International Town & Gown Association and the NLC University Communities Council are partnering to produce a webinar on the implementation of college reopening plans, discussing the impact on the community and the role of institutions and municipalities in working together to keep students and local residents safe. The webinar will focus on distribution of supplies, education about risks and guidelines, and fair enforcement of pandemic-related restrictions. Our panelists will share how universities and cities are collaborating to meet that goal. To register, click here.
POLCO: CARES Act survey tool and National Police Services Survey now available
VML partner organization, POLCO now offers localities the following, comprehensive survey tools:
The "National Community Survey CARES for COVID-19 Recovery" (NCS CARES) survey tool and online platform allow leaders to directly engage residents and receive accurate and actionable feedback. The NCS CARES can provide invaluable insight while complying with the eligibility requirements of the CARES Act. According to Section 601 (d) of the Coronavirus Aid, Relief, and Economic Security (CARES) Act, expenses associated with conducting a recovery planning project or operating a recovery coordination office are eligible for CARES funding. Learn more here >.
The "National Police Services Survey" allows communities focused on police reform to provide an accurate and comprehensive picture of resident opinions about local policing. Putting current police reform conversations into a broader community context is simply so important for thinking strategically or long term. Info on this tool can be found here >.
POLCO Contact: Matt Fulton, matful@polco.us