eNews July 27, 2017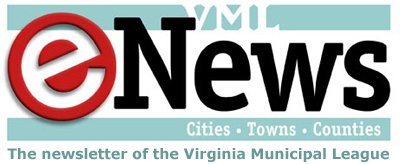 Thursday, July 27, 2017 - 03:10pm
In this issue: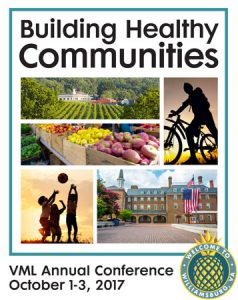 Registration open for 2017 VML conference
Network with hundreds of colleagues from around Virginia while learning about the latest issues facing local governments at the 2017 VML annual conference in Williamsburg, October 1-3. Attend a variety of general sessions for valuable information from political leaders, nationally-known speakers, and local government experts. Visit the exhibit hall for the latest equipment, technologies, and services. Register today.
VML contact: Leslie Amason, (804) 523-8528
Time is running out to submit your Innovation Award entry
Celebrate your hometown success and why your city, town or county is a great place to live with a VML Innovation Award. The Innovation Awards recognize outstanding achievements in community health, infrastructure, economic development, public safety, working with youth, and communications.
Download the entry form and read submission details online. All entries must be received via e-mail by 5:00 p.m., Monday, August 14, 2017.
VML contact: Manuel Timbreza
VML policy committees explore a variety of topics
From transit funding to drones, and local fiscal distress to solar energy, VML's six policy committees examined a wide variety of issues during their meetings on July 20 and 21 in Glen Allen, Virginia.
The policy committees meet once yearly to hear presentations on current and emerging issues. They also make sure that VML's policy statements reflect the current local government thinking on those issues.
This year's meetings looked at the multifaceted challenge of addressing opioids in communities; the DMV passenger carrier study; stormwater; solar energy; the development of a tool to measure local fiscal distress; next generation 911; and Go Virginia and short-term rentals.
The policy committees also looked at possible recommendations to forward to the VML Legislative Committee for further consideration as part of the 2018 legislative program.
The proposed updates will be available for review by the full membership before they are addressed at the VML business meeting during the annual conference in Williamsburg.
Below is a summary of each committee's meeting.
General laws committee report
 The General Laws Policy Committee proposes three items for consideration by the Legislative Committee:
Supporting Next Generation 911 unless it becomes an unfunded mandate
Continuing to have the ability to regulate landscape materials at the local level (this is a holdover from last year but was still deemed to be a priority)
Taxing, licensing, and regulating internet-based businesses and services (also a holdover from the 2017 Legislative Program)
In addition, the General Laws Committee heard a presentation on drones and what authority localities should have in the regulation of drones. The committee also discussed sunscreen at schools, companion animals in shelters, and the state mandating local tax exemptions.
VML contact, General Laws Policy Committee: Michelle Gowdy
Community and economic development committee report
This committee heard presentations on GO Virginia, community development block grants, short-term rentals, and Next Generation 911. Wireless infrastructure and proffers were also discussed. As the presentations and discussions were lengthy, the committee will continue working in the coming weeks on recommendations for the Legislative Committee. One item that they are considering is that greater flexibility for localities in creating incentives for in-fill development and tax abatement for properties that are not challenged by housing structures.
VML contact, Community & Economic Development Policy Committee: Michelle Gowdy
Human development and education committee report
The committee heard a presentation from Jodi Manz, a policy advisor with the Secretary of Health and Human Resources, on the opioid situation in Virginia, as well as a presentation on the rebenchmarking of the Standards of Quality from Jim Regimbal of Fiscal Analytics. The committee also received an update on 2017 legislation affecting community services boards (CSBs) from Jennifer Faison of the Virginia Association of Community Services Boards.
The committee discussed the issue of marijuana decriminalization, which was referred to it by the VML Legislative Committee, and received reports on special education costs related to the Children's Services Act; the Future of Public Education study and Board of Education public hearings; and child care legislation affecting local parks and recreation programs. Finally, the committee voted to forward recommendations to the VML Legislative Committee regarding education funding, marijuana decriminalization, and grant funding for public school construction or maintenance.
VML contacts, Human Development & Education Policy Committee: Janet Areson and Sandy Harrington
Finance committee report
The committee received a presentation on Virginia's financial picture by Jim Regimbal of Fiscal Analytics, as well as a presentation on the development of tools to measure local fiscal distress by Virginia Auditor of Public Accounts Martha Mavredes and APA Local Government Audit Manager Rachel Reamy.
The committee also held a discussion of the state's communications sales tax and reverse mortgages and tax deferral programs. The committee then voted to forward to the VML Legislative Committee the issues of the state and local government fiscal relationship; state assistance to local police departments (HB 599); and expanding/updating the communications sales tax.
VML contacts, Finance Policy Committee: Janet Areson and Sandy Harrington
Environmental quality committee report
The Environmental Policy Committee proposes three items for consideration by the Legislative Committee:
Restoring money for the Stormwater Local Assistance Fund that assists localities with much-needed stormwater projects to remain compliant with the Clean Water Act. The SLAF fund was zero out for fiscal 2018.
Continued support for Regional Greenhouse Gas Initiative (RGGI).
Supporting legislation that would allow for third party-owned community solar and protecting current net metering compensation.
In addition, the Environmental Quality Committee heard presentations on 1) the Local Stormwater Work group, 2) a presentation of Resiliency from Dominion Energy and, 3) a discussion as how localities can work to encourage Solar power in their communities.
VML contact, Environmental Quality Policy Committee:  Michael Polychrones
Transportation committee report
The Transportation Policy Committee proposes two items for consideration by the Legislative Committee:
Increased federal and state funding for public transit; policies that allow for the equitable distribution of such funding; and dedicated for such funding, all to avoid the impending fiscal cliff in 2019.
Continuing support for amending the protective floor gas tax to be consistent with current level to act as a revenue source in funding long-term financing of regional projects.
In addition, the committee heard a presentation on the Virginia DMV Passenger Carrier Study and the focus for localities in working with Transportation Network Companies (TNC).
VML contact, Transportation Policy Committee:  Michael Polychrones
Conflict of Interest and Ethics Advisory Council to reconsider opinion on disclosure statements
On June 18, the Conflict of Interest and Ethics Advisory Council (Council) agreed to reconsider at the request of two local government representatives an opinion about disclosure statements for members of commissions, boards, and authorities.
FAO 2015-F-002 states in part that "members of commissions created by the Regional Cooperation Act (§15.2-4200 et. seq. of the Code of Virginia) may be required to file [disclosure statements] depending on their categorization in §2.2-3115." The applicable code section §2.2-3115 states in part that "members of the governing body of any authority….." (emphasis added) shall file disclosures. The opinion does not recognize the distinction between an authority and a board or commission and focused solely on the power to issue bonds or expend funds.
During the meeting, Council members Walter C. Erwin, city attorney for the City of Lynchburg, and Sharon Pandak of Greehan, Taves, Pandak & Stoner outlined the differences between authorities and other types of boards and commissions and asked for reconsideration of the opinion. The motion passed with flying colors.
Local government is lucky to have such great advocates.
VML contact: Michelle Gowdy
Crime Commission requests comment on decriminalization of marijuana
The Virginia State Crime Commission is currently studying the topic of decriminalization of simple possession of marijuana. Please send written comments and any other information/materials relevant to this study via email to vsccinfo@vscc.virginia.gov  by 5:00 p.m. Friday, August 25, 2017.
Study findings will be presented at the October 5, 2017 Crime Commission meeting. This meeting is open to the public. Location is TBD and will be announced later this fall.
VML contact: Sandy Harrington
BOE seeks input
Reminder: the Virginia Board of Education (BOE) is seeking public input on student expectations, school accreditation, and the Every Student Succeeds Act (ESSA) State Plan.
The BOE offers three methods to share your thoughts:
Send an email to BOE@doe.virginia.gov
Attend one of the remaining public hearings:

Wednesday, August 9 – Virginia Beach
Wednesday, August 23 – Mecklenburg County
If you plan to attend a hearing, please RSVP to mailto:Emily.Webb@doe.virginia.gov. For more information on this process, visit VDOE's Educational Initiatives web page.
VML contact: Sandy Harrington
CSA taking comments on proposed policy regarding noncompliance penalties
Local governments have until August 20 to submit comments regarding a proposed Children's Services Act (CSA) policy (Policy 4.7, "Response to Audit Findings with Regard to the Children's Services Act").  Public comments and proposed changes received on the proposed policy will be presented to the State Executive Council (the governing body for CSA) at is Sept. 21 meeting.
The proposed SEC Policy 4.7 is intended to provide clarity to local governments on the Office of Children's Services' (OCS) response to audit findings of noncompliance and guidance to the OCS Executive Director for objective, consistent responses to such findings. The proposed policy presents three levels of audit findings with three progressive levels of OCS responses. It also includes a cross reference to the appeals process and requires the SEC Finance and Audit Committees to review it annually.
The text of the proposed policy may be accessed on the CSA website (www.csa.virginia.gov) under "What's New." Public comments may be submitted on the CSA Website under "Public Comments."
Comments may be emailed to janet.vancuyk@csa.virginia.gov or mailed to the following address:
Janet P. Van Cuyk
Deputy Director
Office of Children's Services
1604 Santa Rosa Rd., Suite 137,
Richmond, VA 23229
VML contact:  Janet Areson
Group recommends formal disposal procedure for human remains
In June, a group of stakeholders including representatives of law enforcement, state agencies, scientific and educational organizations, VML, and VACo met to discuss disposal procedures for significantly-aged human skeletal remains of no historical or forensic significance. (Read about the meeting in the June 15 issue of eNews.)
Stakeholders want to ensure remains are treated with respect. Without existing authority to any stakeholder in place, the group determined new legislation, as well as updates to current legislation, can outline a disposal procedure. They recommend the Office of the Chief Medical Examiner (OCME) take ownership of remains and have the ability to dispose of them.
By request to commonwealth's attorneys and county attorneys, OCME requests local government review the minutes of the meeting and provide comments. This also will be the subject of continued discussion this fall.
VML contact: Michelle Gowdy
Aug 1-2: Resilient Virginia Conference, Richmond
Aug 2: Go Green Virginia seminar, Richmond
Aug 2: Budgeting Leadership Academy workshop, Richmond – full
Aug 3: Budgeting Leadership Academy workshop, Hampton – canceled
Aug. 18: VML Legislative Committee meeting, Richmond
Oct 1-3: 2017 VML annual conference, Williamsburg
Oct. 15-17: VBCOA school and conference, Virginia Beach