eNews July 26, 2019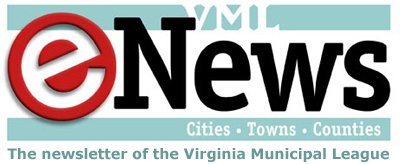 Friday, July 26, 2019 - 02:28pm
In this issue:
2019 Broadband Summit being held in September
VML and the Virginia Association of Counties (VACo) – in conjunction with the VCTA (Virginia Broadband Association) – are pleased to offer this opportunity to hear from municipal officials and industry leaders about broadband in Virginia.
The summit will be held Sept. 5, 2019. Summit registration will open at 9 a.m. Programming will run 9:30 a.m. – 3:30 p.m.
Registration is available here.
The cost is $50 for registrations made through Aug. 23 but increases to $65 beginning Aug. 24.
Topics to be covered include:
Grant programming and assistance opportunities
New technologies made possible with broadband (i.e. tele-health, 10G technology)
Successful municipal industry partnerships
Opportunities for expanded broadband access for school children
How broadband enhances economic development opportunities across Virginia
VML Contact: Mitchell Smiley, msmiley@vml.org
Next Generation 9-1-1 (NG9-1-1) survey coming soon
Next week, VML will be sending our members a link to a survey regarding NG9-1-1. This survey was drafted by an advisory group to the 911 services board. Your input is very important; we ask that both management staff and emergency services staff work together to answer these questions in a fiscally responsible manner.
After it has launched, VML staff will be available to assist with survey questions. Please be aware that due to the importance of this survey, you will need to log in so that a record of responses can be kept.
Click here for further information on the Next Generation 9-1-1 deployment.  Please note that Virginia Beach will soon also have a contract which other localities may use.
VML has a legislative position that supports expanding the communication sales and use tax to include prepaid cards and prepaid phones as an additional revenue stream for localities. This position does not "ear mark" this revenue for localities.
VML Contact for survey content: Michelle Gowdy, mgowdy@vml.org
VML Contact for survey availability: Rob Bullington, rbullington@vml.org
Policy committees meet to learn and discuss host of issues
Close to 200 VML local officials and staff gathered in Richmond on July 18 to participate in VML policy committee meetings. Committee members heard several briefings on current and emerging issues and discussed local perspectives and possible policy positions on these issues. Committees also determined the issues that should go forward to VML's Legislative Committee for further discussion and consideration.
The following is a summary of some of the issues taken up at the July 18 committee meetings; PowerPoint presentations from these meetings are posted on VML's website on each policy committee's subpage (links below).
Community & Economic Development
The Community & Economic Development Committee heard a presentation on York County's Go Virginia "Journey," from York County Director of Economic Development James Noel Jr.; discussed affordable housing issues with Matt Weaver, Pam Kestner, and Cindy Davis from the Department of Housing and Community Development; and received a briefing on a housing task force report from the National League of Cities' Michael Wallace. The committee also heard a presentation on Hampton Roads' Regional Connectivity Ring from Jeff Beekhoo of the Regional Broadband SME.
The Committee is chaired by Herndon Council Member Jennifer Baker; Suffolk Council Member Lue Ward, Jr., serves as vice chair.
Environmental Quality
The Environmental Quality Policy Committee was briefed on Virginia's plans to move forward with Phase III of the Watershed Improvement Plan (III-WIP) by Ann Jennings, Deputy Secretary of Natural Resources; discussed funding and partnership opportunities under the Stormwater Local Assistance Fund and Virginiaforever with Preston Bryant of McGuire Woods and Peggy Sanner of the Chesapeake Bay Foundation. The Committee also discussed urban tree conservation and preservation, including the complexities of offering stormwater management credits for tree preservation and planting as well as best practices for financing tree canopy programs with representatives from Arlington County.
The Committee is chaired by Staunton Council Member Erik Curren; Fairfax Council Member Jennifer Passey serves as vice chair.
Finance
The Finance Policy Committee examined the possibilities that increasing state revenue collections offer localities. For example, cities and counties overmatch the required local effort for state school funding by more than $4 billion each year. Greater financial assistance to carry out state mandates and state high-priority programs and services would help local governments maintain financial sustainability.
Finance also participated in a joint meeting with the Transportation and the General Laws Policy committees to learn about Opportunity Zones and disruptive trends in the economy including the proliferation of dockless scooters in Virginia's cities and the DMV study of Peer to Peer Vehicle Rentals.
The Committee is chaired by Portsmouth Mayor John Rowe; Winchester City Manager Eden Freeman serves as vice chair.
Transportation
The Transportation Policy Committee crammed several issues into a single session, reviewing the objectives of the new I-81 Interstate Corridor Program, efforts to improve public safety on state highways through more effective traffic incident management, funding challenges facing Virginia's transit and passenger rail programs, and VDOT resources available for urban road maintenance and road revenue sharing.
Transportation also joined with the Finance and General Laws Policy Committees to examine the implications of the General Assembly's legislation authorizing localities to regulate the operation of companies providing motorized skateboards or scooters for hire.
The Committee is chaired by Christiansburg Mayor Michael Barber; Vienna Councilmember Douglas Noble serves as vice chair.
Human Development & Education
The Human Development & Education Committee was led in a discussion on awareness and impacts of human trafficking in communities both large and small along with initiatives to provide drivers' licenses for undocumented immigrants by Luis Aguilar, Virginia Director of CASA; received an update on the status of state standards under development by the Virginia Board of Corrections to address minimum health and mental health service requirements in local and regional jails by Christine Schein, forensic operations manager for the Virginia Department of Behavioral Health and Developmental Services; and got caught up with the latest information about education funding and re-benchmarking by Jim Regimbal of Fiscal Analytics.
The Committee is chaired by Hector Cendejas, Manassas Council Member; Waynesboro Mayor Terry Short serves as vice chair.
General Laws
The General Laws Committee tackled a very large agenda, including presentations on distracted driving legislation and the impact of mental health transportation on local police from Dana Schrad of the Virginia Association of Chiefs of Police; funding of Commonwealth's Attorneys offices with implementation of new discovery rules; an update on body-worn camera issues by Fredericksburg Police Chief David Nye; election and redistricting issue updates by Brian Cannon of One Virginia 2021; and a discussion of E-911 funding issues with Steve Marzolf from VITA.
The Committee is chaired by Pulaski Council Member Joseph Goodman; Front Royal Town Attorney Douglas Napier serves as the vice chair.
VML Contact: Janet Areson, jareson@vml.org
Virginia Board of Education meets
Reviews preliminary SOQ recommendations as well as regulations around classroom restraints
Thursday's meeting of the Virginia Board of Education saw the first review of recommendations to update the state's Standards of Quality for K-12 education. Estimating total new spending requirements between $1.1 and $1.2 billion, staff from the Department of Education presented a prioritized list of ten recommendations to the Board. Key priority issues include offering compensation incentives for teachers in high-need schools of up to nearly $13,000; reducing student-teacher ratios for English Language Learners based on assessed student proficiency levels; and adding teacher mentorship requirements to the Standards of Quality. The Board expressed concerns around the longer-term implications of increasing flexibility in the use of At-Risk Add-On funds and requested that DOE staff make amendments before the Board's next meeting in September.
At the same meeting, the Board undertook a final review of new regulations surrounding the use of restraints and seclusion in K-12 classrooms. Ultimately, the Board voted to ban the use of prone restraints, as well as any other means of restraint or seclusion "that restricts a student's breathing or harms the student." The new regulations will also require schools to notify families within two days of any incident involving restraint or seclusion of their children.
The Board of Education will meet again on September 19 in Richmond.
VML Contact: Jessica Ackerman, jackerman@vml.org
Registration now open for VML's summer Newly Elected Officials conference
At the request of some of our members, VML will be hosting a Newly Elected Officials conference in Fredericksburg on Wednesday, August 14. Please note, registration will be limited.
For more details, please visit our registration page.
VML Contact: Jessica Ackerman, jackerman@vml.org
VRS introduces new resources for retirement planning
The Virginia Retirement System (VRS) introduced its new Hybrid Retirement Plan Learning Channel this week to assist individual members with planning for retirement at different stages throughout their careers. Topics covered through the new streaming service range from driving and exploring hybrid retirement plans to creating a timeline for retirement. With the Learning Channel replacing VRS's old Features & Benefits series, member localities will want to update their orientation materials for new staff.
VML Contact: Jessica Ackerman, jackerman@vml.org
Governor announces additional funding to support 2020 Census efforts
On Monday, Governor Northam announced the authorization of up to $1.5 million from the Economic Contingency Fund to support statewide education and outreach efforts leading up to the 2020 Census, which will begin in April 2020. Following the last federal census, Virginia ranked eighth for the highest undercounted population of children under age 5 in the country. State and nonprofit officials are also concerned that the current political climate will discourage other already hard-to-count populations from participating.
Experts estimate that, following the 2020 Census, Virginia and its localities could miss out on as much as $2,000 in federal funding per uncounted resident, per year over the next decade.
The newly reallocated resources will support the distribution of materials to state and local agencies, as well as nonprofits throughout Virginia, with a focus on reaching underrepresented populations.
VML Contact: Jessica Ackerman, jackerman@vml.org
Grant management workshop in Roanoke
Roanoke Police Department and Grant Writing USA will present a two-day grant management workshop in Roanoke, September 12-13, 2019.  The class will cover how to administer government grants and stay in compliance with applicable rules and regulations.
Click here for full event details.
Virginia Municipal League members and their staff are eligible for a special tuition rate of $565. Please use code "VAASSN" to receive this $30 discount off full price at registration. Tuition includes Grant Management USA's 500-page grant management workbook and reference guide.  Seating is limited, online reservations are necessary. Tuition payment is not required at the time of enrollment.
Complete event details including learning objectives, class location, graduate testimonials and online registration are available here.
Contacts:
Janet Darling
Grant Writing USA
888.290.6237 toll free
janet@grantwritingusa.com
Lt. Bill Breedlove
Roanoke Police Department
540.853.2649
bill.breedlove@roanokeva.gov