eNews July 26, 2018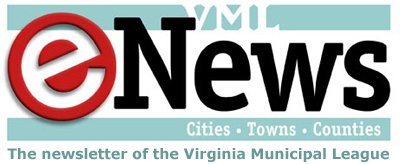 Thursday, July 26, 2018 - 12:38pm
In this issue
Impact fee bills pass Senate Local Government
Evictions, tiny houses subject of Housing Commission meeting
Policy committees explore issues, make connections
Deadline for advertising in Virginia Town & City conference issue is now!
SLAF grant application process opened
Governor launches regional cyber workshop series
Register now for 2018 VML Annual Conference
Impact fee bills pass Senate Local Government
Senator Stanley convened a special meeting of the Senate Local Government Committee on July 24 to take up two bills dealing with impact fees: SB208 and SB944. After a heated meeting and a lot of debate, the bills were passed out of the committee on a 5-2 vote.   This means that the two bills will go to the floor of the Senate at the 2019 General Assembly Session, having already received approval by the committee. VML has committed to working with the stakeholders to determine how to deal with the issue of proffers and impact fees.
Evictions, tiny houses subject of Housing Commission meeting
Senator Mamie Locke, chair of the Virginia Housing Commission, held a meeting July 18 to receive an update on evictions and to hear presentations on manufactured homes and accessory dwelling structures.   Here is a link to the agenda and materials: agenda.
The Housing Commission is one of several groups examining the issue of housing evictions in the state. The commission will continue to study the issue, with a meeting scheduled later this summer.
In the 2018 session, Senator Creigh Deeds introduced SJ53, a resolution that laid out a plan of study of "accessory dwelling structures." Stakeholders have been meeting to discuss the study issues outlined in the resolution, including the feasibility of changing land use and zoning practices to facilitate their expanded use. While the resolution did not pass, it was referred to the Housing Commission which is undertaking research in the various issues. George Homewood, the interim director of development for the city of Norfolk, discussed the zoning implications of "tiny houses." A survey conducted earlier this year by VML found no instances – that were known of – where tiny houses had been erected.
Policy committees explore issues, make connections
Short-term rentals, big trucks, school construction, the I-81 corridor improvement plan, and Medicaid expansion were all issues explored by VML's policy committees, which met July 19 in Richmond.
VML has six policy committees that meet annually to learn more about emerging issues of statewide importance and discuss the potential implications for local governments, review and revise the League's policy statements, and propose issues for further consideration by VML's Legislative Committee.
These committee meetings also allow members from communities across Virginia to meet one another and make connections over issues of common concern.
As always, the committees had a host of issues to consider this year and heard from state government and industry experts on those issues. A summary of those issues follows:
The General Laws Policy Committee, chaired by Mount Jackson Mayor Jonathan "Bucky" Miller, received an update on the E-911 upgrades that are required by Virginia Code 56-484.16, which states that the upgrades must be completed by 2023, as well as a presentation regarding 911 operators' concerns. Other presentations included an update on emergency management issues and a presentation on distracted driving. Finally, the committee received a presentation on conflict of interest issues for smaller localities, and an update on a pre-trial services study.
The Community and Economic Development Policy Committee, chaired by Marion Town Manager Bill Rush, met with the Finance Policy Committee, chaired by Portsmouth Mayor John Rowe, to hear a panel discussion on short-term rentals. The CED Committee then discussed proffers and issues regarding notice and closure of state facilities.
After meeting with the CED Committee, the Finance Policy Committee continued its meeting with a presentation on tax reform in Virginia and the impact on the state budget, and a staff briefing on the issue of budget language passed by the 2018 General Assembly allowing the state to sweep funds from Communications Sales and Use Tax funds to the state general fund.
The Transportation Policy Committee, chaired by Christiansburg Mayor D. Michael Barber, heard a presentation on the I-81 Corridor Improvement Plan as well as an update on legislation affecting public transportation. They also received a briefing from the Coalition Against Bigger Trucks..
The Human Development & Education Policy Committee, chaired by Virginia Beach Council Member Shannon Kane, received a presentation regarding school construction funding in Virginia; a presentation on Medicaid expansion and steps by the state to address the uptick in eligibility determinations that will be addressed within local social services offices; and a presentation on the impact on local law enforcement regarding temporary detention orders/emergency custody orders transports.
The Environmental Quality Policy Committee, chaired by Falls Church Council Member Dan Sze, received a briefing on Dominion Energy efforts in carbon reduction, clean energy, and grid transformation. The committee also heard a presentation on one-use plastic bags.
Several of the presentations made to these committees are posted on VML's website under the individual policy committee. Simply click on the appropriate committee listed on the left at this link: https://vml.org/advocacy/policy-committees/.
Each policy committee worked on proposed changes to their policy statements for 2019. The draft statements for 2019 will be posted to the VML website in the coming weeks for review by members before the VML annual business meeting in Hampton on Oct. 2.
Deadline for advertising in Virginia Town & City conference issue is now!
This is the last call for an incredible opportunity to have your business or locality featured in VML's largest and most widely read issue of Virginia Town & City. The VML Annual Conference issue is distributed to over 5,000 subscribers as well as over 500 attendees at the Annual Conference, to be held September 30th – October 2nd at the Hampton Convention Center. If you would like to advertise in this issue, please complete the VTC conference issue form ASAP at https://bit.ly/2LBvb4z. The deadline for ads in the September/Conference issue is now!! You may view last year's issue at https://bit.ly/2OcTB2M.
Also, gain additional exposure for your company or locality during the Annual Conference and for an entire year by sponsoring the VML app. A sponsorship of the VML app will put the name of your company on the front of the app and will be visible to the 500+ attendees at the conference and everyone who views the app during the year.
Rates for ads in the conference issue of Virginia Town & City are $1100 for a full-age ad, $630 for a half-page and $400 for a quarter-page; the rate to sponsor the app is $1000.
Questions: Please write or call Leslie Amason, lamason@vml.org, (804) 523-8528.
SLAF grant application process opened
Applications due by October 12
The Virginia Department of Environmental Quality has opened its application for grants from the Stormwater Local Assistance Fund. The deadline for applications is Oct. 12. Approximately $20 million in matching grant funds is available for distribution.
Local governments authorized for SLAF funding in the FY2014 and FY2015 funding cycle that have not received construction bids on all remaining authorized 2014 projects and on at least one authorized 2015 project by October 1, 2018 will be ineligible for funding from FY2019 funding cycle.
Applications are being solicited for Non-Point Source Nutrient Credit purchases and stormwater projects. Stormwater projects include i) new stormwater best management practices; ii) stormwater best management practice retrofits, iii) stream restoration; iv) low impact development projects, v) buffer restorations, vi) pond retrofits, and vii) wetlands restoration.
Cost effectiveness remains a very important consideration. In previous years only SLAF project applications with costs below $50,000 per pound of total phosphorous were authorized for funding, and DEQ says that it may apply a similar cost effectiveness cap to this funding round that will be based on the applications received.
The DEQ announcement is available here: https://www.deq.virginia.gov/Programs/Water/CleanWaterFinancingAssistance/StormwaterFundingPrograms.aspx
Application forms and guidelines are available here: https://www.deq.virginia.gov/Programs/Water/CleanWaterFinancingAssistance/ApplicationsInfo.aspx
Governor launches regional cyber workshop series
The Office of the Secretary of Public Safety and Homeland Security will host six workshops in August that have the purpose of spreading awareness of Virginia's cyber security programs, building relationships between state and local information technology (IT) officials to facilitate information sharing, and enhancing collaboration on regional and statewide cyber initiatives. One workshop was held July 19 in New Kent County, the day after the release of the schedule.
The schedule for the six workshops is:
August 14 – Fairfax
August 21 – Abingdon
August 22 – Roanoke
August 28 – Chesapeake
August 30 – Charlottesville
For more information or to register for a workshop, please visit www.cyberva.virginia.gov. The full media release is here.
Register now for 2018 VML Annual Conference
Registration is open for the 2018 VML Annual Conference, to be held September 30 – October 2 at the Hampton Roads Convention Center in Hampton. The Virginia Mayors Institute will be held in conjunction with the annual conference on September 29-30, also at the Hampton Roads Convention Center. This year's conference program strives to reflect the interests and priorities faced by Virginia's localities by providing relevant and timely topics, informative workshops, and plenty of networking opportunities. The conference will also include the election of officers and the adoption of the VML Legislative Program during the annual business meeting.
The City of Hampton has planned a fantastic welcoming event at Historic Fort Monroe (http://fortmonroe.org/visit/), for Host City Night on Sunday evening, September 30.
Conference program – The Annual Conference will feature an assortment of speakers and educational programs relevant to many of the issues confronting local elected officials across the state. Conference activities, including the general sessions, break outs, and exhibit hall will be at the Hampton Roads Convention Center. Additionally, mobile workshops options conducted by the City of Hampton will be offered, highlighting projects of interest to conference attendees. You can view a preliminary conference agenda at Preliminary Agenda.
Additional ticketed items include the National Black Caucus of Local Elected Officials (NBC-LEO), Virginia Local Government Management Association (VLGMA), and Women in Local Government Luncheons, as well as a Painting with Wine and Design activity and lunch for guests.
Closing banquet – Conference registration includes the closing reception and banquet featuring remarks from VML's newly-elected president, the presentation of the 2018 VML Innovation Awards, and energizing musical entertainment by the band SLAPNATION.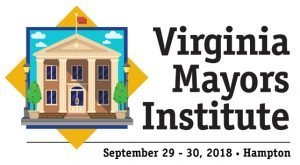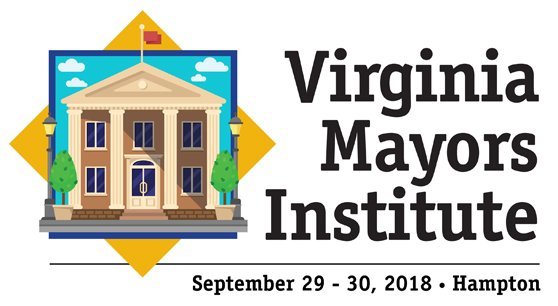 Virginia Mayors Institute – The Virginia Mayors Institute will expose mayors and chairs, and vice mayors and vice-chairs, to issues essential to their roles as local government leaders. Topics will include good governance, social media, affordable housing, and wireless-broadband opportunities. Separate registration is required for the Mayors Institute, which can be completed conveniently online https://vml.org/education/conferences/virginia-mayors-institute/
Registration – To register for the Annual Conference, please use the following link. All registrations must be completed online at this address: https://vml.org/education/conferences/2018-annual-conference-hampton/. You may pay by credit card online or mail in a check with your completed registration form
Hotel reservations – The conference hotel is completely sold out. The overflow hotel for this event is the Courtyard Hampton Coliseum Central, 1917 Coliseum Drive, Hampton, Virginia. You may use the following link to book your reservation 2018 VA Municipal League Conference Room Reservation.
Questions: Please email or call Leslie Amason, lamason@vml.org, (804) 523-8528.