eNews July 17, 2020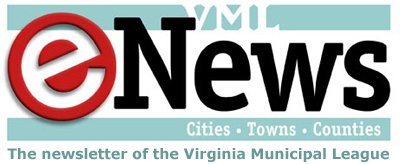 Friday, July 17, 2020 - 04:14pm
In this issue:
A note to our readers: We will not publish a regular edition of eNews next week. However, VML will continue to update our members as needed and will publish Special Editions of eNews during the week should events warrant. Our next regular edition will publish Friday, July 31.
General Assembly
General Assembly Special Session begins August 18
Today Governor Ralph Northam announced that he would call the General Assembly into special session on Tuesday, August 18.  The session will begin immediately after he gives his end-of-fiscal-year report to the General Assembly's budget and finance committees.
The focus of the session will be the budget as the General Assembly will adopt changes to the 2020-2022 biennial budget based on a revised revenue forecast expected in the next few weeks.
At the reconvened session in April, the General Assembly "unallotted," more than $2.2 billion in new spending in the biennial budget. Members will now consider those items in the context of information about the initial magnitude of the financial fall-out from the pandemic.
The session will also include a focus on criminal justice and policing reform, according to the Governor's press release. His office says that policing initiatives are expected to include measures aimed at police accountability and oversight, use of force, increased training and education, and officer recruitment, hiring, and decertification.
Some General Assembly committees, including Senate Judiciary/Senate Rehabilitation and Social Services, have already met jointly to begin discussions about criminal justice issues; House Courts of Justice/House Public Safety Committees have two joint meetings planned over the next two weeks to begin similar discussions.
VML Contact: Janet Areson, jareson@vml.org
Economy & Business
New temporary requirements to prevent the spread of infectious diseases will apply to all employers in Virginia
The Virginia Safety and Health Codes Board has adopted an emergency temporary standard related to infectious disease prevention: SARS-CoV-2 Virus that causes COVID-19. The proposed regulations prior to final adoption can be found on the draft agenda from July 15.  Many changes were made at the July 15 meeting; the final regulations will be published in a Richmond newspaper of record the week of July 27. These regulations will apply to all employers.
Here are some other highlights (Note: these are subject to change until we see the final published regulations):
CDC Guidelines: The original proposal before the Board in late June had a broad provision stating that compliance with federal CDC Guidelines would be deemed compliance with the Regulation; it may be included in the published regulations.
Effective Date: As stated, the regulations will take effect the day that they are published, but employee training will be phased in over 30 days and preparedness and response plans will be phased in over 60 days.
Exposure Risk: The requirements are based on exposure risk and that assessment includes a review of job tasks. There are very specific requirements that must be complied with in the workspace based upon exposure risk category – Very High, High, Medium and Lower.
Examples from the various categories:
Very High: Places of employment with high potential for employee exposure to known or suspected sources of the SARS-CoV-2 virus
High: First responder services are specifically listed
Medium: Schools, correctional facilities, and entertainment venues
Low: Office building settings
Employers in all risk categories are required to:
Assess their workplace for hazards and job tasks that can potentially expose employees
Classify each job task according to the hazard's employees are potentially exposed to
Ensure compliance with these regulations.
Policies and Procedures for reporting symptoms: Employers shall develop and implement policies and procedures for employees to report when they experience symptoms and how to inform the workplace without providing an identity. There must also be a written return to work plan which may include test taking or other measures.
Building Ownership: If you own a building – you have a duty to notify all employer tenants if there is a positive test for any employee or resident of the building, along with the Dept. of Health and the VA. Dept. of Labor and Industry (only DOLI if 3 or more positives).
Person refusing to come to work: The regulations specifically say "Nothing in this section shall limit an employee from refusing to do work or enter a location they feel is unsafe."
Infectious disease preparedness and response: The plan must be completed by Employers with Hazards and Job Tasks classified as Very High, High, and Medium with 11 or more employees. (This may be amended to all employers in the final version)
The Plan must:
Include the names and titles of persons responsible for administering the plan.
Provide for employee involvement in development and implementation of the plan.
Consider and address the levels of disease risk associated with various places of employment, the hazard employees are exposed to and job tasks employees perform at those sites to include:

Where, how and to what sources of disease might employees be exposed at work
Individual employees' risk factors

Engineering, administrative, work practice and personal protective equipment controls are necessary. (Note: Face coverings do not qualify as PPE)
Contingency plans for situations that may arise as a result of outbreaks.
Basic infection prevention measures to be implemented.
Prompt identification and isolation of known or suspected illness in employees.
How to deal with outside clients.
Regulation Effective Until: "This emergency temporary standard shall expire within six months of its effective date, upon expiration of the Governor's State of Emergency, or when superseded by a permanent standard, whichever occurs first, or when repealed by the Virginia Safety and Health Codes Board."
At the end of the Board meeting there was discussion of a timeline to begin the regulatory process for making these regulations permanent.
The Department of Labor and Industry has stated that guidance and training materials will be available on their website soon.
VML Contact: Michelle Gowdy, mgowdy@vml.org
COVID-19 continues to ravage state and local economies
The carefully monitored metrics Virginia is using to track new cases, hospitalizations and deaths reveal a disturbing trend. The Coronavirus is not in flight. The planned phases to reopen the state's economy may be in danger of stalling out or retreating.
What went wrong? Did Virginians become complacent, hoping that the arrival of hot temperatures and high humidity would smother Coronavirus just like they do Influenza? Did we reopen too soon and too fast? Have we foolishly created new fronts in the nation's culture wars on issues of social distancing and wearing face masks?
The answers to these questions are a subject for future debate, as Virginia's localities struggle with the present dilemma of balancing the demand for new service with stumbling local revenue collections.
Here's what we know today:
Leaders of state transportation departments across the nation say the coronavirus pandemic has left them facing an estimated $50 billion shortfall in funding needed to repave rutted and pockmarked roads, maintain bridges, and otherwise prop up already shaky infrastructure. Motor fuel taxes are in a steep decline as Americans cut back on driving. And, new car sales plummeted in April and May (although June sales in Virginia did show an uptick). VDOT is also evaluating its spending plans as part of a statewide review ordered by Gov. Ralph Northam. A cutback in the state's Six-Year Improvement Program could result.
The Virginia Employment Commission (VEC) announced on July 9 that the total number of initial claims filed in the four months from mid-March through the July 4, 2020 filing week totaled 938,559, surpassing all initial claims filed from mid-September 2014 to mid-March of this year. The VEC has paid $5.7 billion in benefits since the start of the coronavirus pandemic. The Employment Commission will hold a public hearing next week (Register here for the event to be held July 15 at 4:00PM). Among the topics to be examined will be an overview of the unemployment trust fund. Will a tax increase be needed to ensure the fiscal stability of the unemployment benefits program?
The unemployment rate in Virginia improved by 1.8 percentage points to 9.4 percent in May but was 6.6 percentage points higher than in May 2019. With the exception of financial activities, job losses plague almost every industry.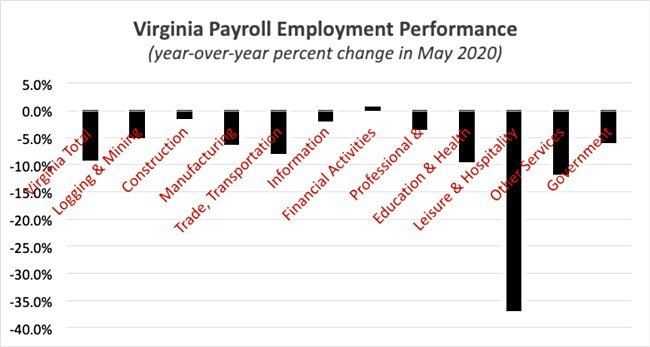 Retail sales rose nationally by 7.5 percent in June as shoppers returned to stores and restaurants, indicating the economy was bouncing back before fresh coronavirus outbreaks forced some states to roll back re-openings.

Clothing, auto and furniture sales helped fuel more than $524 billion in spending, which puts June retail sales about 1.1 percent higher than a year ago, according to data released Thursday from the U.S. Commerce Department.
In Virginia, sales tax collections in May were 7.8 percent less than a year earlier. Use taxes, in comparison, were a stunning 32.8 percent higher, reflecting the influx of collections from on-line retailers. The consumer trend to purchase from on-line stores rather than from "brick and mortar" stores may have a profound impact on future local revenues, creating a new list of winners and losers as local option sales and use tax revenues flow to the purchasers' home localities where products are delivered instead of the localities where the purchases were made.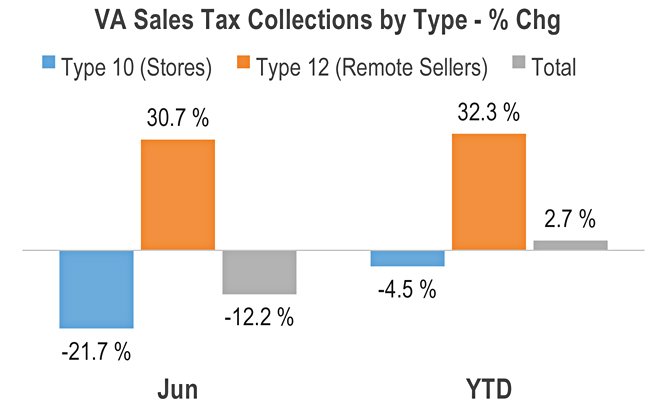 So, what's to be done?Virginia Business Review reported this week hotel revenue declines have worsened during the past week, despite the state operating under Phase Three of Gov. Ralph Northam's "Forward Virginia" plan, which has loosened some gathering and hospitality restrictions. Hotel revenues and rooms sold declined in every major market in Virginia, according to industry sources. Compared to the same week in 2019, revenues fell 70 percent in Northern Virginia, 65 percent in Charlottesville and 34 percent in Hampton Roads.
Economic disruption has upset the housing market (as well as the commercial property market) as the unemployed struggle to pay monthly mortgages and rents. Since the Virginia Supreme Court lifted the moratorium on evictions last month, 7,315 cases have been heard, according to information provided by Virginia Court Data, a private group that makes case records searchable statewide because the information is not available through Virginia courts. Some 9,760 cases are scheduled to be heard through the end of August, making the task of fighting COVID-19 even more difficult when people have no place to shelter or the ability to pay for shelter.
In an opinion piece published this week in The New York Times, the former chairman of the Federal Reserve Bank, Ben Bernanke, offered his opinion on the importance of Congress providing additional financial assistance to states and localities.
He noted that the $800 million stimulus package approved by Congress and President Obama during the Great Recession was partly offset by cuts in spending and employment by state and local governments. Like today, with sharp declines in tax revenue as the economy slowed, states and localities were constrained by balanced-budget requirements to make matching cuts in employment and spending. This fiscal headwind contributed to the high unemployment of the Great Recession, which peaked at 10 percent in late 2009, which is less than today's unemployment rate.
Together with a subsequent turn to austerity at the federal level, state and local budget cuts significantly slowed the recovery.
States and localities are in desperate need of additional federal intervention before the bulk of the CARES Act funding expires this summer. Budget gaps cannot be closed by austerity alone. Relying on spending cuts will result in a curtailment of essential services which in turn could lead to a significantly worse and protracted recession.
Bernanke believes that if Congress enacts a new aid package it must be significantly larger than the initial $150 billion that set up the Coronavirus Relief Fund and must provide not only assistance for state and local governments but also continued support for the unemployed, investments in public health and aid as needed to stabilize aggregate demand and restore full employment.
Leadership from the Democratic-majority House of Representatives and the Republican-majority Senate will begin negotiations next week over the next aid package. A quick resolution will help everyone.
VML Contact: Neal Menkes, nmekes@vml.org
VML Updates
VML Legislative Committee looks at budget, immunity issues
With a special session of the General Assembly coming up on August 18 (date announced today), the VML 2020 Legislative Committee held its first meeting on July 16 and focused on some of the issues likely to be addressed at that session. The committee is comprised of 24 members, chaired by Suffolk Council Member Roger Fawcett; Hampton Council Member Chris Snead is the committee's vice chair.
The committee got a briefing on the state's revenue situation from John Layman of the Virginia Department of Taxation. As the state's chief economist and revenue forecaster, he is privy to the most recent data and projections and reviewed the status of various tax sources both before and after March when the stay at home order went into place. According to Layman, the federal payroll protection program helped larger employers in the Commonwealth. Automobile sales also dropped substantially in April and May but experienced an uptick during June.
A revised revenue forecast for the state will be completed in the coming weeks and released when Governor Ralph Northam addresses the House and Senate budget and finance committees on August 18.
Jim Regimbal of Fiscal Analytics reviewed the state budget actions during the 2020 session and at the reconvened session, when most new or enhanced spending measures were unallotted.
The committee also heard presentations on issues around immunity, potential police reform measures, and risk management impacts.
For the coming session, the committee approved principles for budget items, sovereign immunity issues related to COVID-19, and FOIA.
The committee's next meeting is scheduled for Sept. 10.
VML Contact: Janet Areson, jareson@vml.org
Health & Human Services
VDH now offers COVID-19 key measures and contact tracing information
The Virginia Department of Health (VDH) now offers COVID-19 Key Measures for all regions of the state: Central, Eastern, Northern, Northwest and Southwest. Previously, VDH only provided statewide and Northern Region key measures. The new regional dashboards are available on VDH's Key Measures webpage.
For each region, the following information is now available:
Number of cases by date reported
Number of cases by date of symptom onset
Number of deaths by date reported
Number of deaths by date on the death certificate
Number of testing encounters, number of positive testing encounters and percent positivity
Number of testing encounters by lab report date
Number of hospital beds occupied and available
Number of patients hospitalized with a positive or pending COVID-19 test
Number of hospitals in the region reporting difficulty acquiring personal protective equipment
(PPE) in the next 72 hours
VDH has also begun reporting information related to contact tracing. Contact tracing involves efforts to notify people who may have been exposed to COVID-19 and giving them guidance to prevent them from spreading it.
Contact tracing is a proven public health tool used to prevent further spread of contagious diseases and is used for other contagious diseases like measles and tuberculosis (TB). VDH currently has more than 1,200 contact tracers across the state.
Contact tracing information is available on the VDH COVID-19 Data Insights webpage. The state-level data is updated each Friday.
The ability to report this information is the result of a new data management system at VDH. The data being reported includes the following:
Percent of cases (individuals diagnosed with COVID-19) reached within 24 hours
Number of contacts of cases who are undergoing public health monitoring
Of contacts reached, percent contacted within 24 hours
Percent of contacts that — after multiple attempts — were unable to be reached or have yet to be reached
A seven-day average will be provided in the "Percent of cases reached within 24 hours" category.
VML Contact: Janet Areson, jareson@vml.org
Events & Opportunities
Unemployment Insurance webinar from the Virginia Employment Commission (VEC) rescheduled for July 20
This webinar has been rescheduled from earlier this week to Monday, July 20 at 11:00 AM. Anyone who previously registered will need to sign up again for the new date and time using the link below.
This is a free Unemployment Insurance webinar from the Virginia Employment Commission (VEC) for VML members. Topics to be covered include:
Overview of Unemployment Benefits
Analysis of unemployment data pre-pandemic vs. today
Issues with claims and returning to work
Overview of the Unemployment Insurance Tax
New and pending resources from VEC
Please register for the rescheduled event here:
https://zoom.us/meeting/register/tJwrde6qqT8pHNVajzmlAwsZNVqZYEbdIj1I
You may direct any questions to Ted Kefalas, ted@capresults.net
Invitation to attend Congressional staff briefing on July 20: "University and College Towns Facing Economic Crisis During COVID-19"
Join city leaders from college towns across the nation as they share the current economic trends precipitated by the COVID-19 crisis. The immediate challenges are widespread and include emptied neighborhoods near campuses, struggling businesses and transportation services, and questions on how to support safe returns to campus in the fall. The longer-term threats are becoming clearer as well. These include Census undercounts in dispersed college towns that may mean a lost decade of federal support.
Hear how communities are taking on these challenges as they plan for the safe reopening yet an uncertain recovery ahead.
Date: Monday, July 20th
Time: 1:00PM EST
This event is hosted by The National League of Cities' University Communities Council, the International City/County Management Association (ICMA) and the International Town & Gown Association (ITGA).
NLC Contact: Bryan Griffith, Manager, State League Services, griffithb@nlc.org
Notice of funding opportunity: Virginia Housing Tier 1 Capacity Building Grant
Virginia Housing reinvests a portion of its net revenues into Virginia's communities through REACH Virginia (Resources Enabling Affordable Community Housing in Virginia). This is a multifaceted resource that Virginia Housing uses to support vital housing initiatives through its Homeownership, Rental and Community Outreach programs.
The intent of the Tier 1 Capacity Building Grant is to fund non-profit organizations and developers within the housing network to support the development of a Strategic Plan or Succession Management Plan to aid in expanding efficiency and effectiveness of programs.
Eligibility criteria:
Organization's headquarters must be physically located in Virginia.
Organization cannot be an emerging organization. Organization must have:
At minimum, three years of operations.

Engaged leadership, staff, and volunteers.
Ability to demonstrate fiscal soundness and measurable program outcomes.
Organization must carry out at least one of the following housing-related mission:

Creating economically integrated and inclusive housing opportunities including affordable housing, workforce housing, mixed-income housing, and/or community-based housing options for people with disabilities and/or

Planning and Community Development to include significant attention to housing planning needs throughout Virginia, and/or
Providing services and/or educational opportunities in order to further affordable housing.
Organization must align with Virginia Housing's mission of Helping Virginians Attain Quality, Affordable Housing, and vision of becoming the Leading Mobilizing Force for Affordable Housing in Virginia.
Application Process:
Agencies seeking funding should apply to Virginia Housing's Notice of Funding Opportunity (NOFO) using Virginia Housing's Grants Management System at https://vhdagrants.com/. Applications are due by May 31, 2021; 11:59 PM.
Virginia Housing Contact: For questions concerning this program or assistance with application submission, contact Frank Curbeira, Strategic Housing Officer at (804) 343-5818.
DHCD offering free "Downtown Intersections" virtual conference
The Virginia Department of Housing and Community Development (DHCD) is putting on a 2020 Downtown Intersections Virtual Conference. This interactive, remote learning and asset-based economic development experience will guide participants towards a vibrant downtown and resilient Main Street program.
Dates: July 28-30, 2020
Times: 9:30 a.m. – 1:30 p.m. each day
Registration for this free event is available here >
From DHCD: Whether you own a small business, serves as an elected official, volunteer for a nonprofit organization, or hold a position within the field of community and economic development, Downtown Intersections offers an opportunity to learn best practices in commercial district revitalization for today's climate. 
The conference will begin with a series of live and recorded webinars exploring connection, investment, and recovery, including celebrating the 35th Anniversary of Virginia Main Street and concluding with community Merit Award achievements.
To learn more about sessions, speakers and how to experience the conference, download the conference workbook here >.
DHCD Contact: Kyle H. Meyer, Community Revitalization Specialist, kyle.meyer@dhcd.virginia.gov
CGI to begin offering government clients options to track relief fund spending
VML member business, CGI has begun offering a new suite of services to government clients to help track relief fund spending through revenue and receivables reviews, which includes collecting and analyzing trends and data with a focus on:
Identifying gaps between current operations and best practices
Identifying opportunities to implement change to improve outcomes
Identifying potential areas of fraud and abuse
Timing of receivables coming due and various approaches to collecting on those receivables
More information is available here >.
CGI Contact: Andrew Jennison, Director of Government Relations, andrew.jennison@cgi.com