eNews July 14, 2017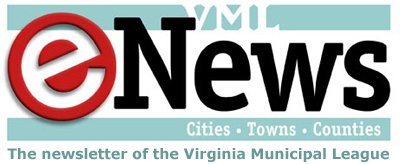 Friday, July 14, 2017 - 11:15am
Deadline extended for Innovation Award entries
The deadline to enter your city, town, or county for the VML Innovation Awards has been extended to August 14. The Innovation Awards recognize outstanding achievements in community health, infrastructure, economic development, public safety, working with youth, and communications.
Download the entry form and read submission details online. All entries must be received via e-mail by 5:00 p.m., Monday, August 14, 2017.
Last year's winners were the Town of Bridgewater, the City of Norton, the City of Newport News, the Town of Warrenton, and the City of Harrisonburg.
Find out who wins the 2017 awards at VML's annual conference in early October and an upcoming issue of Virginia Town & City.
VML contact: Manuel Timbreza, mtimbreza@vml.org
FOIA public comment form and online FOIA officer registration now available
The FOIA Council has added resources for FOIA officers. One is a FOIA officer form to report a locality's officer information and training. Another is a public comment form in the forms and sample letters. With the sample comment form, you may choose to instruct the public to direct responses to your locality rather than the FOIA Council if you wish.
VML contact: Michelle Gowdy, mgowdy@vml.org
JLARC considers future studies
A review of the operation and performance of the Virginia Department of Elections has been approved as a study topic for the Joint Legislative Audit and Review Commission (JLARC) in the coming year.
JLARC's study subcommittee met July 10 in Richmond to discuss potential topics for studies beginning in early 2018. Along with a study resolution addressing a study of the Department of Elections, a study resolution for an examination of the Department of Professional and Occupational Regulation (DPOR) was also given the nod by the subcommittee. Both were subsequently approved by the full Commission later that day.
The study subcommittee also discussed and agreed to have study resolutions drafted for three additional issues: rising inmate health care costs (which could be amended to include jails); the rising costs of foster care adoption and Children's Services Act cases; and the state's workers' compensation system and agency. These issues will be further defined by JLARC staff before draft resolutions are brought forward at the study subcommittee's September meeting.
A third category, involving potential reviews of state agencies, will be discussed as well in September.  JLARC staff will develop issue papers regarding possible studies of the Department of Game and Inland Fisheries, the Attorney General and Department of Law, the Office of the State Inspector General, and the Virginia Employment Commission. If the subcommittee approves any of those issue papers, JLARC staff will develop draft study resolutions for further action by the Commission.
The comprehensive study of the Department of Elections will be the first one done since 1998. In 2008, JLARC conducted a limited review of the Virginia Election and Registration Information System (VERIS), that contains information about all registered voters in Virginia (approximately 5.5 million people). The Departmental study would be completed by December 2018.
In conducting its study, JLARC staff will review whether the Department of Elections 1) adequately supervises and coordinates the administration of elections; 2) sets appropriate training standards and provides adequate training for local electoral boards and general registrars; 3) adequately fulfills all statutory reporting requirements in a timely manner; 4) appropriately maintains required lists of registered voter information and employs adequate practices to ensure they are accurate and up-to-date; 5) effectively, efficiently, and securely administers VERIS; and 6) is organized, staffed, and structured to maintain efficient and effective operations, including internal financial management and records keeping.
The Department of Elections employs 43 staff and was appropriated $14.3 million for Fiscal Year 2018 for its operations. An area of concern for the Department and local registrars is federal Help America Vote Act funds, which have historically been used to assist with modernizing election systems and technology. These funds are projected to be depleted by Fiscal Year 2019.
VML contact:  Janet Areson, jareson@vml.org
Updates to Line of Duty Act administration
The Virginia Retirement System (VRS) and the Virginia Department of Human Resource Management (DHRM) assumed administration of the Line of Duty Act (LODA) on July 1. VRS has a website, valoda.org, with information, resources, and training for employers and eligible employees and volunteers. Another website maintained by DHRM has information about health benefits plans.
Read more about LODA in the July 2017 issue of Employer Update from VRS.
VML contact: Sandy Harrington, sharrington@vml.org
FEMA proposal affects all communities participating in National Flood Insurance Program (NFIP)
FEMA has recently published notice of its intent to adopt a policy for managing minor development activities within floodplains.
This policy proposal stems from a FEMA concern that many relatively minor low-impact activities which meet the definition of "development" within the NFIP regulations (CFR 44) are not being reviewed by participating localities. While none individually are likely to increase risk within the Special Flood Hazard Area (SFHA), the cumulative impacts over time could have that effect.
The draft FEMA Policy Guidance creates a new required process—Review, Assess & Document (RAD)—to manage and permit low-to-no-impact development activities within the SFHA. This process is to be applied to any development activity in the SFHA (defined as any man-made change to improved or unimproved real estate including but not limited to buildings or other structures, mining, dredging, filling, grading, paving, excavation or drilling operations or storage of equipment or materials), and especially for those activities which currently do not require a permit and often for which there is not an existing notification requirement within local building, planning, or zoning codes.
The public is invited to comment on the draft policy. Direct comments to FEMA-Floodplain-Management-Division@fema.dhs.gov by August 23, 2017.
VML contact: Michelle Gowdy, mgowdy@vml.org
Virginia first to opt-in to FirstNet public safety network
On Monday, Gov. McAuliffe signed a letter of intent approving the deployment of FirstNet in Virginia, the first state to approve the network. As AT&T begins to roll out this service, which will allow public safety pre-emption of the network, please keep in mind that contracting with AT&T at the local level is voluntary. While the state was mandated to either opt-in or out, localities do not have to enter into contracts with AT&T. You can use the service that you have currently.
VML contact: Michelle Gowdy, mgowdy@vml.org
Virginia Board of Education holding public hearings on school accreditation, student expectations
The Virginia Board of Education invites families, educators and community members to participate in public hearings about student expectations, school accreditation, and the Every Student Succeeds Act (ESSA) State Plan. They are specifically looking for feedback on:
Changes to high school graduation requirements
Changes to how schools will be accredited in the future
The ESSA State Plan
Conditions and needs of public education, for updating the Board's comprehensive plan and annual report to the Governor and General Assembly
Upcoming public hearings will occur:
Tuesday, July 18 – Harrisonburg
Wednesday, August 9 – Virginia Beach
Wednesday, August 23 – Mecklenburg County
Hearings have already been held June 27 in Fairfax County and July 13 in Wythe County.
RSVPs to Emily.Webb@doe.virginia.gov are appreciated by not required. For more information, visit VDOE's Educational Initiatives web page.
VML contact: Sandy Harrington, sharrington@vml.org
VML policy committees to meet next week
Responding to the opioid crisis, finding a way to measure local fiscal stress, Next Generation 911, local authority over drones, the future of Community Development and Block Grants, the transit funding "cliff," and solar energy policy are all topics to be considered by VML's six policy committees, which will meet July 20 and 21 in the Richmond area.
Thursday, July 20, 10 a.m. – 2 p.m.
Finance
The Finance Committee, chaired by Hampton Councilwoman Chris Osby Snead, will include a presentation on Virginia's financial picture by Jim Regimbal of Fiscal Analytics, as well as a presentation on the creation of tools to measure local fiscal distress by Auditor of Public Accounts Martha Mavredes. The committee will also discuss the Virginia Communications Sales Tax.
General Laws
Chaired by Crewe Town Council Member Phil Miskovic, the General Laws Committee will hear presentations on the use of drones by local public safety by the York County Fire and Sheriff's Departments' joint drone team and Next Generation 911 by VITA ISP Director Steve Marzolf.  The Committee will also discuss legislation regarding wire/broadband, FOIA, firearms in local emergency shelters, pension reform, consumer fireworks, Party ID, and landscape materials.
Transportation
The Transportation Committee, chaired by Harrisonburg Council Member Ted Byrd, will receive a presentation by Jennifer DeBruhl of the Department of Rail and Public Transportation the impending transit funding "cliff," the new Commonwealth Maintenance reimbursement funds, and WMATA transportation funding issues. The Committee will also discuss potential language regarding a floor for regional tax taxes.
Friday, July 21, 10 a.m. – 2 p.m.
Community & Economic Development
The Community and Economic Development Committee, chaired by Marion Town Manager W.T. "Bill" Rush, will receive a presentation from Chris Lloyd, Senior VP and Director, Infrastructure and Economic Development, McGuireWoods Consulting on GO Virginia and short-term rentals.  The Committee will also receive an update on the CDBG grant program from Matt Weaver of the Department of Housing and Community Development. Steve Marzolf from VITA will discuss the Next Generation 911 program and staff will provide updates on proffers, land use, and broadband. The Committee will meet jointly with the Environmental Policy Committee to hear a presentation on the future of solar energy.
Environmental Quality
Chaired by Falls Church Council Member Daniel Sze, the Environmental Quality Committee will cover a number of other issues in addition to the joint solar energy presentation and discussion with the Community & Economic Development Committee. The Committee will discuss the issues of supporting green economy efforts, solar/wind farms, etc., as a way to further Virginia's economic development efforts, as well as the issue of regional greenhouse gas initiatives.
Human Development & Education
The Human Development & Education Committee, chaired by Virginia Beach Councilwoman Shannon Kane, will receive three presentations: first, on the opioid crisis and potential policy responses to this issue by Jodi Manz, policy advisor for the Office of the Secretary of Health & Human Resources; second, on current studies and initiatives regarding mental health and services provided by Community Services Boards (CSBs) by Jennifer Faison, executive director of the Virginia Association of Community Services Board; and third, on education funding issues by Jim Regimbal of Fiscal Analytics. The Committee will also discuss the decriminalization of marijuana and receive staff updates on special education and CSA, and the study on the future of public education.
Local governments nominate members to serve on these committees each year. At the meetings, members learn about issues facing the committee on which they serve and talk about those issues with colleagues from around the state. The committee then develops policy positions for the policy statement and recommends legislative positions for consideration by VML's legislative committee. VML membership votes on these statements and legislative positions at the annual business meeting.
All policy committee meetings will be held at the VSCPA Center in Glen Allen. Look for a recap of the meetings in future issues of eNews.
VML contact:  Janet Areson, jareson@vml.org
Resources on using new media for local leaders available
Masters of Public Administration (MPA) students at the George Mason University School of Policy and Government have produced two resources on new communication tools for local officials.
A PDF guide provides information how elected Virginia leaders can develop an effective social media presence, understand Virginia's related laws, and better navigate the social media roadway. It looks at evolving policies counties and cities have adopted or might wish to consider.
A presentation offers additional resources to help municipal leaders see, hear, and learn how different jurisdictions in the Commonwealth are utilizing these emerging tools. For more information about this project, please contact Frank Shafroth, director of the George Mason University State and Local Government Leadership Center, at fshafrot@gmu.edu.
Virginia housing commission neighborhood transitions & residential land use work group
This group met on Wednesday of this week to discuss two issues.
The first issue is a bill from Delegate Carr from 2017, HB1934, and Senator Dance, SB 1173, dealing with civil penalties when there are an excessive number of emergency calls to the same property. Chief Alfred Durham of the Richmond Police Department and his staff listed hotel properties and the number of service calls that they receive each year in relation to other properties as well as the burden it places on their department. They explained that any tools that could be used to reduce the number of calls would be helpful and backed this legislation. There were also speakers from Housing Opportunities Made Equal and the Virginia Poverty Law Center that pointed to guidance from the US Department of Housing and Urban Development dated September 13, 2016, which discusses how the Fair Housing Act and enforcement of local ordinances that involve persons who require police or emergency services interplay. After a rather lengthy discussion, it was decided that there needs to be different language for a proposed bill and Chip Dicks representing the Virginia Association of Realtors committed to drafting a proposal.
The second issue related to smoke detectors and carbon monoxide alarms and the perceived code conflicts. Virginia Code Section §15.2-922 allows localities to enact ordinances to require that smoke detectors be installed in various types of buildings in compliance with the Uniform Statewide Building Code (USBC). Once installed, the code requires that a tenant be provided a certificate that the smoke detectors are in working order. On or about July 26, 2013, the Office of the Attorney General opined on this code section as it relates to "retrofit" of buildings for compliance with the USBC this opinion arguably makes the code section unnecessary given the USBC. This conflict between the code and the Attorney General's opinion is what this work group seeks to rectify. In preparing for this meeting, many other code sections were discovered that mention smoke detectors (§36-99.5, §55-225.4, §55-248.13, §55-248.16, §55-248.18) and the discussion was broadened to review and ensure that all of the code sections are consistent. A draft bill is now being created and is expected to be available in late August.
VML contact: Michelle Gowdy, mgowdy@vml.org
Utility pole exemptions workgroup
A workgroup talking about utility pole exemptions in the Uniform Statewide Building Code (USBC) met last week. Both Verizon Wireless and the Virginia Cable Telecommunications Association (VCTA) had submitted comments on proposed changes to the USBC. Proposed changes begin on page 463. There is expected to be another draft to the proposed changes in the upcoming weeks that is the outcome of the workgroup meeting, however, it is still a work in progress.
VML contact: Michelle Gowdy, mgowdy@vml.org
FOIA Proprietary Records and Trade Secrets Subcommittee
The subcommittee met on Tuesday of this week and went through a draft of changes to §2.2-3705.6 which include in most sections removing the word "proprietary" and just using the word "information."   They are creating yet another draft that will be placed on their website before their August 1 subcommittee meeting. After this review, it will be brought to the full FOIA Council at their August 14 meeting.
VML contact: Michelle Gowdy, mgowdy@vml.org
​
July 20-21: VML policy committee meetings, Richmond
July 24: Virginia Code Education Conference, Charlottesville
Aug 1-2: Resilient Virginia Conference, Richmond
Aug 2: Go Green Virginia seminar, Richmond
Aug 2: Budgeting Leadership Academy workshop,Richmond
Aug 3: Budgeting Leadership Academy workshop, Hampton
Aug. 18: VML Legislative Committee meeting, Richmond
Oct 1-3: 2017 VML annual conference, Williamsburg
Oct. 15-17: VBCOA school and conference, Virginia Beach