eNews July 12, 2019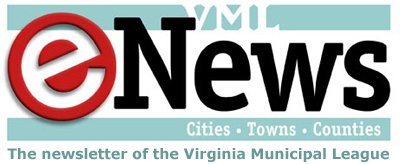 Friday, July 12, 2019 - 02:27pm
In this issue:
Report on the anti-climactic special session
The General Assembly came to Richmond on Tuesday at the request of the Governor to review several pieces of gun legislation. When I arrived at the Pocahontas building at 8:20am it was eerily quiet and empty. When I left the building at 8:55am there were lines of people around the block, boxes of stickers and colored t-shirts and the Capital grounds were full of people holding signs and expressing their opinions.
At approximately 10:30am, VML and VACo held a meeting with our locality legislative liaisons and then waited to watch both chambers go into session. We didn't know if this day would start a week's worth of deliberations or just an hour's worth. When the Senate made a motion to continue the session to November 18, one of my colleagues said, "Surely the House won't do that!" Of course, they did.
As the Senate Courts Committee met upon adjournment, Twitter was telling us that all the bills would be studied by the Virginia Crime Commission. The tension in the packed room was thick and everyone was on the edge of their seat wondering if the rumors were true. The chairman, Senator Obenshain, opened the meeting and appeared very stern as he took only a few questions. Finally, the motion was made to first withdraw Senator Norment's bill (which would have made it a felony to have a firearm in any municipal building including law enforcement) and then to send all legislation to the Crime Commission.  A few Democrats made comments and appeared to be shocked by the proceedings; but it was clear Senator Obenshain had a mission to complete. Soon thereafter, the House accomplished the same mission, and everyone went home.
VML Policy Committees meet on July 18th and will discuss what happened at this "if-you-blinked-you-missed-it" special session and will review our current policy language in the General Laws Policy Committee. That language can be found here:  2019 Policy Statement. If you have comments, please send them to me before July 18.
VML Contact: Michelle Gowdy, mgowdy@vml.org
"Good news" masks hard truths
Virginia is on a roll! The Richmond Times Dispatch reported this week that state general fund tax collections blew past the official forecast by a whopping $778 million in the fiscal year ending June 30.
The revenue surplus includes roughly $450 million in refunds that Gov. Ralph Northam and the General Assembly have promised to return to taxpayers.
The Commonwealth also received a "shout out" from the CNBC network. The business network crowned Virginia as the top state for business in 2019, marking the fourth time in 13-years that Virginia was designated. CNBC cited Amazon's decision to develop a second headquarters in Northern Virginia, the general high-quality of the state's workforce, Virginia's right-to-work law, and the state's higher education institutions.
However, a decent poke at the good news reveals some unsettling facts. First, all the revenue growth came from non-withholding income taxes, which are collected in estimated payments by taxpayers.  State budgeteers consider this revenue to be volatile and not reliably predictable. The most predictable revenue sources are payroll income taxes and sales taxes, and these two revenues finished about $36.8 million less than projected.
Also, consider that the 2019 legislative session appropriated an additional $1.6 billion over the actions taken by the 2018 session. Of that amount, K-12 direct aid spending increased by a net $55 million from the state general fund plus another $30 million in lottery proceeds. Teacher salaries were boosted another 2 percent to a 5 percent increase for the biennium, but the extra sweetener doesn't begin until September 1, 2019.  This leaves it up to cities and counties to plug the 2-month salary gap in addition to paying the entire compensation increases for teachers and other school staff not covered by the state's Standards of Quality formula.
The Pew Charitable Trusts recently released a report entitled the 'Lost Decade' Casts a Post-Recession Shadow on State Finances, concluding that despite almost 10-years of national economic recovery, strains from the 2007-09 downturn still linger in many states.
The report examined the percentage changes in several key areas of state government services, adjusting for inflation over the past ten years. In Virginia, state spending in higher education and elementary and secondary education stumbled 15 percent and 10 percent, respectively. The costs for these services did not decline but state financial commitments failed to keep up. Virginia's funding strategy during this time period was to push greater financial obligations on college students, their families and local governments.
This is a strategy that still resonates today notwithstanding this week's good news.
VML Contact: Neal Menkes, nmenkes@vml.org
VML Innovation Awards deadline reminder
The deadline to submit your locality's project for the 2019 Innovation Awards is coming up on August 12. The Innovation Awards celebrate all that our members do to make their city, town or county a great place to live. Awards will be presented in seven categories: Community Health, Economic Development, Environmental Quality, Public Safety, Working with Youth, Communications and Risk Management. One of the winners also will receive the coveted President's Award for Innovation.
The Innovation Awards will be presented at the closing luncheon on Tuesday at the annual conference.
Additional information about the categories and submissions are available here.
VML Contact: Manuel Timbreza, mtimbreza@vml.org
State and Local Legal Center publishes Supreme Court information for localities
The SLLC's Executive Director Lisa Soronen has made available her organization's review of recent Supreme Court decisions that affect localities as well as a preview of what's to come. You can access the short version of these reports below:
The long versions will be reprinted in upcoming issue of VML's magazine Virginia Town & City.
VML Contact: Michelle Gowdy, mgowdy@vml.org
Latest Virginia population projections available
On July 1, 2019, the Weldon Cooper Center released the latest round of 2020-2040 population projections for Virginia and its localities.
The projections show that while the pace of growth is slowing, Virginia is expected to add more than 650,000 residents in this decade, reaching 8.65 million by 2020. Projections also show that the growth across the Commonwealth has been uneven, with a significant rural-urban divide, and that by 2020, one in seven Virginians will be over 65.
You can view the total projections by county and city as well as projections by age and sex and for large towns on this page; you will also find an interactive map, the methodology, and related articles, including the Weldon Cooper Center's press release.
You may contact Shonel Sen at shonel.sen@virginia.edu if you have questions.
2019-2020 edition FOIA / COIA guide now available
VML has updated its annual guide on the Virginia Freedom of Information Act, Virginia Conflict of Interests Act and the Virginia Public Records Act. This guide is designed to help local government officials become familiar with their obligations under these statutes. Since the acts set out the guiding principles for conducting public meetings, the more that local officials are familiar with it, the more efficiently meetings will be run. Download the guide here.
VML Contact: Michelle Gowdy, mgowdy@vml.org
National League of Cities housing report released
The National League of Cities has released Homeward Bound – The Road to Affordable Housing – a comprehensive affordable housing report resulting from the work of the NLC's housing task force. The report focuses on the challenges and solutions communities large and small are using to address the nation's growing affordable housing crisis with cities, towns and villages on the front lines. Reflecting the collaborative work of over 20 bipartisan community leaders, the report offers several policy actions and gives a comprehensive overview of the history and factors behind the crisis, as well as case studies from cities launching innovative solutions and recommendations from experts.
Questions about the report should be directed to Bryan Griffith – Manager, State League Services, National League of Cities (NLC) at griffithb@nlc.org.
VML Annual Conference updates and reminders
The staff of VML hopes everyone is having a fun, relaxing summer. But summer doesn't last forever (even if it is nice and long in Virginia) and soon we'll all be in Roanoke for the 2019 VML Annual Conference in October.
Some things know:
Program updated: We continue to update the conference program. You can always access the latest version using the "Preliminary Agendas" link here.
Exhibit booths filling up: Space in the Hotel Roanoke is limited so don't wait to reserve your booth.
Sponsorship opportunities abound: This year we are pleased to offer a variety of sponsorship levels and a la carte options. Learn more here.
We look forward to seeing everyone in the Star City!
VML Contact: Rob Bullington, rbullington@vml.org