eNews July 10, 2020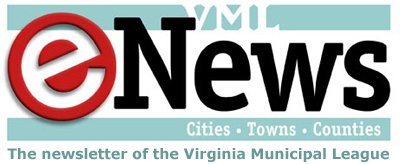 Friday, July 10, 2020 - 04:44pm
In this issue:
Broadband
VATI notice of application deadline coming up on Monday, July 13
The Virginia Telecommunications Initiative (VATI) notice of application deadline is coming up on July 13th. To apply, interested applicants must provide a notice to the Virginia Department of Housing and Community Development (DHCD).
A sample application notice format is available here.
Submission of the notice does not bind a locality to applying but is a requirement for eligibility to apply for the FY 2021 round of funding. Notices of applications may be submitted to the following email address: vati@dhcd.virginia.gov.
VML will communicate information and updates about these issues as they become available.
VML Contact: Michelle Gowdy, mgowdy@vml.org
VML Events
VML's first ever virtual Newly Elected Officials conference is a wrap!
Over 70 new and veteran local officials joined VML staff, subject matter experts and experienced elected officials from locations throughout Virginia Thursday afternoon and Friday morning this week to learn the "rules of the road" for elected officials and to get some valuable advice.
Attendees heard a moderated discussion on the ABCs of local government from current VML Executive Committee members Willie Green, Councilmember, City of Galax; Anita James Price, Councilmember, City of Roanoke; and Bill Rush, Town Manager, Town of Marion. These local leaders brought a combined 50 years of experience making local government work.
Similarly, Bob Coiner, Mayor of the Town of Gordonsville (and past President of VML) and the town's manager Debbie Kendall offered lessons learned after decades of experience with the council-manager form of government; budgeting was covered by Amelia Marchant, the City of Roanoke's Budget Director since 2010.
As in years past, the conference provided important information needed by all elected officials in Virginia. FOIA/COIA rules and requirements covering local officials came from Alan Gernhardt from the Council for the Virginia Freedom of Information Act Council and Rebekah Stefanski, Staff Attorney for the Ethics Council. Elizabeth Southall of Zunka, Milnor, and Carter/VRSA, clearly outlined the niceties of liability for public officials.
Since local officials need to know what's happening at the state level that may affect their localities, Michelle Gowdy, Executive Director, Virginia Municipal League provided a legislative update from the most recent session and spoke to legislative items on the horizon.
VML partners also offered information. Katie Colten from the National League of Cities talked member engagement and Bob Lauterberg and staff from VML/VACO Finance discussed local government financing.
Of course, even though all these things were possible virtually, the in-person socializing and networking that make these conferences an even more valuable experience are not as easily replicated online. Hopefully, we can all get together soon! Until then, VML will be rolling out ways for new and veteran officials to interact including online forums coming soon. Stay tuned!
VML Contact: Rob Bullington, rbullington@vml.org
Health & Human Services
Senate committees discuss criminal justice reform
Public comment open until July 31
The Senate Judiciary Committee and Senate Commission on Rehabilitation and Social Services met July 9 to begin discussing issues surrounding criminal justice and law enforcement reform. The meeting was held in a virtual format; the recording of the meeting will be archived and available to view on the Senate's website here >.
The Committees heard presentations from Secretary of Public Safety and Homeland Security Brian Moran on issues related to state correctional facilities including the impact of COVID-19 as well as the parole of state inmates. Laurie Robinson, a professor of Criminology, Law and Society at George Mason University, presented on criminal justice reform issues and Kim Rolla of the Legal Aid Justice Center talked about law enforcement civilian review boards.
Rolla told Committee members that three localities in Virginia currently have civilian review boards:  the cities of Charlottesville and Virginia Beach and the county of Fairfax. She said that many more jurisdictions are looking into establishing such bodies. While communities and their police departments are all different, she said that people will likely look to the state to remove barriers to establishing boards and other guidance.
Members of the committees were particularly interested in learning more about review boards. Questions addressed issues of representation and whether these boards were known to lead to fewer lethal police actions and/or enhance community trust.
The Committees are seeking public comment on issues of criminal justice and law enforcement reform.  Written testimony may be submitted by July 31 to public_comment@senate.virginia.gov.  Members of both committees will receive copies of submissions.
VML Contact: Janet Areson, jareson@vml.org
VDH updates: Contract tracer hiring progresses; table-top exercises begun with higher-education
The Virginia Department of Health has met its preliminary hiring goal for contact tracers and continues to hire more to meet goals for regional surge teams and to allow VDH staff originally deployed for contact tracing to return to their regular duties.
The state continues its work integrating systems and data with an alert system donated by the Mitre Corporation. Furthermore, the state's continuous quality improvement processes are being used to determine what is working effectively and to share best practices across the state.
State staff are working with community partners, including higher education to determine how best to conduct tracing in a college/university setting.
VML Contact: Janet Areson, jareson@vml.org
Education
"Education & Schools" resources added to VML website
With more attention being given to questions about schools reopening, VML has added a new "Education & Schools" section to our resources page. Initial offerings include:
We will continue to update and add information on this topic as it becomes available.
VML Contacts: Rob Bullington, rbullington@vml.org; Jessica Ackerman, jackerman@vml.org
Events & Opportunities
"Virginia's Aging Water Infrastructure" webinar available to VML members
Virginia's aging water and sewer infrastructure is a growing problem for municipalities, utilities, and the homeowners they serve. Due to VML's partnership with NLC's Service Line Warranty Program offered by HomeServe, our members can attend a webinar on "Virginia's Aging Water Infrastructure – Challenges and Solutions for Municipalities, Utilities and Homeowners."
This webinar will pose solutions that can help:
Recover lost revenue
Improve public and private infrastructure
Educate and protect homeowners
Assist disadvantaged citizens in your community
Date/Time: Jul 21, 2020 11:00 AM in Eastern Time (US and Canada)
Register at https://zoom.us/webinar/register/WN_xHa17OwoSSWNIEekdcOcGQ
VML Contact: Rob Bullington, rbullington@vml.org
"Wireless Communications in Transit" conference happening July 21-22
This conference aims to understand the current relevance and future potential of wireless technology deployment in transit. It will explore issues concerning regulatory guidance; planning, funding, and procurement; the available solutions; and best practices.
This year the conference will be held virtually with no-fee registration to transit agencies and government organizations to facilitate their participation.
Plan to attend July 21st and 22nd, 11am-4pm ET on both days.
Agenda and Registration here >
The conference is offered by the Global Mass Transit and the Government Wireless Technology & Communications Association (GWTCA).
GWTCA Contact: Shivani Saxena, Director, shivani.saxena@globalmasstransit.net
Two episodes left for Oracle's Community Development webcast series
Join Oracle to learn more about their cloud-based Community Development solution for cities, counties, states, and special districts. These 30-minute webcasts dive into one aspect of Oracle's solution for Building, Planning and Code Enforcement departments.
Register here for one or both of the following (all starting at 10:00 AM EST)
August 5– Code Enforcement
September 2– System Administration
Oracle Contact: Roger Keren, Citizen Experience Manager, roger.keren@oracle.com
VAPDC's Summer Series has begun; offerings still available
VAPDC began its virtual conference summer series on July 9. However, registration for the remaining individual sessions remain open. Next up:
July 16 – Travel, Tourism and Leisure – Seeking to be Stronger (following by VAPDC Annual Business Meeting @11:30 am). A panel of presenters to discuss travel, tourism, and leisure in the recovery phase of COVID-19. The panel will include:
Rita McClenny, President and CEO, Virginia Tourism Corporation
Eric Terry, President, Virginia Restaurant, Lodging and Travel Association
Cassidy Rasnick, Deputy Secretary of Commerce and Trade, and Director of the Office of Outdoor Recreation, Commonwealth of Virginia
The speakers' bios are available here >.
Future offerings include:
July 23– Transportation and Mobility Reimagined — Making it Future Ready. Details available soon.
July 30– Virginia's PDCs: Regional Responses and Resources. Details available soon.
Registration for any of the above sessions is available here >
Participants will receive login information prior to the event(s) for which they have registered with instructions for joining the meeting and any applicable details and handouts.
VAPDC Contact: David Blount, DBlount@tjpdc.org