eNews July 1, 2022

Friday, July 01, 2022 - 03:47pm
---
This edition of eNews is sponsored by:

Custom Tree Care – Disaster Response has a  fleet of company owned equipment and a staff highly trained in FEMA's reimbursement procedures to quickly manage large amounts of storm debris as well as assist our clients in obtaining all FEMA Public Assistance reimbursements. Read more >
---
In this issue:
Economy
Happy (Fiscal) New Year!
As we head into the Fiscal New Year long weekend, the moment calls for reflections on the FY that was – and anticipation of the FY that will be – with some New Year's resolutions for continued self-improvement.
First, the reflections…
Historically, times of increased economic pressure on Virginia families have translated to more candidates for state office calling for reductions to local taxes.
Virginia has, again, entered one of those heightened periods.
In 2005, both major party candidates for Governor included a form of real estate property tax relief on their campaign platform (real estate taxes have been solely a source for local revenue for a century).

Then-Attorney General Kilgore called for a constitutional amendment requiring a cap on property tax increases unless they are authorized by referendum.
Then-Lieutenant Governor Kaine called for a constitutional amendment that would allow local governments to lower property taxes on residential homes by up to 20%, or $100,000 (a.k.a., 'The Homestead Exemption').

'The Homestead Exemption' was very popular, passing the General Assembly overwhelmingly in 2007, used as a bipartisan campaign platform plank in the 2007 state elections by Delegates and Senators, and then unceremoniously defeated in the State Senate in 2008 when many Senators who voted yes in 2007 switched their votes to no.

In 2021, then-candidate Glenn Youngkin included Jerry Kilgore's old call for a referendum requirement for property tax increases in a list of policy priorities released by his campaign.

In 2022, Governor Youngkin endorsed Delegate Tara Durant's (R-Stafford) bill, which would have enacted the policy, but this major change was removed from the legislation at the last minute.
Next year, with all Delegates and State Senators on the ballot, you can be sure this bill – or constitutional amendment – is coming back during session and during the fall campaigns.
Now, the Fiscal New Year's resolutions…
Government by referendum is not a solution, it's an abdication of leadership.
Arbitrary mandates from the state may sound good, but they do not solve problems for Virginia's counties, cities. and towns, they just create more.
The message for 2023 and beyond: Protect Local Power!
VML Contact: Carter Hutchinson, chutchinson@vml.org
Cybersecurity
New Cybersecurity reporting requirement starts today
Legislation passed by the 2022 General Assembly Session (HB1290 / SB764) created a cyber security reporting requirement for localities. Effective today (July 1, 2022) public bodies must report any known incident threatening the security of the Commonwealth's data, communications, and/or results in the protected data being exposed. Additionally, other incidents compromising the security of the public body's information technology system or incidents that may cause major disruptions to normal activities must be reported.
All incidents meeting the criteria outlined above must be reported to the Fusion Center within 24 hours from when they are discovered.
Over the past few months, a cyber incident work group met to create the form used for incident reports, determine what constitutes an incident, and determine what must be reported to the Fusion Center within 24 hours.
What is an Incident?
An incident is defined as "an adverse event to IT (system, network, services, etc.) that results in damage, loss (of money, access, services, or data integrity or confidentiality), or other negative impacts on the organization."
How To Report?
The form to report a cyber incident to the Fusion Center can be found at www.reportCyber.virginia.gov. The form consists of a series of basic questions that allow the Fusion Center to collect data on the incident that occurred as well as provide any assistance a locality may need.
Questions consist of items such as type of incident, point of contact, further assistance necessary, when incident happened, and type of entity effected. Frequently asked questions are at the bottom of the form.
What must be reported to the Fusion Center?
To fulfill the reporting requirement, a public body can either fill out the reporting form or call the Fusion Center directly. Information that must be reported is stated on the frequently asked questions page and is outlined in the definition of an incident.
The Fusion Center shall then determine whether the Virginia Information Technology Association (VITA) or the Virginia Department of Emergency Management (VDEM) should be involved.
Public bodies should also be sure to contact their insurance carrier immediately following an incident.
VML Contact: Josette Bulova, jbulova@vml.org
VML News
VML Legislative Committee looks at finances, marijuana, housing
Housing, Airbnb, unfinished issues around marijuana and local authority, and finances were among the issues addressed during the VML Legislative Committee meeting on June 30. Harrisonburg Mayor Deanna Reed serves as Committee Chair; Waynesboro Councilmember Terry Short serves as Vice Chair.
VML policy staff reviewed the outcome of the 2022 legislative program and highlighted major bills of interest from the 2022 Session. The committee then received a briefing on the status of state finances from VML economic consultant Jim Regimbal of Fiscal Analytics.
Margaret Rockwell, counsel with McGuireWoods Consulting, presented findings of a study regarding zoning and segregation and presented recommendations for both local governments and the state to address the issues identified in the study.
Challenges to local governments regarding administration of Airbnb regulation were discussed by VML Executive Director Michelle Gowdy.
Jeremy Preiss, acting head and chief officer of the Virginia Cannabis Control Authority, gave the Committee a report on the status of implementation of Virginia's marijuana laws.
The Committee then discussed taxation issues and challenges to local government authority.
Finally, the Committee referred several issues to the five VML policy committees. These issues include swatting (i.e., reporting false information to draw an emergency response), housing and zoning authority, Airbnb authority, jail per diems and local subsidizing of state inmates in local and regional jails; use of state electric vehicle charging stations; and the future of the grocery tax and transportation funding. In addition, a subcommittee of the Legislative Committee will re-examine its position on marijuana and related local issues, including referenda and local taxing authority.
The Committee will meet next in early September.
VML Contact: Janet Areson, jareson@vml.org
VLGMA elects board members and officers
VLGMA is a statewide professional association of more than 300 local government management leaders and management staff. It is a state affiliate of the International City County Management Association (ICMA). VML serves as the Association's secretariat.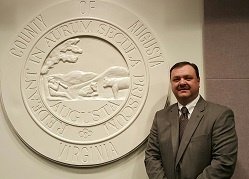 Augusta County Administrator Tim Fitzgerald (pictured) is the new president of the Virginia Local Government Management Association (VLGMA), which elected officers and members of the executive committee during its annual conference in June.
Joining Fitzgerald as an officer is Manassas City Manager William "Pat" Pate as President-Elect; manager-in-transition Steve Rosenberg as First Vice President; Gordonsville Town Manager Deborah Kendall as Second Vice President; Amherst Town Manager Sara McGuffin as Third Vice President; and Colonial Beach Town Manager India Adams-Jacobs as Secretary.  Montgomery County Administrator Craig Meadows is the Immediate Past President.
Elected to the 12-member Executive Committee for a two-year term are Fluvanna Assistant County Administrator Kelly Harris; Vinton Assistant Town Manager Cody Sexton; Orange Assistant County Administrator Stephanie Straub; Hanover Deputy County Administrator Jim Taylor; Bedford Town Manager Bart Warner; and Greensville County Administrator Dr. Charlette Woolridge.
Smyth County Administrator Shawn Utt was elected for a one-year term on the Executive Committee.  Those continuing for a second year of a two-year term are Wythe Assistant County Administrator Matt Hankins; Emporia City Manager William Johnson; Vienna Town Manager Mercury Payton; Warrenton Town Manager Brandie M. Schaeffer; and Southampton County Administrator Brian Thrower.
VML Contact: Janet Areson, jareson@vml.org
General Laws
HB206 workgroup on small solar developments begins work
The Department of Environmental Quality, along with a variety of agencies, has convened a work group to address small scale industrial solar development stormwater impacts and permitting concerns. This work group has been convened as directed by HB206 (Webert) which passed the General Assembly earlier this year.
HB206 creates new requirements for permit by rule small scale solar developments to identify adverse impacts to prime agricultural soils, forests, historic resources, or wildlife due to development. DEQ is directed to develop regulations as to how these determinations will be made and what mitigation efforts will be required or appropriate to address these impacts.
DEQ has convened a stakeholders work group of representatives from solar development companies, agricultural interests, the forest industry, local government, environmental groups, and state agencies. This work group is convened to provide input on regulations that DEQ will develop to identify when significant adverse impacts from a solar development are likely to occur. Criteria will be developed for a permit applicant to mitigate any adverse impacts expected to occur because of the project.
The first meeting of the work group occurred June 28, 2022, in Richmond and was primarily an organizational meeting which served to form sub-work groups tasked with considering recommendations developed on a consensus basis for specific stakeholders. The local government sub-group is meeting the morning of July 11 in Richmond and non-work group members and stakeholders are welcome to attend.
The recommendations of the full work group will be used to develop regulations which could impact local permitting processes as they pertain to small scale solar projects. These could impact local authority during the permitting process. We will continue to update members on future meetings and activities of the work group.
VML Contact: Mitchell Smiley, msmiley@vml.org
Virginia Delegation of the Uniform Law Commission meets; discusses model act related to electronic meetings
Earlier this week the Virginia Delegation of the Uniform Law Commission (ULC) met to discuss various uniform law issues and model acts to prepare for their annual meeting later this summer. One of the model acts being proposed is how Virginia conducts electronic meetings, specifically mentioning HB444 (Bennett-Parker) which VML worked on this past legislative session.
A model act is one where a state provides legislation, code sections, and other information about something that has worked best for them and believes other states could use it as a guideline. This does not require any other state to match what has been done verbatim and does not require uniformity across the nation.
The Virginia ULC has decided to propose electronic meetings during an emergency as a model act rather than a uniform law because there is no "one size fits all" formula. Every state has different regulations, forms of government, and types of emergencies thus making a uniform law difficult to create.
As a reminder, HB444 changes the Code of Virginia to pivot from the current law – in which electronic meetings can only be held under a state of emergency – to allowing electronic meetings for all public bodies that are not a local governing body, local school board, planning commission, architectural review board, zoning appeals board or board with the authority to deny, revoke, or suspend a professional or occupational license. A locality still must have an electronic meetings policy. Electronic meetings can only be used for two or 25 percent of the meetings per year and there are rules on the public access.
It's worth noting that this bill did not pass in a final form preferred by many of the stakeholders. VML, VACo, and the Free Press Association worked diligently over the 2022 General Assembly Session to get a bill passed that would have allowed local governments and other public bodies to also meet electronically outside of a state of emergency – but this did not happen.
Current code about meetings during a declared of emergency allows governing bodies to meet virtually to conduct business. However, this only applies to emergency situations and fits within existing open meeting statues through the Freedom of Information Act.
Virginia ULC decided that the model act being proposed to other states will not utilize HB444. Rather, the model act includes elements of the Code of Virginia, such as specifying that a meeting will be held virtually, clearly stating the reason for a virtual meeting, what type of technology will be used, and how members of the public may attend and speak at the meeting.
During the commission's meeting, it was noted that Virginia is ahead of the curve on virtual meetings and the Commonwealth is well positioned to be a model state for electric meetings during an emergency.
VML Contact: Josette Bulova, jbulova@vml.org
Opportunities
FEMA webinar for Federal Flood Risk Management Standard for Public Assistance coming in July
LINK TO PDF
FEMA will host webinars for federal, state, local, tribal, and territorial emergency response planners to provide information and gather feedback on Partial Implementation of the Federal Flood Risk Management Standard for Public Assistance.
Background
On June 3, 2022, FEMA announced its release of the Partial Implementation of the Federal Flood Risk Management Standard for Public Assistance (Interim) which provides elevation requirements for actions involving structures located in a designated floodplain. The Federal Flood Risk Management Standard (FFRMS) is a flood standard established to increase community resilience to flooding. This policy implements the portion of FFRMS that sets a higher elevation standard for structures in floodplains.
This policy establishes requirements for elevating and floodproofing structures funded under the Public Assistance (PA) program. Requiring use of the FFRMS will help ensure that the federal investment in structures is spent in a manner that improves community resilience. The policy defines elevation and floodproofing requirements for structures within the 100 and 500-year floodplains. The costs associated with elevating and floodproofing structures to meet the requirements of this policy are eligible for Public Assistance funding.
Webinars – July 6th and 8th
FEMA has specified sessions for tribal governments and state and local governments to ensure they receive this information directly. However, each webinar will cover the same information; choose the session most convenient for you.
Webinar for tribal partners: Wednesday, July 6, 2022 from 2 P.M. ET till 3 P.M. ET. You can join the webinar via this link:
Webinar for state and local partners: Friday, July 8, 2022 from 2 P.M. ET till 3 P.M. ET. You can join the webinar via this link:
View/Download a PDF with information and links here >.
Contact: If you have any questions, please contact FEMA Office of External Affairs:
Alliance for the Chesapeake Bay: New funding opportunities and resources available
The Alliance for the Chesapeake Bay has announced new funding opportunities, resources, and trainings for local governments.
NOAA Infrastructure Funding Opportunities – This easy-to-understand summary of new and expanded funding under the infrastructure law provides clear deadlines and links to relevant programs. There are millions of dollars flowing through NOAA that local governments can access for coastal resilience, flood prevention, trash cleanup and more!
New Land Use/Land Change Data – This new hyper-resolution data was discussed at the alliance's November 2021 meeting and the final version has just been released. The data can be used to inform comprehensive planning, zoning, stormwater and more.
Chesapeake Urban Stormwater Professionals (CUSP) – The Chesapeake Stormwater Network just launched this new, FREE, professional training program that's a great opportunity for newer local government staff who are tasked with administering MS4 permits, handing stormwater plan review or implementing local watershed restoration plans.
Alliance for the Chesapeake Bay Contact: Laura Cattell Noll, Coordinator – Local Leadership Workgroup Local Government Projects Manager, lnoll@allianceforthebay.org