eNews January 15, 2021

Friday, January 15, 2021 - 08:19pm
In this issue:
Bills with additional explanation
Labor and Commerce / Commerce and Labor
---
This edition of eNews is sponsored by:


Dominion Energy is committed to building a more sustainable future. We're doing that by partnering with communities to deliver reliable, clean and affordable energy through advancements like smart grid technology, interactive LED streetlights and electric public transportation.
Action Alert
Oppose bill mandating November local elections to be heard in Senate Local Government Committee Monday
In its first meeting of the 2021 session, the Senate Committee on Local Government will hear SB1157 (Spruill), which would mandate that all localities with the exception of the City of Norfolk move their council and school board elections to November.
For details on why VML opposes the bill, and for contact information for member of the Committee, please refer to our SB1157 One Sheet here.
To contact your legislators, you can find their emails and both their district office and their Richmond office phone numbers here:
The Senate Committee on Local Government meets Mondays at 9:00 a.m. Meetings are available on the Senate Live Stream page and can be viewed live and in the archive.
VML Contact: Jessica Ackerman, jackerman@vml.org
General Assembly
VML 2021 General Assembly Resources page now available
VML is pleased to make available its 2021 General Assembly Resources page.
Links to helpful content are organized by subject:
We encourage you to bookmark this page and refresh it regularly as we add new content and update links to existing content as needed.
VML Contact: Rob Bullington, rbullington@vml.org
2021 General Assembly Session: Overcoming virtual challenges to meet, include the public
With the House and Senate holding committee and subcommittee meetings virtually, both chambers have developed more advanced ways since the Special Session to allow members of the public to watch meetings and address a bill before a committee or subcommittee.
House SPEAK
The House is using a new tool called SPEAK to allow the public to sign up to speak to bills during House committee and subcommittee meetings. Of course, the ability to be recognized to speak to a bill during a meeting depends on the number of people who also wish to speak and the time allowed for comment on bills during a meeting – just as happens during in-person meetings.
SPEAK also allows the public to post comments on specific bills. before a committee/subcommittee. Those comments remain on the website while the bill is active in that chamber (i.e., you cannot submit comments on a House bill that is before a Senate committee).
Earlier this week the House Clerk's Office held a Zoom meeting to review SPEAK. You can watch a recording of the training here >
Senate sign-up
Those wishing to make comments on bills before Senate committees can use the Senate's Committee Sign Up – Public Comment portal. The portal is refreshed regularly. Just click on the committee name at the top and fill out the form that populates to request a speaking slot.
How is the General Assembly meeting?
The Senate is holding floor sessions in-person at the Science Museum of Virginia, but the meetings are only open to the members and staff; the public may attend these meetings virtually. On Wednesday of this week, the Senate decided to allow members to attend virtually, however, today's session had to be ended early on account of members not being able to hear each other. It remains to be seen how this will be addressed.
All House meetings, including floor sessions, are virtual.
How to watch meetings
Virginia House of Delegates:
Senate of Virginia:
VML Contact: Janet Areson, jareson@vml.org
Sovereign Immunity
Please oppose HB2045
Talking points on this bill are forthcoming. In the meantime, however, you may familiarize yourself with VML's position on this topic by reviewing this letter sent to our members on October 16, 2020 following the 2020 Special Session.
Summary of HB2045
HB2045 (Bourne) Civil action for deprivation of rights; duties and liabilities of certain employers in employing or contracting for the services of law-enforcement officers. Creates a civil action for the deprivation of a person's rights by a law-enforcement officer and provides that a plaintiff may be awarded compensatory damages, punitive damages, and equitable relief as well as reasonable attorney fees and costs. The bill provides that sovereign immunity and limitations on liability or damages shall not apply to such actions and that qualified immunity is not a defense to liability for such deprivation of rights.
Finally, the bill provides that any public or private entity that employs or contracts for the services of a law-enforcement officer owes a duty of reasonable care to third parties in its hiring, supervision, training, retention, and use of such officers under its employment or contract.
VML Contact: Michelle Gowdy, mgowdy@vml.org
Bills with additional explanation
Please provide feedback on Virginia Fair Housing bill
We encourage our members to review the legislation outlined below and provide comments to VML Executive Director Michelle Gowdy at the email listed below.
HB2046 (Bourne) – Virginia Fair Housing Law; unlawful discriminatory housing practices. Prohibits any locality, its employees, or its appointed commissions from discriminating (i) in the application of local land use ordinances or guidelines, or in the permitting of housing developments, on the basis of race, color, religion, national origin, sex, elderliness, familial status, or handicap or (ii) in the permitting of housing developments because the housing development contains or is expected to contain affordable housing units occupied or intended for occupancy by families or individuals with incomes at or below 80 percent of the median income of the area where the housing development is located or is proposed to be located. The bill also requires the Fair Housing Board, after determining the existence of an unlawful discriminatory housing practice and after consultation with the Attorney General, to immediately refer the matter to the Attorney General for civil action.
VML Contact: Michelle Gowdy, mgowdy@vml.org
Also to consider…
HB1917 (Mugler)* – Publication of certain notices on locality's website. Provides that in any instance in which a locality is required to publish certain notices related to local planning and zoning in a newspaper having general circulation in the locality, the locality may instead choose to meet such requirement by publishing the notice on the locality's website.
*VML has been working with the Press Association on this issue – it is expected that our groups will propose legislation in 2022.
HB2000 (Roem)* – Virginia Freedom of Information Act; charges for production of public records. Prohibits a public body from charging a requester for any costs incurred during the first two hours spent accessing or searching for requested records when such requester has made four or fewer individual records requests to such public body within 31 consecutive days. The bill provides that for any additional time spent accessing or searching for such records, or when such requester makes five or more individual records requests to such public body within any 31-consecutive-day period, the public body shall not charge an hourly rate for accessing or searching for the records exceeding the lesser of the hourly rate of pay of the lowest-paid individual capable of fulfilling the request or $33 per hour. The bill also requires public bodies to post on their website or otherwise publish a written policy (a) explaining how the public body assesses charges for accessing or searching for requested records and (b) noting the current fee charged, if any, by the public body for accessing and searching for the requested records.
*This bill is going to the FOIA Council for study.
VML Contact: Michelle Gowdy, mgowdy@vml.org
Bills reported out of committee
SB1171 (Norment) – State and Local Government Conflict of Interests Act; disclosure requirements. Remedies an issue (for localities will a population less than 25,000) many of our localities expressed concern about after the 2020 General Assembly Session. No longer will the executive director and members of each industrial development authority and economic development authority, as created by the Industrial Development and Revenue Bond Act, in a locality with a population less than 25,000 or in a region serving more than one locality that, in the aggregate, has a population less than 25,000 to NO longer file a Statement of Economic Interests (SOEI) with the clerk of the local governing body as a condition to assuming office and thereafter annually on or before February 1. An amendment was added to ensure that members would not participate in an action in which they have a personal interest.   Last year's legislation created a "chilling effect" for volunteers on these authorities and this is an attempt to remedy that situation.
This bill passed out of the Senate General Laws and Technology Committee.
HB1842 (Keam) Property owners' associations & unit owners' associations; rulemaking authority concerning smoking. This was recommended by the Housing Commission. It permits (i) except to the extent that the declaration provides otherwise, the board of directors of a property owners' association to establish reasonable rules that restrict smoking in the development, including (a) rules that prohibit smoking in the common areas and, (b) for developments that include attached private dwelling units, rules that prohibit smoking within such dwelling units, and (ii) except to the extent that the condominium instruments provide otherwise, the executive board of a condominium unit owners' association to establish reasonable rules that restrict smoking in the condominium, including rules that prohibit smoking in the common elements and within units.
This bill passed out of House General Laws Committee.
HB1859 (Guy) Local financing of clean energy and other programs; when owner costs are incurred. Changes the parameters for local ordinances authorizing loan contracts for the installation by property owners of clean energy, resiliency, or stormwater management improvements.
This bill was recommended by Counties, Cities and Towns this morning.
VML Contact: Michelle Gowdy, mgowdy@vml.org
Bills referred to Senate Local Government Committee
SB1208 (Barker) – Continuity of government. Extends from six to 12 months the period of time after an enemy attack or other disaster that a locality may, by ordinance, provide for a method to assure continuity in its government and requires the ordinance to provide a method for the locality to resume normal governmental authority by the end of that 12-month period.
SB1249 (Stuart) – Local planning commissions; review deadlines. Adds rezoning or generalized development plans, special use permits, and special exception applications to various review deadlines and requirements for local planning commissions.
SB1285 (Locke) – Vacant buildings; registration. Removes the requirement that a building meet the definition of "derelict building" in order for the Town of Clifton Forge, the Town of Pulaski, in a conservation and rehabilitation district of the town, the Town of Timberville, and any city to require, by ordinance, the owner or owners of buildings that have been vacant for a continuous period of 12 months or more to register such buildings on an annual basis and pay an annual registration fee not to exceed $100 to defray the cost of processing such registration
SB1298 (Bell) – Tourism improvement districts. Authorizes any locality to create a local tourism improvement district plan, consisting of fees charged to businesses and used to fund tourism promotion activities and capital improvements. Under the bill, the locality is authorized to contract with a nonprofit entity to administer the activities and improvements.
SB1309 (Ebbin) – Local stormwater assistance; flood mitigation and protection. Authorizes grants from a local Stormwater Management Fund to be used for measures that are part of a comprehensive flood mitigation and protection plan adopted by the locality, including floodproofing, flood protection products, and grading. Current law allows such funds to be used only for the construction, improvement, or repair of a stormwater management facility or for erosion and sediment control.
Budget & Economy
House budget amendments posted
House budget amendments are now posted on the Legislative Information Services budget page.
The House accelerated its budget amendment deadline this year to Friday, January 8, five days before the 2021 Session opened. The Senate retained the usual deadline of the Friday of the first week of the Session (January 15). As a result, the Senate budget amendments will likely be posted next week.
VML and local government partners sought budget amendments this year.  We will post those amendments that were introduced in the House and Senate next week after the Senate posts its information.
VML Contact: Janet Areson, jareson@vml.org
Making sense of recent, mixed economic news
State revenues go up. Unemployment rate drops. Unemployment claims rise. Labor force participation rate sinks. What does this all mean? 
Virginia's Secretary of Finance, Aubrey Layne, released this week the December Revenue Report, which includes information on the first six months of fiscal year 2021.
Total general fund revenues grew 15.1 percent in December, as strong withholding, corporate, recordation, and sales tax payments poured in. On a fiscal year-to-date basis, total revenue collections rose 7.8 percent through December, well ahead of the annual forecast incorporated in the introduced budget bills (SB1100 and HB1800) calling for  a 1.2 percent increase.
The Virginia Leading Index rose 0.8 percent in November after rising 2.3 percent in October. The U.S. Leading index, future employment, and initial claims for unemployment improved in November while auto registrations declined. The indexes for the state's eleven metropolitan areas increased for the month.
Individual income tax collections through December were a very healthy 6 percent over collections a year ago. However, individual withholding collections of 2.9 percent barely edged out the official annual forecast of 2.7 percent. Revenues from Individual Income Tax Non-withholding propelled the overall showing. Year-to-date, collections from this revenue source were $1.3 billion compared with $976.6 million in the same period last year, growing by 37.2 percent and well ahead of the annual estimate of 4.4 percent growth.
Corporate income taxes and recordation taxes have also shown strength increasing for the first six months of the fiscal year by 37.7 percent and 38.9 percent, respectively.
Collections of sales and use taxes, reflecting November sales, rose 5.2 percent in December. On a year-to-date basis, collections of sales and use taxes have risen 6.7 percent, ahead of the annual estimate of a 2.6 percent decline. A true picture of the holiday shopping season will be released with the December sales tax payments later during the legislative session.
The strong showing is likely to lead to either a new revenue forecast or, at a minimum, an update to the revenue estimates in the two budget bills. The bottom line is that the General Assembly should have more resources available for budget development.  The state revenue "surge" is also complemented by additional federal coronavirus relief estimated at $2.7 billion and whatever amounts of aid the new President and new Congress determine.
FY 2021 Collections Exceed Revenue Forecast
 

 

Revenue Source

 

 

Jul-Dec FY21

 

 

Jul-Dec FY20

Actuals Over FY20
 

 

Forecast

Individual Withholding
$6.7 billion
$6.5 billion
2.9%
2.7%
Individual Non-withholding
$1.3 billion
$976.6 million
37.2%
4.4%
Sales & Use
$1.9 billion
$1.7 billion
7.8%
(2.6%)
Total General Fund Revenue
$10.9 billion
$10.1 billion
7.8%
1.2%
Regarding employment
The state's employment situation continues to improve but not for everyone.
Seasonally unadjusted weekly initial unemployment insurance claims for the week ending January 9 rose by 44.5 percent from the previous filing week as continued claims were essentially unchanged during that same period.
According to the Virginia Employment Commission, last week's figure for seasonally unadjusted initial claims in Virginia was 28,227. The latest claims figure was an increase of 8,697 claimants from the previous week which could in part reflect seasonal spikes in layoffs often seen after the holidays.
For the most recent filing week, continued weeks claimed totaled 63,687, which was a 0.2 percent increase from the previous week, but 40,110 higher than the 23,577 continued claims from the comparable week last year. Over half of claims were in the accommodation/food service, health care, administrative and waste services, and retail trade industries.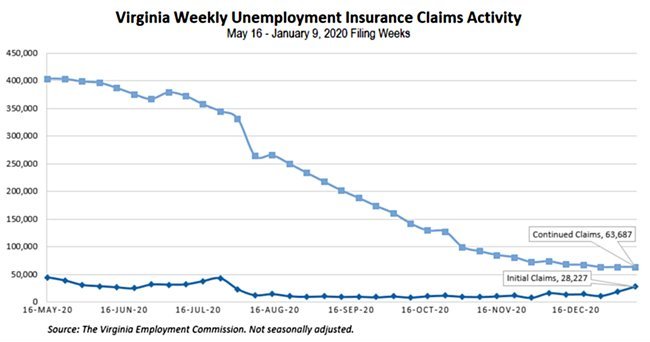 Labor participation rate in decline
The U.S. Bureau of Labor Statistics reported that through November of last year both the state's unemployment rate and labor participation rate decreased, meaning that the improving unemployment rate reflects, in part, a shrinking pool of people seeking work.  According to the Feds, almost 170,000 Virginians have dropped out of the workforce.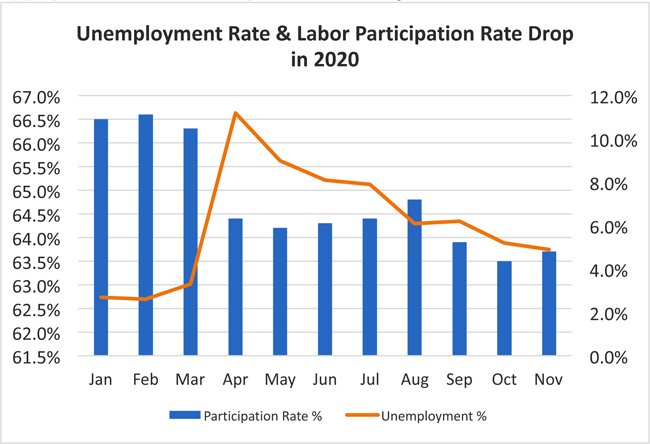 How the General Assembly absorbs all this information will become clear by Sunday, February 7 when the House Appropriations Committee and the Senate Finance and Appropriations Committee report out their budget amendments.
Until then, stay tuned.
VML Contact: Neal Menkes, nmenkes@vml.org
Health & Human Services
CSA-special education bills introduced
This is the year of bills and budget amendments to address the use of Children's Services Act (CSA) funds for certain special education services in public schools. A number of bills have been introduced in the Senate, including SB1009 (Stuart); SB1114 (Peake); SB1133 (Suttlerlein); and SB1313 (Mason). In the House, one bill – HB2117 (VanValkenberg) – and some budget amendments, including 138#1h (Plum) and 293#5h (Plum) have been introduced.
The bills were taken up in a Senate Education and Health subcommittee on Jan. 14. Some of the bills are using recommendations from the Joint Legislative Audit and Review Commission (JLARC) report on CSA and special education released in November 2020.
Stuart's bill has been introduced the last several years and addresses the ability of public-school systems in Planning District 16 to use CSA funds to help pay for services to bring children back to their community school from a private placement or to delay or prevent private placements. Peake's bill would open CSA funds for use by public schools to help pay for services for special education students who would otherwise go to a private school placement. Sutterlein's bill would create pilot programs to allow school systems to develop plans and programs to serve children with greater special education needs in public schools instead of private placements.
However, this week the subcommittee devoted the most time to discussing SB1313 (Mason), which is more comprehensive in scope and therefore is seen as the bill to move forward with parts of the other bills potentially incorporated into it. Since negotiations with the various patrons are still underway, the subcommittee decided to move all the bills forward and allow the patrons to work on the possibility of agreeing to include parts of the individual bills into one main bill.
Mason's bill was drafted at the behest of private providers; it would allow public schools to use CSA funds for a limited time to help pay for "transition" services for children moving from a private special education placement to public school setting. It would also create a workgroup to come up with a plan to transition special education payments now under CSA to the Department of Education (DOE).
This would be a very detailed and potentially expensive move for local governments.
Although localities currently pay a match for private day placements under CSA, it is a shared cost with the state and there is no overall cap on the state's share of funding these placements (i.e., they are sum sufficient). If it is moved to DOE, the concern is that the state would cap its share of costs, leaving localities to pick up an even larger share of the cost to serve students with complex special education needs. A report from the workgroup would be required by late fall.
Local governments and special education professionals have recommended some amendments to Mason's bill to ensure that public school personnel, not just private providers, could implement the services needed to bring children back to a public-school setting, to ensure the parameters are not so strict that they interfere with the implementation of an Individualized Education Plan (IEP), and that pilots could go forward before changes are made in the funding responsibilities between CSA and DOE.
VML supports giving public schools some flexibility with use of CSA funds to prevent more restrictive and costly private placements but is concerned with the potential cost shifting if funding responsibility goes back to DOE from CSA.
We will continue to monitor this legislation closely and will provide updates as things develop.
VML Contact: Janet Areson (jareson@vml.org)
Committee on Public Safety acts on law enforcement, emergency services bills
The House Public Safety Committee voted on Jan. 15 to report and refer to the House Appropriations Committee the following bills:
HB1948 (Levine) – Duty of law-enforcement officers to render aid and to report wrongdoing by another law-enforcement officer. Would require any law-enforcement officer on duty who witnesses a person suffering from serious bodily harm or a life-threatening condition to provide aid to them. It also would require any law-enforcement officer to report any acts of wrongdoing, as defined in the bill and including bias-based profiling, committed by another law-enforcement officer on duty. Failure to render aid to an injured person or to report any incidents of wrongdoing by another officer would result in dismissal, demotion, suspension, or a new assignment. HB1948 also adds sexual orientation and gender identity to the definition of bias-based profiling.
VML does not have a position on HB1948.
HB2085 (Askew) – Emergency Services and Disaster Law. Requires local and interjurisdictional agencies to include specific provisions in their emergency operation plans to ensure such plans are carried out equitably during emergencies, accounting for the needs of minority and vulnerable communities.
VML does not have a position on the HB2085 but is monitoring it for potential local fiscal impact.
VML Contact: Janet Areson, jareson@vml.org
Transportation
Crosswalk and sidewalk design bill merits attention by localities
HB1841 (Keam) – Crosswalk and sidewalk design. Requires new crosswalks and crosswalks receiving future maintenance to be painted in a zebra pattern and have warning surface tiles on the sidewalk at each end of such crosswalk that are federal yellow if installed on a dark-colored sidewalk and red if installed on a light-colored sidewalk.
As introduced this bill would require localities to use "zebra pattern" crosswalk designs and upgrade any crosswalk "receiving maintenance" to this design standard. It also mandates the acceptable colors of pedestrian warning surface tiles. Members have reported that this legislation could cost cities tens of thousands of dollars in maintenance costs. Furthermore, this legislation pre-empts local authority to determine the appropriate crosswalk design and ties up limited local maintenance funds at a time when localities are under intense fiscal pressure and state maintenance revenues have experienced slowing growth.
Members should familiarize themselves with this legislation and the impact it could have on your community. Please contact Mitchell Smiley at the email address listed below if you have any questions or concerns.
VML contact: Mitchell Smiley, msmiley@vml.org
Natural Resources
House and Senate bills deal with wastewater, waste control
HB2129 (Lopez) Chesapeake Bay; wastewater treatment, Enhanced Nutrient Removal Certainty Program established. Proposes an alternative approach to that laid out by the Northam Administration to reach the Chesapeake Bay clean up goals by 2025 as proposed in the third Watershed Implementation Plan. The approach identified in HB2129 will allow localities to lower nitrogen and phosphorous loads from wastewater plants in a more cost-effective manner than currently proposed while providing a more concrete set of goals and benchmarks for wastewater facilities.
This legislation offers an important alternative for meeting Chesapeake Bay nutrient load reductions by 2025 and is worth members' consideration.
SB1319 (Hashmi) – Waste control and recycling; permits. Prohibits the Department of Environmental Quality (DEQ) and the Virginia Waste Management Board from issuing any permit for the construction, modification, or expansion of a new or existing municipal solid waste landfill that will accept 3,500 tons or more of municipal solid waste per day until the General Assembly enacts legislation incorporating the findings and recommendations of the Waste Diversion and Recycling Task Force, and requests the DEQ to continue through 2022 and expand the scope of the task force.
VML contact: Mitchell Smiley, msmiley@vml.org
General Laws
Bills most likely to be heard in House General Laws and Senate General Laws and Technology Committees
VML is keeping a close eye on the bills listed below.
Procurement
HB1741 (Campbell) Requires language to be included in contracts requiring subcontractors to report payment history of their employees to contractors.
HB1811 (Helmer) Provides that in the course of procuring goods, if a public body receives two or more bids that are Energy Star certified or meet FEMP requirements, the public body may only select among those bids for goods not construction.
HB1849 (Simonds) Requires all public bodies to include in construction contracts over $250k language requiring the contractor to participate in an apprenticeship training program for each separate trade and in all subcontracts over $50,000.
HB1857 (Subramanyam) Exempts any locality above 400,000 population from the single limit project fees for design work or inspection work on highways and bridges.
HB1996 (Murphy) Takes out language which did not allow a locality to include criteria in Invitation to Bid where the bidder was prequalified by VDOT to decide whether the bidder is a responsible bidder, including completion by contractors and subs in safety training and use of apprenticeship programs.
HB2237 (McQuinn) In the event a public body chooses to require a contractor for a specific highway, bridge or road construction project to enter into a project labor agreement for that project, the public body must make a written determination that requiring such advances the public's interest based on objective criteria such as cost, efficiency, quality, etc.
SB1305 (McPike) Requires every public body to include language in every public works contract of more than $250,000 requiring that subcontractors certify in writing that they will do at least 90% of the labor with their own employees. Contractors can waive that requirement if the subcontractor demonstrates that he needs to use other employees because of the specialized nature of the work.  Contractor has to submit any exception to the public body "which shall review the decision for compliance."  The public body can "exercise the appropriate contract terms and conditions to enforce the outsource requirements."
SB1384 (Surovell) Permits a locality to require bidders or offerors on any contract above $10,000 to disclose information as to whether they use mandatory arbitration agreements in their employment or consumer contracts and allows the public body to consider those policies in making the award.
HB2001 (Helmer) Requires localities to design any new building in excess of 5,000 square feet or any building which is renovated at least 50% to be designed in accordance with Virginia Energy Conservation and Environmental Standards (VEES), has enough charging stations for the number of electrical vehicles that will be stored at the location, and has features to track energy efficiency and carbon emissions.   The locality can opt out of this requirement following a public hearing, resolution and cost comparison of energy costs over 20 years versus construction cost of not following VEES standards. The state has been operating under this requirement since 2012.
HB1813  (Krezik) Requires all bidders on construction contracts over $250k to submit a list of their subcontractors and allow the public body to disqualify the subs if we don't like them or some reason.
Freedom of Information Act
SB1271 (McPike) would codify the authority currently provided in the budget bill for public bodies to hold meetings through electronic communication during a state of emergency without a quorum physically present. The bill expands existing statutory authority to cover locally declared states of emergency, as well as those declared by the governor, and it expands the permitted purposes of such meetings provided in the statue to include providing for the continuity of operations and the discharge of the lawful purposes, duties, and responsibilities of the public body.  The bill requires that the public be given access to such meetings through electronic means, including videoconferencing technology, if such technology is already being used by the public body. Also, the public body must provide opportunities for public comment at those meetings when comment is ordinarily received.
HB1931 (Levine) would amend the provision currently in Section 2.2-3708.2 applicable when there is no state of emergency that currently allow individual members of public bodies to participate electronically if the member is unable to attend the meeting due to a disability or medical condition.  The bill would add situations where a family member's medical condition requires the member of the public body to provide care to the family member.  This bill also seeks to amend the provision that currently allows members to participate electronically for "personal reasons" for two meetings per year.  The revised language would allow members to participate electronically in two meetings or up to 25% of the meetings held by the body per calendar year, whichever is greater.
HB2025 (Gooditis) would amend 2.2-3705.1(10) which currently exempts from mandatory disclosure personal contact information furnished a public body for the purpose of receiving electronic mail, if the individual providing personal contact information has requested that it not be disclosed.  This amendment would (1) broaden the exemption to include information provided to individual members of the public body, (2) change "electronic mail" to "electronic communication" and (3) provide that the information is exempt unless the person providing the information affirmatively states that it may be disclosed.
HB2004 (Hurst) proposes substantial changes to the current provisions governing criminal records. One of the more significant changes pertains to investigative records that currently are exempt from mandatory disclosure. For closed investigative files, the proposed language would require the custodian of such records to go to court, if it is believed that disclosure of the records would reveal investigative techniques or confidential sources, endanger the life of any person, etc. Even interviews of victims will be subject to mandatory disclosure, though names may be redacted.
HB1997 (Murphy) Increases from three to four the number of members of a public body meeting as an informal assemblage that constitutes a meeting under the Virginia Freedom of Information Act.
SB1343 (Vogel) Excludes from the mandatory disclosure provisions of the Virginia Freedom of Information Act proprietary information, voluntarily provided by a private business under a promise of confidentiality from a public body, used by the public body for a carbon sequestration agreement. The bill requires the private business to specify the records for which protection is sought before submitting them to the public body and to state the reasons why protection is necessary.
Other bills
HB1880 (Krizek) – Illegal gambling; skill games; temporary exemption for truck stops and alcoholic beverage control retail licensees. Delays by one additional year, from July 1, 2021, to July 1, 2022, the prohibition on the play or offering for play of skill games that was instituted in the 2020 Regular Session. The bill extends the one-year phase-out of existing skill games by one additional year to July 1, 2022, but decreases to 90 percent the total number of machines that a distributor may provide for play to truck stops and Virginia Alcoholic Beverage Control Authority retail licensees (ABC retail licensees) relative to the number of machines such distributor previously reported to the Virginia Alcoholic Beverage Control Authority (the Authority) on July 1, 2020. The bill caps the total number of skill games that persons operating truck stops and ABC retail licensees may make available for play to no more than 20 and six, respectively. The bill extends the prohibition on distributors offering new skill games for play. The bill keeps oversight authority over skill games with the Authority. The bill extends the requirement that each distributor pay a monthly tax of $1,200 for each skill game provided for play during the previous month. Revenues will accrue one percent to the Problem Gambling Treatment and Support Fund, three percent to the Authority for the purposes of implementing the bill, 33 percent to the localities in which the skill games are located, one percent to the Family and Children's Trust Fund, two percent to the Virginia Breeders Fund, and 60 percent to the Commonwealth Transportation Fund. The bill extends the requirement that distributors report monthly to the Authority the number of skill games provided for play. Finally, the bill prohibits persons younger than 21 years of age from playing skill games or redeeming the evidence of winnings for them.
SB1407 (Bell) – Regulating electronic gaming devices; penalties. Authorizes the manufacturing, distributing, operating, servicing, hosting, and playing of electronic gaming devices in the Commonwealth, to be regulated by the Virginia Lottery Board, which the bill renames as the Virginia Lottery and Gaming Oversight Board. The bill specifies the licensing requirements for the manufacture, distribution, operating, servicing, and hosting of electronic gaming devices, requires employees of such licensees to be registered with the Virginia Lottery, which the bill renames as the Virginia Lottery and Gaming Department, and imposes criminal and civil penalties for violations of the law and regulations related to electronic gaming devices. The bill imposes a 34 percent tax on all gross profits from the play of electronic gaming devices and provides for how the tax proceeds are disbursed; most are deposited into the Virginia Electronic Gaming Device Education Support Fund, created by the bill. The bill also renames the Virginia Lottery Law as the Virginia Lottery and Gaming Law and changes the title of the Director of the Virginia Lottery to the Director of the Virginia Lottery and Gaming Department.
HB1738 (Wampler) / HB2051 (Bourne) / HB2266 (Ayala) – Alcoholic beverage control; local outdoor refreshment areas. Defines "outdoor refreshment area" and permits the governing body of any locality in the Commonwealth to designate, by ordinance, up to three outdoor refreshment areas within such locality. The bill provides that such ordinance would permit the consumption of alcoholic beverages within the outdoor refreshment area, provided that such alcoholic beverages are purchased from a permanent retail on-premises licensee located within such designated area and are contained in disposable containers with a maximum capacity of no more than 16 fluid ounces that clearly display the selling licensee's name or logo. The bill requires the locality, prior to adopting such an ordinance, to create a public safety plan for each outdoor refreshment area.
Labor and Commerce / Commerce and Labor
Bills referred to the House and Senate committees this week
HB1754 (Carter) – Workers Compensation and Employment. Prohibits an employer or other persons from dismissing or punishing an employee based solely on the knowledge or belief that said employee intends to file a claim under the Workers Compensation Act.
HB1785 (Ward) – Employment Health and Heat Illness Prevention. Requires the Safety and Health Codes Board to adopt regulation and standards outlined in the bill to protect employees from heat illness.
HB1794 (Davis) – Collective Bargaining. Prohibits any locality that permits collective bargaining negotiations from discussing any actions regarding a local employee with others during negotiations.
SB1275 (Marsden) / HB1818(Heretick) – Workers Compensation for Certain Diseases. Adds any salaried or volunteer emergency medical personnel to the list of persons the occupational disease presumption applies to after five years of service.
HB1881 (Heretick) – Enterprise Zone Job Creation Grant. For the purposes of the program, this bill outlines that the minimum wage used in the formula shall be the highest wage between the state and federal minimums.
HB1985 (Hurst) – Workers Compensation and COVID-19. Establishes a presumption to include the death or disability of health care providers who are directly involved in the diagnosis or treatment of a person that has or is suspected to have COVID-19 under the Workers Compensation Act as an occupational disease.
SB1159 (Favola) – Sick Leave for Care of Immediate Family Members. Requires any employer, with 25 employees or more, that offers a sick leave plan to allow employees to use sick leave to care for an immediate family member.
SB1225 (Boysko) – Broadband Services Used for Education. Authorizes school boards to appropriate funds for broadband services to be used for educational purposes and authorizes school boards to enter into a partnership with private broadband service providers for educational purposes to households of at-risk students.
SB1342 (Vogel) / HB2207(Jones) – Workers Compensation and COVID-19. Establishes a presumption to include the death or disability of firefighters, emergency medical service personnel, law-enforcement officers, and correctional officers due to COVID-19 to be listed under the Workers Compensation Act as an occupational disease.
HB2080 (Convris-Fowler) – Workers Compensation for Certain Diseases. Establishes a presumption to add full-time salaried emergency medical services personnel in any locality to qualify for the list of persons whom occupational diseases apply to after five years of service.
HB2228 (Guzman) – Workers Compensation and Injuries from Physical Stressors. Establishes the definition of occupational disease to include injuries from repetitive and sustained physical stressors. The new stressors include repetitive and sustained motions, exertions, posture, contact stressors, vibration, or noise.
Counties, Cities and Towns
House Counties, Cities and Towns Committee bills to watch
HB1778 (Ward) – Removal of clutter from property; civil penalty. Provides that a locality may by ordinance require the removal of clutter from property, or may, whenever the governing body deems it necessary, after reasonable notice, have such clutter removed by its own agents or employees, in which event the cost or expenses thereof shall be chargeable to and paid by the owners of such property and may be collected by the locality as taxes are collected. The bill defines "clutter" as including mechanical equipment, household furniture, containers, and similar items that may be detrimental to the well-being of a community when they are left in public view for an extended period or are allowed to accumulate. Violations of the bill are subject to the existing civil penalty applicable to violations of provisions relating to the removal of trash, garbage, refuse, litter, and similar substances from property.
HB1844 (Mullin) – Zoning; special exceptions. Grants governing bodies the same authority as boards of zoning appeals with regard to imposition of certain conditions upon permits for special exceptions, including limiting the duration of a permit.
HB1898 (Roem) – Board of zoning appeals; appointments. Provides an exception to the general rule that an elected official cannot be appointed to a board of zoning appeals by allowing an elected official from a town to serve on the board of zoning appeals of the county in which the member also resides.
HB2023 (Poindexter) – Solar and wind farms; reporting of acreage by locality. Requires each locality to provide to the Department of Mines, Minerals and Energy information about the amount of land formerly in production agriculture or silviculture that has been approved for development into or has been developed into solar or wind farms.
SB1393 (Marsden) / HB2042 (Guy) – Replacement and conservation of trees during development. Gives a locality the ability to exceed general requirements in its tree replacement and conservation ordinances in specific circumstances, including development that impacts stormwater permit requirements, recurrent flooding, formerly redlined areas, and comprehensive plan compliance.
HB2114 (Ransone) – Hearing notice by localities. Expands from only localities in Planning District 23 to all localities a provision that provides that in any instance in which a locality has submitted a timely notice of public hearing to a newspaper published or having general circulation in the locality and the newspaper fails to publish the notice, such locality shall be deemed to have met certain notice requirements so long as the notice was published in the next available edition. The provision in the bill as it applies to all localities will expire on July 1, 2022.
SB1207 (Barker) / HB2201 (Jones) – Solar and energy storage projects; siting agreements throughout the Commonwealth. Expands existing provisions related to siting agreements for solar projects located in an opportunity zone to include energy storage projects and makes the provisions statewide. The bill provides that its provisions shall not apply to any energy storage project that has received zoning and site plan approval, preliminary or otherwise, from the host locality before January 1, 2021. The bill also provides that its provisions shall not become effective with respect to energy storage projects unless the General Assembly approves legislation that authorizes localities to adopt an ordinance for taxation of energy storage projects such as solar projects with a local option for machinery and tools tax or solar revenue share. The bill further provides that a locality may grant a special exception for an energy storage project.
HB2217 (Hodges) – Liability of public access authorities. Grants public access authorities, including the land holdings and facilities of such authorities, certain liability protections that are currently given to localities in relation to parks, recreational facilities, and playgrounds.
VML Contact: Michelle Gowdy, mgowdy@vml.org
Other bills of interest
Some bills to keep an eye on
HB2053 (Samirah) – Department of Housing and Community Development; stakeholder advisory group; accessory dwelling units. Directs the Department of Housing and Community Development (Department) to convene a stakeholder advisory group to evaluate the construction of internal, attached, and detached accessory dwelling units as a strategy to address the Commonwealth's growing demand for affordable and market-rate housing.
HB2052 (Samirah) – Land banks; right of first refusal for tax delinquent parcels. Requires localities that have established a land bank to establish a procedure whereby the land bank shall have a right of first refusal for tax delinquent parcels prior to such property being sold at auction. The price for any such purchase by the land bank shall be $1 and any court and transaction expenses. If a land bank exercises its right of first refusal to purchase a property from the locality and, in the judgment of the locality, fails to begin rehabilitation of the property or fails to take other action to cause reuse of the property within one year, such as transferring the property to a nonprofit entity, ownership of the property shall revert back to the locality. These provisions may be utilized for any parcel with a value that does not exceed 80 percent of the median value of parcels in the locality.
HB2054 (Samirah) Comprehensive plan; transit-oriented development. Adds reducing, modifying, or waiving local parking requirements or ratios to the strategies that may be included when certain larger localities consider incorporating strategies to promote transit-oriented development in reviews of their comprehensive plans. The bill removes from the existing strategy of increasing development density in certain areas to reduce density in others the phrase "to reduce density in others."
VML Contact: Michelle Gowdy, mgowdy@vml.org
Events & Opportunities
Help VML get the word out about our 2021 "If I Were Mayor" essay contest for 7th graders
Every year, the Virginia Municipal League (VML) is pleased to award deserving 7th grade essayists across the Commonwealth with a cash prize, an official plaque, and recognition. If you know of a 7th grade class from a member locality that should participate, send this link to a teacher or principal:
2021 "If I Were Mayor" essay contest description and instructions here >
VML invites all eligible Virginia 7th Graders to join its 2021 "If I Were Mayor" essay contest.
This year's theme is "What I've Learned" and we are asking students to tell us what has worked for them, and what hasn't, during a school year like no other.
Read the full description here >
Prizes and Recognition
Regional winners selected from around the state will each receive a $150 cash prize and plaque. One statewide winner chosen from the regional winners will receive a $250 cash prize and plaque. The runner-up from the region that receives the statewide award will become that region's winner.
Winning essays will be featured in the May issue of VML's magazine Virginia Town & City.
How to enter
All entries must be received by end of day on Monday, February 22nd. There are 2 ways to submit your entry:
Fill out and submit our online form available here >
You can do this yourself or you can have your teacher or someone else help you. Copy and paste your essay into the "Essay" box in the form. After VML receives your entry, your teacher will get a confirmation email.
OR
Mail your essay with a filled-out paper entry form (see back of this flyer) attached to:
VML, Attn: 7th Grade Essay Contest
P.O. Box 12164
Richmond, VA 23241
Who is eligible?
Any 7th grade student living and/or attending school in a VML member locality (Full list available here).
VML Contact: Rob Bullington, rbullington@vml.org
Register now for virtual Local Government Day happening Jan. 28
The limitations of meeting virtually are not stopping the General Assembly and they won't keep us from gathering to learn and advocate for local governments!
Join VML, VACo, VAPDC and the Virginia Rural Center remotely for the 2021 Local Government Day from 9:00-11:00 AM on Thursday, January 28.
Information and registration are available here >.
Registered attendees will receive the "2021 VML Local Government Day Bulletin" before the event.
Governor Ralph Northam open the day with a discussion of how his legislative agenda will strengthen Virginia's communities. Following the Governor, legislators will discuss specific legislation and topics of interest to local governments. Finally, VML and VACo Staff also will provide legislative reports on the major issues facing local government in the 2021 General Assembly Session.
Current social distancing and meeting restrictions make it challenging to get time with legislators during the session, so it is more important than ever to participate in this event and to engage your representatives year-round. The "Working with Legislators – A Year-Round Guide" (created for the 2021 General Assembly session) provides useful advice on this topic.
VML Contacts: Rob Bullington, rbullington@vml.org (for event registration questions); Janet Areson, jareson@vml.org (for legislative policy questions)
Crisis Track training for flood damage assessments coming soon
Co-hosted by the Virginia Department of Emergency Management and the Virginia Department of Conservation and Recreation
Following a flood event there are two distinct damage assessment processes to be completed. One is to assess the level of damage to a residential or commercial structure (affected, minor, major, or destroyed) for the purpose of seeking a Presidential disaster declaration which makes federal grants and resources available. The other assessment, known as the Substantial Damage Estimation process, has to do with the local government's requirement to determine if damages of a structure within the FEMA mapped floodplain met or exceeded 50 percent of the fair market value of the structure. This 50 percent threshold determines whether the property owner will be required by the local government to bring the structure up to all current codes, which includes floodplain compliance. There will also be discussion on implications of this requirement with regards to equity in recovery and mitigation.
"Crisis Track" is a web-based tool that VDEM has purchased for Virginia's localities to use to complete both assessments. This resource will make both processes more streamlined and will reduce the administrative burden of damage assessment.
Training on using Crisis Track will be offered on a regional basis as outlined below.
Course Length: 90 Minutes
Target Audience: Local Floodplain Managers, Emergency Managers, Planning/Permitting Officers, and Building Officials
Registration Instructions: Registration will be done electronically via the Commonwealth of Virginia Learning Center at: https://covlc.virginia.gov/. Please register for your region as indicated below, no later than the day before the class.
Region 1: February 24, 2021, 2-3:30pm
Region 2: February 25, 2021, 2-2:30pm
Region 3: February 23, 2021, 1:30 – 3pm
Region 4: February 23, 2021, 10-11:30am
Region 5: February 17, 2021, 2-3:30pm
Region 6: February 24, 2021, 10-11:30am
Region 7: March 2, 2021, 2-3:30pm
VDEM Regional Maps can be found here >.
VDEM Contact: If you need help or have questions, please contact the Help Desk at LMSHelp@vdem.virginia.gov