eNews January 11, 2018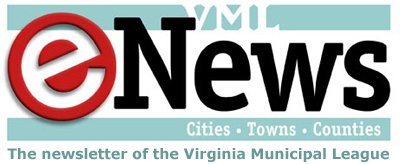 Thursday, January 11, 2018 - 02:47pm
In this issue:
Governor to speak at VML Legislative Day
2018 General Assembly convenes
Make call in opposition to wireless bill
Gov. McAuliffe presents his final budget
Shelter bill raises fiscal concerns
Session dates, contact information
Finance Forum, Newly Elected Conference draw lively crowds
VDEM recommends increased local reporting requirements
Governor to speak at VML Legislative Day – register now!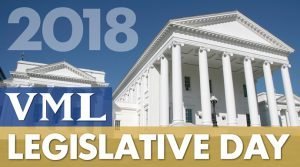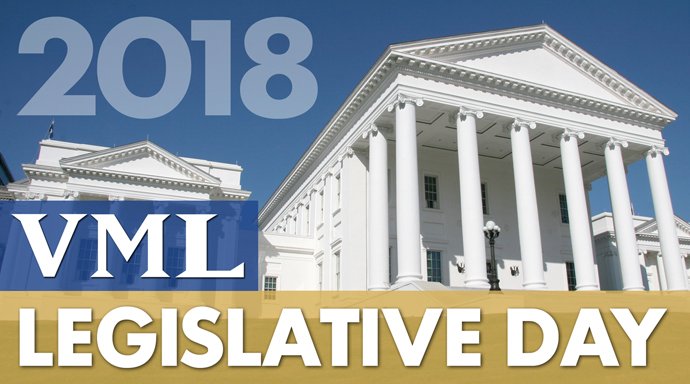 Governor-elect Ralph Northam is sworn into office this Saturday, and VML is delighted that he will be the opening speaker at VML's Legislative Day, to be held Wednesday, Jan. 31, at the Library of Virginia in Richmond.
Attendees may pick up registration packets, including talking points on key legislative issues, beginning at 11:30 a.m. at the Library. Please contact your legislator ahead of time and ask to attend the "morning hour" at the Capitol, which takes place at the beginning of the noon floor sessions. This is the traditional time for delegates and senators to recognize guests. Because of the renovation of the General Assembly Building, it will be difficult-and crowded-to attend committee meetings that will be held after the floor sessions. The "morning hour" will be the best way to visit the Capitol.
VML Legislative Day's program will begin promptly at 2 p.m. with the address by the Governor, to be followed by other speakers and staff updates.
The reception for members of the General Assembly and VML members will follow from 5 – 6:30 p.m. Also, we encourage you to arrange for dinner with your delegation following the reception.
More details and registration form are here.
2018 General Assembly convenes
Bills of interest to localities are rolling in
The 2018 session of the General Assembly convened at 12 noon on Wednesday, Jan. 10. This "long" session of 60 days will be filled with consideration of bills of interest to localities, from broadband to health care to tax policy, as well as amendment and adoption of a new two-year budget.
What can you do to help ensure local government voices are heard? First, stay in touch with your delegates and senators, making sure that they know how proposed bills and budget amendments will affect your community. Keep up with VML's E-news and action calls so that you can keep your delegation informed about legislative proposals that you like or don't like. Either way, please be sure to let league legislative staff know as well of your communications with legislators.
Make calls in opposition to wireless bill
Localities to be urged to adopt resolutions
VML sent out an action alert January 10 urging that calls be made to House members in opposition to HB 1258 (Kilgore), the wireless bill that eliminates most local authority over the operation and installation of new wireless structures. It is likely that this bill will be an issue throughout the session. The Senate version, SB405 (McDougle), was introduced today. VML will shortly be sending information regarding adoption of a resolution opposing efforts to usurp local zoning authority. Please let Michelle Gowdy (mgowdy@vml.org) know of any feedback or questions.
Gov. McAuliffe presents his final budget
In his December 18 farewell address to the senators and delegates who serve on the Senate Finance Committee, the House Finance Committee, and the House Appropriations Committee, Gov. Terry McAuliffe recounted the highlights of his four-year administration and unveiled his budget proposals for the upcoming year. Even though McAuliffe leaves office this weekend, his proposal sets the stage for budget negotiations during the upcoming session.
Gov. McAuliffe's budget for the next biennium includes $73.5 billion in non-general fund revenues or 63.4 percent of the entire budget. Non-general funds are made up of federal grants and contract, motor fuel taxes, college tuition, ABC sales, and special licenses and fees. The state's increasing reliance on non-general funds serves as the fuel for the overall spending. While total appropriations will rise by 51 percent from the 2008-10 biennium through 2018-20, non-general fund spending jumps by 60 percent.
In contrast, general fund spending increases by 38 percent over this same time period. It is the general fund that interests most local governments because its appropriations help localities pay for K-12 education, public safety, economic development, and health and human services programs. The general fund is of keen interest to taxpayers and state politicians because it relies on income and sales taxes.
A narrative description and a more detailed spreadsheet on the proposed budget is available here.
VML contacts: Neal Menkes, nmenkes@vml.org, Janet Areson, jareson@vml.org
Shelter bill raises fiscal concerns
SB 175 (Stanley) extends the period that public animal shelters have to keep a dog or cat before euthanasia. The bill is expected to increase the cost of keeping animals as well as increase recordkeeping requirements. The Senate Agriculture, Conservation & Natural Resources Committee today carried the bill over to its Jan. 18th meeting. HB 14 (Kory) is similar legislation in the House, but this bill has not yet been assigned to committee.
VML contact: Mike Polychrones, mpolychrones@vml.org
E-news schedule
VML will publish E-news more often during the session. If you know someone on your staff that should be receiving E-news, they can subscribe here.
When issues require immediate attention, legislative staff will send action calls asking local officials to contact legislators. Talking points will be included! Things move rapidly during the session, so please stay tuned and please respond to the action calls. Legislators need to hear from people in their districts.
Session dates, contact information
Here are some of the important dates for this year's session:
Jan. 12: Deadline for filing budget amendments (5 p.m.)
Jan. 13: Inauguration of Governor-elect, Lieutenant Governor-elect, and administration of oath of office to the Attorney General-elect.
Jan. 15: Governor Ralph Northam addresses joint session of the General Assembly
Jan. 19: Deadline for filing bills and joint resolutions
Jan. 31: VML Legislative Day in Richmond
Feb. 14: Cross-over day: each house completes work on its own legislation, excluding budget and revenue bills
Feb. 18: House Appropriations and Senate Finance Committees present their budgets
Feb. 22: House and Senate complete work on their budgets
Feb. 28: Last day for each house to act on budget and revenue bills of the other house and appoint conferees by midnight
March 5: Deadline for committee action on bills, joint resolutions
March 8: Budget conference reports available
March 10: General Assembly scheduled to adjourn
April 18: Reconvened (veto) session
The full 2018 session calendar may be found here
Contact information for House of Delegates members is here
Contact information for Senate members is here
House and Senate committee assignments and schedules are posted here.  House committee appointments were just made today.
New this year is streaming of full House committee meetings. See information and instructions on how to access this new video feature here.  Senate floor sessions can be viewed here.
Finance Forum, Newly Elected Conference draw lively crowds
Handouts posted on VML's website

Presentations made at the Jan. 3 Finance Forum in Richmond are posted here.  Despite the dire weather forecast, attendance was good, and the conference attendees were engaged in the day-long discussion of economic and fiscal matters.
Despite record-breaking cold temperatures, a hardy group of newly-elected officials met in Charlottesville to discuss topics of most importance to them. Presentations are posted here.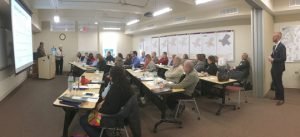 University of Virginia Law Professor Richard Schragger kicked off the meeting with a discussion of the importance of public service. He noted that Alexis de Tocqueville said that cities were the backbone of democracy and that robust local governments were a requirement of democratic government. He also noted that as the national government and state legislatures become more paralyzed, local governments are having to do more and more. He said it was important that local officials educate their citizens on the importance of resisting efforts to preempt local officials.
VDEM recommends increased local reporting requirements
Localities should be required to provide data to VDEM annually on their shelters, including, building names, locations, evacuation zones, capacity by person, medical needs capacity, current wind rating, standards compliance, backup power, and lead agency for staffing (such as the Red Cross, local DSS, other), according to a recent report by the Department of Emergency Management. Item 402 of the 2017 Appropriation Act requires the state sheltering coordinator to submit this annual report on the state's emergency shelter capabilities.
Other recommendations centered on the need to address current shelter resource gaps and to:
Focus the statewide plan on supporting 10 percent of displaced persons from an affected area,
Improve shelter staffing support for local and regional shelters, require standards for shelter staff, and recommend staffing levels for shelters,
Create flood predictive mapping
Establish a state shelter retrofit program, consisting of a grant or match program to fund the retrofitting of local buildings
Provide or facilitate the provision of training for shelter and emergency management staff.