eNews Jan. 9, 2019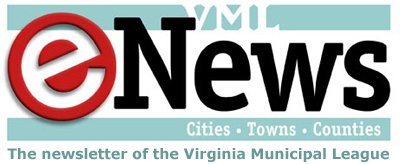 Wednesday, January 09, 2019 - 04:25pm
In this issue:
2019 General Assembly convenes
Bills of interest to localities are starting to arrive
The 2019 session of the General Assembly convened at 12 noon on Wednesday, Jan. 9. This "short" session of 45 days will be filled with consideration of bills of interest to localities: from tax policy to school safety, from mental health to transportation, and from proffers to redistricting.
What can you do to help ensure local government voices are heard? First, stay in touch with your delegates and senators, making sure that they know how proposed bills and budget amendments will affect your community. Keep up with VML's eNews and action calls so that you can keep your delegation informed about legislative proposals that you like or don't like. Either way, please be sure to let league legislative staff know if you have concerns about an issue. Also, please let us know about your communications with legislators.
eNews schedule
VML will publish E-news more often during the session. If you know someone on your staff that should be receiving E-news, they can subscribe here.
When issues require immediate attention, legislative staff will send action calls asking local officials to contact legislators. Talking points will be included! Things move rapidly during the session, so please stay tuned and please respond to the action calls. Legislators need to hear from people in their districts.
Session dates, contact information
Important dates and useful links for this year's session
Important dates:
Jan. 11: Deadline for filing budget amendments (5 p.m.)
Jan. 18: Deadline for filing bills and joint resolutions (3 p.m.)
Jan. 24: VML Legislative Day in Richmond
Feb. 5: Cross-over day: each house completes work on its own legislation, excluding budget and revenue bills
Feb. 7: Houses of introduction complete work on the Budget Bill
Feb. 13: Last day for each house to complete work on the Budget Bill and revenue bills of the other house and appoint conferees (by midnight)
Feb. 18: Deadline for committee action on bills, joint resolutions
Feb. 23: General Assembly scheduled to adjourn
Useful links:
Finance Forum, Newly Elected Officials conferences meet in Richmond
Presentations available on VML's website
What a difference a year makes! At last year's conferences (held separately in Charlottesville and Richmond), attendees braved a grim forecast and record low temperatures (daytime high of 34°F in both cities).  This year in Richmond, mostly sunny skies prevailed, and the outside temperature soared into the 60s as the two groups met in the Greater Richmond Convention Center.
Although the temperature outside may have been dramatically different from 2019, the attendance at this year's events remained strong and those present remained engaged.
Finance Forum conference attendees benefited from the day-long discussion of economic and fiscal matters. Speakers pointed out that the General Assembly must make several long-term, high-stakes choices affecting state taxes and state financial support for education, public safety, mental health and other services local governments provide to citizens.
Newly Elected Officials conference attendees joined the Finance Forum in the morning to hear about the upcoming budget and then spent the afternoon discussing topics of most importance to them including COIA and issues related to liability.
Presentations are available for download from VML's website:
Washington, D.C. grant writing workshop discount available for VML members and staff
Grant Writing USA will present a two-day grants workshop in Washington, D.C., March 18-19. This training is for grant seekers across all disciplines and is appropriate for beginning and experienced grant writers from city, county and state agencies as well as nonprofits, K-12, colleges and universities.
Virginia Municipal League members and their staff can receive $30 discount by using code "VAASSN" at registration. Tuition includes Grant Management USA's 400-page grant management workbook and reference guide.  Seating is limited, online reservations are necessary
Contacts:
Janet Darling
at Grant Writing USA
888.290.6237 toll free
janet@grantwritingusa.com
Larissa Fitzhugh
Metropolitan Washington Council of Governments
202.962.3258
lfitzhugh@mwcog.org