eNews Jan 6 2017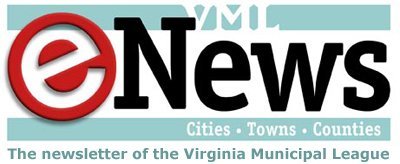 Friday, January 06, 2017 - 02:45pm
Bills to watch, issues to come
Wireless infrastructure and more
VML anticipates that there will be legislation relating to the wireless infrastructure workgroup from this summer which arose from the 2016 legislation HB1347.
VML contact: Michelle Gowdy, mgowdy@vml.org
Redistricting proposals abound
OneVirginia2021 and other groups will be making a big push this year on redistricting reform. Several constitutional amendments and bills have already been introduced. In past years, the bills and resolutions have passed the Senate but failed to get out of – and sometimes even heard by – a subcommittee in House. Here's what's been introduced to date:
HJR 581– A constitutional amendment defining criteria to be used for redistricting.
SB 846 – A bill setting up a Virginia Interim Redistricting Commission and defining criteria to be used for redistricting.
SJR 230 and SJR 231 are constitutional amendments setting up a redistricting commission and defining criteria to be used, similar to SB 846.
SJR 260 (Barker) is a constitutional amendment that sets up a partisan redistricting commission; this version does not address criteria to be used.
Stay tuned: More bills and resolutions on redistricting are likely!
VML contact: Mary Jo Fields, mfields@vml.org
Two pre-filed bills – Camping and Smoking in outdoor public places
SB802 is a bill from Senator Stanley which was defeated last session.  Under this legislation, localities would not be able to require a special use permit or prohibit camping for family and non-paying guests for two months in an aggregate year.
SB938 would allow localities to enact ordinances which designate non-smoking areas in outdoor public places.  In addition, it provides for a penalty of $25.   VML welcomes your comments on this issue.
VML contact: Michelle Gowdy, mgowdy@vml.org
Charter schools initiative returns  
SJR 240 (Obenshain) grants the Virginia Board of Education the authority to establish charter schools. Currently that authority rests with local school boards. VML's Human Development and Education Policy Committee notes that "Local school boards should retain the responsibility for approving applications for charter schools.  Otherwise, decisions that affect the funding of public schools potentially could be made by a statewide, appointed body that has no direct connection to the council or board of supervisors."
Two similar resolutions narrowly died in the Senate last session.
VML contact: Mary Jo Fields, mfields@vml.org
Other issues coming
In addition to the items above, expect to see legislation on short-term rentals, fireworks and deicing agents (exemption for residential use).
Input needed on legislative proposal from the Virginia Cable Telecommunications Association
VML met with the Virginia Cable Telecommunications Association (VCTA) and were provided the proposed Virginia Broadband Deployment Act.    In our meeting, VCTA suggested that this proposed legislation has a lot of language that was suggested by the Bristol Virginia Utilities Authority from October of 2016.  Please provide comments on the proposal. 
VML contact: Michelle Gowdy, mgowdy@vml.org
Local valuation reports to be distributed by VRS this month
Political subdivisions will receive actuarial valuation reports on their retirement plans later this month, according to the Virginia Retirement System's recently released newsletter for employers.
This is not a rate-setting year, so the valuation report is for informational purposes.
The valuation reports include information on contribution rates, and disclose plan assets and actuarial liabilities that are used to determine the funded status of the retirement plan. The reports also provide supporting information on the plan's operation. Finally, the reports are a resource for complying with Governmental Accounting Standards Board Statements No. 43 and No. 45, which require actuarial valuations of retirees' other post-employment benefits (OPEB).
If you have questions about the valuation reports, contact Barry Faison, VRS chief financial officer, at bfaison@varetire.org or 804-344-3128. 
VML contact: Mary Jo Fields, mfields@vml.org
LODA administrative changes outlined
As of this July, legislation (HB 1345) adopted in the 2016 session will transfer administrative activities relating to the Line of Duty Act from the Virginia Department of Accounts to the Virginia Retirement System and the Virginia Department of Human Resource Management.
VRS's January newsletter for employers includes an outline of the changes and is a handy reminder of the legislative changes made in the past session.
VML contact: Mary Jo Fields, mfields@vml.org
DMAS regulations delayed; local reps meet with state to discuss
Emergency regulations to impose new procedures for placement of Medicaid-eligible youth in residential homes were put on hold last week.  The regulations were supposed to go into effect January 1.  VML and other organizations had asked for a delay in implementation because the regulations were not released until late December and the timeline for implementation did not allow sufficient time for local Children's Services Act (CSA) staff to properly prepare for the changes.
VML and other local partners met Jan. 6 with policy staff from the McAuliffe Administration and the Department of Medical Assistance Services to discuss possible next steps to raise and address potential issues with the emergency regulations, and to possibly pare down some of the proposed administrative requirements that could end up creating more complexity in the process.  VML will be following up on this with the assistance of selected local CSA coordinators and human services directors. 
VML contact:  Janet Areson
​
Closer to My Grocer promos on-line
More than 1.7 million Virginians, including 480,000 children, live in low income areas with limited access to supermarkets. VML supports approaches such as the Virginia Grocery Investment Fund that would provide financial and technical support for businesses to expand and ensure greater access to healthy food for residents of the Commonwealth.
The American Heart Association, which began the campaign for healthy foods, has produced two videos (one short, one a little longer) on the Grocery Investment Fund. These can be viewed here:
Closer to My Grocer- Virginia [Full version]
Closer to My Grocer- Virginia [60 second version]
VML contact: Mary Jo Fields, mfields@vml.org
Population shifts bring challenges to localities 
Waynesboro's Director of Planning Luke Juday explores demographic trends across Virginia in the January 2017 issue of the University of Virginia News Letter.  The newsletter offers strategies for localities to cope with population growth or decline.
Grants available to localities for arts programs
The Virginia Commission for the Arts is offering a matching grant of up to $5,000 to any incorporated city, town or county government in the state.  The Local Government Challenge Grant program is designed to encourage local governments to maximize local tax revenues in support of the arts, to improve local resource flexibility, foster local arts coalitions and provide opportunities for local governments to partner with private enterprise. The application for the 2017-2018 Local Government Challenge Grant program can be downloaded from the Commission website here. The deadline for receiving completed applications in the Commission office is 5:00 p.m., April 3, 2017. For more information, visit www.arts.virginia.gov or call the Commission offices (804) 225-3132.