eNews Jan. 31, 2020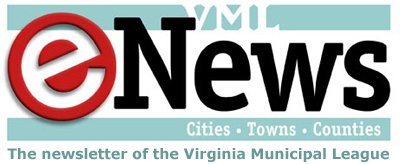 Friday, January 31, 2020 - 05:41pm
In this issue:
The week in legislation
Collective bargaining bill on House floor
HB582 (Guzman) repeals the existing prohibition on collective bargaining by public employees. The bill is on the floor of the House of Delegates for second reading – meaning that the bill will be up for debate — on Monday, Feb. 3 and could be up for final adoption on Feb. 4.
VML has a long-standing and very direct position on collective bargaining in our General Laws Policy Statement, which is debated and adopted each year at our annual business meeting. The statement is:
VML opposes:
Any attempt to impose collective bargaining or 'meet and confer' requirements for public employers or employees; and
any attempt by the federal government to stipulate grievance procedures for state and local employees, such as the police officers bill of rights.
Please talk to your member(s) of the House of Delegates by late Monday morning in opposition to HB582:
Torian (Chair) | Sickles (Vice Chair) | Plum | Tyler  | Bulova | McQuinn | Carr | Krizek | Aird | Hayes | Hurst | Jones | Reid | Cox | Knight | Morefield | Fariss | Rush | Davis | Austin | Bloxom | Brewer
Talking points
Efforts to impose collective bargaining and public unionization will increase the cost of government and impose more bureaucracy in local government operations. This means that employee relations will be more adversarial.

Local governments are not like private businesses in the following important ways:

Budgetary decisions, including budget actions affecting public employee compensation, are done in public with required public notice.

Budget proposals are available for public review and public comment.

The people who make the decisions about budgets – the elected officials – are accountable to their residents.

This is the opposite of private businesses, which do not have to disclose compensation decisions and whose board members are not available to employees regarding budgetary and compensation decisions – other than through unions.

Local governments, unlike private businesses, are accountable to taxpayers. Taxpayers can and do approach their local governing bodies about employee compensation – particularly teachers and public safety personnel.

Local governments are required by the Code of Virginia to have approved grievance procedures, to provide certain benefits and provide transparency in their governing processes and procedures.

The bills would require collective bargaining even if only 30 percent of employees had joined a union. This means that 30 percent of employees can force collective bargaining on the entire organization or component thereof.

Wages, hours, and other terms and conditions of employment would be subject to collective bargaining.

The union would have to be given up to 30 minutes to address new employees and employees would be required to attend.

Union representatives would have the right to meet with employees during the workday and the right to communicate with employees through the employer's email system.

The state board charged with administering the act would have only three members: One management representative, one union representative and one member of the public. There would be no guarantee that local governments would be represented on the board.
Companion bill in the Senate
The Senate companion bill is SB1022 (Boysko). It will be heard by the Senate Commerce and Labor Committee, which meets Monday after adjournment. The docket for Monday is not yet posted, but please call members of the committee to oppose the bill:
Saslaw (Chair) | Norment | Newman | Obenshain | Lucas | Spruill | Edwards | Deeds | Barker | Marsden | Ebbin | Lewis | Surovell | Mason |Bell
VML Contact: Michelle Gowdy, mgowdy@vml.org
Senate Local Government acts on variety of bills
SB778 (Lewis) was stricken at the request of the patron and we are grateful! This bill would've extended the sunset date for various land use approvals from July 1, 2020 to July 1, 2023. Thank you to the Homebuilders of Virginia for sticking to our agreement that July 1, 2020 was the end!
The Charter Bills that passed from Senate Local Government included bills from the City of Norfolk, Town of Bluefield, Town of Brodnax, City of Charlottesville, City of Richmond, Town of Elkton, Town of Dayton, City of Virginia Beach, Town of Blackstone, Town of Abingdon, Town of Scottsville and the Town of Blacksburg.
The Senate approved today two bills that came out of committee, including the following:
SB589 (Hanger), which states at that if the zoning administrator determines that an approval could impair the ability of an adjacent property owner to satisfy the minimum storage capacity and yield requirements for a residential drinking well, then a copy of the zoning determination shall be provided to such affected adjacent property owner.
SB834 (McClellan), which is an affordable housing bill that is permissive and seeks to provide more tools to localities. It allows a locality to establish qualifying jurisdiction-wide affordable dwelling unit sales prices based on local conditions, establish jurisdiction-wide affordable dwelling unit qualifying income guidelines, and incentives other than density increases, such as reduction or waivers of permit, development and infrastructure fees. Several other provisions are still being discussed and it is expected that the bill will be amended as it travels through the General Assembly.
VML Contact: Michelle Gowdy, mgowdy@vml.org
FOIA bills move forward
Two FOIA bills on the Senate floor are:
SB138 (Stuart), which clarifies that regional public bodies need to designate a FOIA office and place that information on the website with contact information. In addition, the FOIA officer must be trained once every 2 years.  The training and the FOIA officer contact information must be given to the FOIA Council.  The bill is a recommendation of the FOIA Advisory Council.
SB139 (Stuart), which states that "local elected officials" shall include constitutional officers for the purposes of FOIA and requires that training for local officials shall be in-person or online training.
VML Contact: Michelle Gowdy, mgowdy@vml.org
Senate General Laws acts on other bills of interest to localities
Senate General Laws had a full docket this week and reported several bills of interest, which are now on the floor of the Senate.
SB645 (Surovell) relates to procurement contracts for goods and services; it requires the locality to include in the solicitation that the bidder disclose information regarding pre-dispute arbitration clauses.   In the evaluation of bids, the locality shall consider each bidder's policies and practices related to arbitration as disclosed.
This is a pre-arbitration agreement bill which requires every public body to ask for every procurement decision if the bidder requires employees to sign "pre-arbitration" agreements and then take that into account in deciding who to award the bid to.
SB708 (McClellan) requires any housing authority that is required to submit an application to the U.S. Department of Housing and Urban Development to demolish, liquidate, or otherwise dispose of a housing project must serve a notice of intent at least 12 months prior to any application submission to the Virginia Department of Housing and Community Development, the clerk of the city or county in which the project is located, any agency that would be responsible for administering tenant-based rental assistance to persons who would otherwise be displaced and each tenant. There are also requirements of what should be in the notice of intent.
SB50 (Spruill) provides that the terms "because of race" and "on the basis of race" includes traits historically associated with race, including hair texture, hair type and protective hairstyles such as braids, locks and twists.
SB97 (McClellan) has been rereferred to the Senate Finance and Appropriations Committee. It confirms that unlawful discriminatory practices include discrimination in the application of local land use ordinances or guidelines, or in the permitting of housing developments. Discrimination includes the basis of race, color, religion, national origin, sex, elderliness, familial status, handicap or because the housing development contains or is expected to contain affordable housing units.
Three games of skill bills also were referred to Finance: SB971 (Howell), SB960 (Ruff) and SB1063 (McPike).
VML Contact: Michelle Gowdy, mgowdy@vml.org
House General Laws addresses discrimination, ban the box, games of skill…and more!
The House General Laws Committee combined numerous bills related to prohibiting discrimination into HB1663 (Sickles) and rereferred the bill to the House Appropriations Committee. A subcommittee today recommended reporting the bill. The bill prohibits discrimination on the basis of age, sex, race, color, religion, national origin, pregnancy, childbirth, related medical condition, marital status, sexual orientation, gender identity, status as a veteran, disability or childbirth. This includes discrimination in the workplace, public accommodations, credit, housing; it also creates a cause of action. Bills that were combined into HB1663 include HB3, HB21, HB23, HB217, HB1050, HB1200 and HB1512.
The committee reported HB7 (Bourne), which adds law sexual orientation and gender identity to the unlawful discriminatory housing practices under the Virginia Fair Housing law and HB881 (Bulova), which that makes games of skill illegal.
The committee also reported:
VML Contact: Michelle Gowdy, mgowdy@vml.org
House Counties, Cities and Towns acts on number bills
The committee reported several bills at its meeting this morning:
The committee did not report these bills:
HB1564 (Cole, M.L.) is the impact fee bill – it was tabled!!!
HB1685 (Knight) is the short-term rental bill that would have prevented certain people to register with the locality – it was stricken!!!
HB662 (Mullin) it's the little victories that count! This bill died but would have made the last administrative step of the local grievance procedure a court action rather than the manager.  Various forms of this bill have come up for years and it was yet again defeated!
VML Contact: Michelle Gowdy, mgowdy@vml.org
Other bills of interest this week
HB321 (Levine) allows a member of a public body to participate electronically in a public meeting if there is a serious medical condition of an immediate family member.  The public body must be notified of the reason and is limited to either two meetings or 10% of the meetings during the calendar year.
The bill was recommended by a subcommittee this week and may be before the full Committee on Communications and Technology and Innovation on Monday.
HB657 (Heretick) exempts a solar facility that is 150 megawatts or less from the comprehensive plan review if the zoning ordinance of the locality permits solar facilities with a conditional use permit or the locality waives the requirement that it be reviewed for substantial accord with a locality's comprehensive plan.  A House Labor and Commerce committee has recommended reporting a substitute for the bill.
Budget & Finance
Plastic bag bills are wrapped too tight
House Finance Subcommittee #3 reported a substitute bill (HB1151) that would permit a locality to prohibit by ordinance the purchase, sale, or provision, whether free or for a cost, of certain single-use products that are not recyclable or compostable and for which there is a suitable and cost-effective compostable or recyclable alternative product available. Certain products would be exempt from the prohibition. The bill would also authorize any locality to impose a five-cent per item tax on single-use plastics and polystyrene products provided to customers by certain retailers. Certain products would be exempt from the tax.
The substitute measure adopted by the subcommittee re-directs the five-cent tax revenue from localities to the state with the money going to the Virginia Water Quality Improvement Fund and the Virginia Natural Resources Commitment Fund.
The problem for local governments: In other words, under the substitute measure, local elected officials would be responsible for imposing the tax (and dealing with any political heat) but the money would flow to Richmond for the Governor and General Assembly to decide the spending.
The bill will go to the full House Finance Committee either on Monday or Wednesday of next week.  VML members should contact their delegations to make sure that local tax money stays at the local level.
Watts (Chair) | Keam (Vice Chair) | Kory | Lindsey | Sullivan | Murphy | Heretick | Ayala | Carter | Carroll Foy | Mugler | Hudson | Scott | Orrock | Byron | Ware | Wright | Gilbert | Poindexter | Fowler | McNamara | Campbell, R.R.
Plastic bags in the Senate
In the Senate, the Finance and Appropriations Committee considered two bills (SB11 and SB26) on Thursday without resolving the issue. The Committee was undecided about whether the tax should be state- or local-imposed and whether the revenue should go to the state or stay in the community.  Senators Ebbin and Petersen, who sponsored the two bills, were instructed by Committee Chair Senator Howell to come back next week with a new proposal.
VML favors a local option with the money retained by the locality.
VML Contact: Neal Menkes, nmenkes@vml.org
Looping back on tax bills: HB537 and HB1534
What ever happened to . . .
HB537 passed the House earlier this week and would increase the maximum duration of a local real estate tax exemption for structures in redevelopment, conservation, or rehabilitation areas or rehabilitation districts from 15 to 30 years. Under current law, local governing bodies may provide up to 15 years for the partial exemption from taxation of new structures or other improvements to real estate located in a redevelopment or conservation area or rehabilitation district.
HB1534 passed out of a House Counties, Cities and Towns subcommittee on Thursday. The measure would authorize the board of supervisors of any county that has adopted the urban county executive form of government (Fairfax County) to enter into agreements with towns located partially or wholly within such county for the collection and enforcement of real or personal property taxes by the county official responsible for assessment or collection of taxes. Under current law, in any county, the county treasurer and the treasurer of any town located partially or totally within such county may enter into a reciprocal agreement with the approval of the respective governing bodies that provides for the town treasurer to collect real and personal property taxes owed to the county and for the county treasurer to collect real and personal property taxes owed to the town.
VML Contact: Neal Menkes, nmenkes@vml.org
Tax equalization bill may freeze local cigarette taxes
The Senate Finance and Appropriations Committee is working to collapsing into a single measure the multiple proposals dealing with modernizing county taxation powers. The likely vehicle is Senator Hanger's SB588.
In a move that surprised many, the Senator offered a substitute bill that while allowing counties to impose cigarette taxes would freeze the tax rate for cities, towns and counties:
"If such locality … on January 1, 2020, had in effect a rate not exceeding 2 cents per cigarette sold, … then the maximum rate shall be 2 cents per cigarette sold.
If such locality … on January 1, 2020 had in effect a rate exceeding 2 cents per cigarette sold, then the maximum rate shall be the rate in effect on January 1, 2020."
Committee Chair Senator Howell did not ask for a vote on the measure. Instead, she directed the Joint Legislative Audit and Review Commission (JLARC) to review the measure and report back next week to Senate Finance and Appropriations. The Committee is likely to act early next week.
It is important for VML members to alert their Senators about the cigarette tax gambit. It is difficult to understand how these restrictions comport with the bill's intent to improve local finances.
In the House, a similar measure offered by House Finance Chair Delegate Watts, HB785, is likely to be heard on Monday in House Finance Subcommittee #2 and then by the full House Finance Committee on Wednesday.
The House bill, as introduced, does not include the damaging language.
VML Contact: Neal Menkes, nmenkes@vml.org
Health & Human Services
Epi-Pen bill amended
HB1147 (Keam) which as introduced would require all public places (including all local government buildings and indoor facilities) to make epinephrine available for administration, was amended in a House Health, Welfare & Institutions subcommittee this week at the request of local governments to make it allowable, not mandatory. The bill now moves to full committee for action.
Epinephrine is made portable and injectable as "epi-pens" but these pens, which cost several hundred dollars each, require a prescription and restocking on an annual basis.
VML would not oppose the bill if it remains an option, not a mandate.
VML Contact: Janet Areson, jareson@vml.org
Bill to change CSB funding components struck
HB589 (Guzman) which would have required the Department of Behavioral Health and Developmental Services (DBDHS) to amend its funding criteria for state-allocated dollars to community services boards to include the total population of the area served by each CSB and the level of need for services provided by the CSB among the population of the area served was struck by the patron this week.
VML would not be in favor of changing a funding formula without a hold-harmless for communities.
VML Contact: Janet Areson, jareson@vml.org
Harm reduction bill amended; faces questions
As introduced, HB791 (Plum) would:
Repeal the sunset on the authority of the Commissioner of Health to establish and operate local or regional comprehensive harm reduction programs.
Allow a local health department or other organizations to establish comprehensive harm reduction programs.
Eliminate the requirement that comprehensive harm reduction programs be located in any communities, not just those that meet current state criteria regarding increased risk of transmission of HIV, viral hepatitis, or other blood-borne disease as a result of injection drug use.
Eliminate the existing requirement for the support of the local governing body or local law enforcement in establishing a program but would require any program operator to file annual written security plans with local law enforcement
This week it was amended in a House Health, Welfare, and Institutions subcommittee to give authority to the Health Commissioner (or his designee) to authorize such programs and clarify that the security plan be submitted in consultation with local law enforcement (to allow for a two-way discussion of the security plan if necessary).
The amendments came under question in the full committee, and the bill was carried over for the week.
VML supports the repeal of the sunset to allow harm reduction programs to operate and expand to more communities to combat the opioid epidemic and illnesses resulting from shared needles. VML spoke in favor of adding notification to local governing bodies when such programs are slated to open in their community.
VML Contact: Janet Areson, jareson@vml.org
CSA bills carried over to 2021 Session
The House Appropriations Committee has carried over HB762 (Cole, JG) and HB49 (McNamara) to the 2021 Session. HB762 would have allowed localities and their school systems in planning district 16 to use Children's Services Act (CSA) pool funds to help deliver special education programs to children in public school settings rather than using more expensive private placements that can use CSA funds.  HB49 would have created pilot programs in up to seven localities regarding the use of CSA and other funds for special education programs in public school settings as a way of diverting children from more expensive private day programs.
VML supported these efforts as a way to addressing the increasing costs to localities face with private day special education placements.
VML Contact: Janet Areson, jareson@vml.org
Transportation
House transportation bills in motion this week
HB1442 (Jones) – allows localities, and the State Police, to use photo speed monitoring devices to enforce the speed limit. This was one of three similar photo enforcement bills – HB1721 (Hurst) and HB1721 (Willett) being the other two – considered in the Committee. HB1442 was the only bill that passed out of Committee. In its present form, the bill stipulates that photo enforcement devices can only be used in two areas: school crossing zones and non-interstate highway work zones.
HB1442 bill passed by a vote of 13-8 out of the House Committee on Transportation.
HB1439 (Jones) – bans the use of cell phones while driving, requires that all passengers of a motor vehicle wear seat belts, makes possessing an open container of alcohol in a motor vehicle illegal, allows for the use of photo speed enforcement in highway safety corridors for vehicles travelling more than 10 mph over the speed limit, and allows all localities to reduce the speed limit below 25 mph in business and residential districts.
HB1439 has been assigned to the Appropriations subcommittee on Transportation and Public Safety.
HB1211 – allows the DMV to issue driver's licenses to people who lack documentation of citizenship or legal presence (though this driver's license would not be Real ID compliant). After extensive testimony on this bill from numerous community members, faith leaders, and interested parties from across the commonwealth, the Committee reported this bill out by a vote of 13-9 for consideration on the floor next week. A similar bill failed to advance, Del. Bloxom's HB565, which would have provided driver privileges cards to undocumented persons who were able to establish employment history.
HB1211 has been assigned to the Appropriations subcommittee on Transportation and Public Safety.
Meanwhile, in the Senate…
The Senate Transportation Committee reported out similar legislation to provide DMV with the authority to issue driver's licenses to undocumented persons. The Senate legislation was introduced by Senator Surovell SB34 after Senator Boysko's SB643 was incorporated into it by a vote of 8-7. This legislation is similar to HB1211.
VML Contact: Mitchell Smiley, msmiley@vml.org
Elections
Redistricting amendment bills anticipated next week
As the last week before crossover approaches, committees and subcommittees in both the House and Senate will need to address key redistricting legislation. SJ18 (Barker) and HJ71 (VanValkenburg) would each represent the General Assembly's second resolution regarding the establishment of the Virginia Redistricting Commission, a body that would have 16 members and require a supermajority of both legislators and citizens to approve any proposed plan. Should the constitutional amendment pass, it will appear in a voter referendum on the November 2020 ballot.
VML strongly supported this amendment last year, passed as SJ306 (Barker), and continues to support this model.
Both bodies will also review enabling legislation that outlines key details of the redistricting process that are not included in the constitutional amendment. SB203 (Lucas) establishes criteria for the composition of the Commission and the development of new maps, while SB204 (Lucas) provides directions for the Supreme Court of Virginia, should the Commission and General Assembly fail to adopt a new map.
HB758 (VanValkenburg) combines the requirements of both SB203 and SB204.
VML also supports these three bills.
Please reach out to members of the House Privileges and Elections Subcommittee on Constitutional Amendments and the Senate Privileges and Elections Committee, who will have the first review of these bills. The House subcommittee will meet Monday, February 3rd at 4:30 p.m., while the Senate committee will meet Tuesday, February 4th following the adjournment of the full Senate.
VML Contact: Jessica Ackerman, jackerman@vml.org
Events & Opportunities
Local Government Legislative Day is February 6
Register now to take part in this important event
Join VML, the Virginia Association of Counties and the Virginia Association of Planning District Commissions on Thursday, February 6 in Richmond for briefings on issues of greatest importance to localities during the 2020 General Assembly. All attendees will then be encouraged to visit General Assembly members and committee meetings at the Pocahontas Building and the Capitol.
As you may be aware, heightened security measures have resulted in more time needed to enter these buildings. Please plan on bringing as few personal belongings as possible to the General Assembly to help speed up the process.
A brief evening reception and meet-up with delegation members will follow at the Omni Hotel.
Details and registration available here >