eNews Jan. 30, 2019 – Supplemental Edition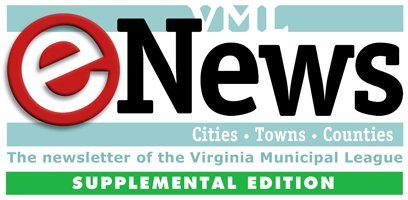 Wednesday, January 30, 2019 - 02:34pm
In this issue:
Senate "checkbook bill" reported; House bill dies
Call Senators in opposition to SB1262
SB1262 (Sturtevant), the "checkbook bill," that requires localities with over 25,000 population and each school division with over 5,000 students to post on their website a register of all funds expended in a particular format. The register must include the vendor name, date of payment, amount and a description of the type of expense. The requirement includes credit card purchases.
The bill will be on the Senate floor by tomorrow with the final vote likely to take place on Monday
Action
Please get in touch with your Senator(s) and urge opposition to the bill.
Talking points for SB1262
Even localities and school divisions that meet the population criteria and that already post their checkbooks on their websites may not meet the requirements of the bill.
Many localities and school divisions may have to change accounting software and systems. If they do, it will be expensive.
Last year when similar legislation was introduced, one locality that posts its checkbook on line had 216 interactions in an 8-month period; only 10 were from the United States and most were from Russia.
Administrative time will be required to ensure that confidential information is not displayed.
All expenditures and related information are already available through a locality's budget or through the FOIA process, unless an exemption applies.
HB1907 (VanValkenburg), an identical bill, was heard by House Counties, Cities & Towns Subcommittee #1, at its 7:30 a.m. meeting and died. The full committee meets Friday morning.
VML Contact: Michelle Gowdy, mgowdy@vml.org
Limits on fines for parking tickets
Contact your delegates and continue talking with your senators; forward information to VML
As noted in yesterday's eNews, the main purpose of SB1044 (Black) is to allow any locality with a population of at least 40,000 to contract with a private firm to issue parking tickets. An undesirable amendment, however, was added in committee. The amendment limits any fine for a parking ticket to no more than $75.  Although few parking fines exceed $75, a few do (e.g., parking in a fire lane; parking in an HOV lane) in some localities.
SB1044 passed the Senate and has been referred to House Transportation Subcommittee #2.
Action
If localities want to remove this amendment, we have to be able to show that there are some serious parking offenses that incur reasonable fines that exceed $75.
Please contact your delegates ask them to support deleting the parking fee amendment from SB1044. Let VML know if you contacted your legislator. If the bill is amended, it will have to go back to the Senate, so it's a good idea to continue talking to your Senator(s) about the bill.
Also, please send information about parking fines that exceed $75 in your locality to Bernie Caton (bcaton@vml.org) as soon as possible.
Short-term rental bill reported
SB1701 (Ebbin) is a short-term rental bill targeted specifically at Fairfax County. The Senate Local Government Committee amended the bill to deal with short term rentals that are not owner occupied.     The committee then reported the bill on a 9 yes, 4 no vote.  Senator Stanley, the committee chair, urged the bill's proponents and the county to work on amendments before the vote on the floor. VML and localities fought very hard to retain local authority with regard to short term rentals and were successful in 2017 when SB1578 (Norment) was passed. It is vital that localities retain local authority for the regulation of short-term rentals.
VML Contact: Michelle Gowdy, mgowdy@vml.org
Annexation bill struck
But issue could be back in 2020
As expected, the annexation bill (HB2450 — Wilt) was struck today (Jan. 30) in a House Counties, Cities and Towns subcommittee, with the promise that VML will work with the delegate on the issues raised in the bill before the 2020 session.
VML Contact: Michelle Gowdy, mgowdy@vml.org
House General Laws reports USBC bill
FOIA ombudsman bill fails in subcommittee
The House General Laws Committee on Jan. 29 recommended HB1966 (Yancey), dealing with the Uniform Statewide Building Code. The bill originally stated that if there is a denial of the issuance of a building permit, the applicant must be provided with a written explanation of the reasons and the building department must limit its review of the revised application to only those portions deemed inadequate. In a last-minute deal, the bill was amended to include language that the fees had to stay in the building department and that the limited review was "suggested" not mandated.
A General Laws subcommittee on the same day failed to report HB2507 (Roem), which would have required the Office of the Attorney General to create an Ombudsman position to work with state agencies and compliance with FOIA.
VML Contact: Michelle Gowdy, mgowdy@vml.org
House bill on surplus property rereferred
HB2182 (Austin) requires the Department of General Services to notify a locality (the chief administrative officer and the economic development entity, if any) if the state has surplus real-estate property in the locality. The locality would have 180 days to submit a proposal for use of the property and the department and locality would then try to reach an agreement on the sale. If there is no proposal offered within the 180, or if no agreement is reached, the Department could proceed with disposal of the property.
A House General Laws subcommittee recommending reporting and rereferring a substitute for the bill to House Appropriations on Jan. 29.  A somewhat similar bill (SB1681–Mason) was reported this morning, Jan. 30, from the Senate Finance Committee.
VML Contact: Michelle Gowdy, mgowdy@vml.org
Senate Local Government Committee clears its docket in advance of crossover
Reported on Jan. 29
SB1634 (Boysko) allows towns to create local economic revitalization zones. Currently, cities and counties have this authority. The bill was requested by the Town of Herndon.
SB1091 (Reeves) addresses the decommissioning of certified solar energy equipment. The bill has been worked on by stakeholders for several weeks. SB1398 (Stanley) is identical legislation that was "rolled into" SB1091. This bill gives localities express authority to require a decommissioning plan for solar equipment.
SB1663 (Barker) allows localities in their subdivision ordinances to require sidewalks and the dedication of land for such sidewalks. The bill was amended in committee to add this requirement regarding sidewalks: "the need for which is substantially generated and reasonably required by the proposed development…"  Identical legislation (HB1913–Bulova) including the amendment is on the House floor.
SB1312 (Hanger) requires any town that voluntarily conducts an audit to submit the results to the Auditor of Public Accounts once complete.
SB1699 (Peake) allows a local subdivision ordinance to include a requirement that a developer either dedicate land for a sidewalk or contribute equivalent funds which the locality may use elsewhere in the jurisdiction if appropriate. The bill came at the request of the City of Lynchburg.
Rereferred on Jan. 29
The committee rereferred to Senate Finance SB1762 (Sturtevant), which would require a locality to submit to the Department of Transportation a traffic impact analysis for any proposed zoning for a new solid waste management facility.
PBI'd on Jan. 29
The committee passed by indefinitely two bills that had been rereferred to it from the Senate floor with a letter to the Housing Commission asking them to study impact fees and proffers in Virginia. VML has been asked to participate in this study. SB208 (Stuart) would have made the existing impact fee provisions available for use by any locality that includes within its comprehensive plan a calculation of the capital costs of public facilities necessary to serve residential uses. SB944 (Stuart) would have taken away local authority in some instances to accept cash proffers as part of conditional rezonings.
VML Contact: Michelle Gowdy, mgowdy@vml.org