eNews Jan. 3, 2020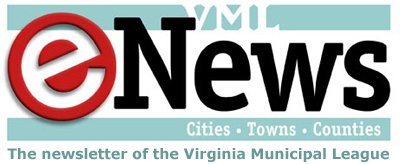 Friday, January 03, 2020 - 04:13pm
In this Issue:
General Assembly
2020 General Assembly set to convene
VML encourages our members to get involved!
The 2020 session of the General Assembly will convene on Wednesday, Jan. 8. This is also the last day for prefiling bills (10 a.m. deadline) and to file legislation to create or continue a study.
With so many pressing issues and so many interested parties, what can you do to help ensure local government voices are heard? First, stay in touch with your delegates and senators, making sure that they know how proposed bills and budget amendments will affect your community. Keep up with VML's eNews and action calls so that you can keep your delegation informed about legislative proposals that you like or don't like.
Contact your VML legislative team
Please be sure to let league legislative staff know if you have concerns about an issue. Also, please let us know about your communications with legislators.
Augmented eNews schedule for the 2020 session
VML will publish eNews more often during the session. If you know someone on your staff that should be receiving eNews, they can subscribe here.
When issues require immediate attention, legislative staff will send action calls asking local officials to contact legislators. Talking points will be included! Things move rapidly during the session, so please stay tuned and please respond to the action calls. Legislators need to hear from people in their districts.
VML Contact: Rob Bullington, rbullington@vml.org
2020 General Assembly information and resources
Note – We will provide additional dates, calendars and links via eNews as they are confirmed and become available.
Important dates:
Useful links:
Get ready for the 2020 session by reviewing VML's legislative program
The 2020 General Assembly brings with it a new majority in the House and Senate and new leadership on all its committees. It's also a budget year. Governor Ralph Northam introduced his two-year biennial budget in December and the General Assembly will use its 60-day session to consider changes to that proposed budget, along with amendments to the current year (FY2020) budget, informally called the "caboose" budget.
State budget deliberations are of key interest to VML's communities because local governments manage many state mandatory and high-priority programs, essentially functioning as an administrative arm of the state. VML communities will be anxious to learn the details of state funding commitments for big ticket items such as K-12 education, stormwater local assistance and water quality programs, local police department operations, as well as how adequate funding for community services boards and planning district commissions will be secured.
Apart from budget issues, legislative areas of concern to our members include provisions to expand broadband and access to housing, updates to the communications sales and use tax to reflect 21st century realities, land use and zoning issues; means to address distracted and inattentive driving, and fiscally responsible methods to handle presumptive disability benefits.
Download a copy of VML's full 2020 Legislative Program here >.
VML Contact: Janet Areson, jareson@vml.org
Events & Opportunities
Grant funding webinar for Chesapeake Bay watershed localities
The National Fish and Wildlife Foundation, the U.S. Environmental Protection Agency, and the Chesapeake Bay Program are seeking proposals to improve water quality and habitat in the Chesapeake Bay watershed including its tributaries and streams. It is expected that grants totaling $5-7 million will be awarded in 2020 under the Innovative Nutrient and Sediment Reduction Grant program. Proposals from existing partnerships are specifically the focus of this round of grant funding (partnerships can include local governments, nonprofits, institutions, and/or businesses). This grant program is designed to cultivate partnership and network growth and accelerate the scale and/or rate of water quality improvements.
Webinar and due dates
VML Contact: Mitchell Smiley, msmiley@vml.org
Upcoming VML events
January 6 – Finance Forum
Cosponsored by VML and VACo, the finance forum provides an excellent opportunity for local elected officials and staff to receive important information about the budget and legislative issues for the 2020 session.
Details and registration available here >
January 10 – Newly Elected Officials Conference
VML's Newly Elected Officials Conference provides a valuable opportunity for both new and seasoned public officials to learn from speakers with extensive experience working with local government officials. Furthermore, they offer an excellent opportunity to learn what it takes to succeed and how to avoid common pitfalls as an elected official.
Details and registration available here >
February 6 – Legislative Day
This year, VML is partnering with the Virginia Association of Counties and the Virginia Association of Planning District Commissions for Local Government Legislative Day in Richmond. This program will feature briefings on issues of greatest importance to localities during the 2020 General Assembly from state officials and staff. All attendees will then be encouraged to visit General Assembly members and committee meetings at the Pocahontas Building and the Capitol, before returning to the Omni Hotel for a brief reception and meet-up time with their delegation members.
Details and registration available here >