eNews Jan. 29, 2019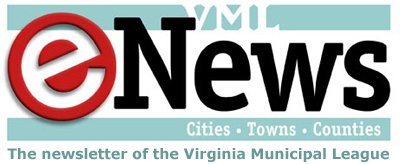 Tuesday, January 29, 2019 - 05:53pm
In this issue:
Limits on fines for parking tickets
Contact your delegates and senators; forward information to VML
As noted in earlier editions of eNews, the main purpose of SB1044 (Black) is to allow any locality with a population of at least 40,000 to contract with a private firm to issue parking tickets. An undesirable amendment, however, was added in committee.  The amendment limits any fine for a parking ticket to no more than $75.  Although few parking fines exceed $75, a few do (e.g., parking in a fire lane; parking in an HOV lane) in some localities.
SB1044 passed the Senate and has been referred to House Transportation Subcommittee #2.
Action
If localities want to remove this amendment, we have to be able to show that there are some serious parking offenses that incur reasonable fines that exceed $75.
Please contact your delegates and senators and ask them to support deleting the parking fee amendment from SB1044. Let VML know if you contacted your legislator.
Also, please send information about parking fines that exceed $75 in your locality to Bernie Caton (bcaton@vml.org) as soon as possible.
FOIA bills update
SB1431 (Obenshain) requires local elected officials to complete Freedom of Information Act training within two months of taking office and once every two years while are in office.  The bill also eliminates the three-day notice requirement for a hearing alleging an open meeting violation of the act.  The original version of the bill would have been effective this July, but a committee substitute makes it effective July 1, 2020. This bill has been re-referred to Senate Finance and will be heard there later this week.
SB1554 (Surovell) adds an additional penalty for persons who intentionally alter or destroy required records prior to the record retention period.  The original bill said the court "shall" impose the penalty but a committee amendment changed the "shall" to "may." An additional penalty also is added if a member of a public body votes to certify a closed meeting that was improper.  The bill was amended in committee and is heading to the Senate floor.
Two bills amending the Freedom of Information Act that were recommended by the FOIA Council are heading to the Senate floor after being approved by committee on Jan. 28. SB1180 (Stuart) redefines trade secrets.  With passage of this bill the term "trade secret" means the same as the term defined in the Uniform Trade Secrets Act.  SB1182 (Stuart) clarifies certain requirements of law regarding participation in public meetings through electronic communication when there is a state of emergency declared by the Governor.
VML Contact: Michelle Gowdy, mgowdy@vml.org
Scooter, towing bills go to House floor
Tuesday was a good day for local governments in the House Transportation Committee. Two bills that had the potential to significantly alter existing local authority, were reported out of the committee—both amended in ways beneficial to local governments.
Motorized scooters
Local government staff worked with representatives of the scooter companies (Lime, Bird, and Uber/Jump) to amend the motorized scooter bill (HB2752–Pillion) so that it met the needs of both the companies and local governments. The House Transportation Committee unanimously approved a heavily revised HB2752 Tuesday morning. The revision is much more favorable toward localities than the original version, and for the most part will allow localities to reasonably regulate companies that provide rental scooters, as well as the use of these scooters on streets and sidewalks. Major items in the bill are:
Any city, county, town, or political subdivision may adopt an ordinance to regulate motorized scooters or may take an action to create a pilot program or demonstration project to regulate them.
If a locality has not adopted an ordinance or created a pilot program or demonstration project by January 1, 2020, a scooter company can begin operation in the locality without local regulation—at least until the local government adopts an ordinance or initiates a pilot program or demonstration project.
The bill will now go to the full House for a vote later this week.  If it passes there (as it is expected to do), it will then be considered by the Senate.
Originally there were two other bills (HB2214–J. Jones and HB2232-Bagby) that would have affected local authority to regulate motorized scooter but these were withdrawn by the patrons.
Local governments that think they may want to regulate motorized scooters should begin planning now on an ordinance, pilot program, or demonstration project.  Several localities have begun pilot programs.  If you would like information on the ongoing pilot programs and who to contact to discuss them, please contact Bernie Caton at bcaton@vml.org.
Local Authority to Regulate Towing and Towing Fees
HB1865 (Fowler) is another bill that was opposed by local governments as introduced.  It would have removed existing local authority over towing companies—without assigning it to another public body. The bill also would have deleted language presently in the law that for the most part prohibits towing firms from adding on extra charges to the actual towing fee.
Local governments worked with proponents of the bill to eliminate the objectional parts of the bills.  The bill was amended so that it now does one thing that pertains only to localities in Planning Districts 8 (Northern Virginia) and 16 (Fredericksburg and surrounding counties). It sets limits on what a tow company can charge in these localities: a minimum of $135, and a maximum of $150 (this is the existing maximum for the rest of the State). The specific amount charged in each locality (between $135 and $150) is to be set by local ordinance. This bill will be voted on by the full House later this week.
SB1567 (Marsden), as introduced, was identical to HB1865.  Proponents of the bill have said that it will be amended in the Senate Transportation Committee so that it is identical to the version of HB1865 that was approved by the House Transportation Committee this morning.
VML Contact: Bernie Caton, bcaton@vml.org
Senate General Laws reports measures
With cross-over looming next Tuesday, committees are working furiously through long agendas. Here's an update on bills moving forward from Senate General Laws & Technology:
SB1625 (McPike) updates the definition of permissible fireworks to use terminology that is used in the fireworks industry.
SB1681 (Mason) allows the Department of General Services to notify a locality (the chief administrative officer and the economic development entity if any) if the state has surplus property in the locality and allows the locality the opportunity to hold an option to purchase the property for up to 5 years.  The House companion bill (HB2182–Austin) was scheduled to be heard this afternoon in House General Laws.
SB1755 (Hanger) as amended directs the Department of Housing and Community Development to convene a stakeholders meeting to develop proposed amendments to the Uniform Statewide Building Code and Statewide Fire Prevention Code regarding safety and security devices including locking devices, barricade devices and other safety measures.
VML Contact: Michelle Gowdy, mgowdy@vml.org
House GOP budget package will include 5% salary increase for teachers
Following a Monday morning march and rally of Virginia public school educators, Chair Chris Jones of the House Appropriations Committee announced that the chamber's budget amendments would include funding for the additional 2% teacher salary increase proposed by Governor Ralph Northam. The 2019-2020 Budget currently includes a 3% salary increase, scheduled for implementation later this year. However, the new 2% increase would be effective July 1, 2019, bringing the total bump to 5%.
Both the House and Senate's proposed budgets will be released this Sunday, February 3rd.
VML Contact: Jessica Ackerman, jackerman@vml.org
Update on procurement bills
Bills to add a statute of limitations on construction contracts are working their way through both the Senate and House. A substitute for SB1369 (Norment) adds these provisions: 5 years from the completion of work on the project and, in the case of latent defects, not more than 10 years from completion of the work on the project.  If there is a warranty or guaranty, then a case must be brought no more than one year after the expiration of the warranty or guaranty.  In addition, the bill requires that no action against the surety on a performance bond shall be brought unless it is within one year after work on the project (VDOT is excluded from this provision).  The substitute for SB1369 has been rereferred to Senate Finance.
A companion bill (HB1667–Kilgore) is in House Courts of Justice.
VML Contact: Michelle Gowdy, mgowdy@vml.org
Redistricting moves forward in both the Courts and the General Assembly
The Fourth District Court of appeals released its new Virginia House of Delegate district map, impacting some 26 districts across the State. The most impacted would be District 66 (Colonial Heights), currently represented by House Speaker Kirk Cox, which could see as much as a 32% swing toward Democratic support. Other impacted districts spread from Richmond through the southern Tidewater region.
Meanwhile, in an about-face, House Republicans have come out in support of a proposed independent redistricting commission. Patroned by Del. Cole, HJR 615 would establish a 12-member commission, with representatives selected by the House Speaker, the Governor, and the Senate Committee on Rules. HJR 615 was reported out of subcommittee via block vote last night.
VML Contact: Jessica Ackerman, jackerman@vml.org
Human services round-up
Senate: Finance Committee reported the following bills on Jan. 28
A substitute for SB1107 (Peake) which would allow an appropriated amount of funds from the Children's Services Act (CSA) pool for wrap around services in a public school setting.  The original bill was much broader in scope; the patron expressed support for the substitute.  Wrap around services can help keep a child in their community school setting and avoid a private placement, which costs more and can be much farther from home.  The substitute also would require an annual report from the Office of Children's Services regarding the use of these funds, the types of services funded, and whether the services reduced the need for private school special education placements.
SB1286 (Barker) which would remove a policy that delays the ability of Auxiliary Grant recipients leaving a state facility to consider first a supportive housing placement instead of an assisted living facility placement; the bill also increases the number of supportive housing placements using the Auxiliary Grants from 60 (approved in 2018 Session) to 120 for the current biennium.
A substitute for SB1095 (Howell) regarding early childhood care and education.  The original bill was an ambitious endeavor to restructure Virginia's child care and early childhood education system and move responsibility for licensing and oversight from the Virginia Department of Social Services to the Department of Education. The substitute creates an early childhood innovation fund to field test innovative strategies and directs the Superintendent of Public Instruction and the Social Services Commissioner to convene a stakeholder group to consider the development of a statewide unified public-private system for early childhood care and education.  The group would develop an implementation plan to take place as of July 1, 2021.
House: Appropriations Health and Human Resources Subcommittee tabled the following bills at its meeting on Jan. 28
HB1619 (Thomas), which would have allowed for a pilot program by the localities in Planning District 16 to use funding from the Children's Services Act (CSA) to bring children back to their community public schools from private special education day school placements.  A senior committee member suggested that this idea should wait until the conclusion of a Joint Legislative Audit and Review Commission (JLARC) study of special education programs.
HB1994 (Price), which would have allowed certain local police departments (the bill was introduced on behalf of the City of Newport News; other localities asked to be added to the bill) to oversee the background finger print checks for child care programs instead of going through Virginia Department of Social Services, which can take longer to process.  A companion bill (SB1407 – Mason) was heard by a Senate Rehabilitation and Social Services subcommittee earlier in the day and was recommended for report and referral to the Senate Finance Committee.
VML Contact: Janet Areson, jareson@vml.org
School safety round-up
House Select Committee on School Safety Package:
The full House of Delegates this week will review another three of the ten bills presented as a result of the findings of the 2018 House Select Committee on School Safety.
HB 1734 (Marshall) directs the Virginia Center for School and Campus Safety to develop a threat assessment tool for K-12 schools.
HB 1737 (Wright) requires local school boards to include the local chief law enforcement officer, chief of emergency medical services, and the local emergency management official in the development of all school crisis and emergency response plans.
HB 1739 (Rush) will add software and mobile apps to the list of eligible security equipment for purchase under the Public School Security Equipment Grant Act of 2013. The grants are currently funded through bonds issued by the Virginia Public School Authority. Because bonds cannot be used for more short-term capital purchases (such as software), award grants would be funded through interest on the Authority's bonds.
The final bill awaiting review, HB1735 (Robinson), would establish a Commission on Student Behavioral Health. The bill will be heard in a marathon meeting of the House Committee on Rules, Subcommittee #1 this afternoon.
School Protection Officers:
HB 2142 (Thomas)/SB 1207 (Stuart) offers a clear title and definition for retired law enforcement officers who return to work part-time effectively as school resource officers. This legislation also allows for the establishment of alternate training standards that specifically address school- and student-related issues, rather than requiring the full training otherwise required of full-time law enforcement officers. Each version of the bill will appear before its full respective legislative body this week.
VML Contact: Jessica Ackerman, jackerman@vml.org
Procedural guarantees, sharing of tax information bills die
SB1708 (Edwards) died on Monday (Jan. 28) in the Senate Committee on Courts of Justice.  The bill tinkered with the Law-Enforcement Officers Procedural Guarantee Act, most notably making the hearing panel decision final and binding.  Currently the panel decision is advisory.  This was the only bill on this issue introduced in the Senate or the House this session.
SB1623 (McPike) was brought at the request of Manassas Park and would have allowed the commissioner of the revenue and treasurer to share confidential tax information with directors of finance or other similar local officials.  This bill was strongly opposed by the Constitutional Officers and was stricken from the Senate calendar.  HB2587 (Roem) had a companion bill in House Finance that has also died.
VML Contact: Michelle Gowdy, mgowdy@vml.org
Measure to assist furloughed federal workers passes Senate committee
Also: Locality, what did you do during the government shutdown? VML wants to know
On January 28th, the Senate General Laws and Technology committee passed SB1737 which provides a 30-day stay for eviction and foreclosure proceedings for tenants and homeowners who provide proof that they are an employee of the federal government, a federal government contractor or employed by a contractor. The bill contains an emergency clause and a sunset date of September 30, 2019.
In related news: VML has added a Local Federal Issues page to our website that lists what actions our member localities took, or are continuing to take, to support workers affected by the recent government shutdown.
Action
If you have not already responded to our request for information, please do so at your soonest convenience. Although the longest federal government shutdown in U.S. history has ended, it may not be the last. It is our intention to have the information on this page as complete as possible so it can serve as a reference should another shutdown take place.
Please send your information to Rob Bullington, rbullington@vml.org.
Broadband access coalition formed
VML, VACo, Chamber, PTA and others join forces: #CommonwealthConnect
A diverse group of organizations, including the Virginia Municipal League, have joined forces as the Commonwealth Connect to support bridging the digital divide by bringing access to quality broadband across the state.
VML Contact: Michelle Gowdy, mgowdy@vml.org
HEAL announces grants

This winter, cities and towns across Maryland and Virginia have an opportunity to obtain new resources to help residents and municipal employees eat healthier and move more. On February 15th, the HEAL Campaign will release a request for proposals (RFP) to support selected local governments in Maryland and Virginia to implement policies that promote opportunities for healthy eating and physical activity. All current HEAL cities and towns are eligible to apply. Please note all upcoming dates:
February 15, 2019 – Grant Application released
February 28, 2019 – RFP Informational Webinar (register here)
March 15, 2019 – Grant application due by midnight ET
Early April 2019 – Grant decisions announced
January 15, 2020 – Grant project end date
Up to ten cities and towns will receive grants ranging from $1,000 to $10,000. This grant program is made possible through the financial support and generosity of our founding partner, Kaiser Permanente, and the continued collaboration of our strategic partners, the Maryland and Virginia Municipal Leagues.
All grant updates will be posted on the group's website at  www.healcitiesmidatlantic.org/grants. Any remaining questions should be addressed to Sydney Daigle at Sdaigle@institutephi.org .
Virginia Municipal League to begin using new public engagement platform
In the coming weeks, Virginia Municipal League will begin a partnership with POLCO, an innovative civic engagement platform that will allow VML to more effectively gather important input from communities regarding emerging issues, legislative priorities, and policy questions.
POLCO first came to VML's attention through its partnership with the National League of Cities. POLCO was recently named as just the 7th Enterprise Partner with the National League of Cities (NLC).  The NLC has named POLCO as its exclusive citizen engagement software platform partner.
Good things to know about POLCO:
For municipalities, the POLCO online verified surveying and polling platform allows residents to directly provide input to the local government decision-making process.
Cities can also share paper surveys and upload them into their results dashboards.
The platform can be used to help resolve contentious items that appear at impasse, as well as ask general resident service-delivery satisfaction questions.
POLCO never shares individual data with the city or any third party.
If you would like to learn more about POLCO, please visit overview.POLCO.us where you can read about POLCO's engagement platform to find out if it would be beneficial to your locality. You can also sign up to explore a city engagement dashboard for free.
VML Contact: rbullignton@vml.org
POLCO Contact: Patrick Cannon, pcannon@polco.us