eNews Jan 29 2016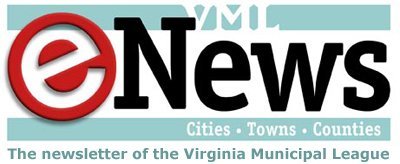 Friday, January 29, 2016 - 10:45am
SUCCESS: November elections bill defeated
Legislation that would have required municipalities to hold their elections in November (HB 161) was tabled at the request of Delegate Lionel Spruill, the patron, at Jan. 29 meeting of a subcommittee of the House Privileges and Elections Committee. VML thanks local officials for expressing concerns about the legislation to the members of the subcommittee.
VML contact: Mary Jo Fields, mfields@vml.org
Support amendment to fines & forfeitures
Eliminating language in the Appropriations Act that allows the state to seize a portion of local fines and forfeitures is a VML 2016 legislative priority.  This seizure now affects 33 localities statewide, and more could be added with the stroke of a budget-writing pen.
VML and its local government partners worked to get a number of budget amendments introduced to eliminate the language (seven patrons in the House, six in the Senate).  The amendments are under Item 3-6.05 of the budget. As the General Assembly money committees get closer to completing their separate budget proposals, it is the right time to talk to your members about supporting these budget amendments.  This applies even if your member does not serve on House Appropriations or Senate Finance.
The good budget amendments in the House are:
Item 3-6.05#1h O'Bannon Item 3-6.05#2h Bulova Item 3-6.05#3h Tyler Item 3-6.05#4h Bell, Richard Item 3-6.05#5h Simon Item 3-6.05#6h Leftwich Item 3-6.05#7h Ingram
The good budget amendments in the Senate are:
Item 3-6.05#1s Carrico Item 3-6.05#2s Saslaw Item 3-6.05#3s Deeds Item 3-6.05#6s Cosgrove Item 3-6.05#8s Lucas Item 3-6.05#10s Petersen
What you can do:
If your member submitted an amendment, please thank them and pledge your support.  If you have a member on House Appropriations or Senate Finance, please talk to them about supporting the amendment.  If you do not have a member on these committees, please ask your delegation members to talk to their colleagues on House Appropriations or Senate Finance to support the amendment.
Talking Points
The budget amendment(s) would delete only language in the Appropriations Act.
The seized funds are not programmed in the state budget, so there's no need to find off-setting revenue to make up for the budget amendment.
A State Inspector General report (2013) found no legal justification for the state seizure of local fines and fees.
An Attorney General Opinion (2013) stated that these fines and forfeitures are local revenues, not constitutionally required for deposit in the state Literary Fund.
VML contact:  Janet Areson (jareson@vml.org)
AirBnb bills advance.  Local concerns pushed aside.
Action needed: OPPOSE these bills
Who to Contact: Your local legislators AND
Senate Finance Committee: Norment (Co-Chair), Hanger (Co-Chair), Howell, Saslaw, Lucas, Newman, Ruff, Wagner, McDougle, Vogel, Carrico, Alexander, Obenshain, Barker, Dunnavant
Legislation (HB 812 and SB 416) to advance the "App" economy at the expense of local efforts to protect neighborhoods and citizens and to preserve local tax bases is moving ahead in the General Assembly.
Senator Vogel's SB 416 flew out of Senate General Laws earlier this week, and is now in the Senate Finance Committee.  Delegate Peace's HB 812 was also considered this week by a House General Laws subcommittee chaired by the Delegate.  The bill was unsurprisingly approved for the full General Laws Committee.
VML and VACo have prepared a chart that highlights the most significant local concerns with the two measures, focusing on land use, enforceability and taxing responsibilities.  VML urges members to discuss these issues with your delegates and senators.
View fact sheet on SB416/HB812
Legislature seeks audio recordings and minutes for all closed meetings
Action Needed: OPPOSE HB800 on audio recordings and minutes of closed meetings
Who to contact: your local delegates
HB800 (Morris) – Virginia Freedom of Information Act; audio recording of closed meetings required.  This bill was amended at the General Laws Subcommittee Thursday to add a provision that minutes also have to be kept.   Several parties opposed the bill arguing that it would have a chilling effect on discussions in closed session and may result in litigation to review such, but the bill was passed unanimously.  Please contact your local legislators on this matter.
House Appropriations hints at K-12 budget changes
A portion of lottery funds would be returned to school divisions in place of funding included in the proposed budget for additional instructional positions and at-risk add-on under a proposal floated at the Jan. 27 meeting of the House Appropriations Committee.
The presentation on the history of lottery funding said the committee was considering returning $67.5 million in FY17 and $121.3 million in FY18 to school divisions in the form of a per pupil amount from lottery funds. Unlike most state funding, which is tied to specific standards or programs, the school board would have wide discretion on how the funds could be used.
The funding would not increase the total amount allocated to public education but would be taken from money in the proposed budget for the state share of additional instructional positions and higher funding for the at-risk add-on. Those budget proposals would be eliminated.
VML contact: Mary Jo Fields, mfields@vml.org
Hybrid pension contribution changes proposed
Local finance and human resource managers will want to examine closely legislation that would change the mix of mandatory and voluntary contributions by the employer and the employee to the defined contribution and defined benefit components of the hybrid retirement plan. HB 1072 (Jones) is likely to be taken up next Thursday in the Compensation and Retirement Subcommittee of House Appropriations, and then would be before the full committee the next day.
A 13-page impact statement gives more details on the bill.
The bill would:
Increase the mandatory employer contribution to the defined contribution component from 1 percent to 2 percent of creditable compensation,
Decrease the employer's maximum matching contribution to the defined contribution component from 2.5 percent to 1.5 percent of creditable compensation,
Increase the employee's mandatory contribution to the defined contribution component from 1 percent to 2 percent of creditable compensation,
Decrease the employee's maximum contribution to the voluntary defined contribution component from 4 percent to 3 percent of creditable compensation,
Decrease from three years to two years the period in which a new member of the hybrid retirement program is required to make the maximum voluntary contribution to the defined contribution component before auto-escalation begins, and
Decrease the employee's contribution to the defined benefit component from 4 percent to 3 percent of creditable compensation.
VML contact: Mary Jo Fields, mfields@vml.org
General Assembly scrutinizes Gov. McAuliffe's economic development spending
Secretary of Commerce and Trade Maurice Jones appeared Monday before the House Appropriations Committee to speak on several economic development initiatives.  Most of his material dealt with actions taken by the Virginia Economic Development Partnership (VEDP), a state agency, to recover $1.4 million from Lindenburg Industries, a subsidiary of a Chinese company.  The general fund dollars came from the Commonwealth Opportunity Fund, and were supposed to incentivize $113 million in new private investment to Appomattox County and to bring 349 new jobs.   An additional $1.17 million was put up by the Virginia Tobacco Indemnification and Community Revitalization Commission for the apparently defunct project.
Secretary Jones repeated what he had told the Senate Finance Committee a week earlier that the standard process was not followed in vetting Lindenburg Industries, resulting in relying on false information to incorrectly recommend approval of the state money.
The remainder of the Secretary's presentation highlighted the new initiatives in the introduced budget.  Secretary Jones pointed out new spending of $12.5 million for the Virginia Biosciences Health Research Corporation; $60.0 million to create biotechnology spinoff companies; $5.0 million for the Pulp, Paper and Fertilizer Manufacturing Performance Grant Program Fund; $2.0 million for the governor's marketing and trade missions; and an additional $1.2 million for the Governor's Motion Picture Opportunity Fund.
The Senate Finance Committee heard on Tuesday from Secretary of Finance Ric Brown a detailed explanation of proposed economic development incentives in the introduced budget bill.
| | | |
| --- | --- | --- |
| Proposed Spending Item | Total Spending | New Money |
| Existing Economic Development Initiatives | $281.9 | $46.2 |
| New Economic Development Initiatives | $135.1 | $135.1 |
| Research/Commercialization Initiatives | $171.3 | $141.1 |
| Workforce Development Initiatives | $95.4 | $95.4 |
| Cyber Security Initiatives | $16.6 | $16.6 |
| Subtotal General Fund Initiatives | $700.3 | $434.4 |
| Research/Commercialization Initiatives Debt | $100.0 | $100.0 |
| Total | $800.3 | $534.4 |
| $s in millions for the 2016-18 biennium | | |
In a floor speech given on Tuesday, Senator Norment who is co-chairman of the Senate Finance Committee expressed doubt about the state economy's ability to support the spending in the proposed budget, specifically the governor's initiatives.  The Richmond Times Dispatch quoted the senator as saying "From a fiscal standpoint, we need to temper our exuberance."
Senate Republicans have raised concerns about the size of new economic development spending, which totals over a half-billion dollars for the next biennium.   Republicans in both chambers of the General Assembly are in opposition to more than $100.0 million in economic development initiatives that would be tied to savings from expanding Virginia's Medicaid program.
With fresh revenue collection data due in another 10 days or so, the fate of new spending items in economic development and other areas of the budget may become clearer.
Fostering futures bills move forward
Legislation to help teens in foster care who are reaching 18 years of age without a permanent adoptive family or other such supports has been reported by committees in both the House and Senate and are heading upstairs to the budget-writing committees for further review.  HB 203 (Lingamfelter/Peace/Toscano) and SB 436 (Favola) are known as the "Fostering Futures" bills.  These bills would allow teens aging out of traditional foster care to keep receiving certain supportive services until they reach 21 years of age.
Research has found that teens who do not a permanent family connection when they age out of foster care at 18 are more likely to become homeless; less likely to complete high school; more likely to become involved in the criminal justice system; and much less likely to complete a higher education degree.
This legislation could also help local governments with costs they are currently picking up for these teens through the Children's Services Act (CSA) by allowing Virginia to access certain federal IV-E funds to pay for supportive services to this group.
What you can do:
Contact members of the House Appropriations and Senate Finance Health and Human Resources subcommittees to express support for HB 203 and SB 436, respectively.
Who to contact:
House Appropriations HHR Subcommittee:  Ingram (Chair); Landes, O'Bannon, Peace, Garrett, Stolle, Sickles, Hester ; Senate Finance HHR Subcommittee:  Hanger, Howell, Alexander, Barker, Dunnavant
VML Contact:  Janet Areson (jareson@vml.org)
Charter school constitutional amendment reported
A constitutional amendment that would allow the State Board of Education to approve charter school applications was reported by the House Privileges and Elections Committee today on a 10-9 vote.
If approved in the House and Senate, the issue would go be put to the voters in a referendum at the November general election.  HJR 1 and HB 3 (Robert Bell) is the pertinent legislation.
Companion legislation (SJR 6, SJR 93 and SB 588) has yet to be heard in the Senate Privileges and Elections Committee.
Comments on the legislation should be directed to your delegates for HJR 1 and HB 3, and to members of Senate Privileges and Elections in the case of the Senate bills.
VML contact: Mary Jo Fields, mfields@vml.org