eNews Jan. 29, 2020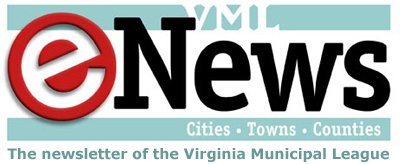 Tuesday, January 28, 2020 - 09:15pm
In this issue:
Judiciary
Sovereign immunity bill passed by in Senate committee
The Senate Judiciary Committee passed by indefinitely SB1009 (Chase), which discussed the waiver of sovereign immunity and then added that the Commonwealth or locality assumes an affirmative duty to protect all invitees; and further stated that the damages shall not be subject to any limit of liability.
This was the third of three bills that would have waived sovereign immunity for localities in certain cases that have been tabled or passed by. Thanks for your help!
VML Contact: Michelle Gowdy, mgowdy@vml.org
Health & Human Services
Helpful jail per diem bill gets "the clause"
The Senate has engrossed an amended version of SB189 (Peake) which would require that the Department of Corrections reimburse local jails for the actual cost of incarceration of state-responsible prisoners as calculated in the Compensation Board's annual jail cost report. The state per diem level is currently set in the Appropriations Act. The Senate Finance and Appropriations Committee attached "the clause" to the bill before dispatching it to the Senate Floor. The clause states that the bill will not become effective unless the 2020 General Assembly includes the funding for it in the Appropriations Act.
VML Contact:  Janet Areson, jareson@vml.org
Expensive epi-pen bill introduced
HB1147 (Keam) requires that epinephrine (also known as epi-pens) be made available in every public space* (as defined in Virginia Code § 15.2-2820). It's important to note that, according to the Code, "public spaces" include local government offices and indoor facilities such as auditoriums, meeting rooms, museums, and public vehicles.
VML requested a local government fiscal impact statement on the bill, which is now posted with the bill information. The cost is substantial because the pens have a shelf life of no more than a year; localities may have a number of facilities in which the pens would have to be stocked; and the price of these pens has dramatically increased in recent years, with generic versions costing between $200-$400 (and name brands closer to $600).  There are potential logistical issues as well, including the need to lock up the pen(s); determining who would have access to the pen in case of an emergency; and how training would take place and for whom. It begs the question of whether in such cases calling 911 would bring a faster and more comprehensive response.
The bill has been referred to the House Health, Welfare & Institutions Committee's Health Professions Subcommittee.  Localities with members on the subcommittee should contact them with any comments about the requirements of this bill before its next meeting on Thursday, January 30 at 5 p.m. The members of the subcommittee are:
VML Contact:  Janet Areson, jareson@vml.org
Bills would mandate juvenile facility location/size
SB1033  (Locke) and HB551 (Ward) as drafted would mandate that any state juvenile correctional facilities established by the Virginia Department of Juvenile Justice after July 1, 2020 be located in a locality from which at least five percent of all juvenile commitments occur statewide, using a three year average (i.e., cities of Hampton, Newport News, Norfolk, Richmond and Virginia Beach and the counties of Henrico and Prince William – all either straddling or east of I-95), and be designed to confine 30 or fewer juveniles. The bills would also require that the Department place children at the state facility located closest to their primary residence and within one hour of such residence via motor vehicle and within one and one-half hours of such residence via public transportation (not defined). If such placement is not available, the Department would be required to use an alternative placement that is closest to the juvenile's primary residence, such as a local juvenile detention center. Currently, the Department may place such children at local facilities with which it has a contract, and which can best serve the child's needs; the Department also may use other private or nonprofit facilities or services to best serve a child's treatment needs.
Local government and juvenile detention association reps met with advocates for the bills to review the language specifically affecting the local detention facilities and agreed to focus not solely on the distance from a child's primary residence but instead on the most appropriate placement closest to the child's primary residence (to include the full range of placements available to the Department).
An open question for the state, with implications for community-based alternative programs, is the cost impact of the bills' requirement regarding the size, location and operating cost of any new state facilities following the bills' mandates. According to sources, requiring the state to build smaller facilities and limiting their location to certain jurisdictions would potentially increase the state's land acquisition, construction and operating costs. It follows that spending more on these facilities would take an unspecified amount of the currently available funding from community-based programs and local detention contracts.
HB551 has been assigned to House Public Safety Committee, Public Safety Subcommittee which meets Thursday evening at 6 p.m.; SB1033 has been assigned to Senate Rehabilitation and Social Services Committee, which meets at 8 a.m. on Friday morning.
VML Contact:  Janet Areson, jareson@vml.org
Elections
Update: No-excuse, in-person absentee voting
As a priority of both the new General Assembly leadership and the administration, early voting has made rapid progress this session. Last week, the Senate approved SB111 (Howell), while the House version, HB1 (Herring) is expected to reach the floor this week. In their present form, both versions would allow any registered voter to vote in-person up to 45 days prior to an election, which would necessarily increase the cost of election administration to localities.
The Governor's introduced budget includes full funding for general registrars, with the intent of alleviating some of the costs associated with the anticipated changes to election processes. Moreover, Senator Deeds recently submitted a budget amendment SB30 that would allocate an additional $5 million each year to localities statewide to help with implementation costs.
VML Contact: Jessica Ackerman, jackerman@vml.org
Transportation
Bill amended to retain vehicle inspection requirement
…but at half the current frequency!
State vehicle inspections would be reduced to every two years in a substitute to HB1414 that was reported today, Jan. 28, by the House Transportation Committee and rereferred to the House Finance Committee. HB1414 is Speaker Filler-Corn's transportation bill that is being advanced by Governor Northam. The reduction of the frequency of state inspections to every other year is a compromise from the Governor's initial proposal to eliminate the program entirely.
Motor vehicle inspections are just one part of this multifaceted transportation bill.  According to the Department of Rail and Public Transportation, there will be new funding from this bill for transit capital costs and for a new transit incentive fund for large jurisdictions for transit routes and to buy down the cost of transit fares for low-income riders.
Further, we are still waiting to find out what impact this bill will have on road maintenance and construction. VML anticipates that the bill will be heard by the Finance Committee this week before reaching the floor of the House next week.
VML Contact: Mitchell Smiley, msmiley@vml.org
Events & Opportunities
APA accepting applications for green infrastructure grants
The American Planning Association (APA) is seeking project inquiries from communities interested in exploring nature-based and green infrastructure solutions through pre- and post-disaster recovery planning. The APA recognizes the growing need for communities to plan for increased resilience and understands the importance of shifting thinking away from expensive gray infrastructure solutions.
Details and application instructions are available here >
The deadline to apply is Friday, February 28, 2020.
Local Government Legislative Day is February 6
Register now to take part in this important event
Join VML, the Virginia Association of Counties and the Virginia Association of Planning District Commissions on Thursday, February 6 in Richmond for briefings on issues of greatest importance to localities during the 2020 General Assembly. All attendees will then be encouraged to visit General Assembly members and committee meetings at the Pocahontas Building and the Capitol.
As you may be aware, heightened security measures have resulted in more time needed to enter these buildings. But don't worry, we will be allowing extra time for attendees to go through security. Please plan on bringing as few personal belongings as possible to the General Assembly to help speed up the process.
A brief evening reception and meet-up with delegation members will follow at the Omni Hotel.
Details and registration available here >