eNews Jan 27, 2017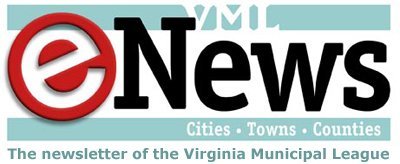 Friday, January 27, 2017 - 02:15pm
Broadband bill postponed till next week; more time to register OPPOSITION
The bill is HB2108 by Delegate Byron and was heard initially in House Commerce and Labor on Thursday of this week.  Delegate Byron spoke for a long period, provided a proposed substitute, and then asked for the bill to be postponed until February 2, 2017 so she could continue to work on the language.  There were numerous localities in attendance to oppose the bill.  VML continues to oppose the bill as the amendments do nothing to help localities.
Please continue to provide comments and let your legislators know how problematic this bill would be for localities.
VML contact: Michelle Gowdy, mgowdy@vml.org
Please call your Senators and Delegates to OPPOSE the wireless infrastructure bill
HB2196 from Delegate Kilgore and SB1282(McDougle) are the patrons on this bill which originated from Sprint.  VML has fought this bill and will continue to do so.    This bill has significant ramifications for local government including the use of public property without proper remuneration, loss of local land use control and blind permit approvals essentially due to the restrictions on what local governments could review.  Please provide comments and talk with your legislators regarding this proposal.
This bill will most likely be heard this week in the House and next Monday in the Senate.
Here are some photos of how unsightly small cells can look.
Talking points:
Wireless industry is asking to be treated like a utility and afforded the benefits of a utility without having to serve the "last mile" and provide service to everyone.
This bill includes both small and large towers.
5G technology will NOT expand service; it is a densification of the existing networks.
"Non-Discriminatory" is how they want to be treated; they compare themselves to utilities and the locality if it offers services.
Essentially forces localities to violate the Spectrum Act. The Spectrum Act requires that a locality cannot deny service by its action. This proposal prohibits localities from asking for the documents which need to be reviewed to ensure that service is not effectively denied.
VML takes the position that fees should not be set in the code because costs vary throughout the state.
Access to the Right of Way is problematic because of Article 7, Section 9 of the Virginia Constitution.
Access to public property without proper remuneration is discriminatory.VML contact: Michelle Gowdy, mgowdy@vml.org
Good news, bad news and no news on tax bills
The Good News
SB 836 would have required localities to base BPOL on the Virginia taxable income of a business. Under current law, a locality has the option to impose the tax upon gross receipts or Virginia taxable income. 
The Senate Finance Committee today voted to pass the bill by for the year and refer it to Senator Hanger's study (SJ 278) of local fiscal conditions.
VML thanks the local officials who communicated with their legislators on this bill!
HB 1502 would have excluded separately identified universal-service fund fees from the definition of sales price subject to tax for purposes of the Communications Sales and Use Tax. Under current law, the Communications Sales and Use Tax is imposed on customers of communications services at the rate of five percent of the sales price of the services.  The Department of Taxation estimated the revenue loss at $10.4 million per year.  The bill's patron withdrew his bill today (Friday).
The Bad News
HB 2104 would permit taxpayers to circumvent the local commissioner of the revenue or assessing officer and make appeal of the assessment of machinery and tools taxes directly to the State Tax Commissioner.  House Finance Subcommittee #2 approved the bill on Wednesday, meaning the full House Finance Committee will vote this coming Monday on the measure.  VML has learned that the chairman of the House Finance Committee has agreed to listen to a few minutes of additional testimony.  That means there is an opportunity for VML members to contact members of the House Finance Committee to register their concerns.
The No-News
HB 2447 would eliminate, beginning in Fiscal Year 2019, the ability of a locality to assess local license fees for motor vehicles, trailers, and semitrailers. On a statewide basis, the measure would cost cities, towns and counties an estimated $180.0 million each year.  The measure was slated to be heard on Thursday in House Transportation Subcommittee #3.  However, the subcommittee's discussion on Metro took up most of the time allotted before the full House Transportation Committee met later that morning.  The measure will almost certainly come up next Thursday if not earlier in the week.  It is important for VML members to reach out to their delegates, particularly those with members on House Transportation to oppose the bill.
Update on eight FOIA bills
On Thursday, the House General Laws subcommittee #2 took up many FOIA bills.
HB1539(LeMunyon) is the records omnibus bill which came out of the FOIA Council study and passed without any issues.
HB1540(LeMunyon) is the meetings omnibus bill which also came out of the FOIA Council study and passed as well.
HB2143 (LeMunyon) is a bill which would have allowed third party training for FOIA officers.  This was a bill that VML opposed in its initial form due to the fact that FOIA officers should be provided training by persons who are either statutorily obligated to give FOIA advice (the FOIA Council) or their attorney who can provide legal advice.  The bill was amended and now requires that FOIA officers receive training from their attorney or the FOIA Council and they submit notice that training was completed to the FOIA Council by July 1 of each year.
HB2144(LeMunyon) deals with the Virginia Freedom of Information Act Advisory Council and its membership.  This bill added one additional member from both the House and the Senate to the Council.
HB2146(LeMunyon) creates an online public comment form which will be linked to every locality's website if your population is over 250.  This form will be created by the FOIA Council and they will receive the responses.
HB2401 (Morris) This bill was not heard as Delegate Morris was not at the meeting, but VML opposes this bill because it would require minutes and audio recordings of closed meetings.
HB2402 (Morris) as Delegate Morris was not in attendance, this bill was not heard.   VML opposes this bill because it would allow for grounds of termination if there is a willful FOIA violation.  Grounds for termination should be determined based upon a locality's personnel policy.
Earlier in the week, SB1128 (DeSteph) had a FOIA bill which passed Senate General Laws.  This bill creates a rebuttable presumption that a FOIA officer knowing and willfully violated FOIA if a FOIA request is not responded to in compliance with the law.  VML opposed the bill and will continue to oppose.
Short-term rental  "like" bill gets reported – please OPPOSE
SB1491(Stuart) This bill defines "agritourism" to include the rental of a single-family residence on a farm if rented for a period of not less than one week each and subject to transient occupancy tax.  VML asks that you contact all your Senators and Delegates to oppose this bill.   The bill was heard in the Senate Committee on Agriculture, Conservation and Natural Resources on Thursday and was reported out with 11 yes votes, 3 no's and 1 abstention.
Party ID bill is back
Please let Senate P & E members know of opposition; testify before committee
SB 1585 (Suetterlein) would require that candidates for local elections who are nominated by a party be identified by political party on the ballot.
The bill will be heard Tuesday, Jan. 31 at the Senate Privileges & Elections Committee meeting, which will be held 15 minutes after adjournment (probably somewhere around 1:30 or 2 p.m.).
Committee members are Vogel (Chairman), Howell, Deeds, Edwards, Reeves, Ebbin, Chafin, DeSteph, Chase, Ruff, Cosgrove, Dance, Spruill, Peake
It would be very helpful to have some local officials testify before the committee. If you are interested, please get in touch with Mary Jo Fields (mfields@vml.org; 804-400-0555).
Talking points
This bill will affect most municipalities.  Only a handful of towns and less than half of the cities in Virginia have charter provisions that require that local elections either be non-partisan or that candidates get on the ballot through a petition process.
Political parties will be more inclined to be even more active in city and town elections if the party label will appear on the ballot.
Increased partisanship will not improve local governance; and
There is not a Democratic or Republican way of responding to house fires, keeping the streets safe, enforcing the building code, or raising the funds to pay for the various services that the state requires localities to offer (and to pay for).
If local candidates are identified by party on the ballot, federal employees and members of the military would be prohibited from running for local office.
VML contact: Mary Jo Fields, mfields@vml.org
Voucher bills reported; referred to money committees
Two versions of bills that would establish parental choice savings accounts were reported from committees this week, but referred to the money committees to deal with the state fiscal impact.
Similar legislation passed last session was vetoed by Gov. McAuliffe, and an administration spokesperson said the administration was still opposed to the bills.
Under each, 90 percent of the state share of the Standards of Quality funding would be transferred to the students' parents, while 10 percent would go to the state Department of Education. Local school boards would be responsible for receiving applications from parents, processing them within set timelines, receiving receipts and auditing them.
HB 1605 (LaRock) allows a broader range of families to be eligible while SB 1243 (Dunnavant) would be open only to low-income and special education students.
Because school divisions would not retain the state share of SOQ funding, the bills would mean a loss of state funding, which would be particularly hard felt by school divisions with low composite indexes and stagnant or declining school populations.
Express concerns about HB 1605 to the House Appropriations Committee; for SB 1243, contact the members of the Senate Finance Committee.
VML contact: Mary Jo Fields, mfields@vml.org
OPPOSE extension of required property tax exemptions
The Senate Privileges and Elections Committee will vote Jan. 31 on a constitutional amendment that further erodes the local real estate tax base.
SJR 284 (Stuart) extends the real property tax exemption for the principal residence of the surviving spouse of a member of the armed forces killed in action to any member who died in a combat zone but was not killed in action. There would be a fiscal impact, but at this point, it is indeterminate.
Talking points in opposition:
The General Assembly should not be using local taxing authority to grant property tax exemptions.
Local governments are not responsible for raising armies and sending Americans in uniform into war zones.
If the state believes the federal government is failing the families of Americans killed in combat, then it is up to the General Assembly to pay for the exemptions.
The fiscal impact is unclear. When the original amendment on a tax exemption for those killed in action was adopted, the estimated fiscal impact was $8 million. The actual fiscal impact has been more than twice that amount.
Who to contact:
Senate Privileges & Elections Committee members: Committee members are: Vogel, Howell, Deeds, Edwards, Reeves, Ebbin, Chafin, DeSteph, Chase, Ruff, Cosgrove, Dance, Spruill, Peake
VML contact: Mary Jo Fields, mfields@vml.org
Storm water bills create year-long comprehensive study
Last night the "Chesapeake" subcommittee of the House Committee on Agriculture, Chesapeake and Natural Resources unanimously recommended for reporting an amendment in nature of a substitute to HB 1774, the storm water bill sponsored by Delegate Keith Hodges.
As you will see, the bill authorizes more time for a cooperative study that will be facilitated by the Virginia Coastal Policy Center at William and Mary Law School.  Under the substitute, a work group will be convened by the Commonwealth Center for Recurrent Flooding Resiliency, and it will have representatives from the VA Institute of Marine Science, Old Dominion University, VDOT, DEQ, the Chesapeake Bay Commission, local governments, representatives from environmental groups and a few other stakeholders.
You will find the scope of the study detailed between lines 13 and 21.  Lines 12-13 appear to make the central focus of the study "Tidewater, Virginia," but if you look at lines 34-35, there is language about how the recommendations of the study should on "measures needed to improve the administration of storm water management by rural localities …"
Very significantly, the substitute bill also delays until July 1, 2018 the effective date of the comprehensive storm water legislation that the General Assembly passed in 2016 (or 30 days after the implementing regulations are approved by the State Water Control Board, whichever is later.)
Delegate Hodges deserves much appreciation for the very hard work he has done in recent years in trying to deal with this very difficult issue.
Assuming the bill passes, VML hopes that all localities throughout Virginia will benefit from this next round of study, and it will provide an opportunity to make storm water programs workable for everyone.
At last night's subcommittee support for the HB 1774 substitute was voiced by all stakeholders.  That includes environmental organizations, including VML. It's possible that the bill will undergo some additional tweaks as it is considered during the next four weeks of the session. 
VML Staff Contact: Mike Polychrones at mpolychrones@vml.org
Support redistricting reform in House subcommittees
Senate versions go to floor
A House Privileges & Elections Subcommittee will be voting at 7 a.m., Monday, Jan. 30, on constitutional amendments. The subcommittee has 28 amendments before it, but has been told to recommend no more than four for reporting. Call your delegate to help make sure that redistricting reform will be one of those recommended to the full committee.
Here are the redistricting reform amendments that will be considered Monday. While they differ in the details and some are stronger than others, the message is the same: Support redistricting reform!
HJ581 (Sullivan) – Criteria for electoral districts
HJ628 (Plum) – Virginia Redistricting Commission created
HJ651 (Carr) – Virginia Nonpartisan Redistricting Commission created
HJ696 (Price) – Political considerations, denial of minority voting rights prohibited
HJ749 (Bell, John) – Virginia Redistricting Commission created
HJ763 (Landes) – Political considerations prohibited
Talking points in support:
Voters should choose their politicians, instead of politicians choosing their voters.
Political considerations should not dictate the establishment of district lines.
Political jurisdictions (city, county, town and precincts) should be kept whole whenever possible.
Who to contact:
House Privileges & Elections Subcommittee on Constitutional Amendments: Minchew (Chairman), Miller, Hugo, Miyares, Lindsey, Price, Cole
The Senate Privileges & Elections Committee will be voting on Tuesday, Jan. 31 on two amendments on redistricting, SJ 231 (Hanger) and SJ 290 (Vogel and Howell). The amendments aren't linked as the substitutes have not been posted, but the Hanger amendment establishes a redistricting commission while the Vogel and Howell amendment suggest additional criteria for redistricting. The message is the same: Support redistricting reform!
Who to contact:
Senate Privileges & Elections Committee Vogel, Howell, Deeds, Edwards, Reeves, Ebbin, Chafin, DeSteph, Chase, Ruff, Cosgrove, Dance, Spruill, Peake
VML contact: Mary Jo Fields, mfields@vml.org
Expansion of heart/lung presumption defeated
Two bills that would have expanded presumption under workers' compensation were defeated in subcommittee in the House Commerce and Labor Committee. HB 1722 (Anderson) would have expanded the list of cancers covered by the presumption.  HB 1803 (Bell, John) would have added correctional officers to the list of positions covered by the presumption.
Budget to contain funding for raises for state employees
Status of state-supported local employees unclear; teacher raises not included
House and Senate Republican leaders announced Wednesday that the budgets to be released on Feb. 5 will include funding for a 3% pay raise for state employees, $10.5 million to raise the starting salary of Virginia State Police, and funds to address salary compression issues for sheriff's deputies.
It is not clear whether the budget will include funding for the state share of a raise for state-supported local employees. It is clear that funding will not be included for a state share of a teacher salary increase.
In a Jan. 25th speech on the House floor, Appropriations Chairman Chris Jones said that the plan was to increase the allocation of additional lottery funds to school divisions, from the current $157 million in the current fiscal year to $200 million in FY2018.  He said that school divisions could use these funds to pay for pay increases or to pay for the higher retirement contribution rates that will be in effect next year. These lottery proceeds do not require a local match. He also noted that all but 12 school divisions had given pay increases for this year. Jones' speech can be viewed on the video of the House sessions (2:59 minutes into the video) at this link.
Del. Jones also nixed an effort to delay the implementation of the higher VRS contribution rates for teachers, according to an article in the Richmond Times-Dispatch. The budget last year accelerated the goal of funding the certified retirement rates for teachers by one year, and several school divisions and local governments asked that the original schedule be followed.
VML contact: Mary Jo Fields, mfields@vml.org
Other bills: transmission lines; vested property rights
138KV Transmission Lines
SB1110(Stanley) and HB1766(Habeeb) are bills that deal with associated facilities of 138 kilovolt transmission lines.  Habeeb's bill was reported out of the House this week.  VML opposes these bills and is working with the patrons.
Vested Property Rights
SB1139(Obenshain) is a vested property rights bill.  The proposal states that if you have a structure which needs no building permit, is agreed to by an authorized local government official, and the owner relies on that representation, the structure becomes a nonconforming use that cannot be subject to removal.  VML is opposing the bill.
Bills that went away
Consumer Fireworks had three bills that all were passed by indefinitely.  SB1411 (Suetterlein), SB1433 (Reeves), SB980 (Stanley)
Camping with no Special Use Permit SB802(Stanley) was stricken at the request of the patron.
HB2392(James) dealing with a preferred procurement method for construction will not be going forward.
VML-member seat open on Virginia Criminal Justice Services Board
A seat on the Criminal Justice Services Board designated for a city or town mayor, council member, or manager from a VML-member local government is now open, and VML is seeking nominees.
This Board is the policy-making body for the Department of Criminal Justice Services (DCJS), and includes representatives of all elements of the criminal justice system at the state and local levels, as well as members of the public and the General Assembly.  The board plays an active role in grant-making activities and promulgates regulations and standards governing the training of law enforcement and corrections personnel, and regulations governing the private security industry.
The board typically meets five times a year in Richmond.
For more information about DCJS, go to their website.
If you are interested in being nominated for this seat, please email Janet Areson at VML, jareson@vml.org