eNews Jan. 23, 2019 – Legislative Day Edition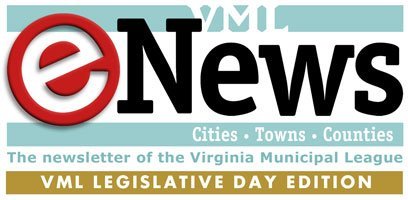 Wednesday, January 23, 2019 - 05:23pm
In this issue:
Problematic changes proposed for local government grievance procedures
One constant about the session is that we see the same bills introduced again and again. But eventually some of them are enacted and just because bills died last year, it does not mean that they will not pass this year.
This year we see the return of bills that would change the local government grievance procedure by requiring that agreement as to the process be reached at all steps. HB2736 (Hugo) and SB1783 (Boysko) require that the final step of the procedure be "as agreed upon by the aggrieved employee and the local government."  HB2736 is in House Counties, Cities and Towns Subcommittee #2, which is likely to take up the bill next Wednesday. SB1783 should be on Senate Local Government's docket next Tuesday.
Action
Talk to your delegation about the problems with these bills and urge that they vote no.
Talking points for HB2736 and SB1783
Will make it difficult for a disgruntled employee and the locality to agree on a process and/or an administrative hearing officer.
Longstanding impartial grievance panels used by localities will be eliminated.
The bill would shift interpretation of whether the relief that is provided the grievant complies with local government policy from the chief administrative officer of the locality to the Commonwealth's Attorney, who may have no knowledge or experience in employment policy.
Takes away the locality's power to have a grievance procedure in place that has worked and is known to all employees.
VML contact: Michelle Gowdy, mgowdy@vml.org
Checkbook bills return
This year two bills requiring the posting of local checkbook registries in a particular format have been introduced.  HB1907 (VanValkenburg) and SB1262 (Sturtevant) require localities with a population greater than 25,000 and each school division with more than 5,000 students to post quarterly on their website a register of all expenditures, to include the vendor name, date of payment, amount and description of type of expense (including credit card purchases). There is a delayed effective date of July 1, 2020. HB1907 is in House Counties, Cities & Towns Subcommittee #1, which will meet next Wednesday at 7:30 a.m.; SB1262 is in Senate Local Government, which meets Tuesdays.
Action
Talk to your delegation about the problems with these bills and urge that they vote no.
Talking points for HB1907 and SB1262
Even localities and school divisions that meet the population criteria and that already post their checkbooks on their websites may not meet the requirements of the bill.
Many localities and school divisions may have to change accounting software and systems. If they do, it will be expensive.
Last year when similar legislation was introduced, one locality that posts its checkbook on line had 216 interactions in an 8-month period; only 10 were from the United States and most were from Russia.
Administrative time will be required to ensure that confidential information is not displayed.
All expenditures and related information are already available through a locality's budget or through the FOIA process, unless an exemption applies.
VML Contact: Michelle Gowdy, mgowdy@vml.org
Support this broadband service bill
HB2141 (Thomas) adds broadband to the list of activities for which localities could create service districts. The industry tried to get the bill amended to require that localities had to contract with private service providers to offer the broadband but have not been successful to date.
Action
VML strongly supports the bill in its current form. Talk to your delegation and ask that the bill not be further amended.
Talking points for HB2141
The bill should retain the language that allows localities to establish service districts for the provision of broadband services.
Any amendment to require the locality to contract with a private service provider should be rejected.
Private service providers will not expand services into an area unless it is profitable.
In the meantime, localities in which broadband services are not available are at a distinct disadvantage at a time when broadband capability is essential.
VML Contact: Michelle Gowdy, mgowdy@vml.org
New requirements proposed for late audits
HB1866 (Peace) requires that a locality that is late in submitting the annual audit to the Auditor of Public Accounts will have to post on its website a statement that the required audit is pending, the reasons for the delay, and the estimated date of completion. The statements also have to be made available to the public at the next scheduled meeting of the local governing body.  The bill further requires that any town with a population of less than 3,500 that voluntarily has an audit prepared must submit the results of the audit to the Auditor of Public Accounts. A substitute version of the bill was reported by a subcommittee of House Counties, Cities & Towns on Jan. 22 and the bill is likely to be heard by the full committee this Friday at its 8:30 a.m. meeting.
Action
At this point, VML is watching this legislation. We wanted localities to be aware of it and we will continue to keep you posted on the bill.
VML Contact: Michelle Gowdy, mgowdy@vml.org
Annexation legislation to be carried over and studied further
Following a report issued last year by the Commission on Local Government, Delegate Tony Wilt introduced HB2450. The bill placed a permanent moratorium on city annexation, defined a dependent city, created a Local Government Efficiency Analysis Fund designed to encourage consolidation and interlocal agreements, and required a referendum at the beginning of the process (in addition to the one at the end of the process). Delegate Wilt has agreed to carry the bill so that interested parties can try to arrive at an agreement.
VML Contact: Michelle Gowdy, mgowdy@vml.org
General Assembly unleashes new unfunded mandates on localities
Constitutional amendments exempt disabled veterans from personal property taxes on cars and trucks and expands eligibility for real property tax exemptions
It's election time in Virginia, meaning 140 seats in the General Assembly are up for grabs.  Senators and delegates are joining together to promote bumper sticker issues hoping to appeal to certain blocks of voters.
Two state constitutional amendments moving through the legislature would exempt a veteran who is 100% disabled from personal property taxation for one motor vehicle (car or pickup truck). The exemptions would be mandatory and not at local option. To be included in the state constitution, the proposals will have to pass in 2019 and again in the 2020 legislative session before being presented to the voters in November 2020.
SJ278 (Reeves) was reported out of the Senate Privileges and Elections Committee on Tuesday by a unanimous vote.  HJ676 (Filler-Corn) was heard on Monday by a subcommittee of the House Privileges and Elections Committee.
HJ657 (Pogge) was also before a subcommittee of the House Privileges and Elections Committee earlier in the week. This proposed constitutional amendment would significantly expand the number of surviving spouses eligible for real property tax exemptions to include those of veterans who became 100% disabled from combat service in Korea or Vietnam. Like the other two proposals, HJ657 will have to pass this session and next before going to the voters in November 2020.
Action
VML needs you to tell your delegation to either vote against the resolutions on the Senate and House floors or amend the resolutions to make them at local option.
Talking points for SJ278, HJ676 and HJ657
The forfeited revenues are local, not state. Local elected officials take the hard votes to impose or raise personal property tax rates and real estate taxes.
Decisions on spending (or not spending) local tax dollars belong to local governments and not to the General Assembly.
The General Assembly is wrestling with a surplus revenue situation somewhere between $900 million and $2.2 billion, depending on whether you believe the Republicans in the House of Delegates or Governor Northam.
If the General Assembly wants to provide this special tax relief, the state has more than enough resources to do so without commandeering local money.
State mandated tax relief for disabled veterans and their surviving spouses as well as the surviving spouses of soldiers killed in action cost localities more than $50 million in tax year 2018. That's more than twice the state general fund dollars the Commonwealth spends for the entire Virginia Secretariat of Veterans Defense Affairs.
VML Contact: Neal Menkes, nmenkes@vml.og
Legislation to cut assessments on machinery and tools expected to move through the House
HB2640 (Byron), according to the Department of Taxation, would add the definition of "original total capitalized cost" to state law regarding to the local taxation of machinery and tools. The definition would make a distinction between machinery and tools acquired in an "arm's-length transaction," and those that are not. It further defines when a transaction will be presumed to be an arm's-length transaction.
Although the language is technical and somewhat chewy, the effect of the proposed change is substantive. A majority of localities surveyed by the Commission on Local Government noted that the bill could have significant fiscal impacts. Revenue losses could range as high as 25% to 30% of their total Machinery and Tools (M&T) revenue. Localities also reported the bill could require hiring more staff to handle assessments. In addition, localities expressed concern that the bill could potentially open new loopholes, complicate the assessment process, alter long-held legal interpretations for the term "original cost," and produce assessments below fair market value.
Action
The House Finance Committee will consider HB2640 on Monday morning.  VML urges members to contact their local delegation to defeat the measure on the House floor if the bill pops out of the House Finance Committee next week.
Talking points for HB2640
Contrary to the claims of the bill's patron and Virginia manufacturers, the bill does not "clarify" legislative intent. Two opinions issued by a Republican Attorney General and a Democratic Attorney General both supported local practice to base the assessment on the original cost of the machinery and tools. Two opinions issued by the Virginia Tax Commissioner also supported local government practices.
If enacted, the bill will reduce M&T collections without providing localities a substitute revenue source that is both reliable and sustainable. Total statewide M&T collections are some $200 million per year.
The bill does not take into consideration the significant and permanent tax relief Congress provided to business. This includes lowering the corporate income tax to 21 percent.
Relying on the "original total capitalized cost" methodology, as is used by almost every single city and county, simplifies tax administration, is fair to all taxpayers and is easier for the taxpayer to understand.
VML Contact: Neal Menkes, nmenkes@vml.og
Proposed bill would waive additional business licensing requirements for food trucks
SB1425 (Dunnavant) provides that when the owner of a "mobile food unit" has paid a license tax as required by the county or city in which the mobile food unit is registered and in which property taxes are paid on the mobile food unit, the owner would not be required to pay a license tax to any other county, city, or town for conducting business in such a locality.
The measure, in effect, waives the peddler's license fee for food truck operators who sell their wares in localities other than one in which the business is registered and property taxes on the food truck(s) is (are) paid.  The maximum fee any locality can charge for a peddler's license is $500 per truck.
The bill has been reported out of the Senate Finance Committee and is awaiting floor action.  At the request of VML and VACo, the patron has postponed floor action while considering a compromise proposal offered by the two organizations. It is quite likely that the restaurant lobby will end up opposing the bill.  If so, the measure could contract ptomaine poisoning.
There is no companion measure in the House of Delegates.
Action
At this point, VML recommends members to monitor VML eNews and other communications on the issue. As the legislative calendar closes in on "crossover" day (Feb. 5), localities may have to act quickly to influence the bill's outcome.
Talking Points for SB1425
The Commissioner of the Revenue or the Director of Finance cannot collect taxes or conduct audits if the business is not registered. Without requiring the peddler's fee or requiring the business to register, collections of meals taxes and sales taxes become problematic.
Localities are authorized to waive Business, Professional and Occupational (BPOL) taxes for a period of two years for new businesses locating in their jurisdictions. This bill provides a permanent tax exemption, which puts restaurants operating in affected localities where peddler's licenses for food trucks are waived at a distinct competitive disadvantage.
VML Contact: Neal Menkes, nmenkes@vml.og
Motorized Scooters: One bill that holds promise, one that does not
Of the three bills (HB2214-J. Jones; HB2232-Bagby; and HB2752-Pillion) introduced that would affect the authority of localities to regulate motorized scooters and similar devices, only the latter two (HB2232 and HB2752) remain alive.  As introduced, they would have limited the ability of counties, cities, and towns to decide where and how scooters could be used. House Transportation Subcommittee #1 approved a heavily revised HB2752 Tuesday morning. As revised, the bill is much more favorable toward localities than the original version, and for the most part will allow localities to reasonably regulate companies that provide rental scooters, as well as the use of these scooters on streets and sidewalks.
Action
HB2752 is the preferred version of the various scooter bills. Proponents of the bill should continue to work with localities to "fine tune" the bill.
Talking points for HB2752 and HB2232
HB2752: Each locality is different and should be allowed to determine the best way for scooters to be used in the locality.
HB2232: This bill is too restrictive on local governments and should be left behind.
VML Contact: Bernie Caton, bcaton@vml.org
Local authority to regulate towing threatened
The Code of Virginia authorizes localities to regulate towing. Most localities can set towing fees within certain limits. HB1865 (Fowler) and SB1567 (Marsden) would eliminate this authority and set a statewide fee that would not exceed $150 per tow. The bills, as introduced, would also delete language currently in the Virginia Code that prohibits towing firms from charging most other fees.
Action
Encourage your local delegation to support the efforts currently underway by local government representatives to have the bills amended to preserve most local authority, and to keep the Code provision that prevents firms from charging most additional fees.
Talking points for HB1865 and SB1567
Local authority to regulate towing should be preserved.
If changes are made to the fees that can be charged, any changes should be reasonable, and not allow unlimited additional charges by towing firms.
VML Contact: Bernie Caton, bcaton@vml.org
Amended bill would limit local control of fines for parking tickets
SB1044 (Black) seeks to allow any locality with a population of at least 40,000 to contract with a private firm to issue parking tickets (cities of 40,000 or more already have this authority). This is all well and good. Unfortunately, when the bill was heard in committee, it was amended to limit any fine for a parking ticket to no more than $75. Most local parking fines are less than $75, but there are some exceptions. The bill has now passed the Senate and will be considered by the House.
Action:
Ask your House members to amend SB1044 to eliminate the language setting the $75 maximum fine for parking tickets.
Talking points for SB1044
The original bill would be helpful to localities.
Most localities do not charge more than $75 for parking violations so the amendment limiting the fine is unnecessary and potentially harmful to some localities.
VML Contact: Bernie Caton, bcaton@vml.org
Interstate 81 improvement plan funding options rolled out
The Interstate 81 corridor is heavily travelled (especially by trucks) and experiences significant traffic safety and congestion problems. Most of this road has only two lanes in each direction.  As a result, when an accident occurs, and blocks a travel lane, major backups quickly occur. A study done in 2018 resulted in an I-81 corridor improvement plan that is expected to cost over $2 billion dollars to implement. Several bills have been introduced to provide a means to pay for these improvements. The administration has proposed new tolls as a revenue source, although some legislators have introduced bills that call for tax increases that are either statewide or limited to the I-81 corridor.
Action
The main point to make to legislators is that it is important that they reach agreement on a funding source so that the improvements can begin.
Talking points for the I-81 improvement plan
Everyone in the state is impacted by the ability of trucks to transport goods effectively on the I81.
Funding the improvement plan needs to be a priority since the improvements will take time to implement.
VML Contact: Bernie Caton, bcaton@vml.org
Grants for wastewater conveyance facilities
Some advanced wastewater treatment technologies, such as nutrient removal, can be more cost-effective if the infrastructure built for this purpose can treat large amounts of wastewater. For less densely populated areas, it may be less expensive if several small plants pipe their partially treated wastewater to one large plant built for nutrient removal or another advanced technology.
HB1822 would authorize localities to receive state grants from the Virginia Water Quality Improvement Fund to build conveyance systems to transport partially treated wastewater to another plant for advanced treatment, if such a conveyance system is cost-effective. The bill was approved by the House Committee on Agriculture, Chesapeake and Natural Resources, and referred to the House Appropriations Committee.
Action
Urge your delegation to support HB1822 in its current form.
Talking points for HB1822:
These grants would come from an existing Fund; no new funding source would be required.
The use of conveyance systems could cost the State and localities less money.
VML Contact: Bernie Caton, bcaton@vml.org
School safety legislation moving forward
Following an active summer of deliberation and the publication of its final report, the House Select Committee on School Safety has pushed a ten-bill package of legislation aimed at improving student safety in schools across Virginia. Six of the ten bills have already been passed in the House. These address topics ranging from staff time for guidance counselors to capital project review for safety and fire code compliance:
HB1725, Knight – Compliance with Uniform Statewide Building and Fire Prevention Codes
HB1729, Landes – School counselors to spend 80 percent of school day on direct counseling
HB1732, O'Quinn – Mandatory annual school emergency training
HB1733, Gilbert – MOUs to clarify the role of school resource officers
HB1738, Rush – Review of building plans by crime prevention-certified architects, engineers
HB1752, Krizek – November election day as a school holiday
The four remaining bills (HB1734, Marshall; HB1735, Robinson; HB1737, Wright; and HB1739, Rush) are still in committee but are expected to pass with the blessing of Speaker Kirk Cox. The real test for this package will appear in the Senate.
In response to the House Select Committee on School Safety limited scope House Democrats formed the Safe Virginia Initiative to develop legislation aimed at reducing gun violence, particularly involving – or in the vicinity of – children. Of a package of 14 bills addressing stricter regulation of firearms, two (HB1899, J. Bell and HB2797, Filler-Corn) are still alive.
On the Senate side, similar gun legislation has also failed to move forward.
Action
We encourage you to speak with your senators about the importance of ensuring that localities not bear the full financial burden of any new school safety legislation.
VML contact: Jessica Ackerman, jackerman@vml.org
Bills  related to student support and counselors come into focus
The Senate Finance Committee has reported a substitute bill from Senator Dunnavant (SB1258) that would include licensed behavioral analysts and licensed assistant behavior analysts under the Standards of Quality definition of eligible student support positions.
Bills in both the House (HB2053, McQuinn) and Senate (SB1406, Dance) address Governor Northam's proposed reduction of the staffing ratio between school counselors and students to 1:250 by the 2021-2022 school year. This would have significant budget implications. While the Governor's proposed budget changes include $36 million for FY20 to support school ramp-up efforts, the local share of this could be significant for localities that do not currently meet the proposed standard.
Action
We encourage you to speak with your senators about the importance of ensuring that localities not bear the full financial burden of any new school safety legislation.
Talking Points
The Governor's proposed budget includes $36 million to support the first year of implementation of a lower counselor-to-student ratio.
We encourage the General Assembly to approve the Governor's budget amendment. However, we are concerned about the longer-term costs to localities associated with hiring additional full-time employees.
VML contact: Jessica Ackerman, jackerman@vml.org
Redistricting bills pass first Senate hurdles
The Senate Committee on Privileges and Elections has reported both a constitutional amendment and a corresponding criteria bill addressing future redistricting planning for the Commonwealth.
SJ306 (Barker) establishes a Virginia Redistricting Commission, consisting of 16 members (eight legislators, plus eight private citizens selected by a panel of retired judges). While the General Assembly would still have representation under this model, the body would be prohibited from amending the final map voted upon and submitted by the Commission. Any map would require consensus from 75 percent of the Commission for approval. A substitution adds language to protect the voting interests of some  racial and ethnic communities.
SB1579 (Suetterlein) establishes criteria for the redrawing of districts following each census count, including the consideration of population, racial and ethnic fairness, respect for existing municipal boundaries, and contiguity. This will not be the bill's first appearance before the General Assembly, however, as it passed through both houses during the 2018 Session before being vetoed by the Governor. The Administration has indicated that its concerns have not changed regarding the extent to which the bill fails to fully protect against gerrymandering.
Action
VML supports the use of a non-partisan independent commission to draw state legislative and Congressional lines based on specified and consistent criteria, including preservation of local boundaries as much as possible. We would encourage you to speak with your legislators about the importance of implementing a transparent redistricting process with the opportunity for public comment.
VML Contact: Jessica Ackerman, jackerman@vml.org
Implementation of return-to-work bill for school security officers limited by Senate
In response to concerns raised by law enforcement representatives and the Virginia Retirement System (VRS), the Senate has passed a modified version of SB1023 (Cosgrove), which would have allowed retired law enforcement officials to take on full-time positions as school security officers for local school divisions without affecting their retirement benefits. While the original language would have helped address a statewide shortage of qualified school security officers, VRS highlighted the likelihood that it would have encouraged higher rates of early retirement among eligible law enforcement. The resulting increase in retirement payouts over time would increase the unfunded liability to an estimated $19 million. The amended version passed by the Senate now includes "the Clause," making enactment of the new provisions contingent upon a corresponding appropriation.
Action
VML will continue to monitor the progress of this bill.
VML Contact: Jessica Ackerman, jackerman@vml.org
Budget amendments of interest
The General Assembly's budget-writing committees have a large bucket of budget amendments.  VML, working with its local government partners, has introduced a significant number of amendments as well.  Below is a list of budget amendments VML staff have identified as particularly useful (such as the ones we worked on getting introduced), and some not-so-useful to local governments.
Reading the chart:
The item number corresponds to the section of the budget it addresses
Items in green, we support
Items in red, we do not support
Items in black, we neither support nor oppose
House Amendments
| | | |
| --- | --- | --- |
| ITEM | DESCRIPTOR | PATRON |
| 105 #1h | Housing Trust Fund | Lopez |
| 105 #3h | Housing Trust Fund | Lopez |
| 106 #1h | Broadband expansion | Bloxom |
| 106 #9h | Urban Redevelopment Fund | James |
| 106 #11h | Virginia Gateways | James |
| 107 #1h | Enterprise Zones – real property improvement grant | James |
| 122 #1h | Brownfields Restoration | James |
| 136 #20h | Paying local share of teacher salary increase | Carter |
| 136 #22h | Changing state/local SOQ funding partnership | Krizek |
| 255 #1h | Study to eliminate M&T on new equipment | Robinson |
| 264 #1h | State aid to help pay for veteran tax exemptions | Thomas |
| 266 #1h | Teacher Retirement Plan | James |
| 310 #4h | Address CSB reductions/projected Medicaid reimbursements | Sickles |
| 368 #2h | Stormwater Local Assistance Fund | Yancey |
| 397 #2h | 599 program increases | Ingram |
| 445 #5h | Delay DRPT formulae changes | Sickles |
| 445 #6h | Transition for DRPT formulae changes | Thomas |
| 3-1.01 #2h | Reverse CS&UT transfer | Ingram |
Senate Amendments
| | | |
| --- | --- | --- |
| ITEM | DESCRIPTOR | PATRON |
| 73 #3s | Body cameras & Assistant Commonwealth Attorneys | Norment |
| 106 #1s | VATI – expanding broadband services | Lewis |
| 106 #7s | Virginia Gateways | Ruff |
| 107 #1s | Enterprise Zones – real property investment grants | Ruff |
| 122 #1s | Brownfields Restoration Fund | Ruff |
| 127 #1s | Develop plan to eliminate Support Position caps | Howell |
| 136 #4s | Change state/local SOQ funding partnership | Dance |
| 136 #10s | Change state/local SOQ funding partnership | Hanger |
| 136 #18s | Restore funding for Support Positions | McClellan |
| 255 #1s | Study to eliminate M&T for new equipment | Wagner |
| 266 #1s | Applying interest earned from cash reserves to Teacher Retirement Plan | Lucas |
| 281 #3s | Mental health services in schools | Dance |
| 310 #3s | CSB reductions/projected Medicaid savings | Barker |
| 310 #6s | Receiving medical information from jails | Boysko |
| 397 #1s | More funding for 599 | Deeds |
| 445 #1s | Extending current DRPT funding formulae | Barker |
| 445 #2s | Holding harmless "losers" in new DRPT formulae | Mason |
| 3-1.01 #1s | Reverse transfer from CS&UT | Wagner |
| 3-1.01 #1s | Reverse transfer from CS&UT | Ebbin |
Action
Subcommittees of the budget-writing committees are in the midst of reviewing the proposed amendments and will develop their lists of what to recommend in the coming week. This is the time to communicate with members to express support for good amendments and to explain to members the potential impact of non-helpful amendments.
VML Contacts:  Janet Areson (jareson@vml.org; Neal Menkes nmenkes@vml.org; Jessica Ackerman (jackerman@vml.org)
CSA bills offer innovative approaches to costly education placements
The rising number of children served in private day school placements for special education purposes, and the cost of these placements paid for through the Children's Services Act (CSA), has caught the attention of local and state policy makers in the last few years. General Assembly-created study groups have been looking at the issue, and that work continues.
For several years, Stafford County has had legislation introduced to allow it to use CSA funding for services to children in their community school as an alternative to enrollment in private day schools that often require long daily commutes for students. Stafford's proposal in the past has not met with success in the General Assembly, but the concept has grown in popularity. This year, Stafford's legislation has been joined by three additional bills seeking authority for pilot programs or other flexibility in the use of CSA funds to provide alternatives to private day placements. These bills are:
Action
VML supports these bills and any legislative effort to allow for innovative approaches to cost-effectively serve children in their communities.
VML Contact:  Janet Areson, jareson@vml.org
Mental health and health services in jails
The SJR 47 Study of Mental Health in Virginia (the Deeds subcommittee) continued its work this past year with a major focus on behavioral health services in local and regional jails.  HB1942 (Rob Bell), a product of the subcommittee's work, calls for new minimum standards for behavioral health services in jails, at least one unannounced annual inspection of jails to ensure compliance, and robust forensic discharge planning requirements to assist inmates with serious mental illness.
Specifically, the bill authorizes the state Board of Corrections to establish minimum standards for provision of behavioral health services and forensic discharge planning in local and regional jails and procedures for enforcing these standards.  Virginia Department of Behavioral Health and Developmental Services (DBHDS) and the State Inspector's Office would assist in creating the standards.  The regulations would also address procedures for sharing medical and mental health information and records as provided by law.  The bill also would state that community services boards that provide services in the jail may bill the jail for such (several jails already have contracts with CSBs to provide services).
VML, VACo and the regional jails worked with the patron to develop an enactment clause to the bill to require creation of a fiscal analysis workgroup to work simultaneously with the creation of the regulations to assess the cost of new service and discharge planning requirements and pave the way for development of recommendations regarding funding new requirements.  The workgroup would include representatives of VML and VACo, affected state agencies and other stakeholder groups.
HB1942 is scheduled to be taken up by the House Health, Welfare & Institutions Subcommittee #2 at 5 p.m. on Thursday, Jan. 24.
Action
VML supports HB1942 with the inclusion of the enactment clause.
Other bills have been introduced to authorize the Board of Corrections to promulgate minimum health care standards in local and regional jails. These bills include HB1918 (Stolle) and SB1598 (Dunnavant).  HB 1918 will likely be heard in the HWI Subcommittee on Thursday evening; SB 1598 was reported from the Senate Rehabilitation and Social Services Committee on Jan. 18 and referred to the Senate Finance Committee.
VML Contact:  Janet Areson, jareson@vml.org