eNews Jan. 21, 2020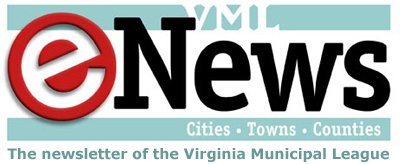 Tuesday, January 21, 2020 - 05:00pm
In this issue:
Success: Two sovereign immunity bills tabled in the House
Similar bill still before Senate committee
Yesterday VML sent out an action alert asking for telephone calls opposing two bills that would have waived sovereign immunity for localities in certain cases (HB162-McGuire & Cole, M.L and HB1382-Campbell, J.L.). The Firearms Subcommittee of the House Public Safety Committee today recommended tabling the bills on a 6-2 vote. Thank you for your help!
Calls are still needed on a similar bill
SB1009 (Chase), which is in the Senate Judiciary Committee, discusses the waiver of sovereign immunity and then adds that the Commonwealth or locality assumes an affirmative duty to protect all invitees and further states that the damages shall not be subject to any limit of liability. The committee meets Mondays at 8 a.m. Click on the name of each member of the committee for contact information:
Edwards | Saslaw | Norment | Lucas | Obenshain | McDougle | Stuart  | Stanley | Chafin | Deeds | Petersen | Surovell | McClellan | Boysko  | Morrissey
Talking point:
Unlimited damages as well as changing the legal standard for localities, such as those proposed in SB1009, should be OPPOSED.
VML Contact: Michelle Gowdy, mgowdy@vml.org
More budget amendments to support!
We first reported on budget amendments that VML actively supports in the Jan. 17 edition of eNews. This week, we can add the following budget amendments to that list:
Item 391 #1g and Item 391#2g (Governor Northam) – reinserts language inadvertently dropped during budget development that continues the workgroup studying the use of body-worn cameras. This study group continues to look at the impact of these cameras on the criminal justice system; it has added importance because the Governor's introduced budget strikes the prohibition against state agencies and authorities (e.g. State Police, colleges and universities, ABC) using body-worn cameras.
The takeaway: VML supports the continuation of the study.
Item 322 #5h (Bulova) and Item 322 #3s (Boysko) – restores state funding of $9.3 million each year to the base budget for Community Services Boards (CSBs) that had been reduced because of overly optimistic state projections of savings from Medicaid expansion While CSBs are able to bill for services provided to some of the individuals who previously did not qualify for Medicaid, there are still individuals that do not and will not qualify for Medicaid – particularly in the Northern Virginia area.  CSBs continue to serve these individuals without insurance reimbursement and with now-reduced state funding. The amendment would restore the $9.3 million to the base budget as opposed to a one-time restoration or "backfilling" of funds as was done in fiscal year 2020.
The takeaway: VML strongly supports the reinstatement of this funding to CSBs.
Item 114#3h (McQuinn) and Item 114#4s (Lucas) – provides an additional $294,000 in each year from the general fund to support Planning District Commissions (PDCs), and partially restore previous funding levels.
The takeaway: VML strongly supports additional funding for PDCs.
VML Contacts: Janet Areson, jareson@vml.org; Neal Menkes, nmenkes@vml.org; Jessica Ackerman, jackerman@vml.org; Mitchell Smiley, msmiley@vml.org
Senate Local Government Committee deals with host of bills
In its Jan. 20 meeting, the Senate Local Government Committee reported and re-referred to the Senate Finance and Appropriations Committee two bills dealing with plastics. SB193 (Favola) allows localities to prohibit by ordinance single-use plastics and allows the locality to impose up to a five-cent tax. SB198 (Locke) allows a locality to enact an ordinance to prohibit the distribution, etc. of disposable plastic bags but does not include authority to impose a local tax.
When discussing this or similar legislation with your delegation, it's important to remind them that any tax generated should stay with locals!
Additionally, the Senate Local Government Committee reported several bills, as shown below:
SB349 (Lucas) allows for the governing body of a locality to include employees of boards, commissions, agencies or authorities who are retired to be eligible for group life, accident and health insurance programs.
SB360 (Cosgrove) allows for a locality to require a developer to build sewer and water facilities with more capacity than needed and recoup the cost difference on an off-site if in the utility service plan of the service area.
SB631 (Surovell) affectionately known as the "Shopping Cart Bill" has finally passed…but only for Planning District 8. This bill allows localities to adopt an ordinance to prohibit people from removing shopping carts from their lawful location and to assess a civil penalty.
SB746 (Bell) extends the time by which a governing body is required to approve or disapprove a locality initiated comprehensive plan amendment from 90 days to 150 days.
SB941 (Locke) authorizes a political subdivision, board or authority at its annual meeting to fix the day(s) that a regular meeting could be continued if bad weather or other hazardous conditions necessitate moving the meeting date.
SB977 (Suetterlein) requires a governing body to provide public comment during at least one-half of their regular meetings each fiscal year.
The committee passed by indefinitely—by one vote—SB383 (McPike), which would have required individuals who are compensated to influence, or attempt to influence, local government officers or employees to register with the local government and pay a fee. Failure to register would have been a class 1 misdemeanor.
VML Contact: Michelle Gowdy, mgowdy@vml.org
Subcommittee recommends reporting communications bills
Bills include legislation allowing facilities in existing easements
On Jan. 20 the Communications Subcommittee of the House Communications, Technology & Innovation Committee acted on several bills.
The subcommittee recommended a substitute for HB831 (Carroll Foy) and recommended rereferring the bill to the House Labor and Commerce Committee. As introduced, the bill would allow broadband and communication facilities in already existing easements. This bill is at the request of the electric cooperatives and is still being worked on; in fact, the substitute and amendments that were adopted have not yet been posted.
Please check back for updates, use the above link to the bill to review the latest language and provide comments to VML.
Additionally, the subcommittee recommended reporting three other bills:
HB817 (Hope) requires the Department of Education and other stakeholders to develop and implement health and safety best practice guidelines for the use of digital devices in public schools no later than the 2021-2022 school year.
HB1082 (Hayes) adds a definition of "cyber incident" to the Emergency Services and Disaster law. Cyber incident includes an event occurring on or conducted through a computer network that actually or imminently jeopardizes the integrity, confidentiality, or availability of computers, information or communications systems or networks, physical or virtual infrastructures controlled by computers or information systems, or information resident thereon.
HB1376 (Austin) allows a board established under the Virginia Wireless Service Authority Act to contain either five or seven members, rather than just five members as current law requires.
VML Contact: Michelle Gowdy, mgowdy@vml.org
ERA moves forward in both houses
Both the House and Senate have passed their respective resolutions to ratify and affirm the Equal Rights Amendment: HJ1 (Carroll Foy) and SJ1 (McClellan). In an unusual move, the House and Senate will each hear and vote on the other's resolution prior to crossover, allowing the final product to move forward ahead of other bills and resolutions during the 2020 Session.
VML Contact: Jessica Ackerman, jackerman@vml.org
Opioid harm reduction bill reported
Today the House Health, Welfare and Institutions Committee reported HB378 (Rasoul) which would repeal the sunset on a program established in 2017 in response to the opioid epidemic. The program allows the Commissioner of Health to establish and operate local or regional comprehensive harm reduction programs in cooperation with local governments. In addition to encouraging users to seek assistance to address their addiction, this program includes a provision for needle exchange/disposal to discourage the spread of hepatitis B or C as well as HIV.
VML supports efforts such as this one that allow communities to address the opioid epidemic.
VML Contact: Janet Areson, jareson@vml.org
Traffic incident management vehicles bill passes full committee
HB983 (Delaney) passed the House Transportation Committee today. The bill stipulates that vehicles operating as Traffic Incident Management Vehicles will be allowed to use red and white flashing lights when responding to traffic accidents.
Before being passed, HB983 was amended to incorporate Delegate LaRock's HB635 which classifies VDOT Traffic Incident Management vehicles as emergency vehicles responding to traffic accidents or similar incident with broader authority to:
Disregard traffic lights and signals
Disregard speed limits
Pass or overtake vehicles
Drive against traffic
Pass or overtake on the right or left and by crossing the centerline
Drivers will be trained every two years using a program approved by either the Department of Fire Programs or the Office of Emergency Services.
This legislation was opposed by the Virginia Fire Chiefs Association.
VML Contact: Mitchell Smiley, msmiley@vml.org