eNews Jan 21 2016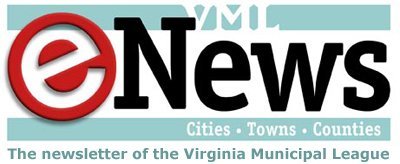 Thursday, January 21, 2016 - 09:45am
Speaker Howell promotes pension changes
A 19-member commission made up of a majority of state legislative members would be charged with making recommendations relating to the financial soundness of state and local retirement plans under a bill introduced by Speaker of the House Bill Howell.
The commission established under HB 665 would also make recommendations on the suitability of retirement plans for state and local employees, the impact of expected upcoming retirements and what compensation and benefits would attract future government employees.
In addition to 10 legislators, members would include seven non-legislative citizens, including one person to represent VML and VACo, one to represent the Virginia Education Association, one to represent police and the rest unspecified.
The Commission would sunset July 1, 2021.
The bill will be heard in the House Rules Committee.
Staff contacts: Kimberly Pollard, kpollard@vml.org and Mary Jo Fields, mfields@vml.org
Action Alert: Redistricting reform
Action needed: Call or e-mail key legislators to SUPPORT these bills
It's not too early to call or e-mail members of the House Privileges and Elections Committee and the Senate Privileges and Elections Committee in support of redistricting reform.  Bills are not on the dockets so far, but it's definitely better to go ahead and advocate for passage of redistricting reform.
HB 555 (Landes) appears to be the House bill that advocates are rallying around. This bill states criteria for the General Assembly to observe in drawing districts, including respect for political boundaries, equal population, racial and ethnic fairness, contiguity, compactness, and communities of interest. The bill prohibits the use of political data or election results unless the use is necessary to determine if racial or ethnic minorities can elect candidates of their choice.
Who to contact in the House
Subcommittee members are: Ransone (Chairman), Landes, Fowler, Adams, Sickles, Torian, Cole
SB 59 (Vogel and Howell) On the Senate side, advocates are focusing support on SB 59 (Vogel and Howell), which is similar to the Landes bill in the House.  Please contact members of Senate P & E in support of redistricting reform in general and SB 59 in particular.
Who to contact in the Senate
Vogel (Chairman), Howell, Deeds, Edwards, McEachin, Reeves, Garrett, Miller, Ebbin, Chafin, DeSteph, Chase, Sturtevant
Talking points
Voters should choose their legislators instead of legislators choosing their voters.
Existing political boundaries should be respected to the greatest extent possible.
Redistricting should be done objectively with boundaries drawn on the basis of legal, demographic and commonsense criteria that ignore the political interests of incumbents or political parties.
The current redistricting process encourages legislators to focus on the far left or far right voters in their district – the ones who tend to vote in primaries – instead of the interests of the broader range of voters who participate in the general election.
Staff contact: Mary Jo Fields, mfields@vml.org.
Assessment appeals bill defeated in House of Delegates subcommittee
Local governments defeated a bill (HB 910) yesterday that would have turned any assessment appeal to the circuit courts topsy-turvy.  Under the bill's provisions, taxpayers would have the right to choose a jury trial for their appeals.  The jurors would have to be "freeholders," meaning they are property owners.  Five persons from a panel of not fewer than 13 jurors would constitute a jury in tax assessment cases.  If fewer than seven jurors remain before the court after preemptory strikes, the trial can proceed and be heard by less than five jurors.  The bill also would have allowed a trial with as few as three jurors.  The conclusion of the jurors would not have to be unanimous, meaning in a jury of three a majority agreement of two jurors would be sufficient.
An amendment to strip the jury trial provisions from the bill failed on a 4 to 5 vote.  The motion to report the bill fell on a 4 to 6 vote in the Civil Law Subcommittee of the House Courts of Justice.  A Senate companion bill (SB 597) awaits action in the Senate Finance Committee.  The Senate measure is tentatively scheduled for the first week of February.
Staff contact: Neal Menkes, nmenkes@vml.org
State revenue collections improve, but doubts about revenue forecast surface
In explaining the revised FY 2016 revenue forecast to Senate Finance Committee members, Finance Secretary Ric Brown fielded a question from co-chairman Sen. Tommy Norment about whether the economy was strong enough to match the administration's projections.
The 2015 legislative session approved a FY16 revenue forecast that later turned out to be (0.1) percent less than FY15 actual collections.  As part of his proposed budget, Gov. Terry McAuliffe submitted a revised FY16 forecast calling for $18.3 billion in FY16 or 3.2 percent greater than the previous fiscal year's collections.
Total general fund revenues rose 2.4 percent in December, largely due to payroll withholding and sales taxes.  On a fiscal year-to-date basis, total revenue collections rose 1.6 percent through December.  Adjusting for the accelerated sales tax program, total general fund revenues are up 2.2 percent through December, but still lag the new forecast.  This is the source of Sen. Norment's discomfort. With half of the fiscal year over, can the economy produce enough business activity and revenues to make the forecast?
The good news is that payroll employment grew 1.3 percent in November 2015 over the previous year's numbers.  And, Northern Virginia, the state's job generator, posted growth of 1.7 percent with Professional and Business Services jobs rising 2.6 percent.  Also, the Virginia Leading Index climbed 0.4 percent in November after rising 0.2 percent in October.  The not-so-good news is Virginia's job growth continues to trail the nation's.
If Sen. Norment's concerns about the economy are widespread among his fellow committee members, it is likely that committee amendments could reduce the revenue forecast for not just FY16 but for FY17 and FY18 as well.  This action in turn would have a significant on Gov. McAuliffe's proposed spending amendments.
Below are the details of the December collections.  Because a number of factors can influence payment flows and monthly growth rates at this time of year, December and January receipts should be considered jointly.  The release of the January tax numbers in February will provide greater clarity as to the state's budget for the remainder of the fiscal year and next biennium.
Tax Source

December over/under Dec. FY15

YTD over/under FY15

Projections for FY16

Individual Income Tax Withholding (63% of GF revenues)

3.5%

2.3%

4.1%

Individual Non-withholding (17% of GF revenues)

(0.6%)

4.4%

1.9%

Sales Tax (19% of GF revenues)*

4.1%

4.5%

5.0%

Recordation Tax (2% of GF revenues)

15.6%

10.7%

7.7%

Corporate Income Tax (4% of GF revenues)

(10.2%)

(21.0%)

(9.5%)

*includes accelerated tax collections; otherwise YTD collections are 1.2%
Staff contact: Neal Menkes, nmenkes@vml.org
Voucher, Virtual School bills moves forward
The House Education Committee at its Jan. 20 meeting re-referred two bills expanding school choice to the House Appropriations Committee.
HB 8 (Bell, Richard) establishes a statewide Virtual School that would be run by a state-appointed board.  The board is expected to contract for full-time, on-line educational services.  The contract process is specifically exempted from the Virginia Procurement Act.
HB 389 (LaRock) is a voucher bill in which the state Department of Education would send 90 percent of the state SOQ payment associated with the student to the parent.
The parent would be obliged to provide an education for the child. The funds could be used to pay tuition to any private, sectarian or non-sectarian school provided it does not discriminate on the basis of race, color or national origin. The funds also could be used to defray the cost of home schooling, including paying for textbooks, computer equipment and Internet access. Further, funds could be placed in a Cloverdale saving account to be used for higher education.
The amount of the state SOQ funding would be based on how much the state is contributing in the student's home school; in other words, the state share takes into account the local composite index.  The Commonwealth Policy Institute estimates that this would mean that the parent of a child in Arlington County would receive about $2,135 for the savings account (Arlington has a composite index of .8000, so the state contributes only 20 percent of the SOQ funded amount). The parent in Lee County, on the other hand, would receive about $6,902.
The local school divisions would be responsible for accepting, reviewing and approving (or rejecting) applications from parents for participation in the program.
Staff contact: Mary Jo Fields, mfields@vml.org
Clarifying municipal elections bill reported
SB 43 (Carrico) makes it crystal clear that municipalities could adopt an ordinance to move their elections from May to November, without having to come to the General Assembly for a charter change.  This was the original intent of the legislation allowing municipalities to move to November elections, but the language of the statute was not well-worded.  The bill now moves to the Senate floor.
Staff contact: Mary Jo Fields, mfields@vml.org
The Watch List
A quick snapshot of other bills introduced this week that could affect local governments. VML staff contact: Kimberly Pollard, kpollard@vml.org
Public Safety
Summary: HB 853 (Cline) would repeal all photo red technology for all localities.
Action: The bill in in House Militia and Police.
Studies
Statewide database for dog/cat licenses
Summary: HJ 160 (Orrock) will look at studying the procedures for licensing dogs and cats and assess the feasibility of establishing a statewide system for recording rabies vaccinations and licensing that includes a statewide database that can be remotely accessed by animal control officers in the field.
Action: The resolution is in House Rules.
Inclusive Education
Summary: HJ 161 (Yost) will study the essential components of a comprehensive pilot program that promotes inclusive education practices for students with disabilities in public elementary and secondary schools in the Commonwealth.
Action: The resolution is in House Rules.
Public Transportation for Disabled
Summary: HJR 171 (Pogge)/SJR 107 (Marsden) urges localities to make a collaborative effort to provide affordable cross-jurisdictional public transportation to persons with disabilities by modifying and expanding current transportation routes and services. The resolution urges localities to enter into memoranda of understanding to accomplish this goal and to work with all relevant agencies, organizations, and other stakeholders.
Action:  The resolutions are in House and Senate Rules, respectively.
Registration swells for VML Day at the Capitol Jan. 27
Legislators set to attend reception at Library of Virginia
We've received a great response and many Delegates and Senators will attend the reception following the VML Day at the Capitol program on Wednesday, Jan. 27.  In addition, members of the governor's senior staff, cabinet members and Lt. Gov. Ralph Northam will be present.
It's not too late for local government officials to register to attend this outstanding event, which will be held at the Library of Virginia in downtown Richmond.
Gov. Terry McAuliffe will deliver a keynote address at 3 p.m. in the library's Lecture Hall.  Following the Governor's address will be presentations from One Virginia's Brian Cannon, Secretary Anne Holton and Speaker William Howell, concluding at 5:30 p.m.  A high-quality reception will be held from 5:30 to 7 p.m. in the lobby of the library. The reception will provide an opportunity for local officials and General Assembly members to talk about issues in an informal setting.
Reception: call, visit, and invite your legislators
Local officials are urged to call on their legislators prior to the legislative briefing and remind them to attend the reception, which is only a short walk from the capitol.  (All legislators have been mailed personal invitations, but a follow-up invitation by local officials will help to ensure good attendance by legislators.)  Local officials also are encouraged to invite their legislative delegation to dinner following the reception.
Click here for detailed information about the event, including online registration.
Questions?  Contact VML's Anita Yearwood at ayearwood@vml.org .
Webinar: Preparing Your Talking Points for VML Day at the Capitol
This year, we've made it super easy to be well-versed on the issues! VML Staff will host a webinar to prepare you with key messages and briefing materials on specific issues. Join us for this webinar and you'll be the best advocate you can be for your community.
Hosted by: VML Legislative Staff
When: Friday, January 22, 2016
Time: 11 a.m. – 12:00 p.m.
How: First Register for VML Day, then you'll receive an e-mail link to the webinar.