eNews Jan 20, 2017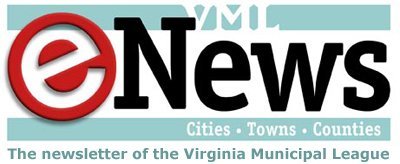 Friday, January 20, 2017 - 03:45pm
Money committees ready themselves for reporting budget amendments       
On the afternoon of February 5, the House Appropriations and Senate Finance Committees will report out their respective amendments to the 2017 Budget Bill.
The subcommittees have been holding hearings to learn more about Gov. Terry McAuliffe's budget package and to hear from constituents on a variety of money issues.
The House and Senate subcommittees specialize in economic development, education, health and human sources, public safety, natural resources, employee compensation, capital outlay, and other subject areas.  Next week their review begins of the budget amendments submitted by their fellow delegates and senators.  You can review these amendments if you click here.
In the few weeks leading up to the February reporting date, the Senate Finance Committee holds a distinct advantage over its House counterpart.  In the Senate, budget and tax issues all belong to the Senate Finance Committee.  The House of Delegates takes a different approach, splitting the responsibility for the two areas between the House Appropriations Committee and the House Finance Committee.
For the House, coordination is critically important to ensure that spending decisions made by House members are backed by sufficient revenues.  This may prove difficult.  On January 18, a House Finance Subcommittee blew an $18.0 million "budget hole" in FY 2018 by voting to recommend "laying on the table" three bills that Gov. McAuliffe counted on to balance his amendments:
HB 2150 would extend the annual $20,000 limitation on the amount of Land Preservation Tax Credits that may be claimed by each taxpayer.  The estimated revenue impact is $6.1 million;
HB 1635 would impose a $5.0 million limitation on the annual amount of Historic Rehabilitation Tax Credits that may be claimed per taxpayer.  The estimated revenue impact is $9.9 million; and
HB 1707 would prohibit taxpayers from claiming both a state deduction and either the Neighborhood Assistance Act Tax Credit or Education Improvement Scholarships Tax Credit for the same charitable donation.  The estimated revenue impact is $2.04 million.
The recommendations of the subcommittee will come before the entire House Finance Committee on Monday, January 23.  It is possible that the committee chairman, Lee Ware, will exercise his authority under the rules of the House to reconsider the subcommittee's decision and ask for a new vote.  Or, the chairman of the House Appropriations Committee, Chris Jones, could exercise his authority to use the tax language McAuliffe inserted into the budget bill in anticipation of possible unfriendly legislative actions.  If the House Appropriations Committee chooses this option it could run afoul of the House Republican Caucus.  The caucus has a long-standing position against legislating tax policy in the state budget bill.
Another issue localities should be aware of concerns new financial reporting requirements.  Both House Appropriations and Senate Finance Committees held hearings in late 2016 regarding the financial plight of the City of Petersburg.  The money committees want an "early warning system" before any financially-stressed-out locality defaults on a bond or other financial obligation.
It is likely that both chambers will include budget language to set up a fiscal stress test.  VML and VACo believe that although mismanagement can be an issue there are several more powerful underlying reasons for local fiscal stress.  To that end, both organizations support Senator Hanger's study resolution (SJ 278) that would review the taxing authorities of local governments, including the disparity between city and county tax authority; local responsibilities for service delivery of state-mandated or high priority programs, causes of fiscal stress among local governments, the current state tax system, including the future of the car tax; and potential financial incentives and other governmental reforms to encourage increased regional cooperation and consolidation of services.  To express support for SJ 278, here are the names and e-mail addresses of the Senate Rules Committee.
Help needed on Wireless Infrastructure Bills
Senate Committee meets Monday; House Committee meets Tuesday
The two wireless infrastructure bills will be heard in committee early next week. Please tell your delegates and senators why these bills would be harmful to localities.
SB 1282 (McDougle) will come before the Senate Commerce & Labor Committee Monday, January 23, 15 minutes after adjournment.
HB2196 (Kilgore) will be heard by the House Commerce & Labor Committee on Tuesday, January 24, 30 minutes after adjournment.
These bills have significant ramifications for local government including the use of public property without proper remuneration, loss of local land use control and blind permit approvals essentially due to the restrictions on what local governments could review.  Please provide comments and talk with your legislators regarding this proposal.
Here are some talking points:
Wireless industry is asking to be treated like a utility and afforded the benefits of a utility without having to serve the "last mile" and provide service to everyone
5G technology will NOT expand service; it is a densification of the existing networks
"Non-Discriminatory" is how they want to be treated; they compare themselves to utilities and the locality if it offers services
Essentially forces localities to violate the Spectrum Act; the Spectrum Act requires that a locality cannot deny service by its action; this proposal prohibits localities from asking for the documents which need to be reviewed to ensure that service is not effectively denied
VML takes the position that fees should not be set in the code because costs vary throughout the state
Access to the Right of Way is problematic because of Article 7, Section 9 of the Virginia Constitution
Access to public property without proper remuneration is discriminatory
VML contact: Michelle Gowdy, mgowdy@vml.org
Virginia Cable Telecommunications Association presents problems for localities
Previously VML sent out information from the Virginia Cable Telecommunications Association that contained "concepts" for a bill.  The bill is HB2108 by Delegate Byron and contains some changes from the concepts but is fairly similar.  Please provide comments and let your legislators know how problematic this bill would be for localities.
Here are some basic talking points:
Treats a private business like a utility and affords it the benefits of a utility without requiring that the business serve the "last mile" and provide service to everyone.
Requires localities to make public all information regarding plans to implement a broadband system (similar to its proprietary plans) and doesn't require the same of the cable companies.
Prohibits a locality from providing broadband unless it provides the companies an opportunity to bid on the project.
If a locality already has an authority, it cannot expand without permission from the General Assembly.
VML contact: Michelle Gowdy, mgowdy@vml.org
Civil noise violations to be enforced by chief law enforcement officer; other local bills of note
SB926 from Senator Petersen makes civil noise violations enforceable by the chief law-enforcement officer of a locality.  This bill passed through Senate Local Government this week unanimously.
SB936 (Favola) passed through Senate Local Government unanimously as well with minor amendments.  This bill states that locality's may enter into agreements with constitutional officers to provide their employees use of the locality's personnel leave policies if they are not less than what they are currently provided.
SB1225 (Barker) and HB1486 (Albo) deal with arts and cultural districts and the ability of localities to create joint arts and cultural districts.  This issue was heard in both the Senate Local Government and House Counties, Cities and Towns, and were reported unanimously by both committees.
VML contact: Michelle Gowdy, mgowdy@vml.org
Senate subcommittee acts on two FOIA bills: Make calls in opposition to SB 1128
SB1128 (DeSteph) is a FOIA bill that creates a rebuttable presumption for not responding to a records request in a timely manner; it would state that the person acted "knowingly and willfully."  VML opposes this bill and will continue to oppose this bill.  A subcommittee has recommended reporting the bill. Please contact members of the Senate General Laws and Technology Committee in opposition.
SB1103 (Surovell) was heard by the same subcommittee. The bill would have imposed a civil penalty on all members voting to certify a closed session that was improper.  This bill failed to report.
VML contact: Michelle Gowdy, mgowdy@vml.org
Support HB 599 budget amendments!
Identical budget amendments have been introduced to increase state assistance to local law enforcement funding (the HB 599 program) in fiscal year 2018.
Item 400 #1h (James, Heretick) and Item 400 #1s (Wagner) introduced in House Appropriations and Senate Finance respectively, would add $5.7 million to the currently appropriated amount (taking it from $177,964,014 to $183,664,014) in FY2018.  This would bring the funding in line with the anticipated increase in state general funds in FY2018.
VML staff spoke in favor of the amendment before the House Appropriations Public Safety Subcommittee on Jan. 19; budget work is on a fast track, so please contact your member of House Appropriations and Senate Finance in the next week!
VML staff contact:  Janet Areson (jareson@vml.org)
School discipline changes may be forthcoming
Following a study by Just Children that showed that more than 90,500 students were suspended or expelled from school in the 2010-11 school year, several bills, with bipartisan support, have been introduced to change how suspensions and expulsions are handled.
A Senate Education and Health Subcommittee has recommended these changes:
Limiting the number of days students can be suspended from 364 calendar days to 45 school days (SB 995-Stanley)
Prohibiting long-term suspensions or expulsions for disruptive behavior unless the behavior involves intentional physical injury or credible threat of physical injury to another person (SB 996-Stanley).
Prohibiting suspensions and expulsions for students in kindergarten through third grade (SB 997-Stanley).  The bill as introduced referenced students through fifth grade, but the subcommittee recommended dropping that to the third grade.
The bills will be heard in full committee on Jan. 26.
VML contact: Mary Jo Fields, mfields@vml.org
Recap of bills hitting roadblocks
Here's a recap of some of the bills that have died in committee, or been recommended for tabling in a subcommittee or otherwise are in trouble:
VML contact: Mary Jo Fields, mfields@vml.org
Retirement changes proposed
Recommendations of the retirement commission that met this summer and fall are reflected in two bills that will be heard in the House Appropriations Subcommittee on Compensation and Retirement, which meets Thursdays at 4 p.m.  VRS impact statements will be available for next week on the bills. If you are interesting in participating in a conference call next Friday on VRS bills, please email Mary Jo Fields (mfields@vml.org). The details of the conference call are not completed.
HB 1967 (Massie) would change the mandatory and voluntary contributions made by employers and employees to the defined contribution component of the hybrid plan.
HB 2251 (Jones) requires the Virginia Retirement System to establish an optional defined contribution plan for state and local government employees.
VML contact: Mary Jo Fields, mfields@vml.org
Voucher bills introduced in both chambers
Last year Gov. Terry McAuliffe vetoed a bill that would have established a voucher program in which state Standards of Quality funding could be placed in a parental choice education savings account.
Voucher bills are back again this year in the form SB 1243 (Dunnavant) and HB 1605 (LaRock). While the bills are not identical, both require that the state share of SOQ funding would be placed in a parental choice education savings account. Both also place administrative burdens on school divisions, which would be required to accept applications, determine whether the applications should be granted, collect receipts from expenditures from the account and determine whether the expenses were proper.
SB 1243 is supposed to be heard Tuesday in the Senate Education and Health Committee, which meets Thursday at 8 a.m. HB 1605 is in the House Education – Education Innovations Subcommittee, which meets Tuesdays at 7:30 a.m.
VML contact: Mary Jo Fields, mfields@vml.org
Regional charter school bills introduced
Constitutional amendments that would allow the state Board of Education to establish charter schools have been introduced in both houses (HJR 629 – Bell, R. B. and SJR 240 – Obenshain), but there's a new twist this session: Bills, instead of a constitutional amendment, to establish regional charter schools.
HB 2342 (Landes) and SB 1283 (Obenshain) would allow the State Board of Education to establish regional charter school divisions that would then operate regional charter schools. The school board would consist of 8 members to be appointed by the State Board of Education, and up to 3 to be appointed by the local school boards.  The regional board would then be authorized to approve charter school applications.  State per pupil Standards of Quality funding would follow the student to this regional school.
HB 2342 is in the House Education – Education Innovations Subcommittee, which meets Tuesdays at 7:30 a.m.  SB 1283 is in the Senate Education and Health Committee, which meets Thursday at 8 a.m.
VML's policy statement includes this language: "The state should not take any actions that limit or reduce authority of local school boards and local governing bodies to finance and manage local schools. Local school boards should retain the responsibility for approving applications for charter schools.  Otherwise, decisions that affect the funding of public schools potentially could be made by a statewide, appointed body that has no direct connection to the council or board of supervisors."
VML contact: Mary Jo Fields, mfields@vml.org
Jail death investigation bill sent to Finance
Bills to require the State Board of Corrections to establish policies and procedures to investigate deaths in local and regional jails are moving forward.  Last week a Senate committee reported SB 1063 (Deeds), incorporating SB 942 (Cosgrove), and referred it to Senate Finance because it contains a state fiscal impact for new staffing required to carry out the work.
The bills came out of the work of the Deeds joint subcommittee studying Virginia's mental health system and is meant to clarify the authority and address the resources of the Board of Corrections to investigate deaths in local and regional jails.
A companion bill, H.B. 1782 (Bell) is before the House Committee on Militia, Police and Public Safety.
VML staff contact:  Janet Areson (jareson@vml.org)
Regional jail funding bill advances
SB 1313 (McDougle) which would clarify in Code the General Assembly's intention stated in the Appropriations Act to cap at no more than 25 percent the state's reimbursement for capital costs of any regional jail construction, enlargement, or renovation, was reported by the Senate Rehabilitation and Social Services Committee on Jan. 20, and sent to the Senate Finance Committee for further consideration.  State budget writers previously changed the percentage from up to 50 percent to up to 25 percent; this bill would make consistent the language in the Code of Virginia.  General Assembly policy makers have decided that the building or expansion of regional jails is no longer a state priority.
VML staff contact:  Janet Areson (jareson@vml.org)
DMAS regs delayed; local reps meet with state to discuss
Emergency regulations to impose new procedures for placements of Medicaid-eligible youth in residential placements were put on hold last week.  The regulations were supposed to go into January 1.  VML and other organizations had asked for a delay in implementation because the regulations were not released until late December and the timeline for implementation did not allow sufficient time for local Children's Services Act (CSA) staff to properly prepare for the changes.
VML and other local partners met Jan. 6 with policy staff from the McAuliffe Administration and the Department of Medical Assistance Services to discuss possible next steps to raise and address potential issues with the emergency regulations, and to possibly pare down some of the proposed administrative requirements that could end up creating more complexity in the process.  VML will be following up on this with the assistance of selected local CSA coordinators and human services directors.
VML contact:  Janet Areson (jareson@vml.org)
Two proposed studies that relate to local government
SJ289 is a proposed study requested by Senator Ebbin regarding the conflict of interest disclosure forms and the "procedures for the filing and review of disclosure forms by local government officers and employees."  The language in the study seems to suggest that local governments should file their forms electronically so that the public has better access.  The study is to be completed by the Virginia Conflict of Interest and Ethics Advisory Council by November 30, 2017.  The resolution will be heard by Senate Rules.
HJ705 is a proposed study by Delegate Yancey encouraging localities to streamline permitting processes. The proposal encourages VML and VACo to develop best and uniform practices for permitting processes by localities throughout the Commonwealth.  When discussing this proposal with the Delegate, he indicated that more consistency in permitting will help economic development. The resolution will be heard by House Rules.
VML contact: Michelle Gowdy, mgowdy@vml.org