eNews Jan. 18, 2019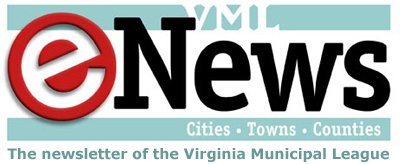 Friday, January 18, 2019 - 05:02pm
In this issue:
Unneeded amendment added to parking enforcement legislation
As noted in an earlier E-News, two bills (HB1818—Delaney; SB1044—Black) seek to authorize towns and counties to contract with private firms for the locality's parking enforcement.  The House bill was reported out of subcommittee but has not yet come up in the full Transportation Committee.  SB1044 was amended in committee to limit any local parking fines to $75 or less.  While this would not affect most local parking fines, there are some that exceed $75.  This bill is likely to come up on the Senate floor early next week.
We encourage localities to contact their Senators and ask then to reject the amendment if it will require them to lower some of their parking fines.
VML Contact:  Bernie Caton, bcaton@vml.org
Uniform Statewide Building Code bill amended by General Laws Subcommittee #2
Your input is welcomed
HB1966 (Yancey) deals with the Uniform Statewide Building Code. The bill originally stated that in instances when the issuance of a building is denied, the applicant must be provided with a written explanation of the reasons and the building department must limit its review to only those portions of the revised application it deems inadequate. In a last-minute deal, the bill was amended to include language that the fees had to stay in the building department and that the limited review was "suggested," not mandated.  This bill will be heard in the full General Laws Committee on Tuesday.
Any feedback you have on this bill would be most appreciated.
VML Contact: Michelle Gowdy, mgowdy@vml.org
Local authority to regulate towing would be hamstrung under introduced bills
Two bills have been introduced (HB1865–Fowler; SB1567–Marsden) that would significantly impact the ability of local governments to regulate towing firms.  HB 1865 was approved by a House Transportation Subcommittee (SB 1567 has not yet come up in committee) but has not been taken up in the full House Transportation Committee. The bill as reported out by the subcommittee presents several issues of concern to many localities. Among other things, it would eliminate the ability of localities to regulate towing companies; it would delete language that prohibits a towing company from charging fees in addition to the tow fee during the first 24 hours of a tow; and it would repeal a Code section (46.2-1233) that allows localities to set limits on the charges for towing heavier vehicles (e.g., trailers).  VML and VACO are working with the bill's patron to see if there is a way to amend the bill that is acceptable to all parties.
VML Contact:  Bernie Caton, bcaton@vml.org
Scooter bill updates
Additional legislation introduced to restrict the authority of localities to regulate scooters
VML (and VACO) staff will continue to work to retain appropriate local authority over scooters and similar motorized devices.
VML Contact:  Bernie Caton, bcaton@vml.org
Wastewater proposal would allow localities to work together 
Bill provides grants for diversion of wastewater from one treatment plant to another
Some localities, especially those in less populous areas, may be helped by HB1822 (Bulova). This legislation would authorize the Department of Environmental Quality to provide grants from the Virginia Water Quality Improvement Fund for the installation of infrastructure needed to divert wastewater from one sewage treatment plant to another. The advantage of this is that it would allow small treatment plants in less densely populated areas to work together to build one plant to remove nutrients or provide another treatment technology that is needed by all the plants, but too expensive to install at each individual plant. The bill was approved by the House Committee on Agriculture, Conservation, and Natural Resources, then sent on to the House Appropriations Committee for its consideration.
VML Contact: Bernie Caton, bcaton@vml.org
Routes for improvements to I-81
Additional legislation has been introduced relating to I-81 corridor improvements
HB2718 (Landes) and SB1716 (Obenshain) would allow the Commonwealth Transportation Board to impose tolls on I-81 and use the toll revenues to pay for improvements to that highway.  Unlike other legislation that has been introduced (SB1322 and SB1470), these new bills would not authorize any increase in motor fuels taxes. No action has yet been taken on any of the I-81 bills, and some question whether the General Assembly will be able to agree on the revenue source for I-81 improvements this session.
VML Contact:  Bernie Caton, bcaton@vml.org
Retired local employees denied enhanced retirement benefits
The House Appropriations Subcommittee on Compensation and Retirement recommended on Thursday "laying on the table" two bills (HB1694 and HB1857) which would have increased retirement benefits for E-911 dispatchers and provided health insurance credits for retired school division employees. The subcommittee's actions effectively kill the measures for the 2019 Session.
HB1857 would have required school divisions to provide a health insurance credit of $4 per year of service to all retired members of local school divisions with at least 15 years of total creditable service. Currently, the $4 per year of service health insurance credit is provided only to teachers, and non-teacher school division employees are eligible for a credit of $1.50 per year of service, capped at $45 per month, if the school division has elected such coverage.
HB 1694 would have added E-911 dispatchers to the list of local employees eligible to receive enhanced retirement benefits (similar to those provided to State Police officers). The benefits would have been available only to dispatchers hired starting in 2020 and not currently employed dispatchers.
VML Contact: Neal Menkes, nmenkes@vml.org
Measure to pay for incarceration costs of convicted felons advances
Well, it sort of advances
As introduced, SB1040 (Peake) required that local jails be compensated for the actual cost of incarcerating convicted felons at the rate calculated in the Compensation Board's annual jail cost report. Current law provides for jails to be compensated for the cost of incarceration of convicted felons as provided for in the general appropriation act.
The Senate Finance Committee amended and reported the bill on Wednesday.  The amendment requires the 2019 Budget Bill to include a specific appropriation by the end of the legislative session for SB1040; otherwise the bill will not take effect.  It is unlikely that the General Assembly will include such an appropriation without significant local pressure.
VML Contact: Neal Menkes, nmenkes@vml.org
House Finance Subcommittee acts on land preservation and Virginia Housing Trust Fund bills
HB2365 (Delegate Knight) authorizes localities that require use value assessment and taxation to provide by ordinance that the annual increase in the assessed value of eligible property cannot exceed the dollar amount specified in the ordinance. The subcommittee voted to recommend to the House Finance Committee that the bill be reported to the House floor. House Finance will consider the measure on Monday.
The subcommittee did not look favorably on HB2389 offered by Delegate Lopez, voting to lay the bill on the table. As introduced, the bill would have transferred 20% of annual recordation tax revenue in excess of $325 million from the state general fund for deposit in the Virginia Housing Trust Fund.
VML Contact: Neal Menkes, nmenkes@vml.org
Senate panel puts the lid on plastic bag bills
Signs of expanded support emerge despite defeat
By a Wednesday vote of 5 ayes to 11 nays, the Senate Finance Committee failed to report legislation focused on recycling plastic bags. SB1070 (Ebbin) and SB1116 (Petersen) were supported by several environmental groups. Lobbyists for plastic and paper bag manufacturers as well as retailers decried the legislation's economic impacts and burdens.
Similar attempts in previous sessions have met a similar fate. However, this time there seemed to be a growing realization in the General Assembly that some type of action is needed. Notably, Republicans from rural districts (who make up most of the opposition votes) expressed alarm over the damage to water quality being caused by plastics.
VML Contact: Neal Menkes, nmenkes@vml.org
Is the Virginia economy beginning to crack?
Effects of lost revenue from Federal shutdown beginning to be felt
The term "Virginia economy" misleads people into thinking that the Commonwealth is a single economic unit. In fact, there are multiple economies in Virginia. The welder who works for Newport News shipbuilding lives in a different economic reality than the furloughed federal worker in Northern Virginia, or the soybean farmer looking for overseas markets.
It's the sum of these multiple economies that make up the Virginia economy. And, the most current economic "snapshots" presented by the Northam Administration to the General Assembly this week consists of both clear and fuzzy pictures.
Payroll employment rose 1.8 percent in November over last November's job numbers. The seasonally adjusted unemployment rate fell 0.1 percentage point to 2.8 percent in November, the lowest rate since April 2001.
The Virginia Leading Index dropped 0.1 percent in November after jumping 0.3 percent in the previous month. The index in Roanoke rose while the index for Winchester remained unchanged. The remaining regional indexes all decreased.
Total general fund collections declined 5.7 percent in December. On a year-to-date basis, total revenues have increased since July 2018 by 1.5 percent, trailing the 5.9 percent increase forecasted in Gov. Northam's budget bill. The reason for the disappointing collections is NOT in individual withholding. Payroll taxes have increased 4.5 percent compared to the same period last year and ahead of the projected annual growth of 3.8 percent.
The reason is NOT in sales tax collections. On a year-to-date basis, sales tax collections have grown 4.8 percent compared with the 3.7 percent projected increase.
The reason appears to be in non-withholding taxes. Year-to-date collections are $828.2 million compared with $1,045.5 million in the same timeframe last year. This is a plummet of 20.8 percent and well behind the projected forecast calling for 15.2 percent growth.
Secretary of Finance Aubrey Layne told the money committees that in December 2017 some 781 high net worth individuals paid $297.0 million. One year later, only twelve of these individuals submitted payment totaling $3.5 million. Does this mean state revenues are in trouble? Layne says the estimated non-withholding payments due January 15 will provide a clearer picture.
Tax collections tied to corporate income are down.  Actual collections are up 1.2 percent compared with the annual estimate of 5.6 percent. Recordation taxes are also down, having decreased 5.2 percent compared with last year's collections.
                SUMMARY OF FY19 REVENUE COLLECTIONS (July-December)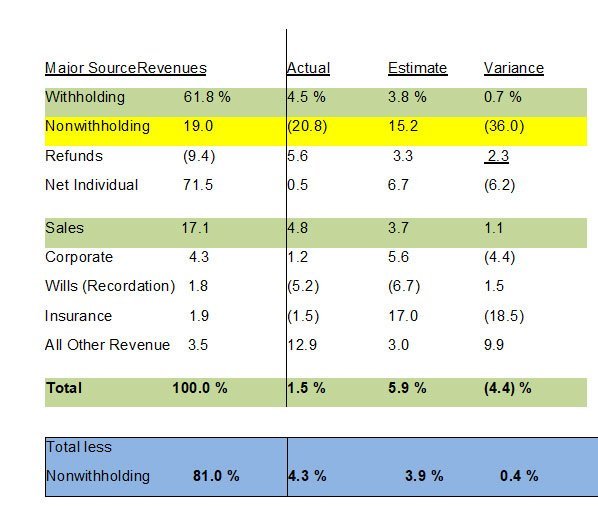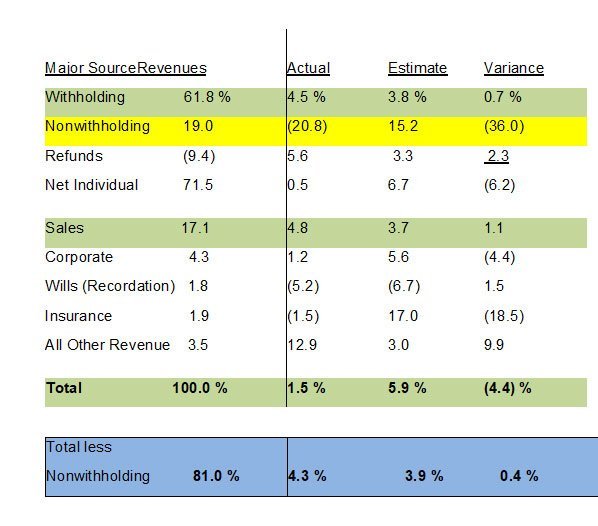 The governor will provide the next revenue update after the House Appropriations and Senate Finance Committees report out their respective budget amendment packages in early February.
This will mark the first revenue report that takes into consideration the partial federal government shutdown. The Virginia Employment Commission (VEC) estimates that some 64,378 Virginians are working in federal agencies affected by the shutdown, representing 36.2 percent of the total number of federal employees subject to state taxation. The estimated weekly value of income taxes "lost" to the state treasury is $7.3 million. However, most of this revenue should eventually work its way to Richmond after the federal workers begin to receive paychecks again.
However, wages tied to private sector companies with federal contracts are not likely to be made up. This could negatively affect individual withholding and sales tax collections and should be reflected in next month's revenue report.
The partial shutdown also affects state agencies receiving federal grants. The governor's budget office is surveying agencies to identify affected grants, numbers of state employees who depend on federal dollars for their salaries, the constituents of federal programs administered by the state, and the capabilities of state agencies to operate without the federal money.  For example, federal nutrition programs including school meals, food stamps, and the Women, Infants and Children program are all likely to run out of funding by the end of March.
The impact of the shutdown on the rest of the Virginia economy could play an important role in the legislature's budget deliberations.
VML Contact: Neal Menkes, nmenkes@vml.org
Proffer update: Another turn
This morning  HB2342 (Thomas) bill which mirrors Senator Favola's bill was passed out of the full Counties, Cities and Towns Committee.  A second proffer bill,  HB1801 (Ware) was rereferred to subcommittee #2 to be heard again next Wednesday afternoon. As previously reported in eNews, the differences between the bills include some definition changes as well as language addressing capacity.
VML Contact: Michelle Gowdy, mgowdy@vml.org
Counties, Cities and Towns bills that passed the full committee
VML Contact: Michelle Gowdy, mgowdy@vml.org
Senate Local Government acts on various bills
VML Contact: Michelle Gowdy, mgowdy@vml.org
Other bills to watch
VML Contact: Michelle Gowdy, mgowdy@vml.org