eNews Jan. 17, 2020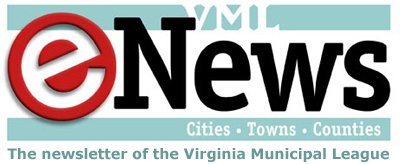 Friday, January 17, 2020 - 04:53pm
In this issue:
Action Alerts
Freedom of Information Act (FOIA)
HB321 (Levine) is a FOIA bill that we would like your ACTION ON IMMEDIATELY. Please ask your delegation to support the bill and please let VML know if you support this legislation. This FOIA bill allows a member of a public body to miss a meeting due to the serious medical condition of a family member. It also clarifies that participation in an electronic meeting because of a personal matter can occur either two meetings per year or 10 percent of the meetings in a calendar year.
VML Contact: Michelle Gowdy, mgowdy@vml.org
Protect local authority on bills for these two topics: games of skill and single use plastics
Thus far, there are over eight bills dealing with games of skill and a similar number dealing with single use plastics (i.e. styrofoam to-go containers, disposable shopping bags, etc.).  Most of the bills contain some sort of tax and local authority. Please let your delegation know that you support local authority and local taxation on these items – don't let the state tax these items and keep the money!
VML Contact: Michelle Gowdy, mgowdy@vml.org
"Ban the box" bills
HB140 (Davis) / HB757 (Aird) are bills that need some "tweaking" so please ask your delegation for help.  "Ban the box" bills, as we call them, don't allow localities or the state to inquire about arrests or convictions when filling a position until after a staff interview. For the state, there are exceptions for sensitive positions (i.e. law-enforcement, etc.). There are no similar exceptions for localities. VML has asked both patrons to at least allow the same exceptions as the state while making it clear that we would much prefer this to be a local option similar to this 2018 legislation by Senator Dance (SB252).  Moreover, Virginia Code Section 22.1-296.1 requires that localities inquire about criminal history on their applications for employment for certain school employees, which is in direct conflict with this bill.
Both bills are in the House General Laws Committee.
VML Contact: Michelle Gowdy, mgowdy@vml.org
General Assembly
Bills stricken from the calendar (and localities should be glad!)
HB1474 (McGuire) – This short-term rental regulation bill would have substantially hindered local government authority.
HB545 (Carr) – This inclusionary housing bill was a mandate on cities and towns to develop and promulgate housing plans. Although this bill was stricken from the calendar; the legislative system now shows it being referred to a subcommittee of Counties, Cities and Towns. When a bill is stricken, it is typically dormant for the session, but we will keep an eye out!
VML Contact: Michelle Gowdy, mgowdy@vml.org
Budget amendment requests posted
Now that the Governor has introduced his budget proposal for the new biennium (FY2021-2022) and amendments to the current year budget (FY2020), it's the General Assembly's turn to propose changes and amendments.
Members were given until January 10 to submit amendments, and many took advantage of that opportunity. The amendments are now posted on the General Assembly's website under the State Budget. The House and Senate budget-writing committees will review these proposals as they develop their budget proposals. Those proposals will be unveiled on Feb. 16.
VML and its local partners asked General Assembly members to submit several budget amendments.  These amendments included:
Direction of Help America Vote Act (HAVA) funding to localities for election security:
Plan to phase out the support cap under the Standards of Quality (SOQ – language only):
Funding of standards approved by the Virginia Board of Education:
Update funding for the state assistance to local law enforcement program (i.e., HB599 funding) to comply with the Code of Virginia:
Increase state jail per diem payments to local and regional jails (frozen since 2010) to keep pace with inflation:
Financial Assistance for city/town road maintenance ($8,524,605):
Authorize public body eligibility for Virginia Telecommunication Initiative Grants:
Additional budget amendment information will be outlined in upcoming issues of eNews.
VML Contacts: Janet Areson, jareson@vml.org; Jessica Ackerman, jackerman@vml.org; Neal Menkes, nmenkes@vml.org; Mitchell Smiley, msmiley@vml.org
Law enforcement/justice mandate bills introduced
Several bills with some potential local fiscal impacts have been introduced this session. They include the following:
HB816 (Hope) – Requires criminal justice agencies in every locality to report information to the Department of Criminal Justice Services relating to criminal defendants, alleged criminal offenses, bail determinations, and sentencing in criminal cases. The bill provides that collected data shall be disaggregated by locality and by individual, and that in order to maintain anonymity of individuals localities shall use a unique identifier for each. The bill sets out the minimum data the Department is required to collect. DJCS would publish a report on this data on an annual basis. The bill has been referred to House Courts of Justice Committee.
The takeaway: Local law enforcement and VML are concerned by the potential fiscal impact of the data collection requirements.
HB1250 (Torian) – Defines and prohibits state and local law-enforcement officers from engaging in bias-based profiling in the performance of their official duties. It would add new requirements for local law enforcement to make reports to a new database on community policing to be administered by Virginia State Police. Local reporting requirements would include certain data pertaining to motor vehicle or investigatory stops (i.e., the race, ethnicity, age and gender of each person stopped; the reason for and location of the stop; whether a warning, written citation or summons was issued or an arrest made and the specifics of each; and if the vehicle or any person was searched). Police would also have to report all complaints regarding use of excessive force. State Police would analyze the data to determine the existence and prevalence of bias-based profiling and the prevalence of complaints alleging the use of excessive force and issue an annual report of its findings beginning July 1, 2021. Attorneys for the Commonwealth would also receive the report.
The takeaway: VML has concerns about the costs associated with complying with the data requirements outlined in this bill. The bill has been referred to House Public Safety Committee.
HB869 (Bourne) – Requires any city or county governing body that elects to supplement the compensation of their attorney for the Commonwealth, their deputies or employees, above the salary of any such officer, deputy, or employee, to also supplement the compensation of the public defender, or any of their deputies or employees, in the same amount.
The takeaway: The 2020 VML Legislative Program supports increased state funding for Commonwealth's Attorneys; VML opposes state mandates regarding elective local funding decisions.
VML Contacts:  Janet Areson, jareson@vml.org; Jessica Ackerman, jackerman@vml.org
Naloxone administration bills introduced
As communities grapple with the opioid epidemic, questions have been raised regarding the authority/ability of any bystander or staff in public places to administer naloxone (or other opioid-reversal drugs) to an individual experiencing an overdose.
Several bills to resolve these questions have been introduced. They include:
HB650 (Hope) – Provides "good Samaritan" protection to a person administering aid to a person experiencing an overdose.
HB908 (Hayes), HB1465 (Gooditis), and SB836 (Sutterlein) – Allows an employee or person trained to administer the drug to render such aid on behalf of a "public place."
HB1466 (Gooditis) – Provides that any person may possess and administer naloxone (or other opioid antagonist) used for overdose reversal to a person experiencing or about to experience a life-threatening opioid overdose.
VML supported recommendations made by the Joint Commission on Health Care last fall to offer training and liability protection to any public employee administering aid to someone experiencing an overdose.
VML contact: Janet Areson, jareson@vml.org
Transportation wrap-up for the week
On Wednesday evening of this week, VML and other interested parties heard from the administration as they explained the goals and impacts of the Governor's proposed transportation legislation. This legislation is carried by House Speaker Filler-Corn (HB1414)  and Senate Majority Leader Saslaw (SB890).
This presentation is available here >.
Transportation Secretary Shannon Valentine and Deputy Secretary Nick Donahue presented to the Senate Finance and Appropriations Subcommittee on Transportation and answered legislator's questions about the legislation. Committee members seemed most concerned about eliminating the Virginia state inspection program. In support of this move, the administration cited the following statistics:
Only 2 percent of all crashes are caused by vehicle failure
Only 14 other states require safety inspections
Only 3 of the 10 safest states require safety inspections
It remains to be seen how the proposed elimination of the state's vehicle inspection program will play out as the session progresses.
In its current form, the legislation would lower registration fees for vehicles, but this would be offset by a Highway Use Fee for alternative and fuel-efficient vehicles. However, those subject to the new fee could opt to instead enroll in a mileage-based user fee program (yet to be developed). The subcommittee members were interested in how to create and implement the mileage-based fee program as quickly as feasible.
It is also worth noting that this legislation proposes creating a new passenger rail authority that would have broad powers to operate and maintain passenger rail across the commonwealth and would be able to issue bonds for the construction of rail facilities.
Since the proposed legislation will touch every facet of transportation in Virginia, Wednesday's discussion will undoubtedly be the first of many public discussions on the subject. Fortunately, though it's only been a week and the outdoor temperatures have varied wildly between dead-of-winter and hint-of-spring, I've already noticed the days growing longer as there is more light in the sky when I enter the Pocahontas Building for the 7:30 a.m. subcommittee meetings each day. A hopeful sign for sure. Stay tuned!
VML Contact: Mitchell Smiley, msmiley@vml.org
Events
Register now for Local Government Legislative Day on February 6
This year, VML is partnering with the Virginia Association of Counties and the Virginia Association of Planning District Commissions for Local Government Legislative Day in Richmond. This program will feature briefings on issues of greatest importance to localities during the 2020 General Assembly from state officials and staff. All attendees will then be encouraged to visit General Assembly members and committee meetings at the Pocahontas Building and the Capitol, before returning to the Omni Hotel for a brief reception and meet-up time with their delegation members.
Details and registration available here >