eNews Federal Update – Apr 14, 2017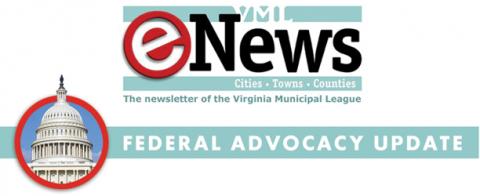 Friday, April 14, 2017 - 11:45am
Advocating for Marketplace Fairness
VML's Federal Advisory Council urges localities to take action
For more than a decade, local businesses have been put at a competitive disadvantage by following the law and collecting sales tax at the time of purchase, while remote online retailers are not required to do so.
In an op-ed to the Roanoke Times published in January, Roanoke Councilmembers wrote, "Congress' failure to act makes our local businesses less competitive while large Internet retailers grab larger shares of retail purchases each year. While this legislation is stalled, state and local governments across the country have lost billions that could have been used to repair infrastructure and provide other crucial services. In effect, Congress's inaction has taken funds that could be invested in our local communities and, instead, provided them to increase profits for large, out of state, Internet retailers."
Based on these core principles, the Roanoke City Council sent a resolution to their congressional delegation in January urging them to level the playing field for local brick-and-mortar businesses by supporting online sales tax fairness today. A template of their resolution is provided (below) for use by other localities.
VML's Federal Advisory Council supports Roanoke's message to Congress and encourages other localities to adopt and send similar resolutions to their representatives in Congress.
You can download this resolution template at www.vml.org/advocacy/federal-advocacy.
Fight the Cuts
National League of Cities sends letter to Congress; asks localities to sign on 
In the wake of the White House's budget proposal, the National League of Cities has written an urgent letter to Congress. More than 500 city officials have already signed the action letter below asking Congress to stand with cities this budget season. The text of the letter is below.
You can add your name to NLC's letter by going to www.nlc.org. VML encourages you to also send your own letter to your members of congress.
Members of Congress:
We are the nation's cities — bold and strong together. We are the engines of the economy and the bedrock of the nation. We are home to creative centers, industrial powerhouses, academic hubs and the hundreds of millions of Americans who are your constituents. And now, we need you to stand with cities to fight the cuts that would devastate cities across the board.
As the nation's local elected officials, we urgently ask you to stand with cities as we enter the budget process. Administration proposals to cut billions in domestic funding from programs, which cities use to grow and prosper, will flat line the progress we have made. We need you to join us in protecting the programs that matter most to cities.
Cities cannot make up for:
Cuts to HUD that would eviscerate critical programs that support local governments, like Community Development Block Grants (CDBG), which finance projects to revitalize communities, provide affordable housing and drive the nation's economy forward.
Reductions in EPA funding that could cut back more than two dozen programs that allow city leaders to protect their resources, prepare for increasing natural disasters and promote healthy and stronger communities.
FEMA cuts that reduce available funding for disaster assistance to cities.
Elimination of the economic development grants from the Department of Commerce.
Elimination of COPS grants that support law enforcement officers and make our communities safer places to live.
And any other cuts that would inhibit the role cities play in growing America's economy.
There is a long history of federal-local partnerships when it comes to moving America forward. Budget proposals we've seen so far not only alarm us, as the nation's local leaders, but jeopardize this historic relationship.
Cities need Congress to design a budget proposal that puts cities first. Cities need Congress to stand with cities.
Sincerely,
The Nation's Cities
Councilmembers of these Virginia localities have signed on:
Charlottesville
Hopewell
Norfolk
Portsmouth
Roanoke
To add your name to the letter, go to the National League of Cities website, www.nlc.org.
Follow the latest developments on twitter #FightTheCuts
Does Your Representative Support Municipal Bonds?
Help us protect municipal bonds by growing the Congressional Municipal-Finance Caucus.
Send a letter to your member of Congress today urging them to join the Caucus and protect the tax exemption for municipal bonds.
Tax-exempt municipal bonds allow local governments to finance roads, water infrastructure, public utilities, health care facilities, and so much more. However, despite their enormous success as a financing tool that drives development while saving local governments interest costs, several federal proposals have emerged over the last few years that would modify or eliminate the tax exemption. As Congress considers comprehensive tax reform during the next session, we must stand strong in defense of municipal.
One way to help protect the tax exemption for municipal bonds during the new congressional session is to grow the Congressional Municipal-Finance Caucus. Founded in March 2016 by Representatives Randy Hultgren (IL-14) and Dutch Ruppersberger (MD-2), the Caucus is fighting for local governments' ability to independently finance projects to keep their communities strong.
We need your help to grow the Caucus. Send a letter to your member of Congress today urging them to join the Congressional Municipal-Finance Caucus and protect the tax exemption for municipal bonds.