eNews February 9, 2018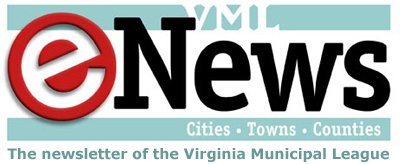 Friday, February 09, 2018 - 02:59pm
In this issue
Calls needed on mulch bill
Senate panel approves "Save Metro" bill; State aid for other transit systems thrown off the rail
By right solar facilities endorsed; VML continues to oppose
FOIA bills raise concerns
Party ID bill passes Senate
Heavy trucks bills rolling through with amendments
CSB services in jails
Marijuana-based oils bills advance
CSB-education bills meeting mixed outcomes
Car washing bill advances, grievance changes nixed
Procurement bills reported
School revitalization zone bill now applies to all localities
Consumer fireworks, EDA, regional charter school bills fail
Redistricting reform measure advancing
Split precinct bills moving through
Update on other FOIA bills
Federal government reopens for business, at least until March 23
Calls needed on mulch bill
HB1595 (Wilt) Is the infamous "mulch" bill which was reported out of House Counties, Cities & Towns subcommittee #2 on Wednesday and out of the full committee on Friday, Feb. 8. The bill would restrict a locality's ability to regulate landscape cover materials. VML opposes this bill. A typical scenario is that a person will discard a burning cigarette in a pile of mulch outside a building. The mulch then can catch on fire, and because the mulch abuts flammable siding, the fire spreads to the building. HB1595 would preclude one effective solution, which is to require a separation between the flammable mulch materials and the building.
Please call your delegate and urge this bill's defeat!
This is a fire-safety issue and should be addressed at the local level. There have been multiple fires related to landscape materials in multiple jurisdictions.
Regulation of landscape materials should not be in the vesting rights section of the Virginia State Code.
This issue has been litigated and local government has prevailed in regulating landscape materials; this bill would discredit the court decision.
Senate panel approves "Save Metro" bill
State aid for other transit systems thrown off the rail
The Senate Finance Committee approved yesterday SB856 (Saslaw). The bill's supporters say the measure will provide $154.0 million annually in dedicated capital funding to the Washington Area Metropolitan Transit Authority (WMATA). The source of the funding is a mix of dedicated state, regional and local taxes.
As passed by the Senate Finance Committee's Subcommittee on Transportation just 24-hours earlier, SB 856 would have also imposed the sales and use tax on ride-sharing services like Uber and Lyft. The estimated $21.3 million per year would have been deposited to the Mass Transit Trust Fund as a new dedicated revenue source for local transit across Virginia. The money could have been used to meet both operating and capital needs. The full committee approved by vote of 9 to 7 an amendment to strip from the bill the sales tax and the special fund created for the revenue, leaving the bill to address primarily Metro issues.
The Committee reported SB 856 by a vote of 9 to 4. Here are the major provisions:
Re-purposes $30.0 million annually from existing state resources now dedicated to transportation without affecting on-going projects.

$20.0 million is from existing state recordation taxes now going for debt service on Northern Virginia Transportation District Bonds.
$10.0 million is from motor vehicle rental taxes previously assigned to VDOT's State of Good Repair Program.

Provides a total of $44.5 million annually from a 3.0 percent regional transient occupancy tax. The bill raises the current 2.0 percent tax rate to 3.0 percent, generating $14.8 million in new tax dollars.
Provides $29.9 million per year from a regional Grantor's Tax increase of ten cents per $100 of assessed value. This provision does not change the allocations of the existing Regional Congestion Relief fee, which is also a Grantor's Tax, of 15 cents per $100 of assessed value in Planning District 8.
Mandates $31.0 million annually from local government members of the Northern Virginia Transportation Commission from the existing funds now provided by the NVTA to localities. The funding would be proportional to the various local governments' commitments to WMATA under the current capital formula.
Regarding motor fuels tax collections, SB 856 imposes a price floor on the regional gas taxes for both Hampton Roads and Northern Virginia. Bill language clarifies the administration of the tax at the distributor level. This provision could generate as much as $22.0 million per year in Hampton Roads and $45.2 million in Northern Virginia, with $26.6 million going to the Virginia Railway Express and $18.6 million to WMATA.
SB 856 also authorizes a one-time issuance of $50.0 million in Commonwealth Project Revenue Bonds to match federal dollars for WMATA, if Congress re-authorizes its previous 10-year commitment of $150.0 million per year and if Maryland and the District of Columbia renew their annual commitments.
The legislation also contains several reform provisions dealing with WMATA governance, limiting the growth in the authority's annual operating expenses, reducing the number of members on the WMATA Board, requiring adoption by the authority of a strategic plan and six-year capital improvement program, and conditioning Virginia's financial assistance to annual reports on WMATA's performance.
In addition, the bill mandates the implementation of a statewide prioritization process for all transit capital projects receiving state aid.
The bill will be taken up by the entire Senate early next week.
In the House of Delegates, the focus is on reforming WMATA and using existing funding sources without increasing taxes.
VML contact: Neal Menkes, nmenkes@vml.org
By right solar facilities endorsed; VML continues to oppose
Four measures regarding solar facilities are advancing through both houses. VML continues to have problems with the bills.
SB429 (Stanley), SB179 (Stanley), HB508 (Hodges) and HB509 (Hodges) encroach on local governments' authority to regulate solar facilities by allowing for rooftop solar by right. Unless there is a local ordinance for ground-mounted solar the review is very minor. SB429 and SB179 have passed the Senate and HB508 and HB509 have passed the House.
Under the bills, solar facilities meeting certain conditions would be deemed to be substantially in accord with the comprehensive plan. Those conditions include: 1) if the facility is located in a zoning district that allows solar facilities by right; 2) if the solar facilities will serve the electricity or thermal needs of the property on which it is located, or that will be operated by utilities offering net metering. 3) localities may allow for a substantial accord review for solar facilities to be advertised and approved concurrently in a public hearing process with a rezoning, special exception, or other approval process.
VML contacts: Michelle Gowdy, mgowdy@vml.org; Mike Polychrones, mpolychrones@vml.org
FOIA bills raise concerns
VML opposes three bills working their way through the legislature:
SB751 (Sturtevant) requires localities with a population greater than 25,000 and each school division with more than 5,000 students to post quarterly on their website a register of all expenditures, to include the vendor name, date of payment, amount and description of type of expense (including credit card purchases). This bill is on the Senate floor. Please call your senator in opposition!
Talking points for SB751:
Even localities and school divisions that meet the population criteria and that already post their checkbooks on their websites may not meet the requirements of the bill.

Many localities and school divisions may have to change accounting software and systems. If they do, it will be expensive.

Administrative time will be required to ensure that confidential information is not displayed.

All expenditures and related information are already available through a locality's budget or through the FOIA process, unless an exemption applies.

One locality in an 8-month period had 216 interactions; only 10 from the United States and most were from Russia.
Two other bills have passed the Senate and will be heard in House General Laws:
SB336 (Peake) requires that every public body have a public comment period during any open meeting. Public comment cannot be limited to only written comments. The biggest issue is that the public comment requirement would extend to every public meeting, including subcommittees, work sessions, etc.
SB630 (Surovell) adds additional penalties for person who intentionally alter or destroy a record or who voted to certify closed session erroneously. It further provides that the fine is a personal fine not to be paid by the public body.
VML contact: Michelle Gowdy, mgowdy@vml.org
Party ID bill passes Senate
SB144 (Spruil) requires political party identification on local ballots for candidates nominated by a political party, except where the provisions of a local charter provide to the contrary. The bill passed the Senate on a 28-12 vote, and has been assigned to the House Privileges & Elections Subcommittee #2. As introduced, SB144 applied only to constitutional officers, but the Senate Privileges & Elections Committee expanded it to cover all local elections.
Please urge members of the House Privileges & Elections Subcommittee #2 and the entire House P&E committee to OPPOSE SB144.
Talking points:
There is no good reason to draw local elections further into the hyper-partisan atmosphere affecting state and national elections.

This bill will affect most municipal elections. Only a handful of towns and less than half of the cities in Virginia have charter provisions that require that local elections either be non-partisan or that candidates get on the ballot through a petition process. SB263 will affect all other municipal elections.

There is not a Democratic or Republican way of responding to house fires, keeping the streets safe, enforcing the building code, or raising the funds to pay for the various services that the state requires localities to offer (and to pay for).

If local candidates are identified by party on the ballot, federal employees and members of the military would be prohibited from running for local office in most localities.

Political parties will be more active in city and town elections if the party label is on option. Injecting partisanship in local government and increasing the possibility of political bickering will not improve local government.
VML contact: Mike Polychrones, mpolychrones@vml.org
Heavy trucks bills rolling through with amendments
Two bills dealing with heavy trucks are moving through the legislature. The House bill, (HB1276– Garrett), requires VDOT to form a stakeholder workgroup to study various issues relating to the use of heavier trucks on Virginia's streets and highways. A workgroup is included in the Senate version (SB504 – Carrico) as well, but SB504 also contains language that could enable the state to participate in a federal pilot program designed to evaluate the use heavy truck issues. No such federal pilot program exists at this time, and Congress has resisted creating one. The concern is that the language that would enable state participation will be used to pressure Congress into approving the pilot. A 2016 US DOT study found that heavier trucks have serious safety problems and would impose additional and significant costs to roads and highways.
Staff contact: Mike Polychrones, mpolychrones@vml.org
CSB services in jails
Bills dealing with mental health services in jails are taking different routes. In the House, a House Appropriations subcommittee sent HB1487 (Stolle) to the Deeds Study Committee on Mental Health Services. On the same day, the Senate Finance Committee reported a substitute to the companion bill SB878 (Dunnavant). If passed by the Senate, the bill will next move to the House.
These bills would mandate that community services boards (CSBs) serve the mental health/substance abuse needs of local and regional jails. Some CSBs currently provide services in jails, but they are not required to do so. While these bills create a mandate for CSBs, both were amended to allow jails to contract for such services with private providers as desired. Both bills would require the Board of Corrections to establish standards for mental health/substance abuse services to be provided in jails.
VML supports the action taken in the House to carry over the House bill, particularly since the Deeds Study Committee is currently studying issues regarding mental health needs in jails, and the Joint Commission on Health Care is in the second year of a two-year study of health and mental health services in jails.
VML contact: Janet Areson, jareson@vml.org
Marijuana-based oils bills advance
Both the Senate and House have passed bills from their respective chambers to expand the use of cannabiodiol oil or THC-A oil. Doctors would be authorized to prescribe these oils to treat or alleviate symptoms of any diagnosed condition or disease, not just intractable epilepsy as is currently the case. These bills are SB726 (Dunnavant) and HB1251 (Cline). The Senate bill has been referred to House Courts of Justice; the House bill has been referred to Senate Education and Health Committee. Both measures are recommendations of the Joint Commission on Health Care. VML supports these bills.
VML contact: Janet Areson, jareson@vml.org
CSA-education bills meeting mixed outcomes
The Senate Rules Committee has reported and referred to Senate Education and Health SB 975 (Vogel), which would require the Department of Education to develop a pilot program in two local school divisions to look at resources needed by children currently served in private day special education programs to allow them to be served in the local public school. The pilot also would study the feasibility of transferring these children into public schools and recommend a process for directing the federal, state, and local resources available (including Children's Services Act funding) to meet the needs of children in public schools. An identical House measure, HB 176 (Bell, Richard) was laid on the table in the House Appropriations Education Subcommittee earlier this week.
Two other bills that are still alive would allow a locality/school board in Planning District 16 (namely, Stafford County) to create a public school special education program parallel to what is offered in a private day special education program to potentially serve more children in their home school, and to use resources such as CSA funds. SB 205 (Stuart) was reported from Senate Finance with "the clause," which means that state funds would have to be approved in the budget for it to go forward. The bill up is up for final passage in the Senate. Its companion measure, HB 1346 (Thomas) is before a House Appropriations subcommittee.
VML supports these measures because they create flexibility for local governments to serve CSA-eligible youth in their home communities and offer potential cost savings to localities and the state.
VML contact: Janet Areson (jareson@vml.org)
Car washing bill advances, grievance changes nixed
Other action in Counties, Cities & Towns Committee
HB1241 (Hugo) prohibits localities from banning noncommercial fundraising carwashes if the cleaners are biodegradable, phosphate-free and water based. This bill passed House Counties, Cities and Towns subcommittee #2 on Wednesday and passed the full committee this morning, Feb. 9.
Thank you for your calls that helped defeat HB1471 (Hugo)! This bill would have changed the local grievance procedures to make the process more cumbersome, lengthy and subject to inconsistent outcomes.   With your help, this bill has been defeated in 2013, 2014, 2015, 2016 and now 2018 (it was not presented in 2017). I am sure we will see it again! This bill was defeated in House Counties, Cities and Towns subcommittee #2 on Feb. 7.
Other bills defeated in the subcommittee were:
HB245 (Krizek), which would have allowed a nonconforming use to be continued as long as it was not discontinued for more than one year. The current law is two years.
HB341 (Thomas), which would have allowed a locality to prohibit a stormwater management area from being located in an "open space" or "conservation area" as part of a cluster development. Current law bars localities from enacting such a prohibition.
VML contact: Michelle Gowdy, mgowdy@vml.org
Procurement bills reported
The House General Laws Committee reported these bills on Feb. 8:
HB97 (Bell, JJ.), which increases the maximum permissible aggregate or sum of single or term contracts for professional services without having competitive negotiation to $80,000. The current maximum is $60,000.
HB134 (Bell, JJ.), which raises the minimum project cost requiring value engineering from $5 million to $10 million. It also exempts projects that are design-build or done through the PPTA from the value engineering requirements.
VML contact: Michelle Gowdy, mgowdy@vml.org
School revitalization zone bill now applies to all localities
SB448 (Chafin) as originally introduced only applied to localities in the Coalfield Region. However, the bill was amended to allow the creation of abandoned school revitalization zones in any locality by ordinance. This bill will be voted on next week, after having been reported by Senate Local Government and Senate Finance.
Consumer fireworks, EDA, regional charter school bills fail
SB173 (Stanley) would have expanded the list of fireworks that could be sold. Senate Finance carried over the bill on Feb. 7.
SB714 (Chase) would have required councils/boards of supervisors to approve expenditures of economic development bodies. Senate Local Government carried over the bill on Feb. 6.
SB516 (Obenshain) would have allowed the State Board of Education to establish regional charter schools. Senate Finance on Feb. 8 carried the bill over to the 2019 session.
Redistricting reform measure advancing
The House of Delegates' logjam on redistricting reform appears to have been broken, with the House Privileges & Elections Committee reporting today HB1598 (Chris Jones). The bill sets out criteria for the redistricting that will take place after the 2020 Census. The Senate has already endorsed its counterpart measure, SB106 (Suetterlein). The criteria in both measures include respecting existing political boundaries (county, city, town, precinct) as much as is possible.
Other measures that would have included a prohibition on drawing boundaries for a partisan advantage or created an independent non-partisan redistricting commission to re-draw new district lines were defeated in both bodies. Some redistricting reform advocates say that HB1598 and SB106 do not go far enough.
Staff contact: Mike Polychrones, mpolychrones@vml.org
Split precinct bills moving through
Fallout from issues arising in the November 2017 general election has led to two measures addressing split precincts.
HB1325 (Cole) would allow voters in a split precinct to basically cast two ballots: one for the district in which the voter appears to be assigned and one for the district in which the voter thinks he is assigned. When votes are counted the determination will be made as to which ballot is valid and only that ballot will be counted in the vote. This bill passed the House and is on its way to the Senate.
SB983 (Obenshain) requires counties and cities to adjust local election district lines to congressional and state legislative district lines established by the General Assembly and requires that precincts be contained wholly within congressional or state legislative districts when a county, city, or town is divided between two or more such districts. Senator George Barker made an unsuccessful attempt on the Senate floor to remove the sections of the bill pertaining to towns. This bill has passed the Senate and is on its way to the House of Delegates.
Staff Contact: Mike Polychrones, mpolychrones@vml.org
Update on other FOIA bills
Bills that are still alive
Here's a snapshot on other FOIA bills that VML either supports, or has not taken a position on:
Bills that have been defeated
Several FOIA bills have not advanced, including several pertaining to the definition of "custodian" (SB876 – Mason), HB959 (Yancey), HB664 (Kilgore), HB504 (Mullin) and HB957 (Yancey) and HB958 (Yancey). SB876 has been sent to the FOIA council for study. Other measures that have failed:
VML contact: Michelle Gowdy, mgowdy@vml.org
Federal government reopens for business, at least until March 23
Perhaps Congress is growing more adept at handling its dysfunction. The latest government shutdown ended after five-hours early Friday morning compared with the three-day shutdown in January. President Trump signed the budget deal before 9:00 this morning.
The bipartisan compromise bill costs some $500 billion. Spending levels will jump by $300 billion over the life of the two-year deal. Military spending goes up by $80 billion in federal fiscal year 2018 and by another $85 billion in fiscal 2019. Domestic funding increases $63 billion in fiscal 2018 and $68 billion in fiscal 2019.
The debt limit for what the nation owes its creditors will be raised through March 2019, meaning the ever-rising ceiling should not be an issue in November's midterm congressional elections.
Another $89.3 billion is available for disaster recovery mostly targeted to address the miseries in Texas, Florida, Puerto Rico, and the Virgin Islands. The disaster relief portion goes back four years to also include wildfires and droughts.
Regarding the Children's Health Insurance Program (CHIP), funding is extended for an additional four years authorizing the program through 2028.
On the tax side, the deal revives a bloc of three-dozen expired tax breaks mostly related to energy. Another eight tax breaks known as "Medicare extenders," are restored. This includes eliminating the Medicare funding cap on physical therapy.
The deal survived Senator Rand Paul's one-man filibuster in the Senate as well as opposition from House Republican conservatives upset over deficit spending and House Democrat liberals seeking provisions to protect undocumented immigrants brought to the U.S. as children (the "dreamers").
From a technical standpoint, the budget deal cannot take place until Congress first passes appropriations bills for the two years. The deadline to pass the bills is March 23, 2018; otherwise the federal government will shut down yet again. Stay tuned.
VML contact: Neal Menkes, nmenkes@vml.org
---
VML legislative staff and assignments
Michelle Gowdy – Local government authority, planning and zoning, legal matters, housing, Freedom of Information, telecommunications and technology. mgowdy@vml.org; 804-523-8525
Janet Areson – Health and human services, and the state budget. jareson@vml.org; 804-523-8522
Mike Polychrones – Environment, land use, natural resources, elections and transportation policy. mpolychrones@vml.org; 804-523-8530
Neal Menkes – Taxation and finance, the state budget, transportation funding, retirement, education funding and community and economic development. nmenkes@vml.org; 804-523-8523
Roger Wiley (under contract) – Courts, criminal law, civil law, and procurement. roger@heftywiley.com; 804-780-3143
Chris LaGow (under contract) –Insurance and workers' compensation. chris@lagowlobby.com; 804-225-8570